10 Movies Perfect for a Weekend Get-Together
Movies and a bag of your favorite chips is a match made in get-together heaven.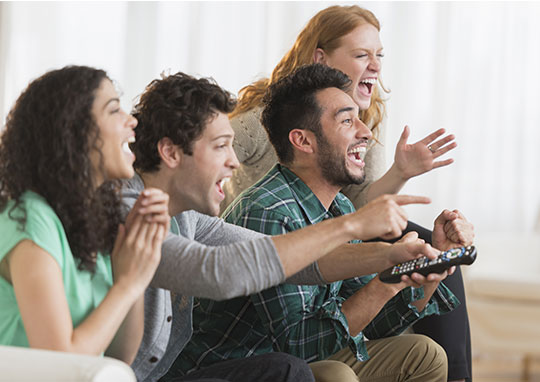 Hanging out with friends is not just about bar-hopping on Friday nights, scouring malls during sale seasons and even going somewhere exotic for the ultimate roadtrip. It can also be a weekend of awesome movies and even more awesome gossiping with your BFFs, who also spent the whole week stressing over their jobs. Even the thought of leaving the house is too tiring, right?
If that's the case, we have you covered! Turn your weekend into a big 'movie-thon' with your friends and munch on your favorite chips. To top it all, while you're having the most wonderful Piattos Time with your close friends, you're also bringing back a sense of balance to your mid-20s universe (read: work-life-balance). To help get you started, here are ten movies to watch on your weekend movie-thon:
1. Maze Runner 

If your Facebook friends still haven't spoiled this for you, then the Maze Runner is definitely a must-watch. Imagine waking up in the center of a giant maze with no memory of who you are. Interesting right? It gets better...
ADVERTISEMENT - CONTINUE READING BELOW
The main character is the amnesiac Thomas who finds himself in The Glade, the heart of a huge labyrinth. With Thomas are other boys who also don't have a clue as to who they are. They are trapped; although occasionally, the doors leading to the maze are opened and some of the boys go inside, hoping to escape. However, none of them has ever survived a night inside the evil-infested maze. Things get more interesting when suddenly, a girl shows up and she recognizes Thomas.
2. Lupin III 

We're pretty sure that you and your friends know who Lupin III is. And surely, you also wondered before how the iconic anime and manga character formed his gang of swashbuckling friends. Well, this live action film by Japanese film director Ryuhei Kitamura will answer your question. The live action film gives a modernized feel to the famous thief's adventures. On the movie, Lupin's gang will try to steal the 'Crimson Heart of Cleopatra' in a fortress-like and high security safe called 'Ark of Navarone.'
CONTINUE READING BELOW
Recommended Videos
ADVERTISEMENT - CONTINUE READING BELOW
Also, it would be the right time to talk about your childhood while watching this, think of all the nostalgia feels! Be prepared, though: some of the stories that you'll hear from your friends are very TMI.
3. Now You See Me 

Do you have a friend who's a magic tricks junkie? He'll/She'll surely enjoy this one...
The plot of this movie revolves around the group composed of an escape artist (Isla Fisher), a street magician (Jesse Eisenberg), a mentalist (Woody Harrelson) and a pickpocketing street magician wannabe (Dave Franco). With some unexpected twists, turns and magic tricks like you've never seen before, Now You See Me is sure to keep you on the edge while you're munching on your favorite Piattos.
4. Flipped
This movie will unleash the nostalgia feels since all of us more or less remember our first crushes. If you remember him/her or even the annoying neighbors you had when you were five or seven, then you will definitely relate with Flipped, a he-said-she-said film with an alternating POV of the main characters, Bryce Loski (Callan McAuliffe) and Julie Baker (Madeline Carroll).
ADVERTISEMENT - CONTINUE READING BELOW
Needless to say, there's bound to be tension between the two. At first, it was Julie who's lovestruck with the increasingly annoyed Bryce. However, when they both hit 8th grade, Bryce began seeing Julie as this one amazing and cool girl but Julie, who once thought that Bryce is this one perfect guy, is starting to see him as a jerk.
5. Stranger Than Fiction
Let's admit it, corporate life is boring. You have to wake up early every single morning, commute to your work place and wait for like eternity until office hours end. A routine, that eventually will make you hate life all the more.


That is Harold Crick's (Will Ferrell) life, a routine. He wakes up every day at the exact time, brushes his teeth at the exact number of strokes, walks from his apartment to the bus stop at the exact number of steps and you pretty much get the idea. One day, Harold hears a disembodied voice narrating exactly what he was doing. Karen Eiffel, on the other hand, is an author of tragic novels. For her current novel, the main character is named Harold Crick - who she's planning to kill at the novel's ending.


ADVERTISEMENT - CONTINUE READING BELOW
6. Warm Bodies
We all have THAT one friend. That one friend who likes zombies - from movies to series and even comicbooks. That friend who preps for the eventual collapse of civilization and, of course, inevitable zombie apocalypse. This movie, though, is not your ordinary and run-off-the-mill zombie movie.
Warm Bodies is one quirky flick. Between a zombie and a human. Yep, you read that right. There are some allusions with Shakespeare's Romeo and Juliet but you have to find out for yourself if it will end up as a tragedy or not (and how's a zombie-and-human happy ever after anyway?).


7. Project X
On the mood for partying but lack the energy or will to do so? Well, you can still enjoy the party vibe and enjoy your Piattos Time while watching Project X. This movie follows the likes of Paranormal Activity and Blair Witch Project with the found-footage treatment which makes you feel like you wish you are in a party. It is a bit sensual and definitely not for the kids.
ADVERTISEMENT - CONTINUE READING BELOW
Costa and JB, two of the main characters, decided to throw a party for their friend Thomas while his parents are away for the weekend. The problem is, they have no idea how to do that. However, due to some bizarre circumstances, what should be just a gathering of fellow 'losers,' turns into a massive party when hundreds show up.
8. Perks of Being A Wallflower
The person who will tell you that he/she never went through the awkward phase of being a teenager is certainly lying. There's this part of growing up that we felt, we just felt, terribly awkward. It's definitely harder if you're an introvert or just shy. Awkward, introvert and shy? Well, that's basically Charlie (Logan Lerman), the movie's main character.
He's got zero friends except for this anonymous 'friend' he sends letters to. Weird and aloof, Charlie struggles against ghosts from his past. Everything changes when he befriends the step siblings, Patrick and Sam who become his best friends. Unlike other Young Adult film adaptations, this movie also tackles the struggles of teens when it comes to sexuality, drugs, alcohol, abuse and even death.
ADVERTISEMENT - CONTINUE READING BELOW
9. The Purge: Anarchy
What's a Piattos Time movie-thon without a horror or dystopic movie? If you're looking for  both horror and dystopia melded into one, then The Purge: Anarchy is a movie worth including in your movie-thon playlist.

Set in the near future, America has solved its nation's major problems. Citizens are generally happy. Crime is all-time low and unemployment rate is down to 1%. Hey, how do they do that? The answer is 'The Purge', an annual 12-hour thing wherein all crime is legal and emergency services such as fire fighters, police force, and medical services are suspended. You can have a kill-all-you-can spree as long as you can survive the night...dystopia and horror, you say?

10.   Neighbors
While you're having fun with your friends, be sure to keep it down a notch...you wouldn't want to annoy the neighborhood, right? Well, that and the fact that sometimes we ourselves are annoyed with our neighbors make this last film on the list a must-watch: The movie Neighbors, is a combination of the two.
ADVERTISEMENT - CONTINUE READING BELOW
When a fraternity moved next door, couple Kelly (Rose Byrne) and Mac (Seth Rogen) with their baby daughter at first befriends with the frat leader Teddy (Zac Efron) and right hand man Pete (Dave Franco). All hell breaks loose as the inevitable falling out between the couple and the fratmen happened. And with hell, we mean pranks.
---
The list will be longer if we were to list all of the cool movies that you should watch. Though, we shouldn't kid ourselves, we're sure that the majority of your get-together time will be spent gossiping, frolicking and teasing each other.
But then, that's basically what Piattos Time is: taking a breather from all the negativity to have quality time for yourself and the people you care for. And of course, enjoying a pack of your favorite chips, Piattos, while you're at it!
Share this story with your friends!
---
Help us make Spot.ph better!
Take the short survey
Load More Stories