One Day in Manila for P800: Pasig City
See what you can do in Pasig for just a few hundred pesos.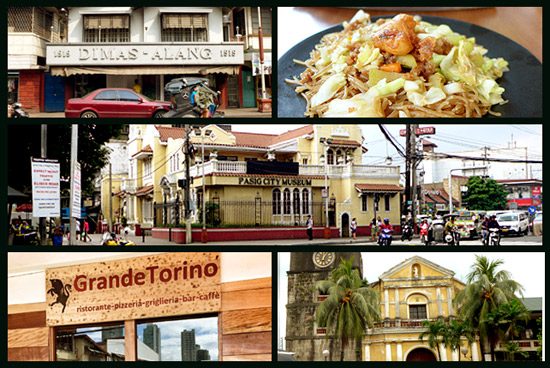 (SPOT.ph) "Out with the old, in with the new," as they say. But Pasig City is not one to take this anecdote seriously. The city's rich history begins with the Pasig River, on whose once-fertile banks a rural settlement thrived. Its strategic location established Pasig's vital role as a center of trade and commerce, but that very same reason also made it a focus of foreign interest and military disputes.
Today, Pasig is a highly urbanized city: home to one of the top business districts, a foodie paradise, real estate developments, and a rainforest park. The old town proper may have taken a step back over the years, but it continues to co-exist alongside new businesses and high-rise residential units.
While it's always convenient to bring a car when exploring a city, Pasig is accessible via the MRT (Ortigas or Shaw Boulevard Stations), LRT2, and Pasig River Ferry. With a budget of P800, we came up with a list of activities that lets you uncover the city's convergence of past and present, from morning till night.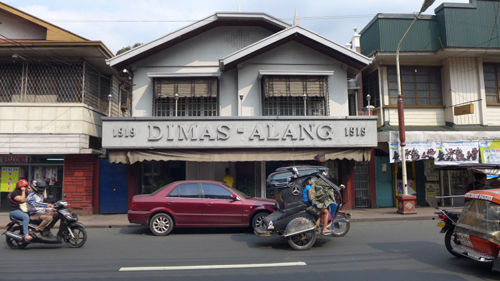 ADVERTISEMENT - CONTINUE READING BELOW
Eat warm pastries at an old timer's favorite bakery.
Jumpstart your day with freshly baked goodness from Panaderia Dimas-alang, a 95-year-old bakery that borrows Dr. Jose Rizal's pen name. The bakery has added a few pastry items over time, such as egg pie and simit (Turkish bagel)-but you know in your heart that nothing beats sinking your teeth into a piece of warm pan de sal. Get your sweet fix with Hindi Ko Akalain, a square biscuit reminiscent of Jacobina, only sprinkled with generous amounts of sugar.
Budget: P50 or more, if you can't make up your mind about which pastry to take with you.
CONTINUE READING BELOW
Recommended Videos
Panaderia Dimas-alang is at 52 Mabini Street, Kapasigan, Pasig City (641-0408, 463-5645).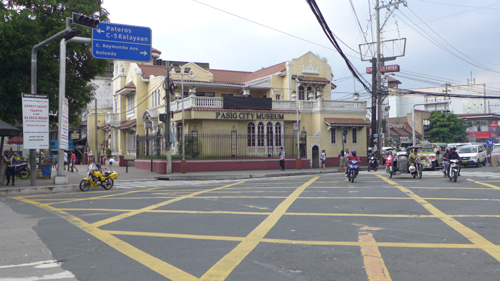 Visit the Pasig City Museum.
Take a stroll down to Plaza Rizal then head towards the Pasig City Museum, housed in the old Concepcion Mansion. The Spanish-Baroque mansion was built in 1937 as a gift from Don Fortunato Cabrera Concepcion, a Pasig mayor from 1918 to 1921, to his wife. Walk through the historical development of Pasig with exhibit areas organized from its early settlement to its present community.
ADVERTISEMENT - CONTINUE READING BELOW
Budget: You're in luck, because entrance is free!
Pasig City Museum is at Plaza Rizal, San Jose, Pasig City (641-0211). Open from 8 a.m. to 5 p.m. (Monday to Sunday).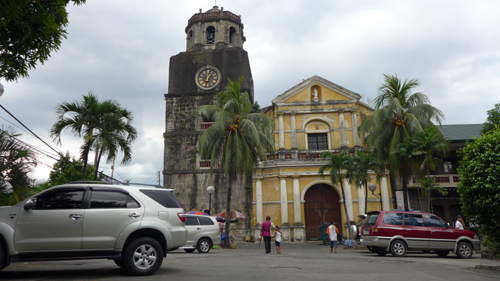 Say a prayer at the Immaculate Conception Cathedral.
Offer a prayer inside the solemn Immaculate Conception Cathedral (also called the Pasig Cathedral).  Established by Augustinian missionaries in 1575, it was initially a parish devoted to the Our Lady of Visitation. Its patroness was eventually changed to the Our Lady of Immaculate Conception. Find the hallway leading to the Pasig Diocesan Museum and view the cathedral's artifacts such as crucifixes, candelabras, chalices, church beams, and Spanish tiles.
Budget: Museum entrance fee priced at P20 for adults and P10 for students, senior citizens, and persons with disabilities.
Immaculate Conception Cathedral is at A. Luna Street corner Caruncho Avenue, Malinao, Pasig City (641-1784, 640-7921). Open from 8:30 a.m. to 5 p.m. (Wednesday and Friday).
ADVERTISEMENT - CONTINUE READING BELOW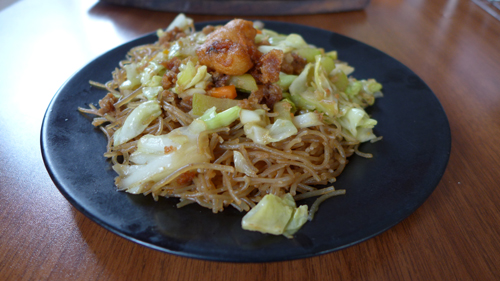 Savor a plate of bihon-with-a-twist at Ado's Panciteria.
Enjoy a plate of Ado's Panciteria's signature dish, the Pancit Bihon Guisado. Topped with chopped cabbage, carrots, and sayote, there is a pleasant addition to the dish that can either make or break your cholesterol level-the chicharon. If you're still hungry, go ahead and try the Guisadong Gising-Gising (P95) or Pork Sisig (P90); if there's still room for dessert, order the Leche Flan (P25).
Budget: P150
Ado's Panciteria is at 126 A. Luna Street, Malinao, Pasig City (641-1851, 640-3789). Open daily from 7 a.m to 12 a.m.
Also read: Top 10 Pancit in Metro Manila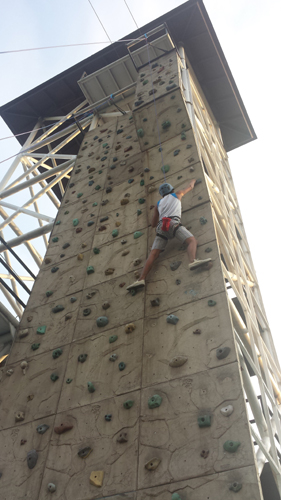 ADVERTISEMENT - CONTINUE READING BELOW
Work those muscles with wall climbing at Pasig City RAVE.
Burn calories and climb the Adventure Park's walls at Pasig City RAVE (Rainforest Adventure Experience). Previously known as the Rainforest Park, it was re-launched as RAVE in 2013 with several attractions (such as the boating lagoon, butterfly pavilion, zip line, obstacle course, and BMX/skateboard ramp) that came along with the park's renovation. Age is just a number, but if you find yourself breathing heavily and you're nowhere near making it halfway up, there's always the zip line.
Budget: Wall climbing is priced at P150 (first three hours) for non-Pasig residents and P100 for Pasig residents. Additional P50 is charged for every succeeding hour.
RAVE (Rainforest Adventure Experience) is at F. Legaspi Avenue, Maybunga, Pasig City (642-5280, for the Rainforest Admin; 643-0000 for the Pasig City Hotline). Open daily from 8 a.m. to 12 a.m. The Adventure Park is open until 5 p.m.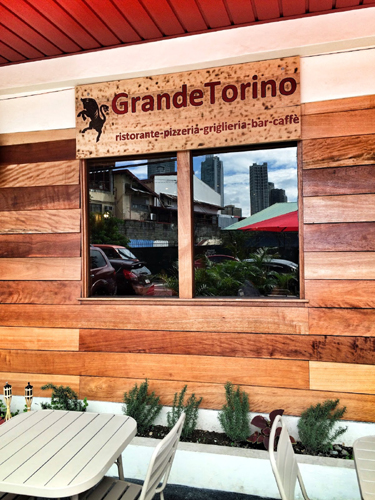 ADVERTISEMENT - CONTINUE READING BELOW
Enjoy a taste of Italy at Grande Torino.
Make a detour from East Capitol Drive and head to Grande Torino, a casual dining restaurant named in honor of the northern Italian city of Turin. Its wooden interiors and warm lights will remind you of a mountain lodge, but you can still opt to dine al fresco. Prepare to double (or triple) the calories you've supposedly lost to wall climbing with the Spaghetti all'Amatriciana (P290), a pasta cooked in tomatoes, chili, pecorino, and guanciale.
Budget: P290
Grande Torino is at 59 West Capitol Drive, Kapitolyo, Pasig City (0918-436-3796). Open from 10 a.m. to 12 a.m. (Monday to Sunday).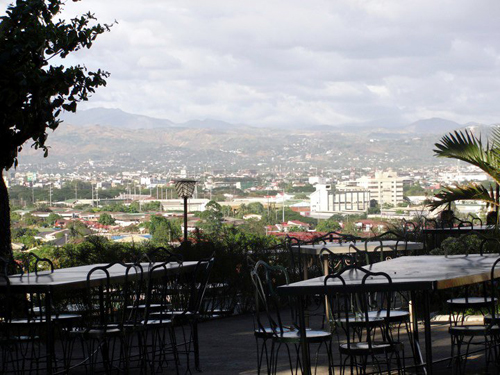 Get a view of Manila at night, with a bottle of beer at Nipa Hut Restaurant.
Cap off the night with two bottles of below-zero beer and treat yourself to a panoramic view of Pasig and its neighboring cities at Nipa Hut Restaurant. It's mostly frequented by locals, but this place might not stay a secret for long.
ADVERTISEMENT - CONTINUE READING BELOW
Budget: P120
Nipa Hut Restaurant is at Capt. H. Javier Street, Oranbo, Pasig City (671-5354, 671-9472, 671-5350). Open daily from 11 a.m. to 2 a.m. (Monday to Saturday) and 11 a.m. to 1 a.m. (Sunday).
Photo of Grande Torino Restaurant from gluttonshopper.blogspot.com; and Nipa Hut Restaurant from their Facebook page.
Share this story with your friends!
---
Help us make Spot.ph better!
Take the short survey
Load More Stories