10 Things to Do This Weekend: December 5 to 7
Catch the glitz, glamour, and all that jazz of Chicago, get up close and personal with Lang Leav, show your stripes at a fun run, and more.
(SPOT.ph) We know you're already looking forward to the weekend. We zero in on the events you shouldn't miss.
Check out SPOT.ph's Gig Guide: 10 Gigs and Parties to Go to This Week: December 3 to 9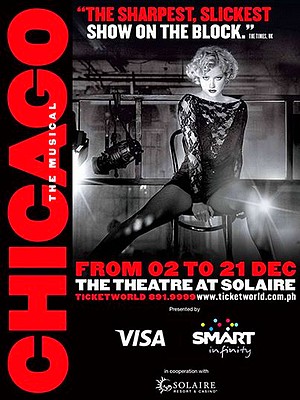 Catch the opening weekend with all the glitz and glamour of Chicago the Musical at The Theater at Solaire. The Broadway hit runs through December 21.
ADVERTISEMENT - CONTINUE READING BELOW
Now in its 18th year on Broadway, winner of six 1997 Tony Awards and a true New York City institution, Chicago has everything that makes Broadway great: a universal tale of fame, fortune, and all that jazz, one show-stopping song after another, and the most astonishing dancing you've ever seen.
Whether you want to catch your first Broadway musical, or you've seen the Academy Award-winning film and want to experience the show live, or simply want to see it again, Chicago always delivers.
Tickets are priced at P7,500, P7,000, P5,500, P4,250, P2,500, P2,250, P2,000, and P1,750.
For ticket inquiries or reservations, call 891-9999.
CONTINUE READING BELOW
Recommended Videos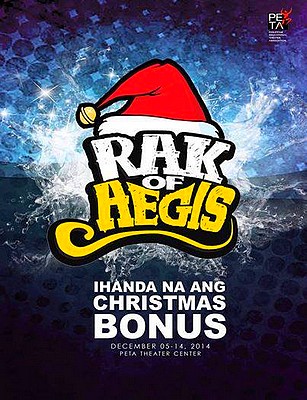 ADVERTISEMENT - CONTINUE READING BELOW
This Christmas, you're in for a jingle bell rock with the re-run of Rak of Aegis, back onstage on December 5, 8 p.m., at the The PETA Theater Center. The production runs through December 14.
A rock comedy musical using the songs of Aegis will tackle Filipino resilience or how the country faces and resolves compromising situations, whether this be a natural disaster or a broken heart. Set in a subdivision that has been flooded for two months, Rak of Aegis revolves around the love interests of the main characters, whose names are derived from members of the Aegis band, a Filipino novelty rock group that made waves in the '90s.
Tickets are priced as follows:
VIP: P1,667 / P1,563 (December 13, 8 p.m.)
VIP Balcony and VIP Orchestra: P1,563
Orchestra: P1,250 / P1,042 (December 13, 8 p.m.)
Balcony: P833
For ticket inquiries or reservations, call 891-9999.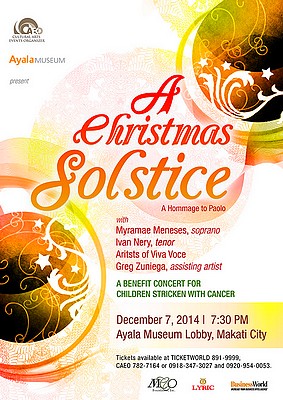 ADVERTISEMENT - CONTINUE READING BELOW
Embrace the holiday spirit with A Christmas Solstice, an evening of timeless Christmas carols to benefit children with cancer, on December 7, 7:30 p.m., at the Ayala Museum.
The 20 featured artists are all classical singers led by soprano Myramae Meneses who received much praise for her performance as Maria Clara in the opera Noli Me Tangere at Resorts World. Tenor Ivan Nery, whose role as Crisostomo Ibarra ignited the fire of nationalism among the audiences at the same operatic performance, sings with soprano Stephanie Aguilar, the Viva Voce singers, and pianist Greg Zuniega.
Among the songs included in the program are "Pasko na, Sinta Ko," "Payapang Daigdig," and Handel's "Hallelujah Chorus." Proceeds will enable families with children who have cancer to get the medical treatment they need.
Tickets are priced at P2,060, P1,545, and P1,030.
For ticket inquiries or reservations, call 891-9999.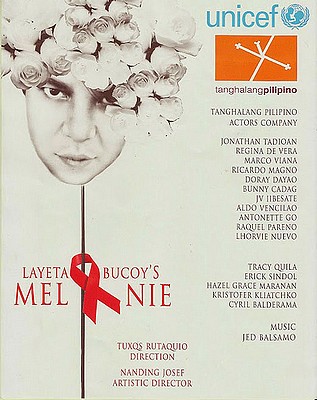 ADVERTISEMENT - CONTINUE READING BELOW
A memorable play is not always about spectacle or a gargantuan budget. Tanghalang Pilipino, in partnership with United Nations Children's Fund, presents Melanie from December 4 to 7 and December 10 to 14 at the CCP Studio Theater.
In Melanie, directed by TP's Assistant Artistic Director Tuxqs Rutaquio, the theater group re-introduces Brazilian theater practitioner Augusto Boal's Theatre of the Oppressed, which mainly promotes social and political change to an engaged audience.
Tickets are priced at P824 and P618.
For ticket inquiries or reservations, call 891-9999.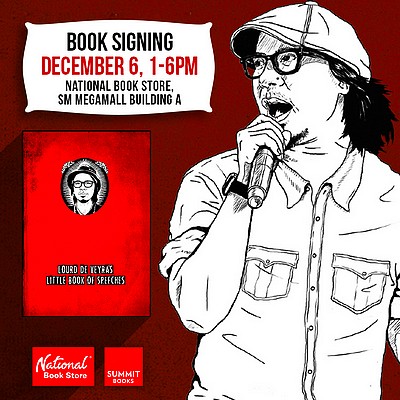 ADVERTISEMENT - CONTINUE READING BELOW
Join Lourd de Veyra for his Little Book of Speeches Book Signing on December 6, 1 p.m., at National Book Store SM Megamall (Building A).
Lourd's latest book is a collection of intellectually stimulating, riotously funny reads from the TV personality, Radioactive Sago Project singer, blogger, and Palanca Award-winning writer who has carved out a name for himself as one of the most compelling voices of his generation.
Little Book of Speeches compiles 23 acerbic and insightful sermons delivered by the writer at various events where he was invited to speak, including two new speeches written just for the book: Sermon sa Mga Fashyown and Pangks Nat Die: Sa Mga Punks ng Pilipinas. It also contains a foreword by Rock Ed Philippines founder and Lourd's friend, Gang Badoy, and features cover design and illustration by SPOT.ph's Art Director, Warren Espejo.
Whether originally intended for an audience of students or professionals, whether written in well thought-out prose or stream of consciousness style, Lourd's speeches all offer commentaries on life, work, and society that deserve a listen.
ADVERTISEMENT - CONTINUE READING BELOW
For more information, click here.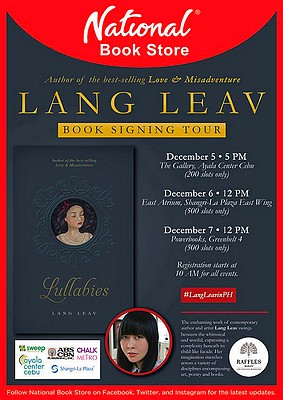 Join contemporary author and artist Lang Leav, author of the bestselling Love & Misadventure and Lullabies, for book signing events on December 6, 12 p.m., at the East Atrium of Shangri-La Plaza East Wing and on December 7, 12 p.m., at Powerbooks Greenbelt 4.
ADVERTISEMENT - CONTINUE READING BELOW
The enchanting work of contemporary author and artist Lang Leav swings between the whimsical and woeful, expressing a complexity beneath its child-like facade. Her imagination stretches across a variety of disciplines encompassing art, poetry, and books. Frequently invited to exhibit at high profile exhibitions locally and overseas, she has since built up a loyal following of international fans. Her handcrafted book, Charlie's Widow, was presented to iconic film director Tim Burton at the opening of his Wonderland exhibition at the Australian Centre for the Moving Image.
For more information, click here.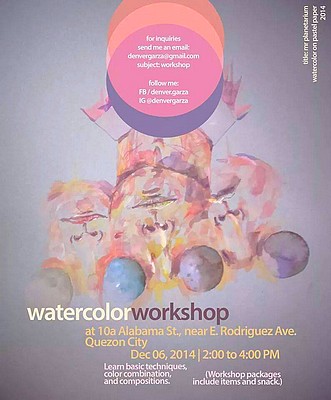 ADVERTISEMENT - CONTINUE READING BELOW
Sign up for a Watercolor Workshop, happening on December 6, 2 p.m., at 10a Alabama (near E. Rodriguez Avenue, Quezon City). Learn basic techniques, color combinations, and compositions from Denver Garza. Exercise plates, snacks, a Beginner's Module, and some raffle items are included in the workshop package.
For inquiries and reservations, e-mail denvergarza@gmail.com.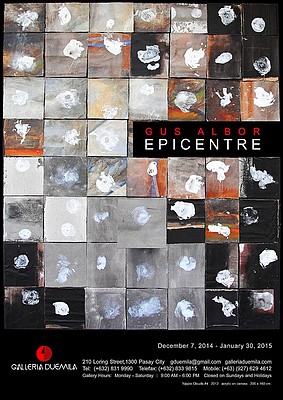 ADVERTISEMENT - CONTINUE READING BELOW
Galleria Duemila proudly presents Epicentre by Gus Albor. The exhibit runs from December 7 to January 30.
True to his oeuvre, the compositions are progressively minimal and dominantly grey. In this show, his abstractions articulate attentiveness to the interplay between two surfaces: the body and the material. Albor appropriates the human body with a utilitarian pretext. Here, the artist pays tribute to Yves Klein's Anthropométries through an array of soothing grey tonalities and figurations imprinted by using the female body as a paintbrush. All of this offers a nostalgic context as he renders compositions over his old landscape paintings. An accomplished artist, Gus' work has been exhibited in Galerie Etienne de Causans, Paris, France; Ariadne Gallery, Vienna, Austria; and Stadt Museum, Dusseldorf, Germany.
For more information, call 831-9990 or 833-9815, or e-mail gduemila@gmail.com.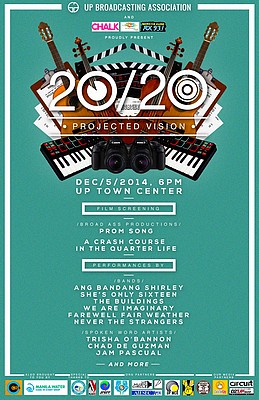 ADVERTISEMENT - CONTINUE READING BELOW
Get ready as the youth's vision comes to life in 20/20 Projected Vision, happening on December 5, 6 p.m., at the UP Town Center. Entrance is free.
Experience a night of elation with musical performances from Ang Bandang Shirley, She's Only Sixteen, Farewell Fair Weather, We Are Imaginary, The Buildings, and Never the Strangers, and spoken word performances from Chad De Guzman, Jam Pascual, and Trisha O'Bannon, among others. To cap off the night, Broad Ass Productions will premiere the short films Prom Song and A Crash Course in the Quarter Life, inspired by winning literary works.
For more information, click here.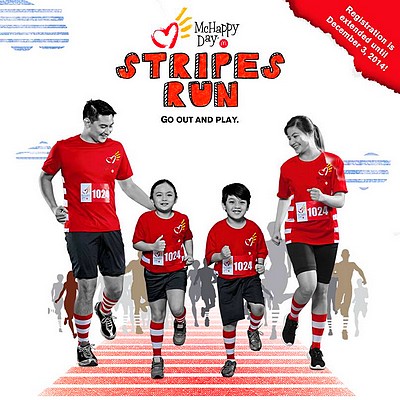 ADVERTISEMENT - CONTINUE READING BELOW
It's going to be a fun and happy day at the McHappy Day Stripes Run, happening on December 6 at the Bonifacio Global City!
Registration is priced as follows:
Catch Hamburglar (1K - 8 years and below): P375
Race Grimace (3K Children - 15 years old and below): P475
Run Grimace Run (3K Adult - 16 years old and up): P475
McDonald's Family Dash (3K - 2 kids under 15 and 2 adults): P1,500
Early Birdie (5K): P775
Ronald McDonald Challenge (10K): P975
To sign up, click here.
Share this story with your friends!
---
Help us make Spot.ph better!
Take the short survey
Load More Stories