100 Things to Do in Manila (2014 Edition)
We're updating our list with new must-do activities in 2014.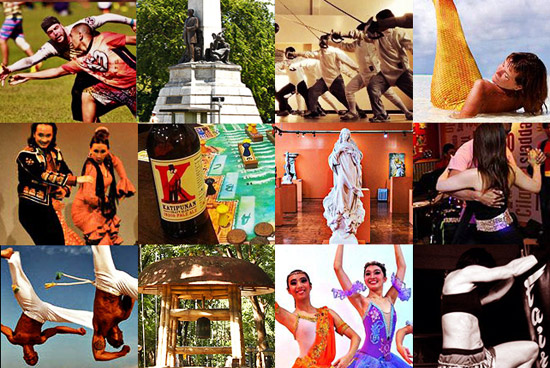 (SPOT.ph) If there's one thing we're sure of, it's that you'll never run out of things to do in Manila. Once you get past the traffic and hellish commute, there is a vast landscape of things to see and fun activities to try in the city. We promise it'll be more than worth the trip and effort.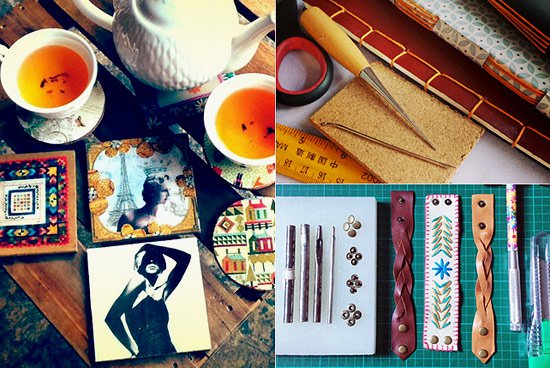 A Guide to Crafting in Manila: Where to Go to Get Creative
Want to learn DIY but don't know how or where to start? Plenty of crafting enthusiasts out there have taken to offering lessons on...well, just about anything you can think of. Learn to personalize your hand-written letters and invitations with calligraphy and lettering classes, or give jewelry making and brewing craft beer a shot. As long as you're eager and open to learn, there's a crafting class in Manila for you.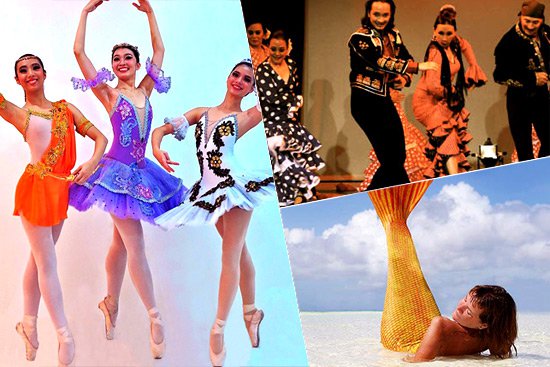 10 Unique and Fun Classes to Check Out in Manila
These days, there's a class for just about everything. We searched the metro for standout classes that may not exactly be your first bet, but they're interesting enough to sign up for a class or two. Try your hand in adult ballet, flamenco dancing, or hey, even mermaid swimming!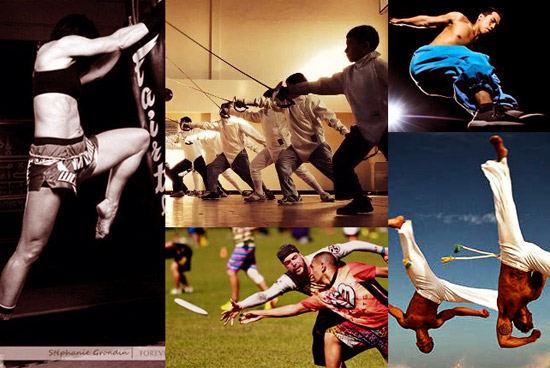 10 Places in Manila for Sports That Aren't Basketball
Who says sports are only limited to the usual trifecta of basketball, volleyball, and tennis? From archery to fencing and parkour, you're bound to find an alternative sport perfect for you, even if you aren't the fastest or most athletic participant out there.
ADVERTISEMENT - CONTINUE READING BELOW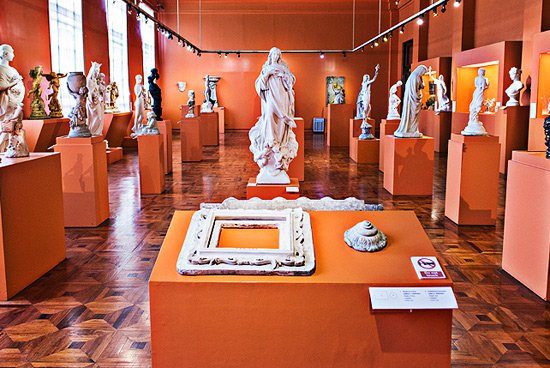 Top 10 Museums to Visit in Manila (2014 Edition)
One of the best ways to get to know a city is through its museums. In Manila, you have more than enough to immerse in this city's rich history, culture, and people. Take a trip back in time from the Philippines' oldest stone church to the quiet and contemplative walls of a university building.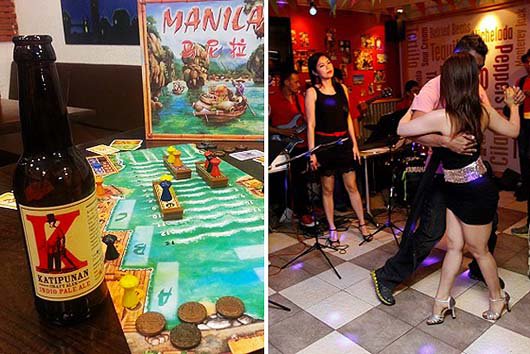 10 Things to Do in Manila This Rainy Season
In this country, there are usually only two kinds of weather: unbearable heat and torrential rain. For the latter, we know curling up in bed sounds just about perfect. We give you 10 great reasons to venture out of your homes and brave the weather.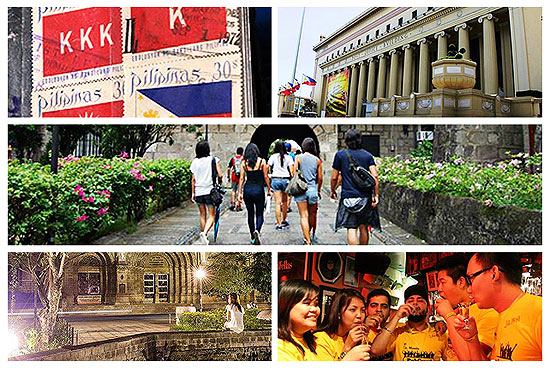 10 Fun Walks and Tours to Help You Rediscover Metro Manila
So you've lived in Manila for a couple of years. Hey, maybe you've been around here for all your life. Rediscover what makes this lively and bustling city so special, and take a fun culture and heritage tour with your barkada. Choose to explore Intramuros on a bamboo bike or if you're more on the artistic side, go on a "sketch walk." Whatever you decide, we guarantee you won't get bored.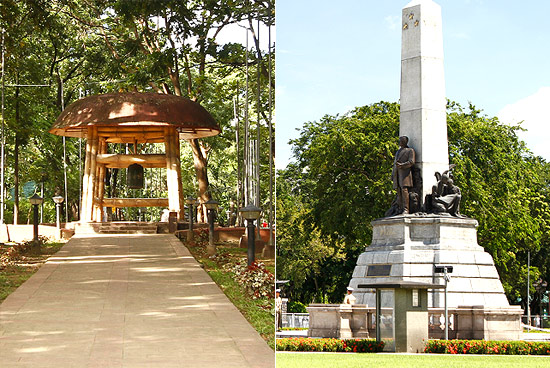 10 Manila Parks to Visit (2014 Edition)
It's almost hard to believe that amid the glittering skyscrapers and speeding traffic are wide-open, green spaces but yes Spotters, they do exist. When you just want to kick back, lie on the grass, and watch the blue skies over your head, these 10 parks in Manila will be your best bet.
ADVERTISEMENT - CONTINUE READING BELOW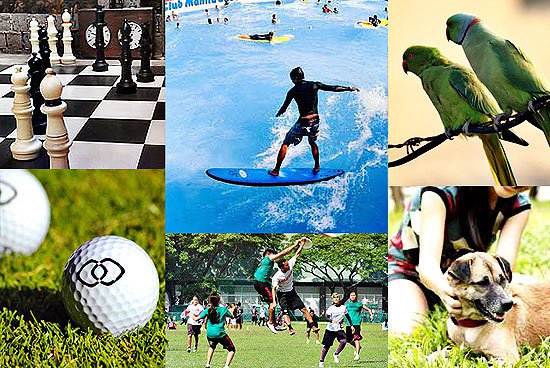 10 Fun Things to Do in Manila This Summer
Are you already gearing up for summer? Ready your itineraries because we've rounded up 10 fun activities worth a shot (yes, even in the sweltering heat). Whether it's surfing, kart racing, or even Wizard's Chess, there's plenty to do in Manila during the summer time.
That's 80! Check out more things to do on the next page...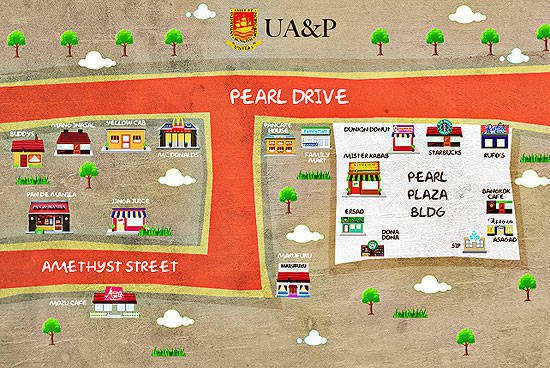 Neighborhood Guide: Cheat Eats at Pearl Drive and Amethyst Street in Ortigas, Pasig
Big name establishments may pepper the perimeter of Pearl Drive and Amethyst Street, but take a closer look. There are more than a handful of smaller food joints that are just as satisfying but more budget-friendly. You can thank the busy offices for that.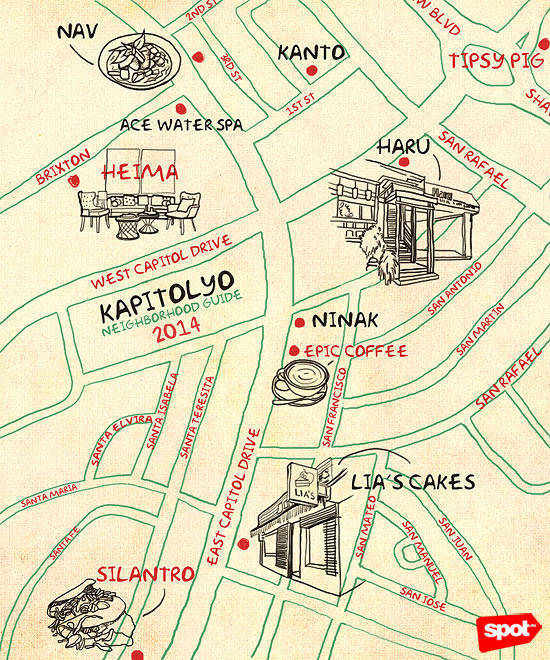 Neighborhood Guide: Kapitolyo (2014 Edition)
It's only been a year since our last guide to Kapitolyo, and there have been enough new and must-see places to warrant another list for 2014. Go furniture shopping in Heima, have a taste of Thai food at NAV, brave the hungry crowd at Tipsy Pig, and much more.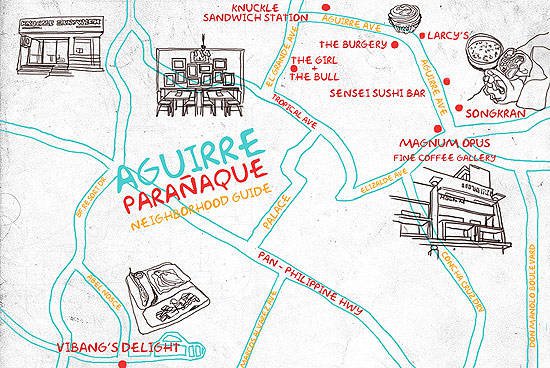 Neighborhood Guide: Aguirre Avenue, BF Homes, Parañaque
If you're in the mood for a foodie adventure, take a drive to Parañaque which houses gems like Magnum Opus for coffee, Larcy's Cupcakery Cafe for sweet treats, and The Girl + The Bull for a taste of picture-perfect dishes. By the way, we hear the traffic's better over there, too!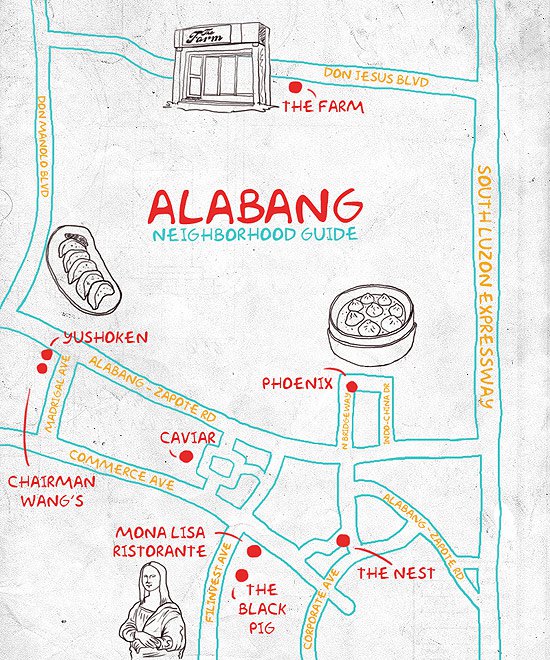 Neighborhood Guide: Alabang, Muntinlupa City
While we were down South, we also combed through the upscale dining of Alabang. Next time you're celebrating a birthday or anniversary, this is the place to be.
ADVERTISEMENT - CONTINUE READING BELOW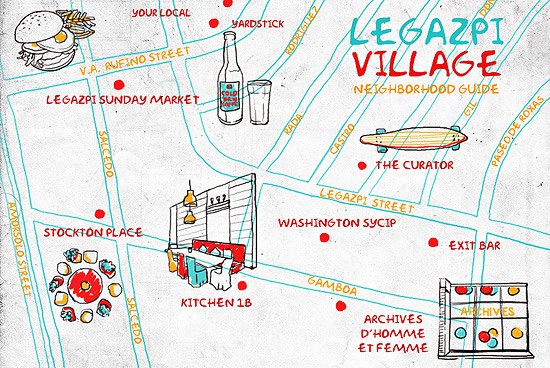 Neighborhood Guide: Legazpi Village, Makati
Don't be fooled by the fast-paced lifestyle in Makati. Tucked between its towering skyscrapers is the cozy Legazpi Village, home to under-the-radar hangouts like The Curator, Your Local, and Kitchen 1B.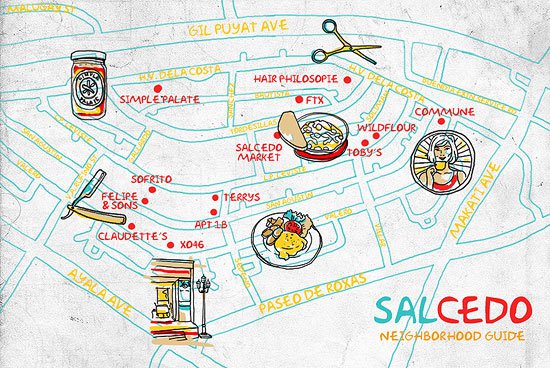 Neighborhood Guide: Salcedo Village, Makati
Tall buildings surround the perimeter of Salcedo Village, which gives the neighborhood a more concealed and intimate flair. The village is mostly idyllic, but comes alive on Saturdays thanks to its popular weekend markets. Take a closer look; there are more things to do here than you think.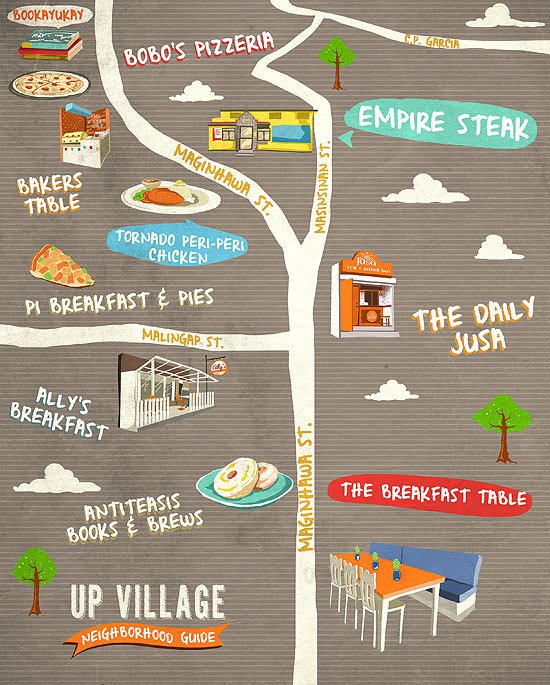 Neighborhood Guide: UP Village, Quezon City (2014 Edition)
Think you've seen and done just about everything in UP Village? Think again. This popular destination just keeps growing and growing, with more must-see and do activities that add to the already booming community. Bookay Ukay, The Breakfast Table, and Antiteasis Books & Brews are just some of them.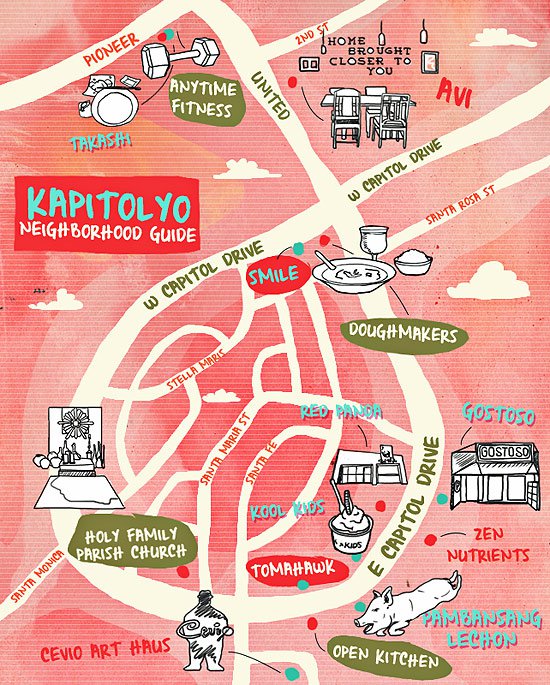 Neighborhood Guide: 14 New Places to Check Out in Kapitolyo, Pasig
This past year, new restaurants and establishments at Kapitolyo have popped up like mushrooms left and right. Deposit your car at Pioneer Center Supermarket, and take a leisurely walk. Ready your wallets, there's just so much to see and do.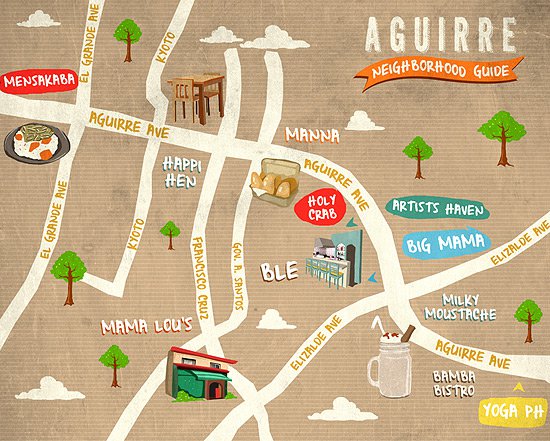 Neighborhood Guide: 12 More Places to Check Out in Aguirre Avenue, Parañaque
If you're a resident of BF Homes, you're in luck. You're right at the center of practically everything you could possibly want, need, and crave. We can assure you, a drive to Parañaque-no matter how long-is more than worth it. Your full bellies will thank you later.
ADVERTISEMENT - CONTINUE READING BELOW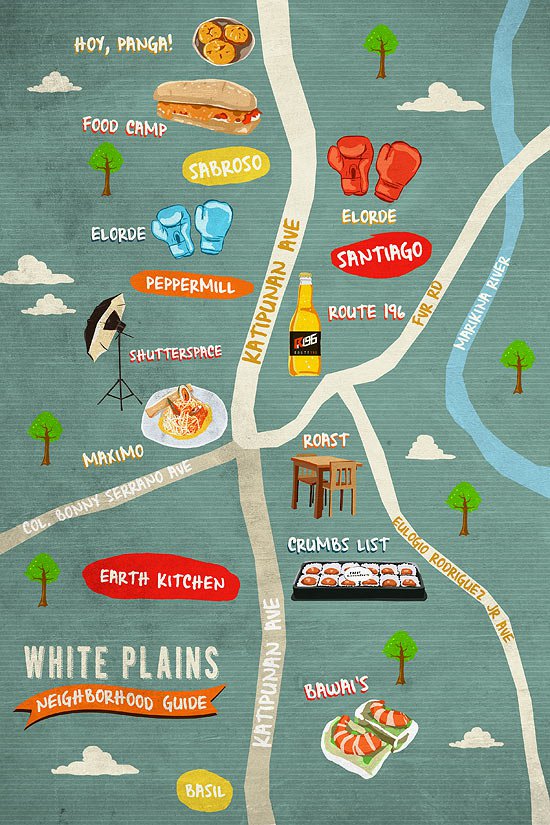 The areas of Katipunan Extension and White Plains are probably one of the most fastest emerging food and activity hubs in Manila. Though it's not exactly commuter-friendly, there's always a good reason to go that extra mile.
That's 90! Check out more things to do on the next page...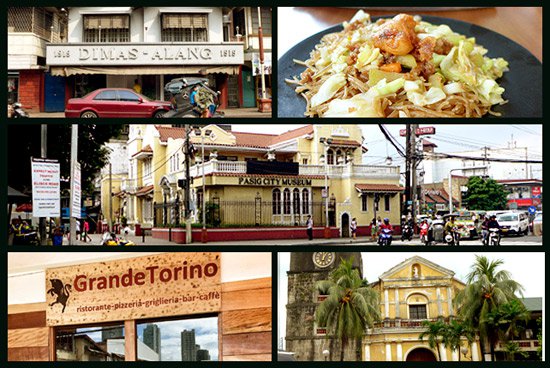 One Day in Manila for P800: Pasig City
Pasig City's rich history starts with its now-infamous river and continues with a bustling business district, a foodie paradise, a rainforest park, and much more. For just P800, you can visit a museum, savor old-timer treats, and even enjoy a taste of Italy.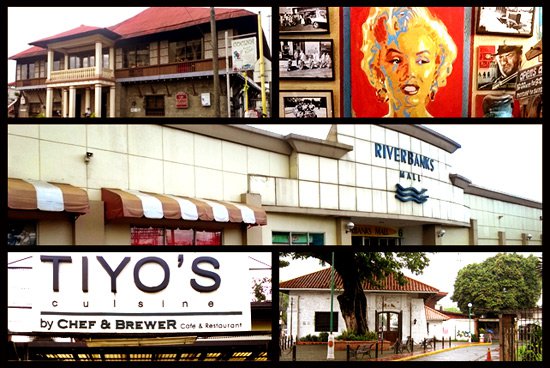 One Day in Manila for P800: Marikina City
Located just East of Manila, Marikina is far enough from the chaos of the capital to call it charming yet still near enough for a day trip. For P800, we promise there's plenty to see and do in the nation's shoe capital.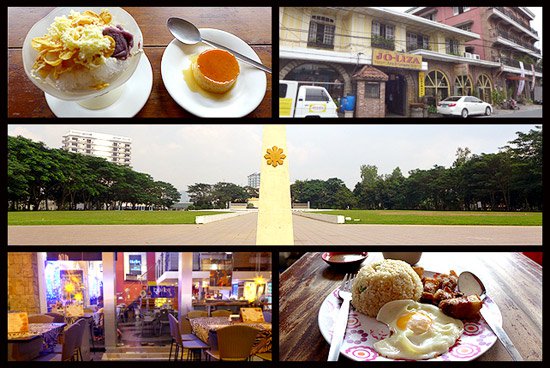 One Day in Manila for P800: San Juan
Trust us, there's more to see and do in San Juan City than just shopping and bargain hunting. Beyond the temptations of Greenhills Shopping Center is an urbanized city, chock-full of activities from museum trips to even a body massage.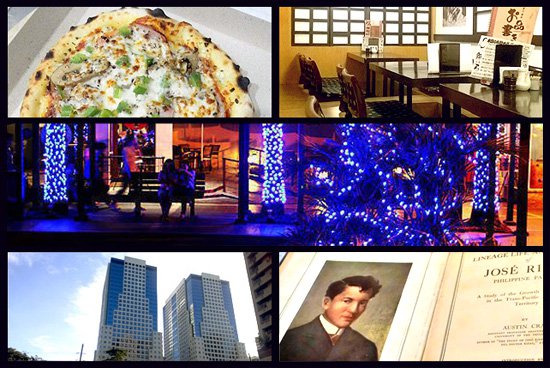 One Day in Manila for P800: Ortigas Center
It's too easy to fall into the trap of heading to a nearby shopping mall whenever you're in Ortigas. Skip the glitzy shopping sprees (for now), and get a taste of what this neighborhood has to offer...for just P800.
ADVERTISEMENT - CONTINUE READING BELOW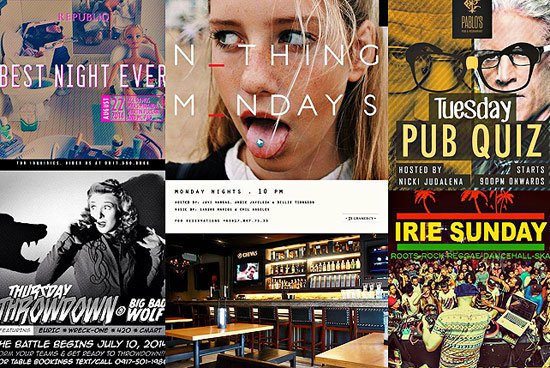 The Bar-hopper's Guide to Manila: A Hangout for Each Day of the Week
Living for the weekend? Who says you have to wait that long? Manila's top nightspots have plenty of fun and dancing in store for every day of the week. Just make sure you can cure that hangover before work the next day. (Schedules are subject to change before prior notice.)
And that's 100...and one. Hey, you have one extra activity to spare!
Load More Stories