10 Things to Do This Weekend: February 6 to 8
Celebrate the genius of contemporary artists, have a romantic date under the fireworks, feel the love in the air with a hilarious play, and more.
(SPOT.ph) We know you're already looking forward to the weekend. We zero in on the events you shouldn't miss.
Check out SPOT.ph's Gig Guide: 10 Gigs and Parties to Go to This Week: February 4 to 7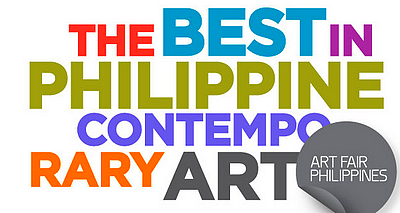 Catch the latest and the best in Philippine contemporary art at the Art Fair Philippines 2015 from February 5 to 8, 10 a.m., at The Link, Makati City. Tickets are priced at P150 and P50 for students.
Art Fair Philippines aims to showcase the best in Philippine modern and contemporary art in an alternative urban setting at the heart of Metro Manila's business and commercial district. It's the premier platform for exhibiting and selling the best in modern and contemporary Philippine visual art. This year, browse through 33 galleries, listen to the lecture series by Christie's Art Forum, and more!
Also read: 10 Exciting Things About Art Fair Philippines 2015
For more information, visit www.artfairphilippines.com and www.facebook.com/artfairph.
ADVERTISEMENT - CONTINUE READING BELOW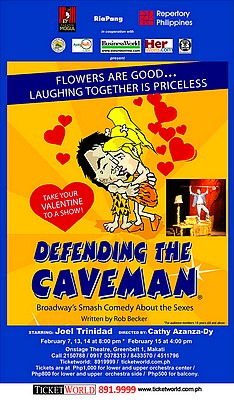 Defending the Caveman, Broadway's longest running solo stand-up comedy show, comes to Onstage Theater in Greenbelt 1 on February 7 and 13 to 15 to make peace between the sexes. Tickets are priced at P1,042, P833, and P521.
It is well known that The Phantom of the Opera is the longest running show in Broadway history but Defending the Caveman holds the record as the longest running solo show. It has played in over 100 cities in the U.S. alone and has sold eight million tickets worldwide. This hilarious play portrays the ways men and women relate to each other, mining the common themes in relationships that go straight through the funny bone. It has both sexes roaring with laughter and recognition, affectionately nudging each other as they recognize themselves in the stories being told on stage, relating to the ways men and women fight, laugh, and love.
For ticket inquiries or reservations, call 891-9999.
ADVERTISEMENT - CONTINUE READING BELOW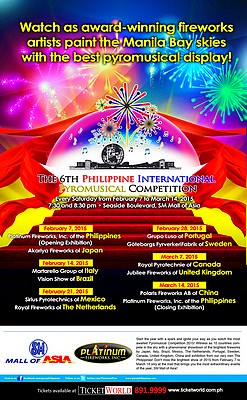 The most awaited Pyromusical Competition in the country is back. Don't miss the 6th Philippine International Pyromusical Competition at the Seaside Boulevard, SM Mall of Asia on February 7, 14, 21, and 28, and March 7 and 14. Tickets are priced at P1,500 (with dinner), P500, P300, and P100.
The annual event puts together a never-before-seen spectacle of lights and colors where the night sky and sea meet, as staged by the world's leading pyrotechnic experts. This competition will not only paint the Manila sky with brilliant bursts of vivid color, but will also be the venue to showcase the emerging artistry and evolving sophistication of Filipino fireworks technology. Check out the schedule below:
February 7: Philippines and Japan
February 14: Italy and Brazil
February 21: Mexico and Netherlands
February 28: Portugal and Sweden
March 7: Canada and United Kingdom
March 14: China and Philippines
For ticket inquiries or reservations, call 891-9999, 911-5555, or 470-2222.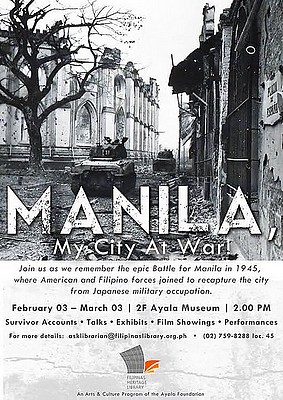 ADVERTISEMENT - CONTINUE READING BELOW
The Japanese occupation in World War II was a time of hunger, pillage, rape, massacre, and bombing. Filipinas Heritage Library (FHL) seeks to recall this period in history with Manila, My City at War!, a commemorative event for the 70th year of the Battle for Manila which runs until March 3 at the Ayala Museum. The event will consist of a mini-conference and exhibit that aim to show the various losses brought about by war. It hopes to open a space for awareness as well as reflection: The Battle for Manila was the war of the present generation's grandparents.
To be presented by academics, cultural advocates, and war survivors, the mini conference will take place on the Saturdays of February, starting at 2 p.m. The event will also showcase photos, artworks, maps, artifacts, and film showings.
Discounted rate for all sessions is P1,000. The admission fee per day is P300 for regular guests and P150 for teachers, librarians, students, senior citizens, and members.
For inquiries and reservation, call 759-8288 local 45.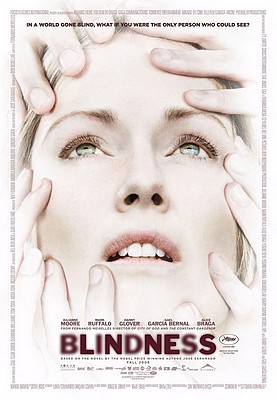 ADVERTISEMENT - CONTINUE READING BELOW
The Embassy of Brazil and Instituto Cervantes present the film cycle entitled Cine Brasileño, a series of recent Brazilian films that are to be shown on all Saturdays of February at the Instituto Cervantes theater. Entrance is free on a first-come-first-served basis.
The cycle will kick-off on February 7, 2 p.m., with two screenings: the documentary Braxilia and the feature film Blindness. On February 14, the film cycle will show Romance, a movie fit for Valentine's. On February 21, O Contador de Histórias (The Story of Me), and on February 28, Proibido proibir (Forbidden to forbid).
For more details, call 526-1482 or 845-3651.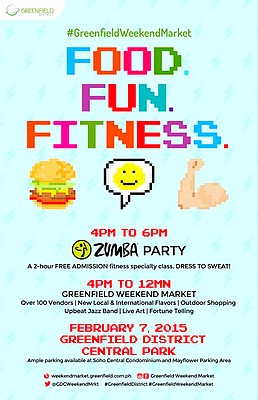 This weekend is all about Food. Fun. Fitness at the Greenfield District Central Park. Bring your friends and family to the Greenfield Weekend Market on February 7, 4 p.m. There will be a two-hour Zumba session that's free of admission so make sure you're dressed to sweat! The weekend market will run until midnight with over 100 vendors and new local and international flavors. There will also be outdoot shopping, upbeat jazz band, live art, and fortune-telling.
ADVERTISEMENT - CONTINUE READING BELOW
For more information, click here.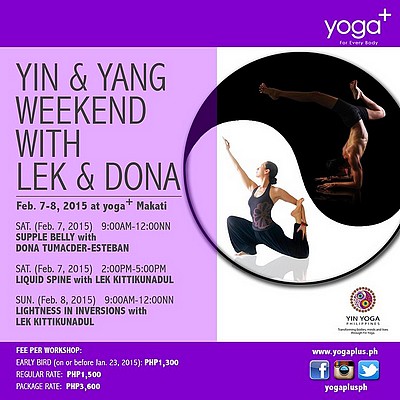 Sign up for a Yin and Yang Weekend with Lek and Dona, happening on February 7 and 8 at yoga+ Makati. Rate per workshop is P1,500. All workshops are packaged at P3,600.
On Febraury 7, 9 a.m. a class led by Dona Tumacder-Esteban will teach you how to release restriction and tension in the belly caused by stress, anxiety, poor nutrition and digestion, and over-engagement of the core. At 2 p.m., learn how to develop a liquid spin with Lek Kittikunadul.
On February 8, 9 a.m., discover lightness in Inversions with Lek. Inversions excite and challenge yoga practitioners. Release fear, find lightness, and turn yourself upside down in this workshop that combines asana, subconscious, energy work, and lots of fun as only Lek can!
For more information, visit yogaplus.ph.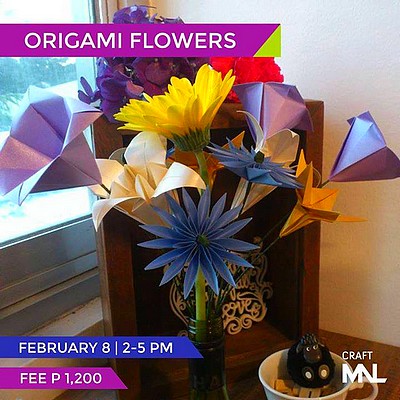 ADVERTISEMENT - CONTINUE READING BELOW
Just in time for Valentine's Day, this Origami Flower Workshop is perfect for you! It will be held on February 8, 2 p.m., at Craft MNL's Makati Studio. The workshop fee is P1,200.
Let your creativity blossom with Bobby Ruiz, as he teaches you how to make paper floral arrangements for casual home decor or gift-giving. He will teach the basics of origami, various applications, different types of origami, instructional diagram interpretation, single sheet construction, and flower forms.
To register, click here.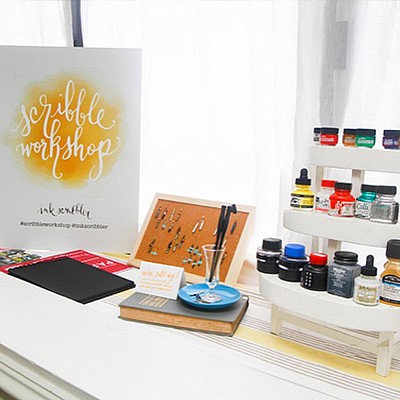 Sign up for Ink Scribbler's Basic Scribble Workshop, happening on February 7, 2 p.m., at Kitchen's Best at Central Square in BGC. This is a three-hour basic class to introduce first-timers to using the flexible dip pen, the main tool for scribbling! Everything is provided for in the workshop; participants don't need to bring anything. The workshop fee is P2,000.
To sign up, click here.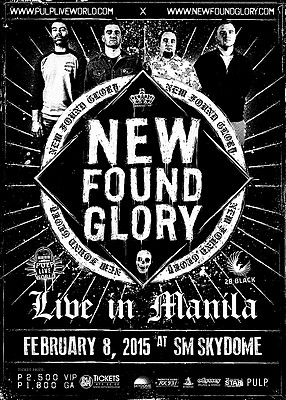 ADVERTISEMENT - CONTINUE READING BELOW
Despite being trimmed down to four people, New Found Glory rises from the ashes with the aptly titled record Resurrection. Brace your ears for sonic treats, like "Selfless," which shows just how great and grand you can get with just four instruments. Catch them live in Manila on February 8, at 8 p.m., at the SM North EDSA Skydome.
As the band nears the two-decade mark on their musical career, they maintain the same grit, passion, and drive that fans have seen from them since the beginning. Tickets are priced at P2,590 and P1,860.
For ticket inquiries or reservations, call 470-2222.
Load More Stories