10 Awesome Books for Light Reading
Because munching on your favorite Piattos chips while reading an engaging story is the best thing in the world.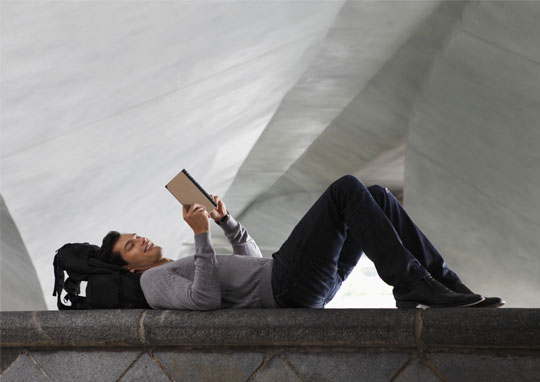 Admit it, while there are plenty of things you could be doing on your Piattos Time, all you've been doing are basically three: binge-watching a TV series, movie-marathons and constantly refreshing your social media feed. These things get old pretty fast, especially if you're doing them every freaking time.
Fortunately for you, there's another entertaining but old-school activity that will surely keep you from boredom: reading. And no, not the one-thousand pages literally classic that you never ran out of excuses to skip reading, we're talking about short novels that will keep you entertained and not bored to death.
Here's a list of 10 books that will kill your time but won't make you reach for the nearest dictionary. The best thing about these books is that they haven't been adapted into films yet, saving you the trouble of worrying for telltale signs of spoilers on your news feed.
ADVERTISEMENT - CONTINUE READING BELOW
1. A Wrinkle in Time (A Wrinkle in Time Quintet #1) by Madeleine L'Engle
If you're the kind who has endless fascination for time-space continuum then this book is for you.
The story is about Meg, a dull, awkward, but loving girl, troubled by personal insecurities and her concern for her father, Mr. Murry who has been missing for over a year. Through the help of a mind reader Mrs. Whatsit, Meg finds out about tesseract - sort of "wrinkle" in space and time. It is through this wrinkle that Meg and her companions will begin their journey through the fifth dimension in search of Mr. Murry.
2. Sway by Kat Spears
A sucker for love-story-clichés-with-twists? Then this novel won't disappoint you.
The plot revolves around a high school senior named Sway, a mean guy and loves it. Blunt, unemotional and so full of himself, Sway got hired to help Ken, the captain of the football team in their school in winning the heart of the kind-hearted Bridget Smalley. A side-effect of that task, is, you guessed it: Sway falls in love with Bridget. The book's cutting humor and Sway's unfiltered thoughts and voice made this book stand out from the other stories with the same theme.
ADVERTISEMENT - CONTINUE READING BELOW
3. Tabula Rasa by Kristen Lippert-Martin
The title means, 'blank slate' and it couldn't be more apt. Sarah, the protagonist, is being chased by a group of soldiers that wants her dead while at the same time bring back her memories after they were erased layer by layer leaving her completely clueless. Like a blank slate. A bout of non-stop race awaits the heroine so she stays alive then piece together who she is.
4. Danny, the Champion of the World by Roald Dahl
Here's Roald Dahl's timeless story about a 9-year-old boy, his dad, and a daring and hilarious pheasant-snatching quest which will make the reader marvel at the love between father and son.
The book tells us about Danny, a young, good-natured mechanic and his dad whom he considers his best friend in the universe. One night, Danny wakes up and his father isn't there, and he suddenly discovers a dark secret that has been kept from him for many years.
ADVERTISEMENT - CONTINUE READING BELOW
5. Home of the Brave by Katherine Applegate
A novel that portrays immigrant experience, Katherine Applegate, the creator of Animorphs, introduces us to Kek, an African immigrant to the United States. After a particularly traumatic childhood in Africa, middle-school boy Kek went to Minnesota in winter via 'flying boat' to live with relatives who fled their country earlier. In his new home, loneliness and confusion continue to haunt him.
Gradually, he begins to adapt to his new world, finding solace in family, new friends, and a job caring for an elderly cow. As he waits for word of his mother's fate, Kek weathers the tough Minnesota winter by finding warmth in his new friendships, strength in his memories, and belief in his new country.
6. Paper Towns by John Green
This novel debuted at #5 on the New York Times bestseller list and won the 2009 Edgar Award for Best Young Adult Mystery. It's not that hard to see why: the novel dabbles on love, revenge and redemption, three things that perfectly define the story of Q and Margo.
ADVERTISEMENT - CONTINUE READING BELOW
Friends since they were kids, Q and Margo grew apart when they reached high school. One night, though, presented Q an opportunity to be close to Margo again: she approached him that night asking for help in getting back on the people she thought have hurt her. However, after their all-nighters, Margo disappears. And yeah, Q goes on looking for her.
7. 13 Little Blue Envelopes by Maureen Johnson
Join Ginny Blackstone on her summer vacation in Europe as she traces the routes of her runaway aunt using the 13 blue envelopes the latter left to serve as clues. Be ready to meet the interesting characters on each foreign land Ginny sets her feet on. And pretty soon you'll be blown away by the cinematic and realistic depiction of images in this book.
8. Just Listen by Sarah Dessen
This book is a compelling read that explains why truth will always set us free no matter how painful it is. Take the story of Annabel, the book's heroine, for instance.
ADVERTISEMENT - CONTINUE READING BELOW
Used to be popular girl in school, Annabel lost all of her friends and became lonely after a horrid incident at a party. She then met her classmate Owen a music-obsessed, radio jock in an Anger Management class they both joined. With his help, Annabel sees herself determined to tell the truth on what had happened that night at the party.
9. The Absolutely True Diary of a Part-time Indian by Sherman Alexie
Dubbed as controversial due to its content on issues of alcohol, poverty and bullying, this book just attests the real situations in our everyday lives especially the young adults. Thus the book already won numerous awards since it was published in 2007.
Faced with several insecurities normal to 14-year olds, Arnold Spirit Jr. or simply Junior was mistreated in his new school. What follows his adventure is a string of tragedies which tests Junior's resilience and determination. Honestly, the book is full of pain but what makes it a light read is that the first-person narration of the novel done by Junior was laced with joy and humor of a young mind who believes he can conquer life and succeeds it.
ADVERTISEMENT - CONTINUE READING BELOW
10. Daughter of Smoke and Bone (Book 1 of a Trilogy) by Laini Taylor
Another book set to crash big screen soon is this fantasy novel that tells the story of a seventeen year-old art student in Prague named Karou who was raised by Chimaeras or creatures that have both traits of animals and humans. Karou was then summoned to a mission where she met Akiva who is of Seraphim race that is at war with Chimaeras for hundreds of years. It was Akiva who reveals to Karou that she is not a human but a Chimaera who once spared his life in a battle.
---
Want more? Well, the next logical thing for you to do is to look for the books on this list that caught your fancy in bookstores, online book shops, or borrow from your friends.
Dig in for more Piattos Time while you're at it. And hey, don't bum around, read on!
ADVERTISEMENT - CONTINUE READING BELOW
CONTINUE READING BELOW
Recommended Videos
Share this story with your friends!
---
Help us make Spot.ph better!
Take the short survey
Load More Stories