Now in Manila: Miao Cat Cafe
A café for cat-lovers who can't keep pets at home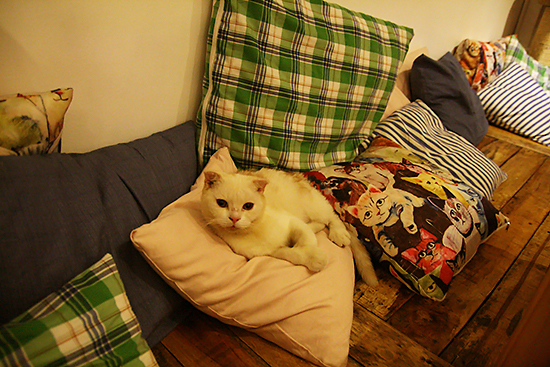 (SPOT.ph) They've already taken over the Internet (just ask Banksy) and, not content with invading the homes of millions of feline fanatics, they've also devised a way to hold sway over humans who cannot keep pets in their place of residence. In 1998, the first cat café opened in Taiwan and our future overlords have been slowly but surely expanding their territory-they have a stronghold in Japan and are now invading North America. The plump and furry creatures have also set their eyes on the Philippines, ready to prey on your weakness for all things cute at Miao Cat Café.
We have Loida Benson and Sam Ramos to thank for bringing the concept to Manila. Benson shared that she had previously visited cat cafés in other countries and found the experience similar to having her friends over so they can spend time with her 20 or so cats. After three years of mulling it over, the inevitable happened and they've been receiving customers since Valentine's Day 2015.
ADVERTISEMENT - CONTINUE READING BELOW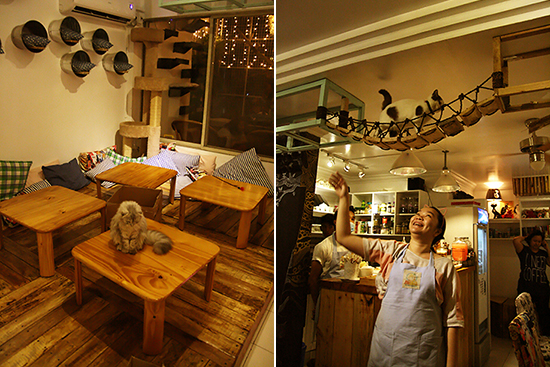 Co-owner Sam Ramos watches as British Shorthair Fabiana shows off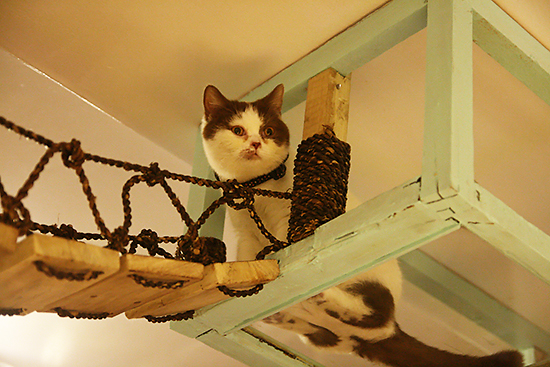 ADVERTISEMENT - CONTINUE READING BELOW
Fabiana, watching over her minions and fans
There's no official signage yet and you might miss the stairs leading to all the cats if you don't know where it is. The café is a few meters down the road from the intersection of Mindanao Avenue and Congressional Avenue (going to Visayas), and the current landmark is Cake-to-Go. They won't turn you away if you're a walk-in, but it is highly recommended that you call to make a reservation before you visit.
Miao Cat Café follows the tradition of its East Asian counterparts. You leave your shoes at the receiving area, where you are also briefed on the house rules (posted on the wall clearly, next to a row of lint rollers-for later) and are asked to disinfect. Once your hands are clean and you're wearing the right footwear, the fun shall commence at P300 for two hours, inclusive of one meal (or pastries) with beverage.
ADVERTISEMENT - CONTINUE READING BELOW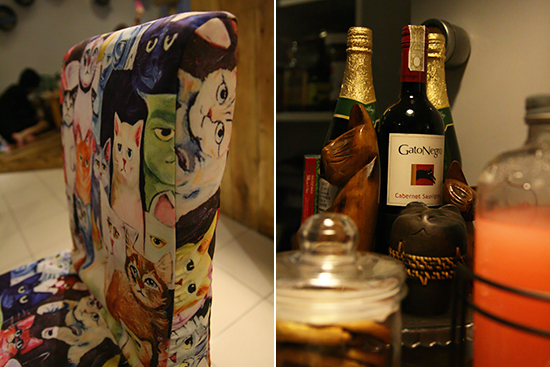 Some say cats are evil. Some say the devil is in the details. This makes sense.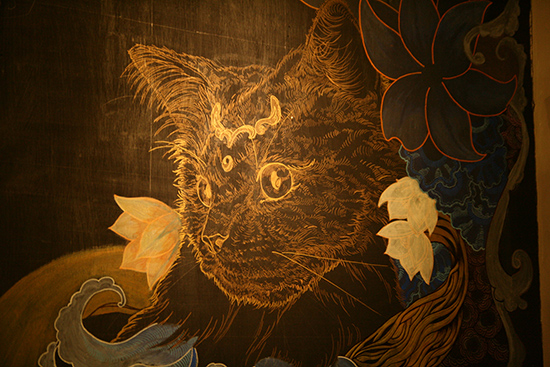 ADVERTISEMENT - CONTINUE READING BELOW
Art on the walls by Christine Tomajin
The café is cozy or, to be frank, the nice kind of small. The floor is tiled (easiest to clean!) and cat accents are all over the place. Cats, obviously, are all over the place too. The cats are mostly Persians and Scottish Folds, but don't worry, there are Puspins in the café. It's not just for schmancy cats. Benson, like most cat-owners, finds it very hard to resist giving strays a home.
You can look up the names of all the 15 resident cats on their official Facebook page and neither Benson nor Ramos will stop you if you want to start a fan club for any one of their babies. The important thing is that you don't pick them up, pull their tail, pinch them, or share your food. One of the two owners is usually around to make sure the cats are okay and, because the cats live in the café, a designated caretaker tends to their needs at night.
ADVERTISEMENT - CONTINUE READING BELOW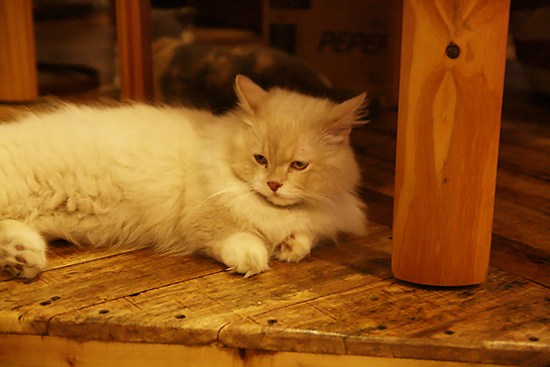 Munchkin Longhair Slinky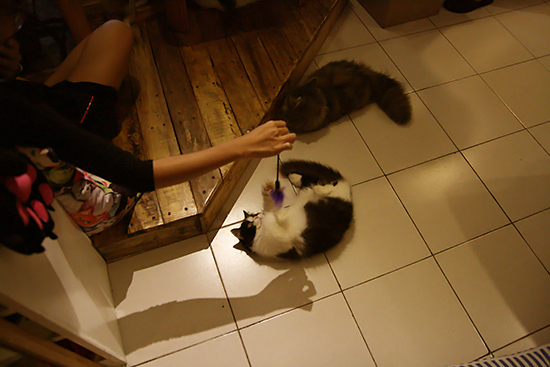 ADVERTISEMENT - CONTINUE READING BELOW
Another Munchkin Longhair, Oreo
The cats aren't forced to do anything and customers are expected to be on their best behavior at all times. Ramos and Benson prioritize the health and well-being of their lovelies above all, so after each session, the cats are also given an hour break from human interaction and the entire café is tidied up for the next set of visitors.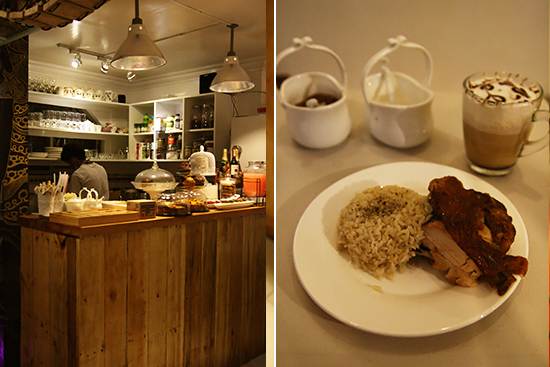 ADVERTISEMENT - CONTINUE READING BELOW
You can have pasta, pastries, or chicken if you're feeling peckish.
Since they've only been open for a little over two weeks, a handful of things (like the menu) are still in the works. Kitchen and cats don't really go together, meaning they can't cook in the café itself. But you're not really going to go to cat café for the food. For two full hours, you get to shower a cat (or five) with affection...and they actually return the favor.
Miao Cat Café is at No. 7 Congressional Avenue, Quezon City. The café is open from 11:00 a.m. to 10 p.m., in two hour sessions with an hour of break in between. For inquiries and reservations, call 0925-772-6363 (Sam Ramos) or 274-7937.
CONTINUE READING BELOW
Recommended Videos
Share this story with your friends!
---
Help us make Spot.ph better!
Take the short survey
Load More Stories