Campus Neighborhood Guide: Ateneo de Manila University
Hanging out goes beyond the walls of campus.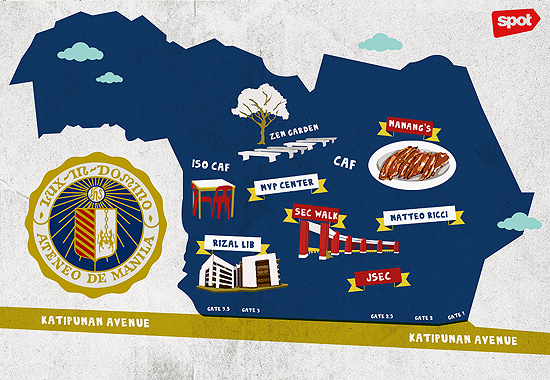 (SPOT.ph) It's not easy to get into Ateneo. No, we are not talking about the ACET here (but that's true, too). There are guards stationed even at the tiniest gate, and visiting alumni who graduated decades ago would still find themselves automatically checking for their ID when security comes strolling along. (You can understand the significance of this little card by watching this old 2007 OrSem video.)
If you're not currently a student, visiting can be a hassle, but nostalgia has to be had. There are so many eating establishments and memorable hangouts that are worth trying or re-trying. Change is inevitable, especially since students have been given more opportunities to host their own businesses, but it's nice to see some enduring favorites. Here's a run-through of student-approved hangouts in the Ateneo—it spills over to Katipunan, too.
This list focuses on the Loyola Schools.
Also read: Campus Neighborhood Guide: UP Diliman
ON CAMPUS
STUDENT ESSENTIALS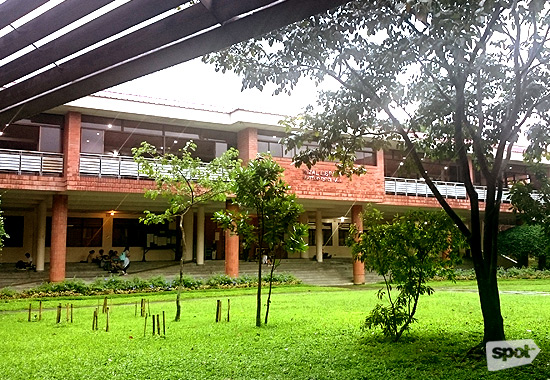 ADVERTISEMENT - CONTINUE READING BELOW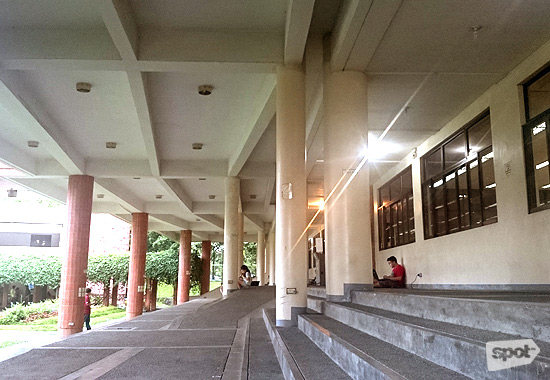 CONTINUE READING BELOW
Recommended Videos
Matteo Ricci Hall
Matteo Ricci, Matteo, or Macci is the Loyola Schools' own study building. It has two floors, the first dedicated to students reading solo and the second for group work (reserve a table in advance!). There's an eatery called Wrappies on the second level for that much-needed pick-me-up in between modules. It promises a complete meal you can hold with one hand because, you know, you need the other to type or flip a page. Matteo folks have a habit of huddling around at the al fresco space on the top floor or resting on the Matteo steps to rehearse Lit13 plays, group-review for the Math 11 mid-term, or just find the best spot for WiFi.
Perfect for: Meetings, studying, rehearsals when you didn't reserve a room, and seating space when there's no empty table at JSEC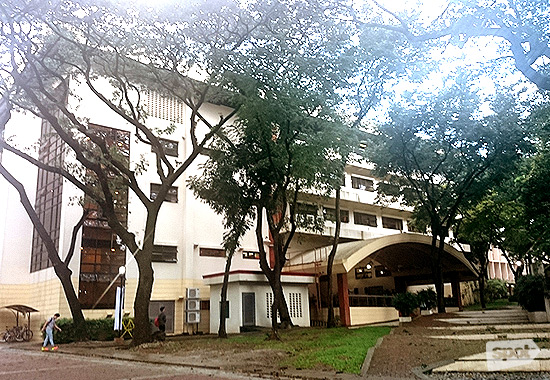 ADVERTISEMENT - CONTINUE READING BELOW
Manuel V. Pangilinan Center for Student Leadership
The MVP Building houses nearly all of the Loyola Schools' org rooms, which makes it a default hangout zone for a lot of students. If you were Ms. AB Org, you're most likely in this area. Apart from two entire floors (the ground floor is used for offices, mainly) bustling with student activity, it also has a roofdeck which may be reserved for big events and the MVP Basement, which is another favorite student destination. This lower deck has enough floor space for hanging out, rehearsing, or quick meetings. Off the side is the Loyola School Bookstore, which sells Ateneo merchandise and hosts a satellite Intermatrix. What used to station the Honest Store (an unmanned cabinet full of snacks where customers are tested) and a coffee shop is now a new development: student-run Sandwicherie.
MVP used to be the Colayco Building, which also serviced the orgs. It was torn down and remembered as the Colayco Pavilion, another great open space for events, famously used for public forums.
Perfect for: Student activities, whiling time away in between classes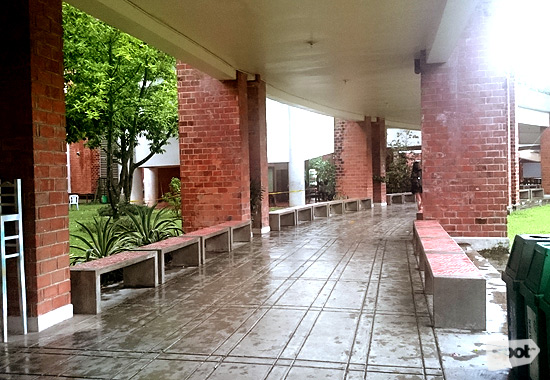 ADVERTISEMENT - CONTINUE READING BELOW
The Sec Walk
The Sec Walk stretches to encompass Sec A, B, and C, as well as the PLDT-Convergent Technologies Center (CTC) and John Gokongwei School of Management (SOM) Buildings. It also detours to JSEC (read below). Those are six areas bustling with classes and students so anticipate crowds when the bell rings. What used to be lined with plastic benches is now lined with...concrete ones. Ateneo's notorious "bench culture" has subsided through the years, but the Sec Walk gives you a walk-through of the more enduring ones, such as AMP, the Blue Babble Battalion, ROTC, the South Bench, and the Bio Bench—all situated on the ground floor of the Sec Buildings.
Perfect for: Waiting for a friend to finish a class or waiting for an actual class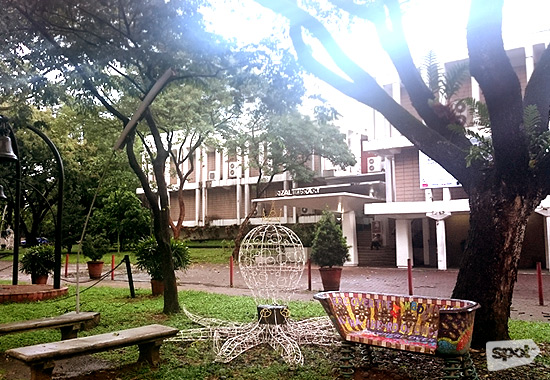 The Rizal Library
The library is, of course, a popular spot for Ateneans. You'll see students milling about the four floors, reviewing, researching, reading, or even staring into space. You can't make a lot of noise, but the librarians aren't that strict when it comes to catching up on zzzz's. It's okay, you can take a power nap here. Recently, its steps (fourth to fifth floor)—stickered like book spines—have been invading Instagram pages.
ADVERTISEMENT - CONTINUE READING BELOW
Alumni have complimentary use of the library (except for the computers) for the first three visits. Next trips would be charged P100. Members of the Ateneo Alumni Association, however, have unlimited vistation privileges (no computer use). Non-Ateneans who want to visit the library have to bring an identification card (you have to bring two because you'll be leaving one with security). The research fee is P100. Visit the Rizal Library website for their operating hours.
Perfect for: Studying, sleeping, leisure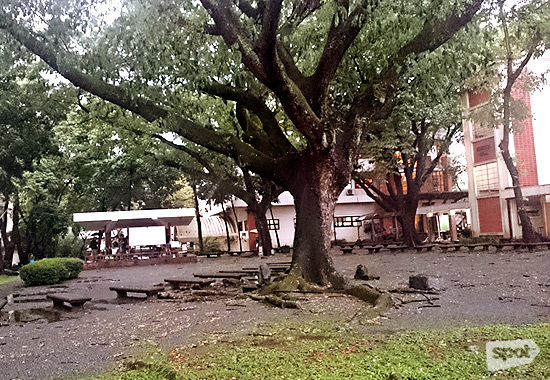 The Zen Garden
This pebbled garden at the heart of campus may be notorious for being higad central, but during great weather, it's a wonderful place to just kick back and be Zen. Formerly known as the Quad, it's at the center of four of the Loyola Schools' main buildings MVP, Gonzaga, Kostka, and Berchmann. With its vicinity to the Caf, it also becomes some sort of dining room extension, especially during the meal-time rush. The Doghouse, a concrete shed that's a hangout for Xaverians when it's not reserved for orgs and events, is also situated in this area.
ADVERTISEMENT - CONTINUE READING BELOW
Perfect for: Plain chilling and eating
WHERE TO EAT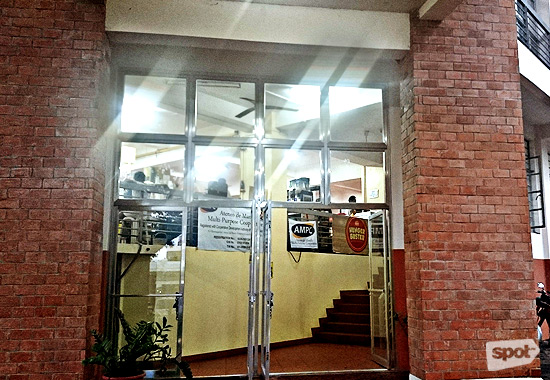 Caf
The Loyola Schools' cafeteria takes up most of Gonzaga Hall. Ateneans would tell you that there is a distinction between the Caf (ground floor) and Caf Up (second floor). Alumni, you might be happy to know that the exit leading to Sec has now been paved and converted to stairs. No more slippery slides!
The entire building is perimetered with concessionaires like AMPC, Blue and Gold, Bento Express, JuiziJuiz, and more (the line-up changes every now and then, but these are constants). We remember that there used to be a Sbarro, Jamaican Patties, and Auntie Anne's, too! Currently, we spotted a Cafe France (20% discount before closing!), a Barney's Burger, and an Infinitea.
Back in 2009, the administration started encouraging the B.Y.O.B. (Bring Your Own Baunan) and the C.L.A.Y.G.O. (Clean As You Go). The Caf skipped styrofoam and disposable plastic wares in favor of reusable plates and utensils.
ADVERTISEMENT - CONTINUE READING BELOW
Perfect for: Eating and catching up with your block. It's not the most conducive study venue, but you can probably cram in your lab homework.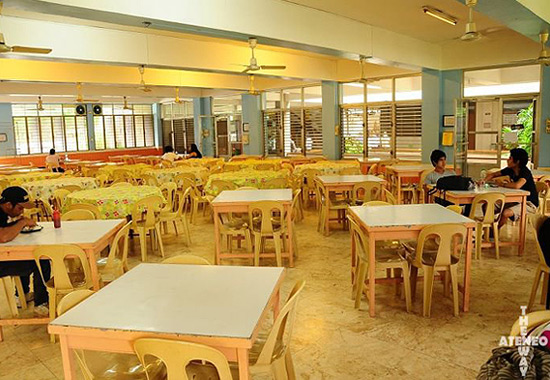 ISO Cafeteria
This off-the-beaten-path cafeteria is a short walk from the Loyola Schools' mainland. This gem is in the ISO (Institute of Social Order) Building, which most students find only after InTact class or during Aegis yearbook pictorials. It's no longer part of the Loyola Schools. The style is cafeteria, peddling home-cooked meals and, the sisig is a bestseller. The dorm in the building is shared by students, teachers, and other professionals so the prices aren't exactly the most allowance-friendly.
Perfect for: Hiding away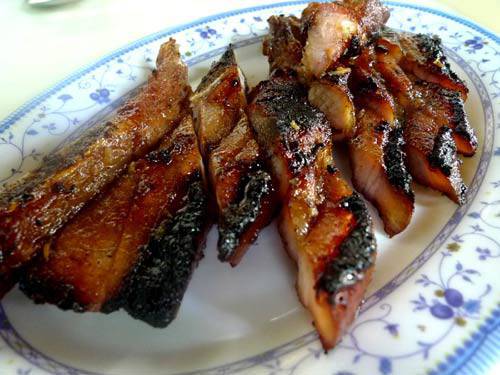 ADVERTISEMENT - CONTINUE READING BELOW
Manang's
Manang's is something of an Ateneo icon. Because it's at a great space in the middle of the covered courts, aerobics area, and tennis courts, the clientele consists mostly of freshies and sophomores taking P.E., but a lot of upperclassmen and faculty also make their way to this far-flung area. Just like the ISO Caf, the style is lutong-bahay, but with one special bulwark. In this case, it's liempo. It's a treat to catch them cooking it fresh on the grill just beside the kitchen.
Perfect for: A post-P.E. meal. Back when the Comm Building was nearby, it was also a favorite among Comm majors.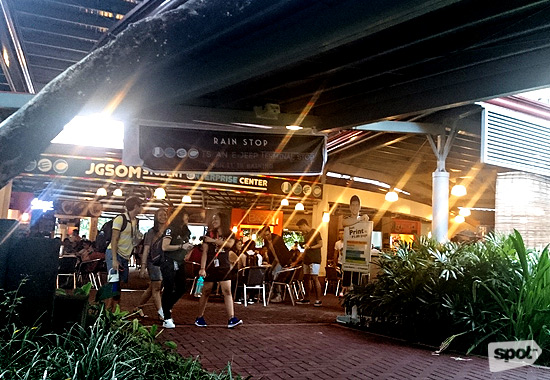 JSEC
It used to be nicknamed "SOM Mall" till everyone realized that the official name is actually JSEC, which stands for the JG-SOM Student Enterprise Center. It's essentially a food court, with every stall run by students. Think practice run for future entrepreneurs. When it began in 2007, about nine stalls took up the main one-storey building. Now, there are booths surrounding the perimenter as well as along the path that connects it with the Sec Walk. The concessionaires change every so often so it's hard to commit. Applications are held thrice a year, and the most unique and promising material are chosen.
ADVERTISEMENT - CONTINUE READING BELOW
Perfect for: More unique and thematic grub compared to the mainstream offerings of the Caf
KATIPUNAN NEIGHBORHOOD
WHERE TO HANG OUT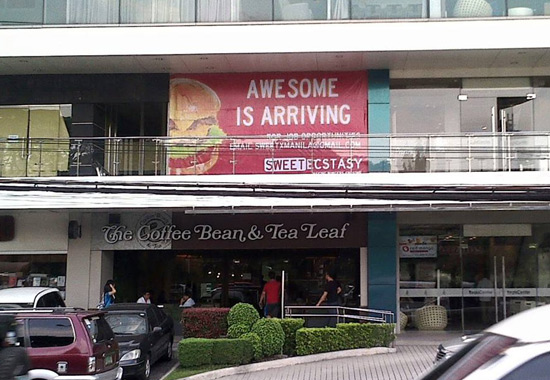 Regis Center
327 Katipunan Avenue corner Park 9 Alley and F.B. Dela Rosa Street, Quezon City
Regis Center is literally connected to the Loyola Schools (that's the college side of the university). A bridge links it with Gate 2.5, making it a logical hangout choice for the school kids. The Coffee Bean and Tea Leaf is an especially popular choice for students, but there's also Mom and Tina's, Red Mango, Bobby Box, and BonChon. Sweet Ecstasy is also scheduled to open soon.
Non-food establishments include Gold's Gym (very popular before sembreak and Labor Day), yoga sanctuary White Space, an Apple store, and Fully Booked.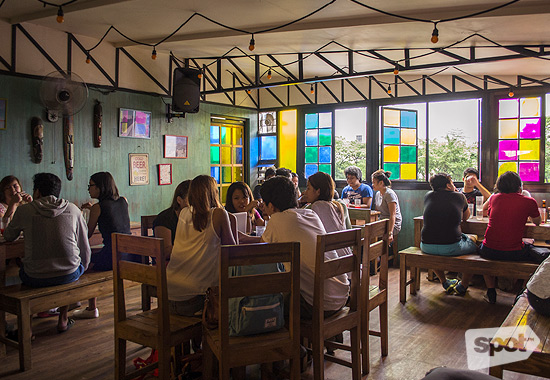 ADVERTISEMENT - CONTINUE READING BELOW
Walrus
3/F 318 Katipunan Avenue, Quezon City
Contact: 0917-808-8332
Open from 11 a.m. to 2 a.m. (Monday to Saturday)
Tia Maria's Cantina (fondly called just Cantina) is closed now, and to replace the void is Walrus, which is a hip answer for that post-exam nip. It's beach-themed, too!
Must-tries: Walrus Platter (P200), The Beautiful Chocolate Man (P70)
Perfect for: Friday night drinks or post-exam festivities!
Read more about Walrus.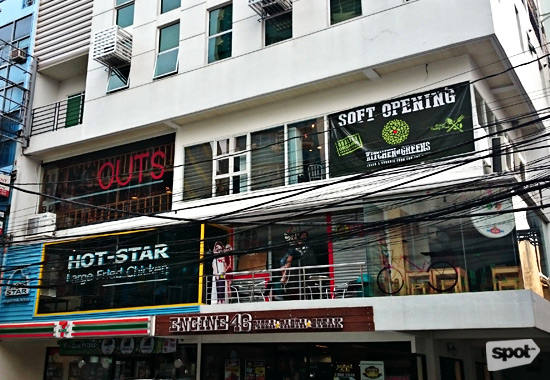 Jugo Bar
2/F 318 Katips Building, F.B. Dela Rosa Street, Quezon City
Contact: 0916-960-1010
Open daily from 10 a.m. to 11 a.m.
This diner catches attention all the way from the third floor because of a life-size statue of a pirate swinging from the terrace (it can get a bit eerie at night). Inside, it's a charming greasy spoon: checkered black and white, vintage Coke memorabilia, neon lights, and vinyl couches. The food is honest-to-goodness sets like hotdogs, milkshakes, chicken fingers, and more. They also offer supersized yummies, create-your-own meals, and PS3 playing time!
ADVERTISEMENT - CONTINUE READING BELOW
Must-tries: Hush Puppes (P150), Chicken in a Basket (P100 to P380)
Perfect for: Some effortless comfort after an all-day's work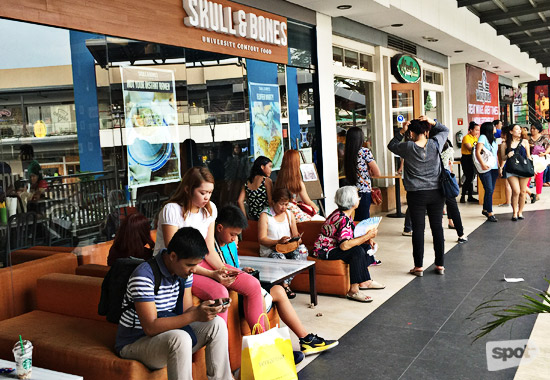 Skull and Bones
2/F UP Town Center, Katipunan Avenue, Quezon City
Contact: 0916-220-1668
Open daily from 11 a.m. to 10 p.m.
This blinding blue restaurant in UP Town Center lets you live out the American frat experience you see in movies like Van Wilder and Old School. The menu is full of reinvented dorm staples, like hotdogs, instant noodles, and Hostess products—all freshly made and gourmet. It's not exactly allowance-friendly, but special occasions call for special meals. A private room further in doubles as a game center, which you can rent to play beer pong, among other games. It's a favorite destination for college parties.
Must-tries: The Situation (P240), Skull Crusher (P550), Homemade Twinkies (P100)
Perfect for: Org parties
WHERE TO EAT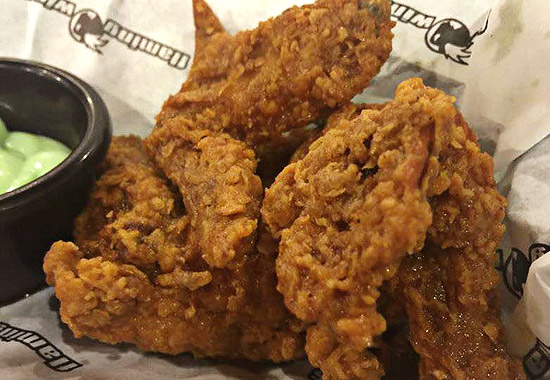 ADVERTISEMENT - CONTINUE READING BELOW
Flaming Wings
G/F 318 Katipunan Avenue, Quezon City
Contact: 929-6900
Open from 11 a.m. to 10 p.m. (Monday to Saturday); and 11 a.m. to 9 p.m. (Sunday)
Restaurants on Katipunan come and go, but this cheap thrill stays. It's those darn chicken tenders, we're telling you. Students have enough to deal with and Flaming Wings lets them enjoy chicken-y goodness without the stress of bones.
Must-tries: Tenders Meal (P146), Wing Meal (P145)
Perfect for: Affordable bingeing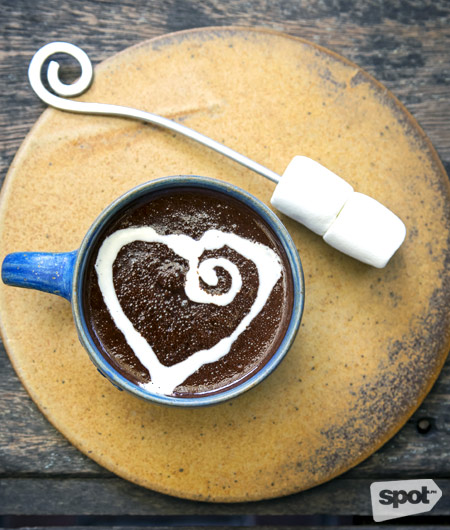 Xocolat
172 B. Gonzales Street corner Katipunan Avenue, Quezon City
Contact: 929-4186
Open daily from 8 a.m. to 12 a.m.
Those who require a quieter coffee setup make a beeline for the rustic and homey promises of Xocolat. Apart from the cozy and intimate setup, plus the lure of a delicious hot chocolate, this cafe is absolutely conducive to students' needs. The tables are set far enough apart so you won't be disturbed by the adjacent seats. There are long ones and small ones for whatever other purpose you need. Xocolat also has private rooms for functions.
ADVERTISEMENT - CONTINUE READING BELOW
Must-tries: Adult Brownies (P85), Taza de Xocolat (P115)
Perfect for: A quiet getaway from the school where you can still study and chat with your block. Many thesis papers have been accomplished here.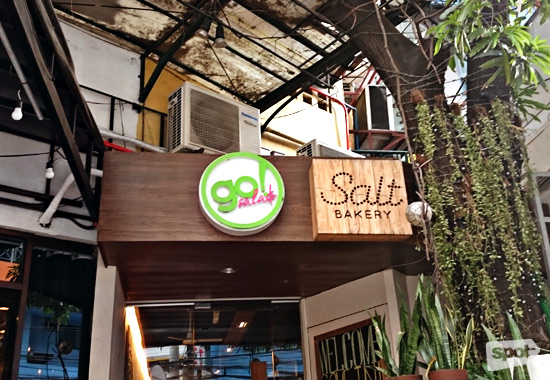 Salt and Go! Salads
F.B. Dela Rosa Street corner Katipunan Avenue, Quezon City
Contact: 0998-565-2949
Open daily from 10 a.m. to 10 p.m.
This shared space is the marriage between a health haven and a dessert shop and it's a combination that surprisingly works. The narrow venue is often crammed with students sipping coffee and sharing a slice of Tosi (owner Sam Ty's throwback to Momofuku Milk Bar's Cristina Tosi). Get a healthy sandwich from Go! and dessert from Salt. That should be enough to tide you over during your meeting.
Students in a rush could also stop over for a green Breakfast Shake for a quick meal on the go.
Must-tries: The Breakfast Smoothie (P120), Bayani Salad (P120), Salted Egg Custard Cupcake (P65), Tosi (P125/slice)
ADVERTISEMENT - CONTINUE READING BELOW
Perfect for: A pitstop!
Read more about Go! Salads and Salt Bakery.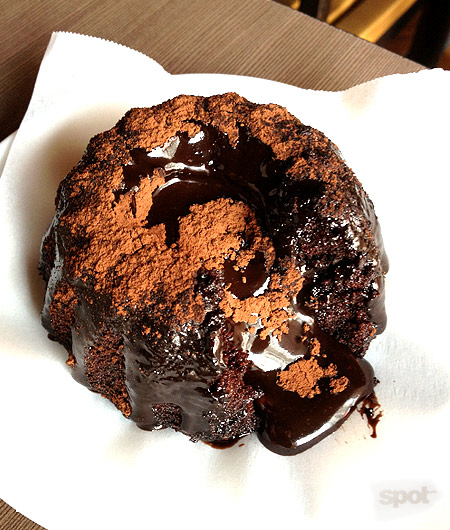 afters Espresso and Desserts
Xavierville Residences, Rosa Alvero Street corner Esteban Abada Street, Quezon City
Open daily from 7 a.m. to 2 a.m.
This Morato original grew from simply being the gelato supplier of Third District coffee shop to taking over the space all together. It's all about being chill and fuss-free. There's breakfast and hot meals, as well as coffee from beans sourced locally and internationally. The highlight of any afters visit, however, is the gelato, which is handmade fresh daily.
Must-tries: Pistachio Gelato (P95), Molten Lava Cake (P240)
Perfect for: A gelato break!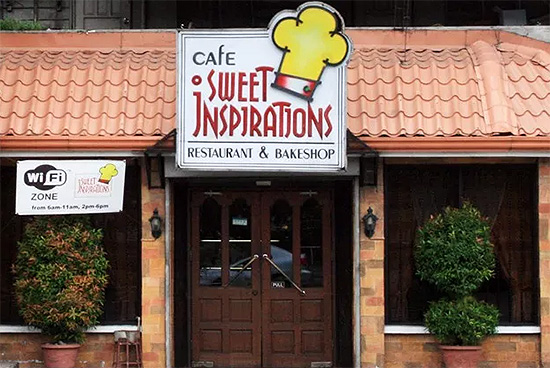 ADVERTISEMENT - CONTINUE READING BELOW
Sweet Inspirations
311 Katipunan Avenue, Quezon City
Contact: 433-2200
Open daily from 6 a.m. to 11:30 p.m.
This Mongolian buffet attracts the entire neighborhood, and that includes a sizeable number of college kids who need to fuel up for the day. You can't beat their unlimited food and inspired sweets (see what we did there?)—all of which fit your average college budget. Sweet Inspirations is a true Katip classic. It's been in the business for over 22 years, and it's withstood the test of big chains.
Must-tries: The Breakfast Buffet (P205), available every Friday and Saturday
Perfect for: A sassy all-you-can-eat post-gym, post-P.E. reward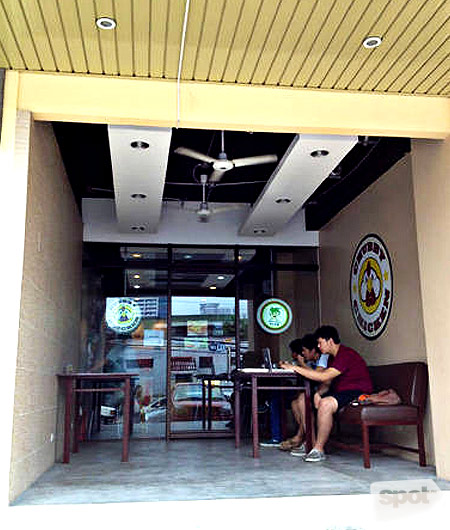 Chubby Chicken
G/F Xavierville Residences, Esteban Abada Street corner Rosa Alvero Street, Quezon City
Contact: 0917-252-6480
Open daily from 10 a.m. to 11:30 p.m.
This chef-run hole-in-the-wall is a little student hideout. The Post-It-covered walls and cramped tables don't seem like much, but there's good grub to be had here—from everyday comfort food like carbonara and chicken to teen-friendly fried Oreos! Chubby Chicken occasionally supplies cool pantry finds, like Twinkies or what we'd like to call our best friend during late-night cram sessions.
ADVERTISEMENT - CONTINUE READING BELOW
Must-tries: Carbonara (P105), Chubby Chicken (P72 to P135)
Perfect for: A no-frills affordable meal
Read more about Chubby Chicken.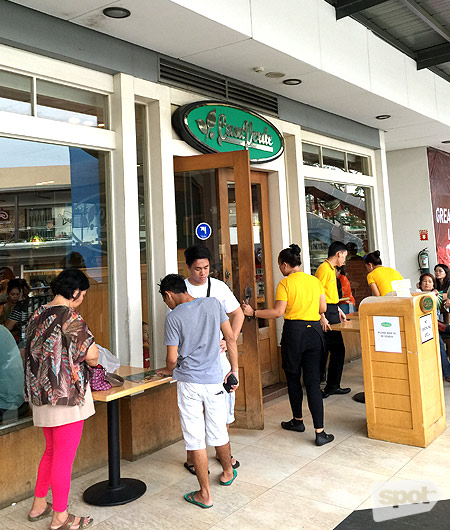 Casa Verde
2/F UP Town Center, Katipunan Avenue, Quezon City
Contact: 364-4154
Open daily from 10 a.m. to 10 p.m.
The prices at Casa Verde are unbeatable and for that, they attract droves of hungry students who are sniffing out hefty meals outside the campus. Here, you'll find barkada-sized burgers (it's nine inches wide), large ribs, and a foot-tall milkshake. It's a little too noisy for group work, but it's much too fun here to get into school stuff, anyway.
Must-tries: The Mighty Ton (P850), Milky Way (P345)
Perfect for: A block lunch during a long break or when there are no mid-terms to study for
WHERE TO ALLEVIATE STRESS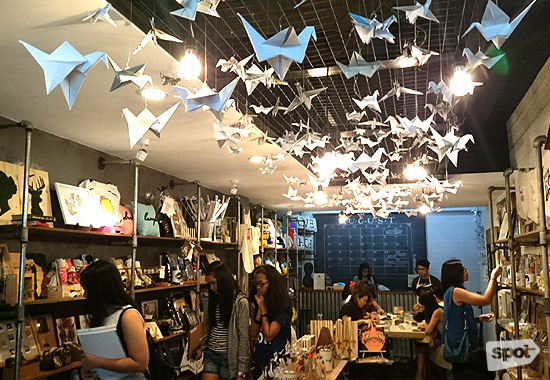 ADVERTISEMENT - CONTINUE READING BELOW
Common Room
325 Dela Rosa Street, Quezon City
Open daily from 10 a.m. to 10 p.m.
This is a relatively new development in the area, but already we've spied Ateneans finding solace in their crafts and bespoke goodies. Crate seats and a swing set outside make it an instant attraction. Formed by the group behind Pop Junk Love, the store curates items from around 33 craft suppliers, like Krafty Pirate, Paper Chic Studio, Tweed & Twine, and more. It also hosts workshops during the weekends that the neighborhood folk are loving.
Perfect for: Your daily dose of prettiness
Photos courtesy of The Ateneo Way (ISO Caf), CafeSweet.com (Sweet Inspirations), and from the Facebook page of Regis Center
Also read: Campus Neighborhood Guide: UP Diliman
Share this story with your friends!
---
Help us make Spot.ph better!
Take the short survey
Load More Stories