Campus Neighborhood Guide: UP Diliman
Where to eat and hang out in the Diliman Republic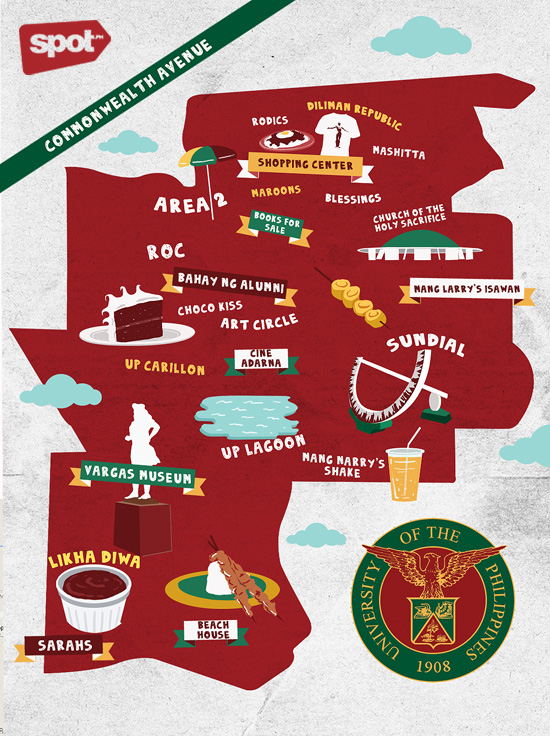 (SPOT.ph) It is often said the University of the Philippines is the microcosm of the country, a representation of the entire nation where you can meet people from different walks of life. It is because of this that the campus naturally evolved into a space that caters to everyone.
If you happen to be a former Isko or Iska (or are one now), you probably miss hanging out in CASAA, or you've looked forward to your first Lantern Parade, UP Fair, or (admit it) Oblation Run. You worried about having P.E. class at the Gym right after English 1 in CAL or AS, and you made roundabout trips on the TOKI/IKOT, barely making it to your exam.
And while you might scoff at the unfamiliar sights and the university's unpopular choices today, one thing remains the same: The variety of affordable food choices, art nooks, and open spaces offer the kind of comforts that's hard to find anywhere else.
Here's a list of the best places to check out whenever you're on campus, whether they're old favorites or new finds.
WHERE TO EAT
Beach House
21 A. Ocampo Street corner C. P. Garcia Avenue
Contact: 264-0827
Open from 9 a.m. to 9 p.m. (Monday to Saturday)
Formerly located near the Main Library in Sunken Garden, Beach House caused quite a stir in 2014 when it was ordered by the Quezon City Regional Trial Court to pack up and leave because of its unsanitary location (it was near a drainage system). It opened in its new location, farther from AS/Palma Hall and populous buildings, but definitely still worth going to for their trademark Beach House barbecue.
Must-try: Barbecue (P25/stick)
Perfect for: Nostalgic alumni and student boarders who live near the area and are looking for a cheap but filling meal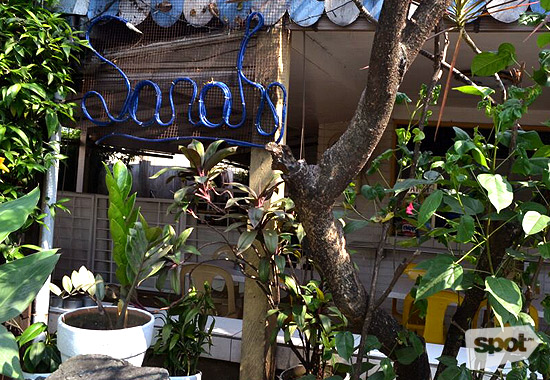 Sarah's
Lt. J. Francisco Street corner C.P. Garcia Avenue
Open daily, 10 a.m. to 1:30 a.m.
UP Diliman's local watering hole is none other than Sarah's. People have been known to stay in Sarah's for hours on end, and their alcohol is the least of the reasons why. It's really the overall good vibes of the place and the camaraderie-inducing ambience that makes Sarah's a favorite hangout.
ADVERTISEMENT - CONTINUE READING BELOW
Must-tries: Beers (P41/bottle), Lechon Kawalisilog (P100), Combosilog (P115), Special Nachos (P130)
Perfect for: Students, professors, and yuccies who want to wind down after a hard day's work and don't mind loud philosophical debates and impromptu jamming sessions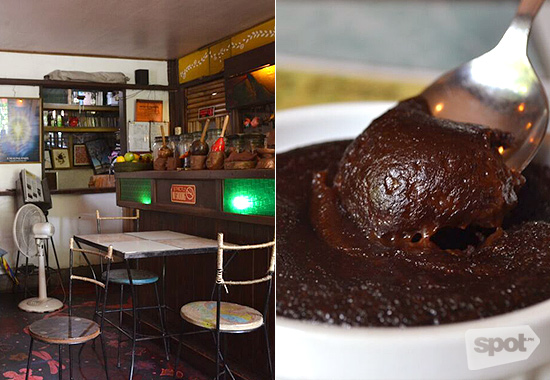 Likha Diwa Vegetarian and Seafood Café
1 Lt. J. Francisco Street
Contact: 434-6545, 0923-819-1453
Open 11 a.m. to 10 p.m. (Monday to Saturday)
Looking for a place to commune with nature? Likha Diwa is this almost hidden chill-out place with an artsy and hipster vibe. It serves vegetarian meals, and even a vegetarian cake! It's where students can kick off their shoes (literally) and sit on pillows and dine Japanese-style on low tables.
Must-tries: Vegetarian Burger (P90), Veg Burritos (P135), Vegan Chocolate Cake (P85)
Perfect for: Health food buffs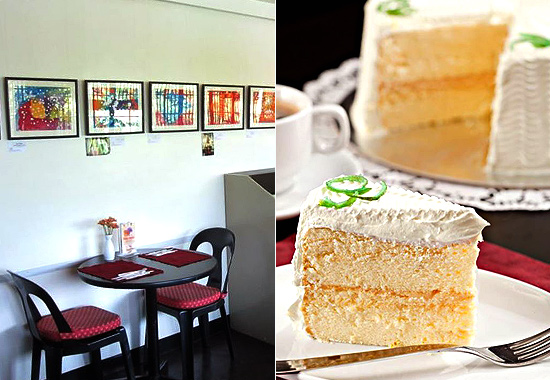 The Chocolate Kiss Café
Ang Bahay ng Alumni, R. Magsaysay Street
Contact: 332-3502
Open daily from 7 a.m. to 10 p.m.
For some students, the reason why Ang Bahay ng Alumni exists is because of The Chocolate Kiss Café. The ambience is classy yet comfortable, where they invite musicians to perform on some nights. Not only do they serve delectable cakes, but they also have one of the best iced tea concoctions in the Metro, served with honey and calamansi.
Must-tries: Devil's Food Cake (P80/slice), Dayap Chiffon Cake (P85/slice), Kahlua Butter Cake (P105/slice), Bottomless Iced Tea (P70)
Perfect for: Students who want a fancy first date; yuppies or creative professionals who need a relaxing spot for a client meeting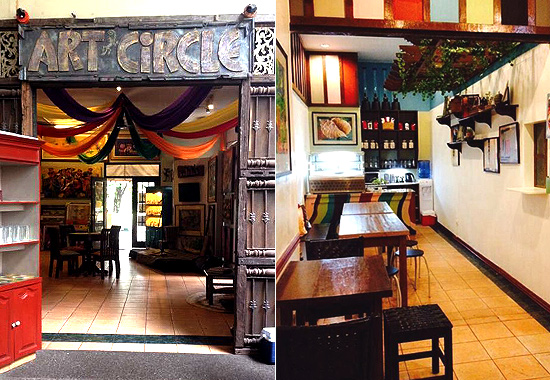 Art Circle Café and Gallery
G/F Ang Bahay ng Alumni, R. Magsaysay Street
Contact: 925-0529
Open 9 a.m. to 8 p.m. (Monday to Saturday) and 9 a.m. to 6 p.m. (Sunday)
Art Circle at Bahay ng Alumni is often overlooked by patrons of more famous cafes in the building, but it is definitely not inferior in terms of what it can offer. Imagine a place where you can sip on local blends while surrounded by artwork you can take home with you—now that's quite a treat.
Must-tries: Shrimp Aligue Pasta (P225), Spicy Pasta Negra (P225), Sagada Hot Coffee (P55/cup), Kalinga Hot Coffee (P55/cup), Benguet Hot Coffee (P55/cup), Barako Hot Coffee (P55/cup), Special Hazelnut Benguet Blend (P60/cup)
ADVERTISEMENT - CONTINUE READING BELOW
Perfect for: Art and coffee lovers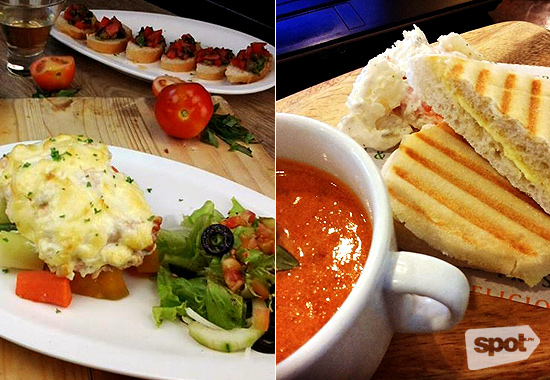 ROC (Restaurant of Choice)
G/F Ang Bahay ng Alumni, R. Magsaysay Street
Contact: 425-0191
Open from 9 a.m. to 9 p.m. (Monday to Saturday) and 10 a.m. to 6 p.m. (Sunday)
ROC is another restaurant inside Ang Bahay ng Alumni that serves Instagram-worthy comfort food. The place has a relaxed vibe, perfect for solo dining and introverts. Students and professionals who frequent this restaurant are often seen reading a book or hunched over their laptops.
Must-tries: Fish Florentine Baked Dory Fillets with Spinach Cream Sauce (P188), Whiskey Glazed Pork Chops (P208), Kalbi Stew (P224), ROC Burger (P168)
Perfect for: Students who want a quiet place to study or finish their required readings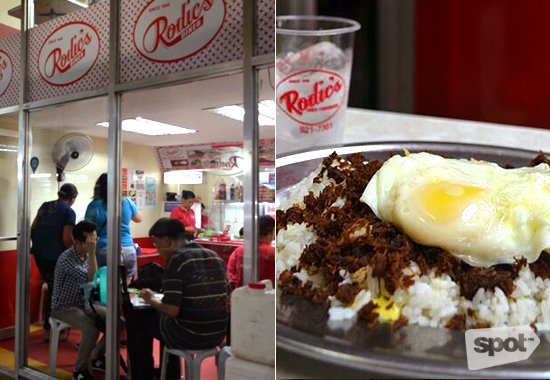 Rodic's
UP Shopping Center, Laurel Avenue
Contact: 920-6980
Open daily from 6 a.m. to 9 p.m.
Rodics's has been around since 1949. There used to be just one branch inside the UP Shopping Center but it's so popular, they had to open a second. For the past few years, they have been expanding and they can now be found in Makati, Marikina, and Commonwealth. The secret to their success? Their yummy but affordable tapsilog!
Must-try: Tapsilog (P85)
Perfect for: Bikers and joggers who want to give themselves a treat after a full morning of exercise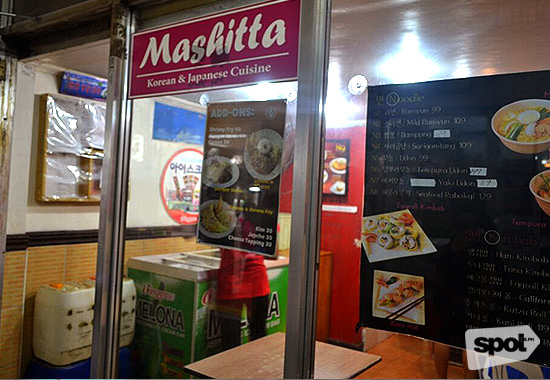 Mashitta Korean and Japanese Cuisine
UP Shopping Center, Laurel Avenue
Open daily from 9 a.m. to 8 p.m.
A lot of food stores have tried to compete with Rodic's at the Shopping Center, and one that's giving it a try is Mashitta. With the influx of Korean and Japanese exchange students on campus, Mashitta is trying to cure these young scholars' homesickness with food they're more familiar with. The store also has stocks of Korean popsicles like Melona!
Must-tries: Tempura Roll (P129), Katzu Roll (P119), Kani Roll (P119), California Roll (P99), Bibimbap (P99)
Perfect for: Foreign exchange students, adventurous foodies, and people who want to try something new at the Shopping Center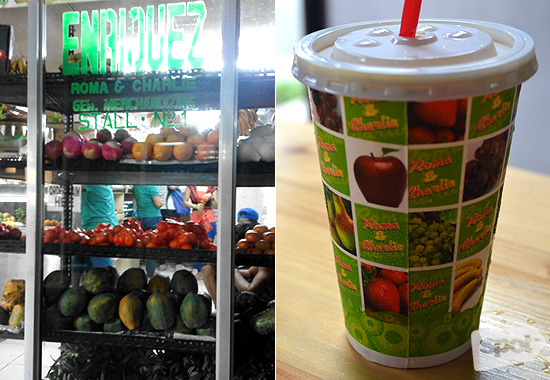 Enriquez Roma and Charlie Fresh Fruit Shakes
UP Shopping Center, Laurel Avenue
Contact: 381-1254
Open daily from 6 a.m. to 8 p.m.
With all the isaw, canton and fish ball stands, the daily diet of the average UP student doesn't seem to be a healthy one. But for a healthier choice, there's a stall inside the Shopping Center that sells fresh fruits and shakes! Enriquez Roma and Charlie Fresh Fruit Shakes offers different concoctions of affordable shakes to address specific health concerns like constipation and improving skin complexion.
ADVERTISEMENT - CONTINUE READING BELOW
Must-tries: Apple + Cucumber + Kiwi Shake (P40/12 oz, P50/16 oz, P65/22 oz), Apple + Cucumber + Celery Shake (P40/12 oz, P50/16 oz, P65/22 oz), Carrot + Apple + Pear + Mango Shake (P45/12 oz, P55/16 oz, P70/22 oz)
Perfect for: Fruit lovers and health buffs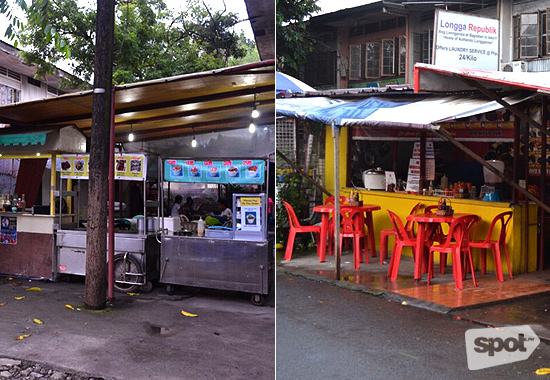 Area 2
J.P. Laurel Street beside the Post Office, near the Shopping Center
This short span of road used to be a row of boarding houses but it has transformed into UP's food street over the past few years. It all started with Lutong Bahay and Kapit Bahay which offered home-cooked meals in a cafeteria setting. Now, foodies will delight at the variety of choices and affordable meals. Most of the stores are open from Mondays to Saturdays, around 9 a.m. to 10 p.m.
Must-tries: Siomai at Iskomai (P25/6 pieces), 1920's Fried Chicken at Old Country Kitchenette (P50 to P99), Quarter Pounder with Cheese at The Snack Shack (P70), Super Bulalo at Digong's Super Bulalo (P200), Pares at UP Pares (P55), Silog meals at Bentelog (P20), Smoothies at Endless Summer Café (P64 to P105), Steak Peralta Pan-Grilled T-Bone Steak at Rambo's Steak and Destroy (P149), different types of longganisa such as Vigan, Cebu, Tuguegarao, and Lucban at Longga Republic (P79)
Perfect for: Hungry foodies on a budget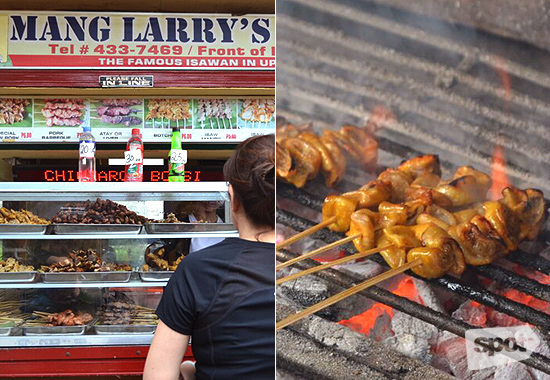 Mang Larry's Isawan
Parking lot in front of the International Center, E. Ma. Guerrero Street
Contact: 433-7469, 0917-385-00432
Open daily from 11 a.m. to 9 p.m.
Mang Larry's isaw is an institution on campus. The stall is so popular that people from neighboring campuses flock to U.P. just to binge on those delicious sticks. Be warned, however, of the long lines that will have you standing under the sun (or rain) for quite a while. So be sure to bring an umbrella and a lot of patience.
Must-tries: Isaw Manok (P5/piece), Isaw Baboy (P5/piece), Goto (P6/piece), Special Isaw Pork (P6/piece)
Perfect for: Foreigner friends who want to try isaw and basically anyone who has an isaw craving
Mang Narry's
Near the Main Library, facing PHAN and AS building, Apacible Street
Open from 7 a.m. to 10 p.m.
The campus has more than its fair share of snack kiosks, most of them serving pancit canton, sandwiches, and combo meals. Taho and mamon peddlers also walk around the campus, much to the delight of the very mobile students who have to walk to different buildings, from one class to another. What makes Mang Narry's stand out? Their Mango Graham Shake that has just the right amount of sweet and tang.
ADVERTISEMENT - CONTINUE READING BELOW
Must-try: Mango Graham Shake (P30/small and P35/large)
Perfect for: Anyone who wants to quench their thirst
WHERE TO GET YOUR ART FIX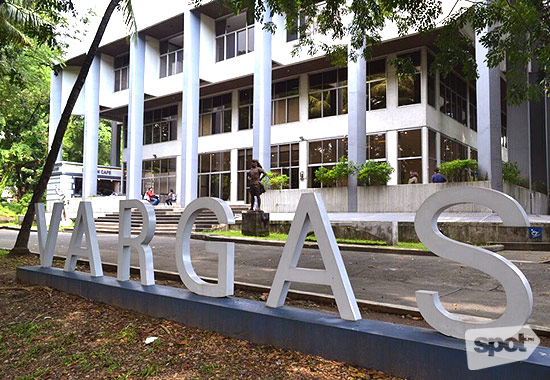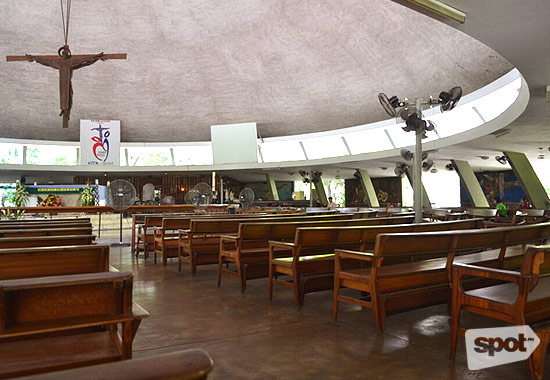 Vargas Museum and Parish of the Holy Sacrifice
Roxas Avenue and Laurel Avenue
A lot of seasoned and up-and-coming artists have made their mark in UP Diliman. Some of them have their artwork exhibited at the Vargas Museum, which holds a vast collection of Filipiniana art and books. The museum and research center is a favorite place for UP alumni artists like Manix Abrera for exhibits, book launches, poetry readings, and other performances.
The Parish of the Holy Sacrifice, on the other hand, is often mistaken as a UFO but has actually been declared a National Historical Landmark and Cultural Treasure by the National Historical Commission of the Philippines and the National Museum of the Philippines. It was designed by National Artist Leandro Locsin and works of three other National Artists (Arturo Luz, Napoleon Abueva, and Vicente Manansal) can be found inside the church.
Perfect for: Art students and enthusiasts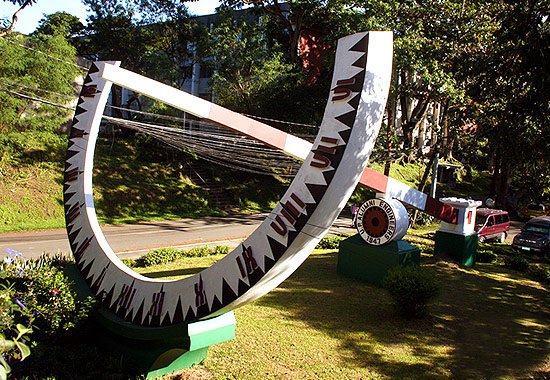 U.P. Sundial
G. Apacible Street
Where the College of Engineering is, the sundial follows! There have been several versions of the sundial since pre-war times and it is usually located wherever the College of Engineering is located. The current sundial is at the center of the Engineering Complex. Even though its construction started in 1972, the year on the design says 1947, the actual year when the UP Alumni Engineers was founded. Trivia: A digital sundial, donated by the Tau Alpha Fraternity, is also located on the west lawn of the college.
Perfect for: Architecture students and heritage enthusiasts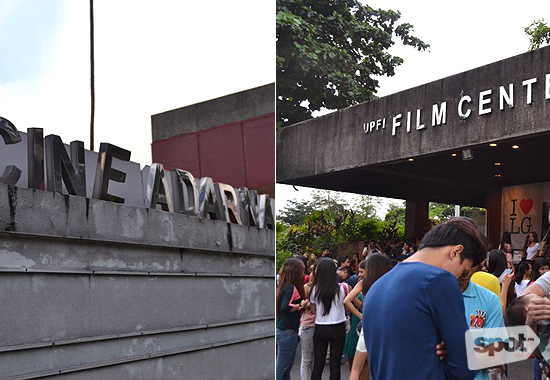 Cine Adarna
R. Magsaysay Street
Contact: 926-2722
Open from Monday to Saturday; screenings start around 2 p.m. with the last full show starting at around 9 p.m.
Check out their website for updated movie schedules
Alumni might best remember Cine Adarna as the place where you might have attended a few awarding and graduation ceremonies, plus some fun (or even forgettable) college events and org shows. Primarily, Cine Adarna is the main movie house of the UP Film Institute, used as a venue for screening Cinemalaya films, international film festival entries, and student theses. Digitally remastered classics such as Ishmael Bernal's Himala and Manuel Conde's Genghis Khan are also previewed here. The entrance fee varies per film but is comparably cheaper to regular movie houses.
ADVERTISEMENT - CONTINUE READING BELOW
Perfect for: Indie film buffs
HANGOUTS AND STUDENT ESSENTIALS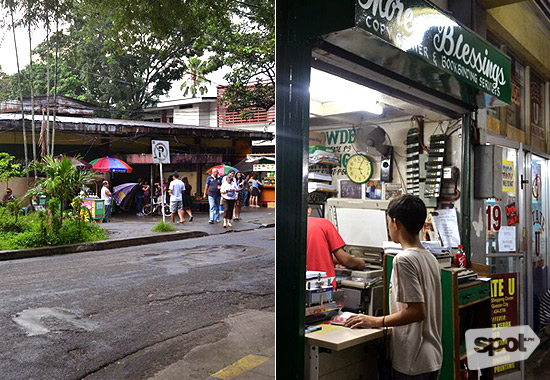 UP Shopping Center
Laurel Avenue
The Shopping Center, also known as SC, is the UP student's equivalent of a mall. It has a pharmacy, a fruit stand, souvenir shops, eateries, supplies stores, and even a studio where you can take or copy photos. Most importantly, it has Internet and printing shops that offer cheap photocopying services. This is where students go to print their tarps or posters for org events and also where they pick up readings from professors. Blessings, one of the most famous stands, can bind your readings for around P20 to P120!
Perfect for: All your photocopying, bookbinding, printing needs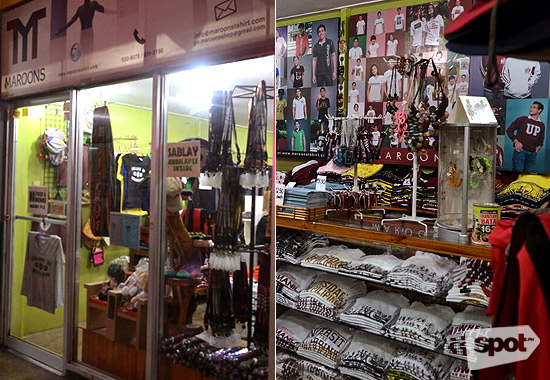 Souvenir Shops: Maroon T-Shirt and Diliman Republic
UP Shopping Center, Laurel Avenue
Official UP stickers and other items are sold at the UP Alumni Association office in Ang Bahay ng Alumni, but there are also shops at the Shopping Center that sell UP merchandise. Maroons has a collection of serious and minimalist designs that may appeal to the more seasoned alumni. Most of them bear the UP logo or carry the name of a specific college. They also sell dolls, lanyards, and more. Diliman Republic, however, is more playful with their shirt designs and hoodies. For example they have shirts that say "Schoolmate ko si Atom Araullo" and "Ely&Buddy&Marcus&Raimund."
Perfect for: People looking for a gift for a UP student or alumni friend (a souvenir sablay, perhaps?)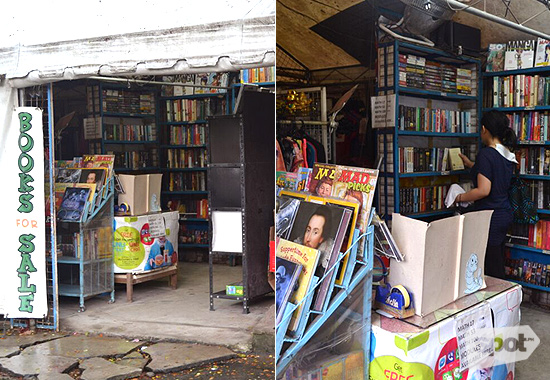 Bookshops
UP students are known to be voracious readers which is why there are several bookshops all around the campus. The U.P. Press Bookstore located along E. de los Santos Street has in stock the works of professors and other distinguished writers. There are also second-hand and thrift bookstores, one of which is located inside Palma Hall, along AS Walk. Another one called Books for Sale (open daily from 9 a.m. to 8 p.m.) is in a tent right beside the Shopping Center. Book launches and book fairs are also held at the Faculty Center. Who knows where the next bookshop will pop up next?
Perfect for: Bibliophiles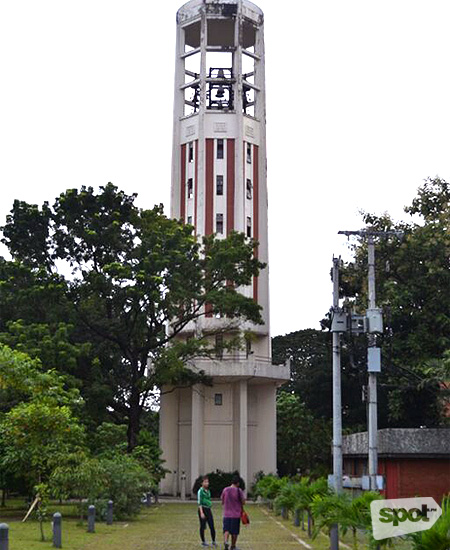 Carillon Plaza
Osmeña Avenue
The 130-feet tower was first conceptualized before World War II but it was inaugurated only in 1952. It was designed by then UP Professor and National Artist Juan Nakpil. Its 46 bronze bells and wooden keyboard can play Filipino folk tunes as well as pop songs. It stopped playing in 1988 and a restoration project began in 2005. In 2011, the Carillon was fully restored with 36 new bells. A plaza was even built around it, complete with benches and topiary.
ADVERTISEMENT - CONTINUE READING BELOW
Perfect for: Joggers and bikers who want to take a breather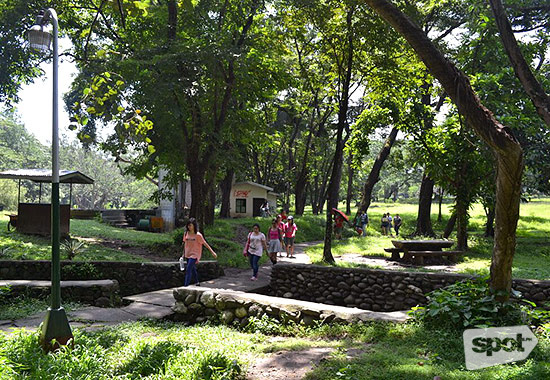 Lagoon
Roxas Avenue
The U.P. Lagoon has gained notoriety as a MOMOL spot. Saying goes, however, that the lovey dovey couples who spend their time here are not actually UP students. In the 1960s it was actually designed to be a golf course. Now, it is used by students to get from one side of the academic oval to another. The statue of three women sewing the first Philippine flag can also be found here, which is a work of National Artist Napoleon Abueva.
Perfect for: Photo shoots or nature treks
Photos by Nicko de Guzman; Art Circle, Chocolate Kiss, and UP Town Center photos from their Facebook pages; Sundial from upd.edu.ph
Load More Stories