Campus Neighborhood Guide: University of Santo Tomas
Explore the bustling streets around the oldest university in Asia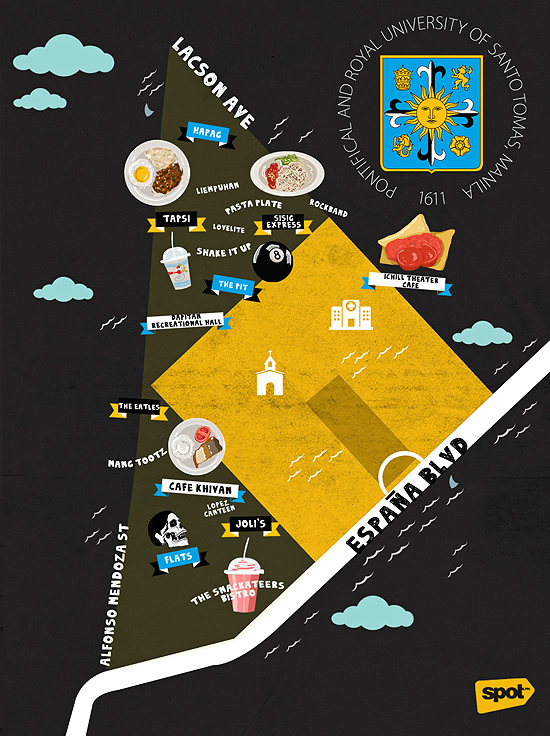 (SPOT.ph) The area surrounding the University of Santo Tomas is known for two things: the flood and the food. Although Thomasians have the added convenience of the Car Park and the Quadricentennial Pavilion, there's so much more to see, eat, and do beyond the walls. People dip into the scene every day to take a chance on the food crawl promised by España, Lacson, Dapitan, and P. Noval. In Sampaloc, Manila, it's not hard to get around with just a few hundred pesos in your pocket.
If you're ready to take on the bustling streets of UST, here's a quick guide for the most savory and fun spots of the area.
This list focuses on areas surrounding the UST campus.
Also read:
Campus Neighborhood Guide: UP Diliman
Campus Neighborhood Guide: Ateneo de Manila University
WHERE TO EAT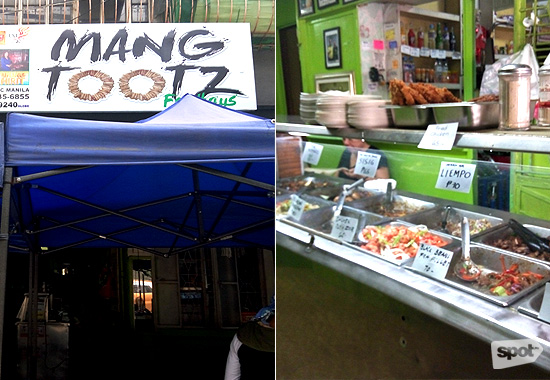 ADVERTISEMENT - CONTINUE READING BELOW
Mang Tootz Food House
1135 P. Noval Street
Contact: 735-6855
Open from 9 a.m. to 9 p.m. (Monday to Saturday)

If you're new to the area and you're looking for a must-try, ask any Thomasian and they'll probably point you to Mang Tootz. Established in 1991, this carinderia is best known for their friendly service and the banana rhuma dessert—mini-turons sprinkled with sesame seeds, cinnamon, and milk powder.
Must-tries: The student favorites are the liempo, sisig, and the chicken kebab (P65 to P100 for a meal). Don't forget to get a plate of banana rhuma for dessert (P10/three pieces). Split with your friends and enjoy the hefty servings!
Perfect for: Affordable bingeing. Just make sure you're willing to brave the long lines during peak hours!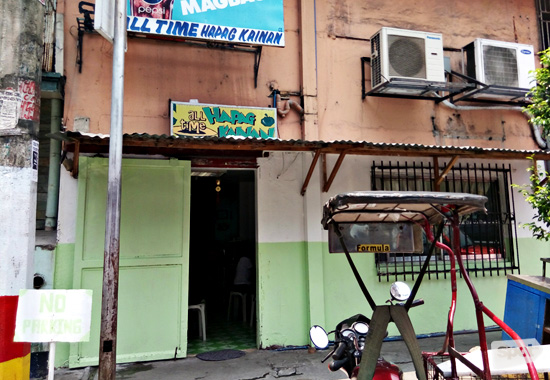 Hapag
1420 V. Conception Street
Open daily from 6:30 a.m. to 9 p.m.
You may need to keep your eyes peeled when you're looking for Hapag along V. Conception Street. Behind its unassuming exteriors is an eatery that delivers on huge servings that will definitely tempt anybody to take on another cup of rice.
ADVERTISEMENT - CONTINUE READING BELOW
Must-tries: House favorites are kare-kare and sisig (P30/half variant, P50/whole variant), and if you can't decide between the two, go half-and-half for the same price!
Perfect for: A really filling lunch, solo and for sharing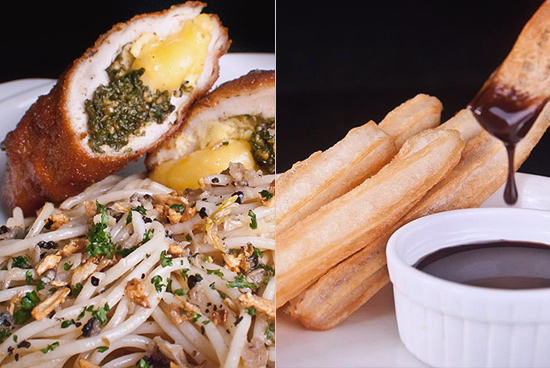 Pasta Plate
1228A V. Conception Street
Contact: 399-0244
Open daily from 9 a.m. to 8 p.m.
This quaint little space attracts diners looking for a fancier taste of Dapitan. From their wide array of pastas, rice meals, and chocolate churros, you're bound to leave with a full stomach and satisfied taste buds.
Must-tries: For pastas, try the Cheezy Chicken Pesto (P131) and Creamy Pesto with Grilled Chicken (P119), but if you're faithful to rice, the Cordon Bleu (P164) and the Barbecue Ribs (P185) may be the one.
Perfect for: Pasta-lovers and a quick date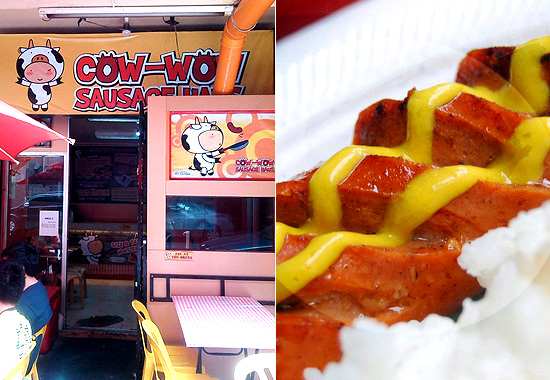 ADVERTISEMENT - CONTINUE READING BELOW
Cow Wow Sausage Haus
937 P. Noval Street
Contact: 711-3211; 0906-488-8757
Open daily from 8 a.m. to 10 p.m.
This restaurant serves up all kinds of sausages (P55/on bun, P55/with rice, P65/with rice and egg), from Hungarian to Schublig to Polish. Pair it with your choice of sides, order extra rice (trust us on this), and you're all set. The servings here are humongous so come with an empty stomach.
Must-tries: The German Sausage, which comes in cheesy and extra spicy varieties, is their bestseller. They also offer barkada platters (P160) that come with three sausages and four cups of rice.
Perfect for: Diners with hearty appetites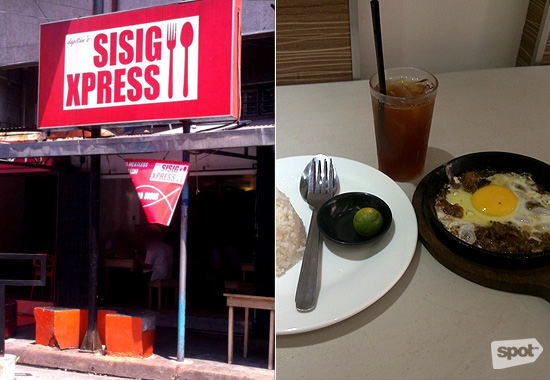 Sisig Express
1226A V. Conception Street
Open daily from 9 a.m. to 10:30 p.m.
The almost legendary sisig of UST never disappoints. It's easily one of the first places Thomasians bring their outsider friends to for a quick sample of the flavors the area has to offer.
ADVERTISEMENT - CONTINUE READING BELOW
Must-tries: The classic pork sisig comes with a raw egg cooking right on top of the hot plate and a cup of plain rice (P59). Another popular dish is the deep-fried buttered chicken (P49/one piece and P75/two).
Perfect for: A quick lunch during breaks or time between classes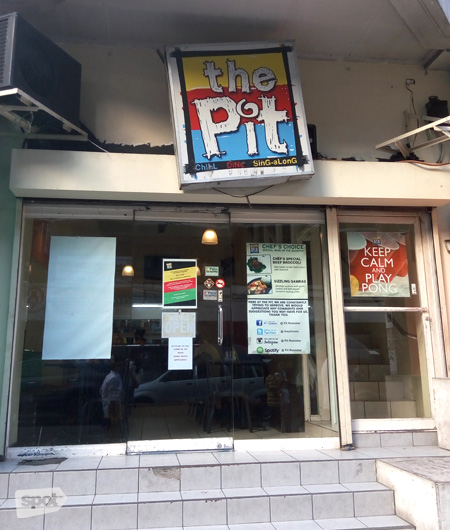 The Pit
1210 Asturias Street
Contact: 0917-823-5321
Open daily from 8 a.m. to 11 p.m.
This two-level restaurant appeals to Dapitan regulars because of the great meals that they serve on the first floor and a comfortable place to knock back a few drinks on the second. People frequent The Pit because it has drinks that the rest of the bars in the area have yet to serve.
Must-tries: Go for their T-Bone Steak (P145) or kaldereta (P95), paired with a cold bucket of beer.
Perfect for: Dinner and inuman with friends
ADVERTISEMENT - CONTINUE READING BELOW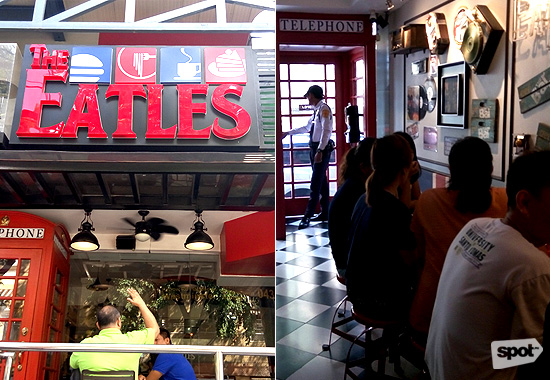 The Eatles
1175 P. Noval Street
Contact: 230-9299
Open daily from 11 a.m. to 8 p.m.
Any well-meaning music fan should try this Beatles-themed restaurant that's pretty new to P. Noval. This restaurant is ready to charm anybody right off the bat with a red telephone booth as the front door and the cooks working their magic behind a big red bus. We love their Beatles memorabilia on the walls!
Must-tries: The best-selling Eatles Burger (P175) is a beef patty with two slices of cheese and bacon, and the pasta favorite is the Pesto Pasta (P165). Top it all off with a slice of Blueberry Cheesecake (P145).
Perfect for: Big splurgers and music fans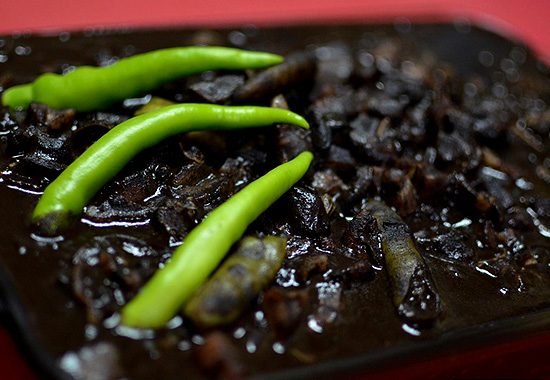 ADVERTISEMENT - CONTINUE READING BELOW
Lopez Canteen
1203 Unit A-4 I, Delos Reyes Street
Contact: 0932-622-1151; 0915-344-1725
Open 6 a.m. to 9 p.m. (Monday to Saturday)

This eatery has been serving mouthwatering Pinoy fare for the past 55 years, and there's no signs of it slowing down. From their popular dinuguan to the pancit palabok, Mommy Lopez accompanies and accommodates budgets of all sizes. They're also known for having the nicest and friendliest staff around!
Must-tries: Hit up any of the combo meals (P65) and order pancit palabok for you and your friends!
Perfect for: Hungry students looking for some silog meals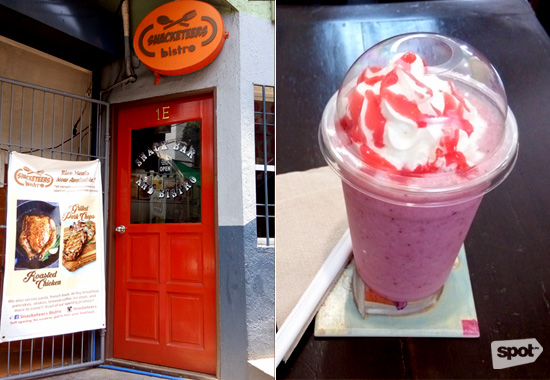 The Snacketeers Bistro
981 Unit 1F P. Delos Reyes Street
Contact: 400-1070
Open daily from 9 a.m. to 9:30 p.m.
This cozy new spot is for those who enjoy the combination of a mellow atmosphere, good food, and a tasty smoothie. Situated under a flight of apartment stairs and complete with cute cat illustrations on the wall, The Snacketeers Bistro is sure to attract those not only looking for a good meal, but a place to chill out, minus the noise.
ADVERTISEMENT - CONTINUE READING BELOW
Must-tries: Try the Grilled Chicken Pesto (P165) for their pasta and the Roasted Chicken (P145) for their rice meal. If you feel like breaking the rules, they also serve all-day breakfast, complete with egg and toast (P165 to P255).
Perfect for: Cat and breakfast food lovers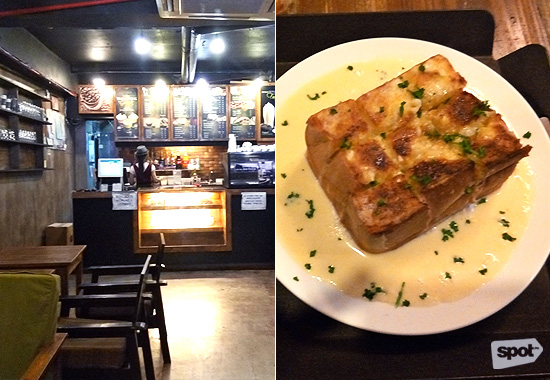 Café Kivhan
1055 P. Noval Street
Contact: 0917-547-5252
Open daily from 9 a.m. to 3 a.m.
The cozy and roomy interiors of this split-level café wins the hearts of people from all sides of the campus and has them ditching the usual brewed coffee options.
Must-tries: The Caramel Macchiato and Café Mocha (P135/each) go perfectly with a bowl of cheesy garlic bread to share (P210).
Perfect for: A quiet study session alone or in a group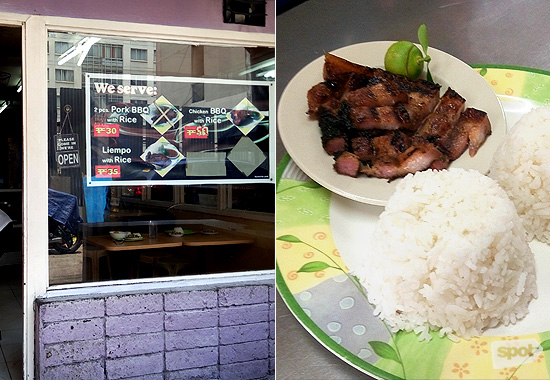 ADVERTISEMENT - CONTINUE READING BELOW
Liempuhan sa Dapitan
1256 Antonio Street
Open daily from 10 a.m. to 8 p.m.
It takes a bit of legwork to get there, but this house-turned-eatery has no problem filling tables once lunch time rolls around. You can hear any Antonio Street regular brag about this place for tasty liempo and free-flowing sauce at the cheapest possible price you can get in the whole city. We're not kidding!
Must-tries: They have plenty of other variants, but what you're really there for is the liempo meal (P35) and the super cheap cup of extra rice (P5).
Perfect for: A satisfying meal on an extra-tight budget
HANGOUTS, STUDENT ESSENTIALS + EXTRAS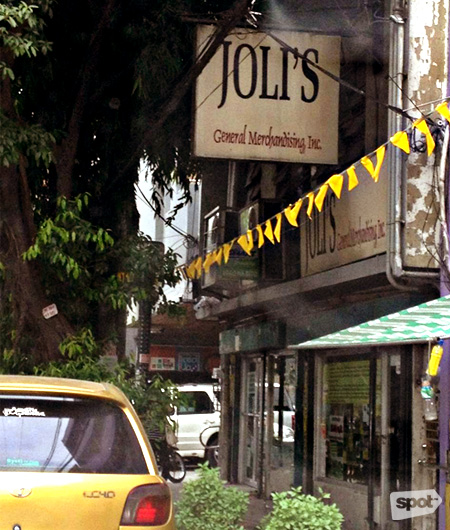 Joli's
959 P. Noval Street
Contact: 736-6361
Open daily from 7 a.m. to 6 p.m.
This shop has been the supplies haven for Fine Arts, Engineering, and Architecture majors in UST since 1982 (back then, it was inside the campus). With as many supplies as the big bookstores and cheaper prices to match, you'll come running to Joli's for whatever materials you need.
ADVERTISEMENT - CONTINUE READING BELOW
Perfect for: Arts-and-crafts enthusiasts and Fine Arts students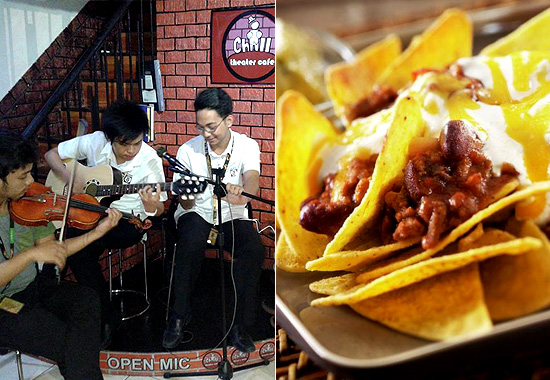 iChill Theater Café
1125 Dos Castillas Street
Contact: 521-0056
Open daily from 10 a.m. to 2 a.m
If there's a café in Manila that has it all, this is it. This restaurant calls itself an "underground theater," with a massive TV screen that takes up a whole wall for movies, and a stage for all kinds of performances, impromptu or otherwise. Anybody who dares to perform is given free food!
Must-tries: Order a smoothie or a chai latté and go on stage to tell a funny joke or a pick-up line for a free snack!
Perfect for: A large groups of friends looking to have some fun or study groups later in the night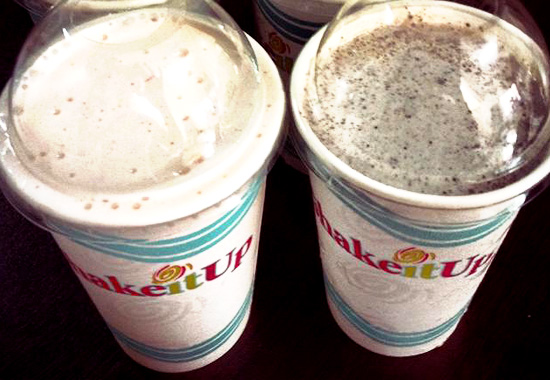 ADVERTISEMENT - CONTINUE READING BELOW
Shake It Up
1236 Asturias Street
Contact: 522-2344; 0917-556-1885
Open from 9 a.m. to 9:30 p.m. (Sunday to Friday) and from 9 a.m. to 8 p.m. (Saturday)
This shack has so many flavors that they cater to every taste and craving. Get a kick out of ordering as many flavors as possible so you can have a taste of it all. Students often stop by Shake It Up to beat the heat: The combination of steady air-conditioning and thick, flavorful shakes do just the trick.
Must-tries: You can opt to choose a combination of flavors (P90 to P110) or go for their popular and creatively named Shake It Up! Collections (P120). The banana-strawberry mix of the Summer Breeze will take you straight to the beach!
Perfect for: Your sweet tooth and a much-needed break from the sweltering sun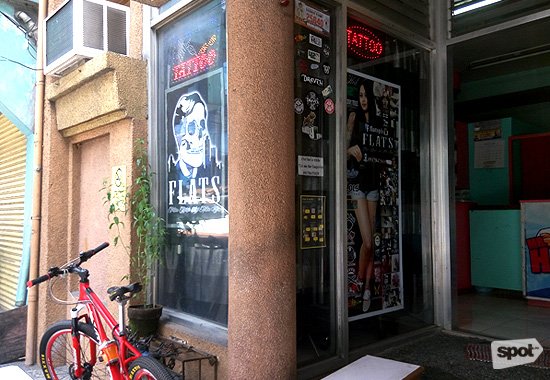 FLATS
Andrea Building, 1009 G.M. Tolentino Street
Contact: 0917-847-5039
Open daily from 10 a.m. to 8 p.m.
ADVERTISEMENT - CONTINUE READING BELOW
Now tucked into a quieter corner of the neighborhood, this tattoo shop has both students and outsiders coming in and out to have their mark made. Not only do they do tattoos here, but they also sell some hard-to-find urban wear.
Perfect for: Tattoo and urban fashion lovers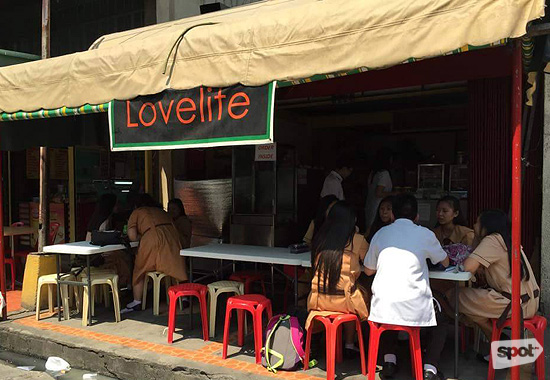 Lovelite
1224 Asturias Street
Open daily from 7:30 a.m. to 8:30 p.m.
Their heart-shaped eggs and copious helpings of gravy are pretty much a habit for students who are rushing to squeeze photocopying their readings and a yummy lunch into one short free period.


Must-tries: The bacon, egg, and cheese sandwich is just right for those looking for a filling, but quick bite!
Perfect for: Bacon lovers and all your affordable photocopying and bookbinding needs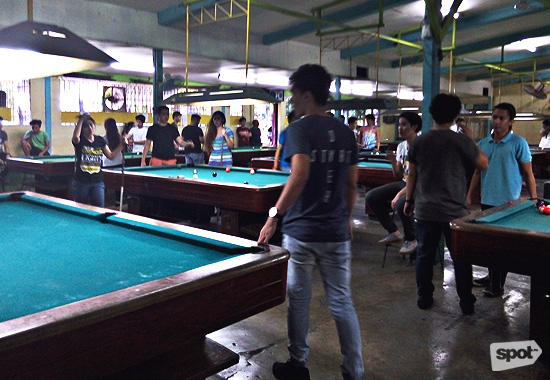 ADVERTISEMENT - CONTINUE READING BELOW
Dapitan Recreational Hall
1341 Navarra Street

Looking to chill and knock a couple of billiard balls with some friends while you sip on an ice-cold bottle of Coke? Make a beeline for this spacious hall of pool tables that has been a staple Dapitan hangout forever.
Perfect for: A cheap game of pool to bond with the barkada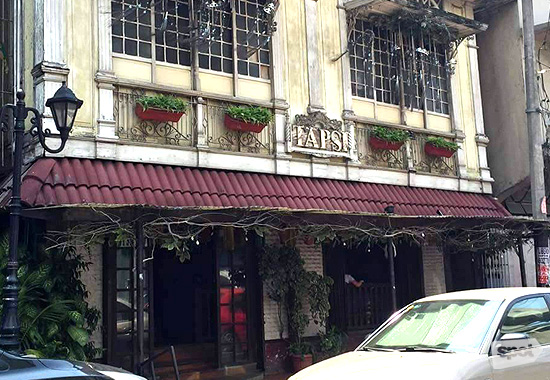 Tapsi
Asturias Street
Open daily from 10 a.m. to 12 a.m.
As one of the most memorable inuman houses in UST, Tapsi has been a long-time favorite for students and visitors alike. From a quick drink to wrap up an afternoon to a night of catching up with some friends, it's the place to be for any Thomasian.
Must-tries: Go for an addictive bowl of kropek (P50) and sizzling bar chow paired with a bucket of ice-cold beer.
Perfect for: Nursing a broken heart...whether it's because of an ex or a singko
ADVERTISEMENT - CONTINUE READING BELOW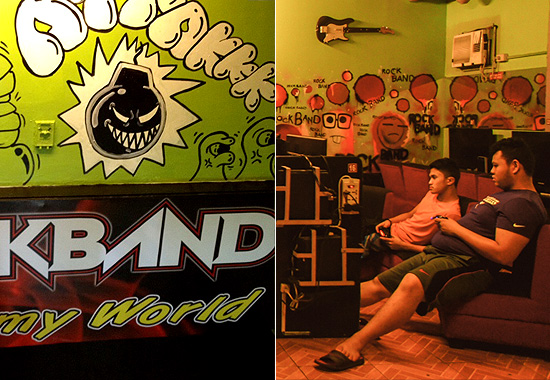 Rockband Net Café
Dapitan Street corner Gelinos Street
Contact: 736-0581
Open 24 hours
This shop offers a lot for gamers and non-gamers alike. Here, you can rent a Rockband set or pick a video game to play on an Xbox 360 or PlayStation 3 for a few hours. If that's not your idea of fun, you can have a movie marathon or kick back with your friends and a karaoke machine.
Perfect for: Big groups of friends who want to chill between classes or unwind after a long day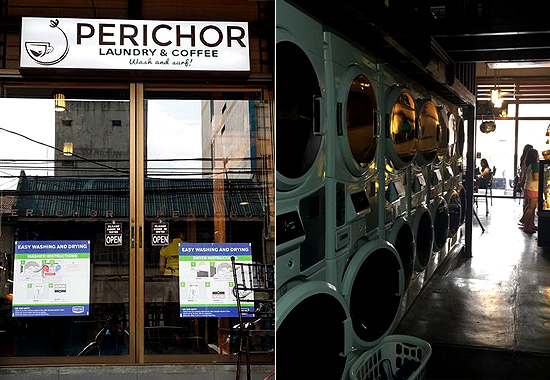 ADVERTISEMENT - CONTINUE READING BELOW
Perichor Laundry and Coffee
954 iTower 2.0, P. Campa Street, Sampaloc, Manila
Contact: 714-5896
Open daily from 8 a.m. to 12 a.m.
Now here's something you've likely never seen before. This fully airconditioned coffee shop combines a good cup of joe with the added convenience of a laundromat. They promise to get your laundry done in a little over an hour, while you enjoy your drink and a slice of cake–all with cable TV and free WiFi!
Must-tries: The Peri Mocha Frappe (P125/regolare, P135/grande, P145/jumbo) is perfect for a hot day. They also serve fruit shakes (P50 to P70).
Perfect for: The multi-tasking dormer
Photos by Aimee Cando; Cow Wow, iChill, Lopez Canteen, Perichor, Pasta Plate, and Shake It Up photos from their official Facebook pages; Rockband Net Cafe from their official website and amplify.ph.
Also read:
Campus Neighborhood Guide: UP Diliman
Campus Neighborhood Guide: Ateneo de Manila University
Load More Stories