(SPOT.ph) With the kind of weather we're having, there's nothing like a belly flop into the cool blue chlorination of a city swimming pool. Of course, every city dweller dreams of the beach. But who has the time to head out of town and hit the sea? Plus, swimming pools offer their own advantages: cleanliness, convenience, and a noticeable absence of currents, sea animals, or sand in your crotch.
Here's our list of the 10 of the most decent swim spots in Metro Manila. As we're not exactly what you'd call fit people-heck, half the articles in SPOT.ph are about food-we judged these pools as a layman would: in terms of accessibility, cleanliness, cost, and general upkeep. We focused on pools that were open to the public and operate on a per-use basis, without requiring membership fees. We also decided not to include hotels, not even those with pools that are open for non-guests.
ADVERTISEMENT - CONTINUE READING BELOW
Also read:
Top 10 Public-Access Pools in Metro Manila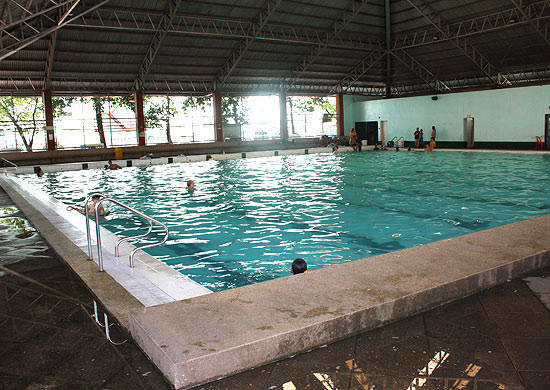 10. Pasay Sports Complex
Arnaiz Avenue, Pasay City
8 a.m. to 11:30 a.m, 1 p.m. to 4:30 p.m.
Price: P50/adult (rates cheaper for Pasay residents)
A small, squarish pool, it's situated right near city hall, so expect it to be a bit crowded. It has eight marked lanes, but no starting blocks, with a maximum depth of five feet. With its square shape and lack of spectator seating, this certainly isn't built for hardcore swim meets. Still, we like the fact that it's one of the few pools on our list that's completely indoors, so you can take a dip without worrying about the weather. That said, expect a lot of people, and a poorly maintained changing room (with rusting lockers).
For: Exercisers and Pasay residents looking for a pool to swim in all year round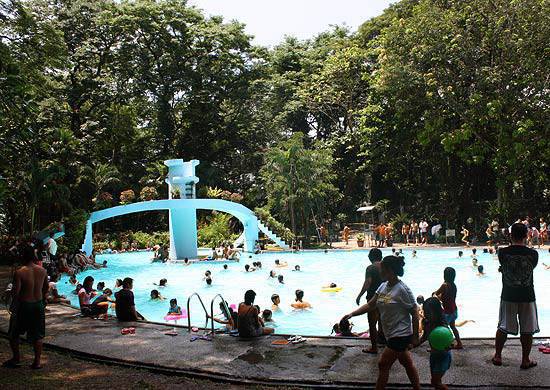 9. La Mesa Eco Park

East Fairview Subdivision, Quezon City
9 a.m. to 4 p.m.
Price: P80
There are two pools in La Mesa Eco Park: the main figure eight-shaped pool and a smaller kiddie pool beside it. One of the arms of the main pool is only around three feet, while the other arm goes up to six feet. Both pools are surrounded by the lush rainforest, and even the area right around the pool is grassy, so you can sit and rest among the scattered logs and stones. If you're in the mood for a nature trip 'n' dip, this might be the spot for you-but be warned, a lot of families come here during the summer. Also, aside from the P80 you need to pay for the pool, there's an additional P50 entrance fee for the park itself.
ADVERTISEMENT - CONTINUE READING BELOW
For: Family outings that need an out-of-town, away-from-the-city vibe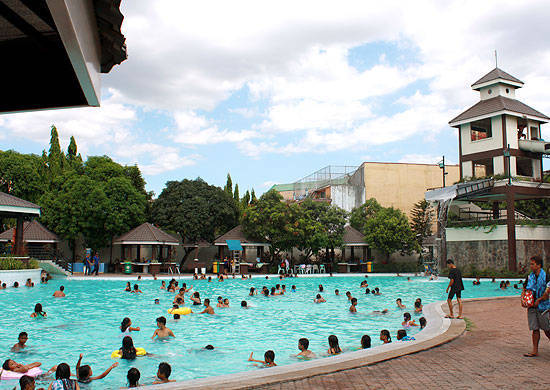 8. RAVE of Pasig

F. Legaspi Avenue, Barangay Maybunga, Pasig City
7 a.m. to 4 p.m.
Price: P150 (rates cheaper for Pasig residents)
Once known as Pasig's Rainforest Park, the newly rebranded RAVE boasts this pool as one of its showcase attractions. It looks like a resort pool, with two spiralling water slides, pavilions and tables for rent, and statues of the Smurfs and SpongeBob at the entrance. Three small kiddie pools front the irregular-shaped main pool-and one of them even has a fun house! As expected, amenities like these draw in the crowds, so make sure you come early. There's a standard rectangular swimming pool located off to the side, but when we asked management about it, they said it was reserved for swimming lessons only.
ADVERTISEMENT - CONTINUE READING BELOW
For: Day trippers with tots and young'uns in tow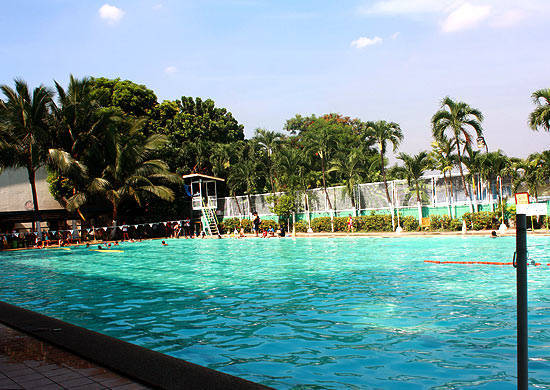 7. Amoranto Sports Complex

Don Alejandro Roces Avenue, Barangay Paligsahan, Quezon City
9 a.m. to 12 n.n., 1 p.m. to 4 p.m. Closed on Mondays
Price: P25
Located inside the appropriately-named Barangay Paligsahan, the Amoranto Sports Complex has a swimming pool built above the parking lot and nearby shooting range. There's a row of covered spectator bleachers overlooking the pool for onlookers-the better to cheer them on as they paddle through the eight-lane, 50-meter competition-level pool. Trees and shrubbery planted around the pool give it a very relaxed air. We feel, though, that they open a bit too late, and close a bit too early, for working stiffs like us to get a good swim.
ADVERTISEMENT - CONTINUE READING BELOW
For: Swimmers looking for a weekend workout on the cheap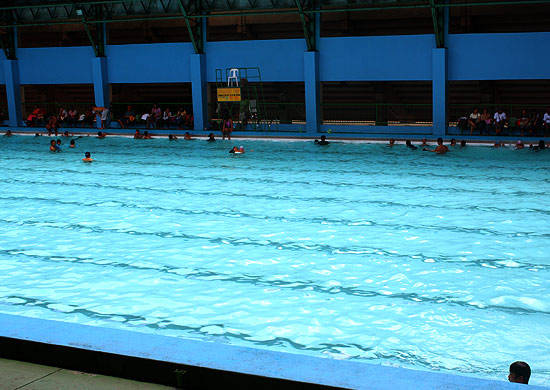 6. Marikina Sports Park

Sumulong Highway, Barangay Sto. Nino, Marikina City
8 a.m. to 11:30 a.m., 1 p.m. to 4:30 p.m., 6 p.m. to 9:30 p.m.
Price: P40 for daytime rates, P60 for nighttime rates
Like the Pasay Sports Complex, the Marikina Sports Park is located beside the city hall. It's better maintained, though, with small but clean changing rooms, color-coded spectator seating, and a tiled shower area beside the pool. There's a very competition-level vibe to the place: the nine-lane pool stretches for 50 meters, with three feet at its shallowest point and six feet at the deepest, and there's even a rostrum for race finishers (complete with Greco-Roman pillars) behind the starting blocks. Plus points for being quite cheap, and being open to the public at night!
ADVERTISEMENT - CONTINUE READING BELOW
For: Salary drones who need an inexpensive after-work swim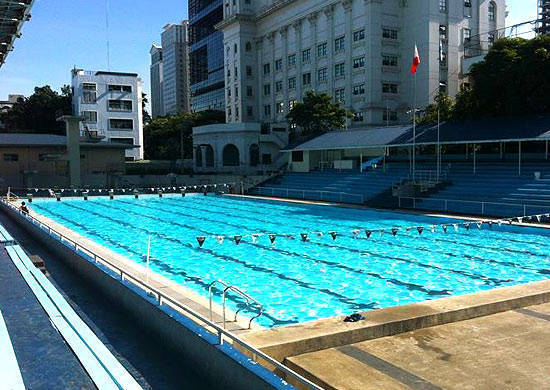 Photo by Donna Kristine B. of Foursquare
5. Rizal Memorial Sports Complex

Vito Cruz, Malate, Manila
8 to 11:30 a.m., 1 p.m. to 4:30 p.m. Closed on Mondays
Price: P60
One of the country's premier competition pools would have ranked higher on our list if it were more open to the general public. When we inquired with the lifeguards at the Rizal Memorial Sports Complex, we were informed that their pool is now only selectively open to swimmers. That is, you have to inquire at the head office, located in the third floor of the complex's administration building, before you can swim. Should you get in, however, you can be assured of a great workout. The main pool measures 50 by 25 meters, and is quite deep, measuring 7.5 feet at its lowest point. Flanking the main pool are two other pools: one, a flat four-foot kiddie pool and a diving pool that is not open to the public.
ADVERTISEMENT - CONTINUE READING BELOW
For: Swimmers who are all set for some serious training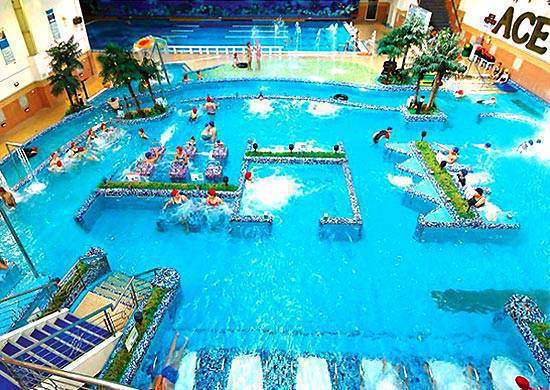 Photo from ACE Water Spa
4. ACE Water Spa
399 Del Monte Avenue, San Francisco Del Monte, Quezon City
United St. corner Brixton St., Barangay Kapitolyo, Pasig City
6 a.m. to 10 p.m., Sunday to Thursday, 6 a.m. to 11 p.m. Friday to Saturday
Price: P550 (good for four hours)
ADVERTISEMENT - CONTINUE READING BELOW
You know what they say: you get what you pay for. This is the most expensive pool on the list, but the quality is evident when you step inside the changing room: rubber mats, spacious shower stalls, hairdryers, private lockers...the works. They are quite strict in Ace-you must wear a swim cap, their in-house slippers, and, for the boys, tight butt-clinging trunks, all of which can be rented from within the locker rooms. Once past the locker room, there are a variety of pools to choose from: the lap pool for swim practice, hydrotherapy bubble pool, heated pools, a kiddie pool area with fun add-ons, and more. Basically, Ace Water Spa isn't just a pool...it's an indoor water theme park.
For: Swimmers and non-swimmers who want to have a relaxing day in the water.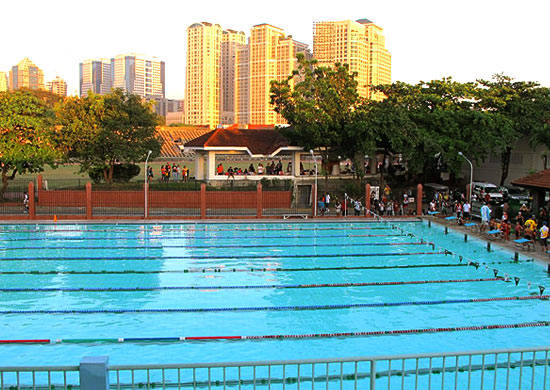 ADVERTISEMENT - CONTINUE READING BELOW
Photo from the I Love Paranaque Facebook page
3. PhilSports Complex (ULTRA)
Capt. Henry Javier St. corner St. Martin St., Pasig City
8:00 a.m. to 11:30 a.m., 1:00 p.m. to 4:30 p.m. Closed on Mondays
Price: P60
If you don't have a car, walking to the pool through the maze of buildings that make up the PhilSports Complex is enough of a warm-up already. We won't blame you if you get lost! But the pool at ULTRA, as the complex is more popularly known, is one of the city's most popular. Ten lanes are available for swimmers to crawl through its 50-meter length. The location is quiet and peaceful, the changing rooms are quite spacious (but missing some decent lockers), and, if you're training for a triathlon, the track oval is right around the corner. Another plus? You might spot a celeb or two working out here.
For: Kids and grown-ups on the lookout for a quality dip.
ADVERTISEMENT - CONTINUE READING BELOW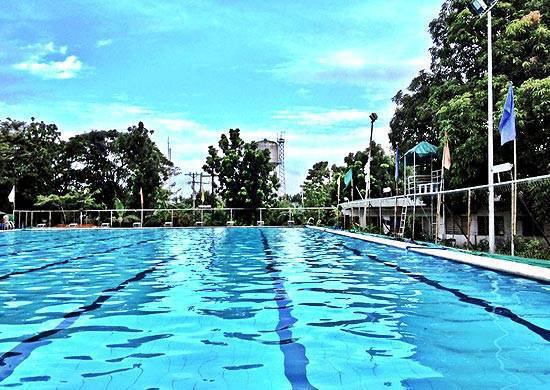 Photo by R.V. Mitra
2. Philippine Army Wellness Center
Lawton Avenue corner Bayani Road, Taguig City
1 p.m. to 6 p.m on weekdays, 8 a.m. to 6 p.m. on weekends. Night swimming open from 6:00 p.m. to 10:00 p.m. on Tuesdays and Thursdays
Price: P100 for daytime ride, P125 for nighttime rate
ADVERTISEMENT - CONTINUE READING BELOW
The pool at the Army Gym, as it is more commonly known, is one of the best options if you're looking to take a dip after work. As you can expect from a military installation, everything is quite spic-and-span. Recreational swimmers are welcome-aside from the 50-meter pool, the Army pool offers pavilions and cottages for rent. It's also a venue for synchronized swimming, underwater hockey, and dragon boat training. If you're bringing a car, don't worry: parking is spacious enough to fit a platoon of tanks.
For: Swimmers looking to do it soldier-style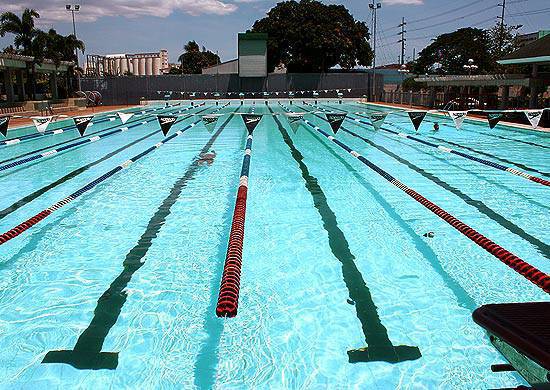 ADVERTISEMENT - CONTINUE READING BELOW
1. Makati Aqua Sports Arena
J.P. Rizal Extension, Makati City
8 a.m. to 12 p.m., 1 p.m. to 8 p.m., closed on Mondays
Price: P150 (rates are discounted for Makati residents)
This is one of the more well-regarded pools among the swimming set, and it's easy to see why. Located beside the Pasig River, a nice breeze is always guaranteed (and no, it doesn't smell; it isn't the '90s anymore). Lots of nearby trees and shrubbery enhance the feel. The pool is a good-sized one, measuring 50 meters by 25 meters, with eight lanes and starting blocks. The changing room is spacious, well-maintained, and provides more than a hundred lockers. There's also a fairly large kiddie pool located just beside it that has its own changing rooms. Thanks to its worker-friendly hours, great amenities, and overall good vibes, MASA is, in our opinion, the best-value public pool out there.
For: Pool junkies (both young and old, for exercise or for fun) looking for a steady spot to swim in
ADVERTISEMENT - CONTINUE READING BELOW
Share this story with your friends!
---
Help us make Spot.ph better!
Take the short survey
More Videos You Can Watch
Load More Stories