Top 10 Workouts You Can Do on a Budget
Affordable workouts you can do in and around Manila.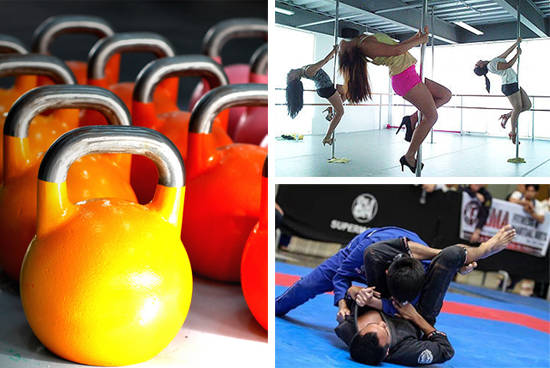 (SPOT.ph) It's summer again and it's time for you to get in shape and flaunt that beautiful physique. But getting in shape doesn't mean you have to spend lots of money. Here are 10 budget-friendly workouts that will produce results without putting too much strain on your wallet.
Workouts are listed in descending order-from a budget of P5,000 to absolutely free.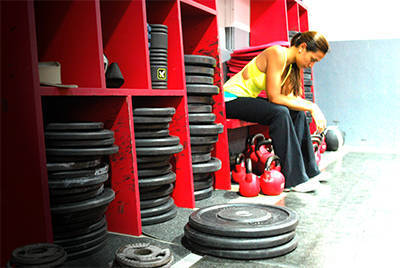 10. CROSSFIT
If you talk about budget-friendly workouts, Crossfit does not exactly top any list. But if you talk about results over price, then Crossfit beats most if not all fitness programs today. Developed by fitness guru Greg Glassman in 2000, Crossfit is basically the Michael Jordan of all exercise programs. It's a mixed bag of different routines, ranging from Olympic weightlifting to calisthenics, done to help get you in shape-one that isn't globular.
Where to go:
• Crossfit MNL
Check out Crossfit MNL's website for more information on their branches, schedules, and rates.
ADVERTISEMENT - CONTINUE READING BELOW
• BioFitness Gym
Unit MO-5 986 Caly Bldg., Aurora Blvd., Cubao.
Tel. No. 0906 308 0738.
• Personal Trainer (Ajalon Zarate)
Tel. No. 0926-700-2240.
Higher end, full-blown programs (like in Crossfit Manila) can range from P3,500 to P6,000 per month, or a per session rate of P300 to P750. However, lesser known gyms like BioFitness in Quezon City charge P2,000 per month or P250 per session.
But for those looking for the convenience of working out in the comfort of their own home, they can opt to have a personal trainer, which could cost around P300 per session or a varying monthly fee (depending on the packages which are based on how many sessions per week and goals set). The best part about having a personal trainer, however, is the fact that you can always haggle with the price.
CONTINUE READING BELOW
Recommended Videos
Benefits: According to US army soldier-turned-Crossfit trainer Ajalon Michael Zarate, "Crossfit is a system of training that aims to produce an elite level of general fitness in the most efficient manner." When he says "elite," he means a set of intense training regimens that will make you lose weight, gain muscle, and build cardio in a short span of time. The workouts are hard and nonstop, but are proven to produce maximum results.
And though Crossfit is good for all ages, coaches and trainers like Zarate recommend consulting a physician first to check if your body is capable of such intense and competitive activity.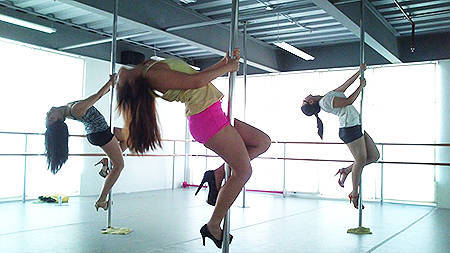 ADVERTISEMENT - CONTINUE READING BELOW
9. POLE DANCING
Much like Crossfit, Pole Dancing has been underappreciated as a workout because of its exclusivity and price range. But this doesn't negate the fact that it is a highly effective form of exercise. The days of pole dancing being associated with adult entertainment are long gone as more and more women (and even men) are finding its high-intensity strength and core training not just a trend, but viable means of losing weight fast.
Where to go:
• Pole Academy Philippines
Arts in the City (ATC), 26th St corner 7th Avenue, Bonifacio Global City
Tel. No. 399-2211
Academy One Alabang, 2/F Don Gesu Building, Don Jesus Boulevard, Alabang Hills Village, Muntinlupa. 
Tel. Nos. 826-5182  and 0917-622-3663
• Pole Cats Manila
22nd Floor, Strata 100, F. Ortigas Jr. Road (formerly Emerald), Ortigas, Pasig City
Tel. Nos. 631-0818 and 0917-700-7653

There are several Pole Dancing studios in Manila, and perhaps the most known is Pole Academy Philippines, being the first one of its kind in the country. Another stand out is Pole Cats Manila. An average entry rate is P400 to P500 per session, while an 8 to 10 session class card costs between P3000 and P4000.
Benefits: Right off the bat, the first thing you'll notice is that professional pole dancers have incredible core. Balancing and maneuvering in mid-air while holding on to a metal rod is a testament to how much upper body and abdominal muscle strength they have in them. With a combination of strength, endurance, and flexibility training, a single class can make you burn up to 250 calories with all that gripping and balancing.
ADVERTISEMENT - CONTINUE READING BELOW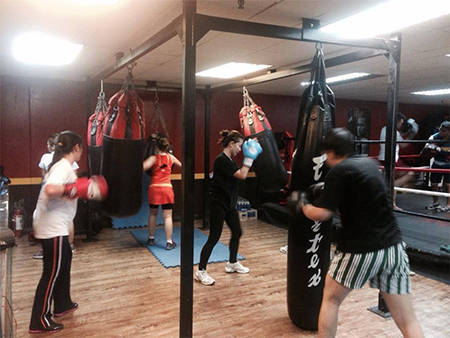 8. BOXING
Aside from having the most dangerous hands in the world, boxers are also masters of cutting weight. And contrary to popular belief, most of boxing training does not involve hitting with your hands at all. Instead, it has more to do with getting your body supremely conditioned to dish out and withstand a beating, without much strain. There will be a lot of running, jumping, and other calisthenics that can perfectly tone those muscles, while burning away calories by the minute.
Where to go:
• Elorde Boxing Gym
Check out Elorde Boxing Gym's website for more information on their branches, schedules, and rates.
• Empire Boxing
Unit 5K OPL Building, C. Palanca corner Dela Rosa, Legaspi Village, Makati City
Tel. No. 0916-682-9653
• Equipment: K-1 Extreme Sportshop
14 Granada, Ortigas Avenue corner Santolan Road
Tel. Nos. 726-4681 and 0917-540-6283
For many years, Elorde Boxing Gym has been the front-runner when it comes to quality boxing training with affordable rates. The annual membership fee of P400, which will cut the regular rate per session from P200 to P150. If you want to pay 10 sessions in advance, you can opt to do so at a price of P1,200. And with more than a dozen branches spread across the metro, you won't have a hard time finding a gym to train in. Empire Boxing is making waves in the city as well, with rates similar to Elorde.
ADVERTISEMENT - CONTINUE READING BELOW
For hygiene reasons, you might also want to consider buying your own pair of gloves. The best place to buy gear is K-1 Sports Extreme Sportshop. Prices vary between P2,500 to P4,500 for gloves, and P250 to P400 for hand wraps.
Benefits: If you are dreaming of having that chiseled physique simlar to Bruce Lee's, then boxing is perfect for you. Though it does not incorporate much muscle building like weightlifting, the combination of aerobic and anaerobic exercises alone will give you that shredded physique similar to something carved by a Renaissance artist. With workouts that can build your stamina and innate strength, parts of your body (such as your mid-section, legs, arms, and shoulders) will rapidly tone down as you dance around and deliver punch-jab-punch combinations in the ring.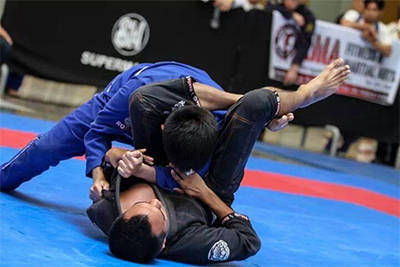 7. MIXED MARTIAL ARTS (MMA)
Ever seen a fight in the UFC? Good for you if you have, and if not, go check out a fight now and marvel at the fighters' skill and fitness. MMA fighters have an almost engineered approach to working their body so they can perform high levels of maneuvers, while at the same time allowing them to endure punishment in the ring/octagon. MMA has elements of boxing, wrestling, kick-boxing, Muay Thai, Karate, Judo, Jui Jitsu, Sambo, Savate, and even Wing Chun. And if that doesn't get your body working, nothing will.
ADVERTISEMENT - CONTINUE READING BELOW
Where to go:
• KMA Fitness and Martial Arts
Unit 102 - 103 Le Domaine, Tordesillas Street, Makati
Tel. No. 5514449
Royal Mansion, Wack Wack Road, Mandaluyong City
Tel. No. 0917-824-2420
• ATOS Philippines
2/F Blue Eagle Gym, Judo Dojo, Ateneo de Manila, Katipunan, Quezon City, Philippines
Tel. Nos. 0917-858-8230 and 0917-892-5754
• SPRAWL Gym
3/F JN Bldg., 657 EDSA corner Monte De Piedad Street, Brgy. Immaculate Concepcion, Cubao, Quezon City
Tel. Nos. 0910-440-8035, 0907-302-0384, and 0927-7036912
The best part about training in MMA is the fact that it is mostly done in classes (unlike boxing which often requires one-on-one sessions). Not only is this much more fun and interactive (you can make more friends), it will also allow you to avoid giving fat tips to personal trainers. A casual MMA gym with good enough trainers and equipment can cost around P1000 to P1500 per month (with 8 to 12 sessions) while the higher-end gyms (the kind that has professional MMA fighters and grappling competitors as clients) can cost P2000 to P2500 per month.
Benefits: Cardio and muscle definition are the biggest take away from this sport. MMA training is divided primarily into two parts: striking and grappling. Hitting the mitts and heavy bag for a couple of rounds and wrestling it out on the mat will surely get your lungs burning-as well as your body fat. Your back, shoulders, arms, and posterior muscles will be sculpted to perfection as you do striking drills. Your cardio, core (read: abs), and overall resistance will take a good test once you start sweating it out with grappling drills.
ADVERTISEMENT - CONTINUE READING BELOW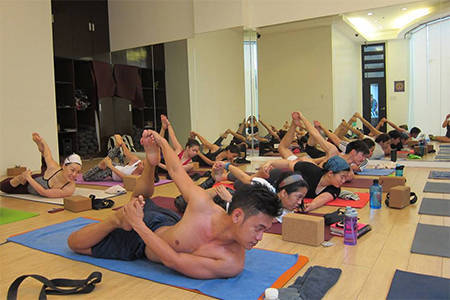 6. YOGA
Yoga is a workout not just for your body but also for your mind. This stress-relieving exercise has been proven to increase a person's tolerance for stress, while at the same time improve the metabolism, as it tones the muscles and improves the body's flexibility. The best part about it is once you've learned the foundations of yoga you can do it pretty much anywhere you want, without having to pay for group classes.
Where to go:
• ILAW Center
4/F Paz Adriano Hall, Miriam College, Katipunan Avenue, Loyola Heights Quezon City
Tel. No. 580-5400 to 29, local 1134
• Bliss Yoga Manila
Check out Bliss Yoga's website for more information on their branches, schedules, and rates.
• Yoga Plus
Check out Yoga Plus' website for more information on their branches, schedules, and rates.
• Beyond Yoga
Check out Beyond Yoga's website for more information on their branches, schedules, and rates.
For beginners who are not yet confident on doing yoga on their own, there are several places in the city that offer classes at affordable prices. The Integrated Lifestyle and Wellness (ILAW) Center and OLE Dance Studio conduct classes priced at P100 to P250 per session. Other good places to go are Bliss Yoga Manila (San Juan and Makati), Yoga Plus (Makati and Ortigas), and Beyond Yoga (Alabang). Prices vary per month, but typically range between P2000 and P4000.
ADVERTISEMENT - CONTINUE READING BELOW
Benefits: Whether you work nine hours a day in front of a desk or out in the field, muscle and joint pain caused by stress will definitely take their toll on you. What yoga does is condition your body to relieve itself of such pains by incorporating movements and poses that are both meditative and aerobic. And by doing so you'll get to improve your body's overall muscular dexterity, strength, and balance while largely developing your respiration, overall energy, and vitality.
Also read:
10 Best Yoga Studios in Manila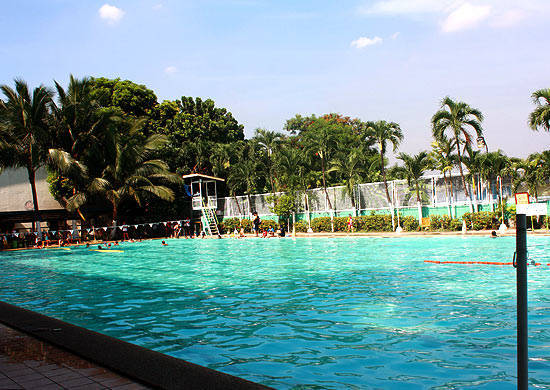 5. SWIMMING
Swimming has not been a very popular form of working out because it doesn't appear to be so straining and you do not exactly see people sweating profusely while doing it. But it's actually quite the opposite. The buoyancy, resistance, and cooling effect your body experiences while underwater will allow you to perform things you cannot do on land while at the same time works your muscles without getting exhausted right away.
ADVERTISEMENT - CONTINUE READING BELOW
Where to go:
Check out Top 10 Public Swimming Pools in Manila for more information
So long as you can find a good pool that will allow you to swim a couple of lapses constantly, you're good. SPOT.ph has listed the 10 best public swimming pools in Manila. Each pool has been judged by their cleanliness, general upkeep, and most importantly, cost.
Benefits: If you've seen the body of Olympic swimmer Michael Phelps, then you know what swimming can do. And since we're talking about the summer, a swimmer's body is the ultimate beach body: lean and phenomenally chiseled.  Blood circulation, muscle endurance, core strength, and muscle flexibility are just some of the many benefits you can get from swimming a couple of lapses every day.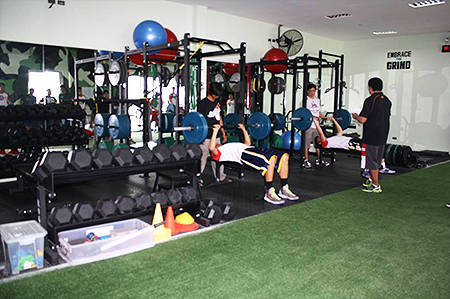 4. WEIGHTLIFTING
Though weightlifting may not allow much cardio training like plyometric or full-intensity body workouts, it can definitely beef up those muscles and bulk you up in all the right places. Also, having muscle mass improves your metabolism and allows you to burn more calories. And let's admit it, flashing those big arms, wide shoulders, and firm behind will definitely feel good as you walk down the beach come summer time.
ADVERTISEMENT - CONTINUE READING BELOW
Where to go:
• Athlete's Lab
Gatorade Hoops Center, Liberty Center, 312 Shaw Boulevard, Mandaluyong City
Tel. No. 720-5492
• Maximus Den
36 Conchu Street, Brgy. Masagana, Project 4, Quezon City
Tel. Nos. 437-8629 and 0927-785-7067
Like basketball courts, weight lifting gyms are as rampant in the city as moss in a swamp. What's best is that they don't cost much. A simple, raggedy gym can charge as little as P35 to P50 per session, and you can lift weights as long as you can. A monthly charge costs P300 to P500. A mid-level gym (the kind that has working treadmills and in-house instructors), cost around P750 to P1,500 per month. A personal instructor may cost a little extra, but having him around will not be a permanent thing. Once you've gotten yourself familiar with the program and have enough knowledge of form and posture, you can lift weights on your own.
Benefits: The art of weight lifting is somewhat complex as every muscle group has several different kinds of exercise that can sculpt them properly. But with the proper guidance of an instructor, you'll be able to develop nearly every part of your body-from your shoulders to your back, legs, arms, and heck, even your neck. But the key to this workout is not exactly the weight, but the form. Targeting the right part of your body for optimum result may take some practice in form, but it will surely pay off in the end.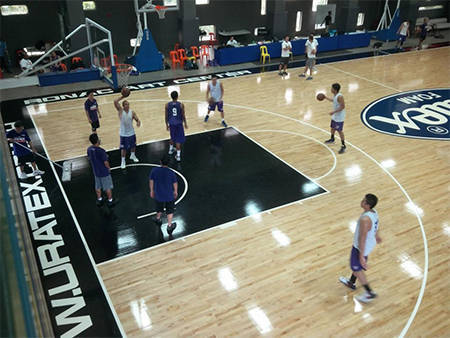 ADVERTISEMENT - CONTINUE READING BELOW
3. BASKETBALL
Basketball is arguably the most popular sport in the country, which happens to be the healthiest past time for Filipinos as well. If you talk about a full body workout, this sport defines that in every way possible. And what's best is you can do it virtually everywhere-so long as you have a ball, a hoop, and a couple of friends.
Where to go:
• Ronac Art Center
424 Ortigas Avenue, Greenhills North, San Juan
Tel. Nos. 570-9815 and 570-9816
• The Zone
Malugay Street, Makati City
Tel. No. 893-1600
Nearly every barangay, subdivision, town, and village in Metro Manila has a basketball court of its own. So finding a place will not be a problem. But if you're looking to play at a competitive level with some of your competitive friends, places like Ronac Art Center and The Zone offer hardwood basketball courts that can give you that feel of a pro baller. The rental fee range from P1000 to P1500, but that's not something that cannot be solved by some good ol' pustahan. Loser pays. Problem solved!
Benefits: The dynamics of basketball allow a player to use every muscle in his body. Your legs, arms, hips, back, shoulders, and core have to be on point as the game involves a lot of running, jumping, and other movements that will test your agility. Heck, even the boxing legend Manny Pacquiao plays basketball for his conditioning workout. It will definitely work your body resistance, improve your cardio, and most importantly, burn away those unwanted fat.
ADVERTISEMENT - CONTINUE READING BELOW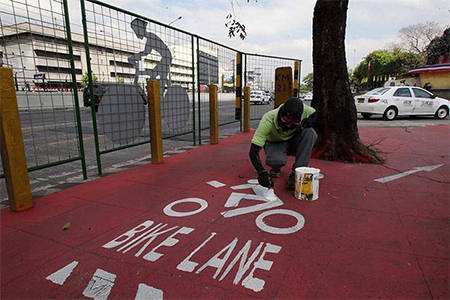 2. CYCLING
Cycling is slowly becoming popular again in Manila. Whether by high-intensity mountain bikes or stylish and trendy folding bikes, more and more people are finding it better to travel the city using these two-wheelers. And aside from the fact that it is totally free, cycling is one of the easiest and most accessible forms of exercises today. Plus, opting to bike will surely help reduce the massive traffic that plagues our city every day.
Where to go:
So long as it abides by traffic regulations, you can bike anywhere in the metro. But for great places that specifically cater to bikers, you can check out UP Diliman Campus or Bonifacio Global City for wide empty roads that are perfect for a couple of miles of biking. You can also check out Remedios Circle to Adriatico Street in Manila, and if you're feeling brave, try the bike lanes along EDSA and Commonwealth. Wear something bright!
ADVERTISEMENT - CONTINUE READING BELOW
Benefits: Contrary to popular belief, cycling does not solely involve the legs. It is a holistic strength and conditioning workout that burns fat in virtually every part of the body-from the legs, hips, buttocks, mid-section, and back. And aside from this, cycling also develops your overall body coordination, such as your hand-to-eye, arms-to-legs coordination.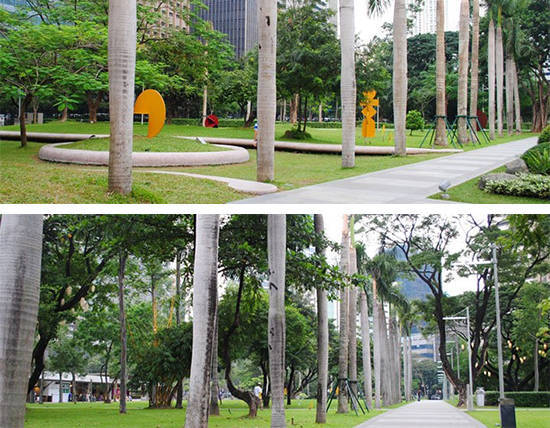 1. RUNNING
There is a reason why nearly all athletes-from basketball players to professional fighters-utilize running or jogging as a vital part of their training. Running is the mother of all exercises for three simple reasons: it's efficient, effective, and, most importantly, free.
Where to go:
The first thing you have to consider before choosing a place to run is the environment. It has to be conducive to working out-no pollution of any kind and unnecessary distractions like being over populated and lacking room for actual running.  By far one of the best places to run is UP Diliman Campus (Quezon City), Bonifacio Global City (Taguig), Ayala Triangle (Makati), Intramuros (Manila), and Mall of Asia (Pasay), just to name a few.
ADVERTISEMENT - CONTINUE READING BELOW
One thing you must also consider is the shoes you'll wear. They should fit your feet perfectly as ill-fitting shoes are guaranteed tickets to injury. They should also bend easily and have a shock-absorber in the heel. Good investments for running shoes are Saucony and Brooks. So time to lace up and start running!
Benefits: Next only to cross-country skiing, running is the most efficient exercise in terms of calories burned per minute. And if you talk about holistic, running yields the same benefits you can get from pretty much every exercise in this list. You get cardio, resistance, muscle definition, calorie burn, and stress relief all rolled into one workout.
Also read:
The 5 Best Places to Run in Manila
10 Best Songs for Your Running Playlist
Photos from the establishments' official Facebook pages and websites.
Share this story with your friends!
---
Help us make Spot.ph better!
Take the short survey
Load More Stories