La Union surfer makes trash-shaming a thing
While we're at it, can people stop throwing stuff out their car windows?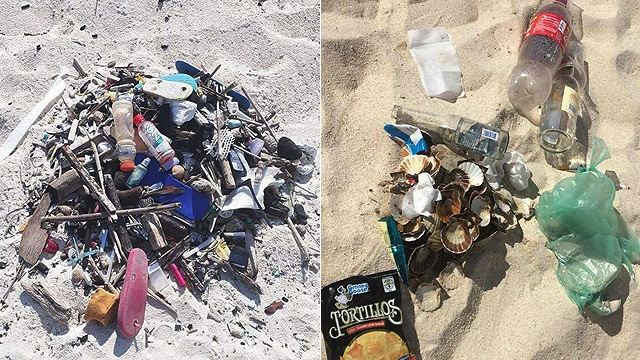 (SPOT.ph) Aside from the so-called Filipino hospitality, our long list of beautiful beaches is one of our bets when it comes to promoting Philippine tourism. We have a long, white-sand beach in Boracay, the most pristine tropical islands in El Nido, the golden sand strip in Quezon, and even a pink beach in Zamboanga. But what we don't see in photographs across international travel websites and glossy magazines are snapshots of trash in almost every corner. La Union surfer Camille Pilar is taking advantage of social media to change this awful truth.
ADVERTISEMENT - CONTINUE READING BELOW
"You can buy extra rice but you can't buy manners." (Spotted along La Union Highway)
"Banned from the Beach aims to remove the 'out of sight, out of mind' habit from people by also showing pictures of trash on social media," she tells SPOT.ph about the @bannedfromthebeach Instagram account she started on Sunday, April 16. It compiles photos of trash spotted on our various beaches and combines them with witty statements, either from a first-person point of view as if the trash itself is talking ("So... was I supposed to grow legs and walk to the bin on my own?") or through snappy commentary ("You can buy extra rice but you can't buy manners.").
"So... was I supposed to grow legs and walk to the bin on my own?" (Spotted in San Juan, La Union)
"Nobody shares the trash situation enough so people go on thinking these places are still pristine and untouched. If you use popular hashtags like #LaUnion, #Baler, #Zambales or #HolyWeek2017, the images of trash will show up along with everyone else's sunset pictures and selfies. We can't change the situation just through Instagram but maybe we can convince more vacationers to think twice before littering," Pilar continues. Perhaps by seeing the bigger picture, beachgoers would decide against throwing that cigarette butt or candy wrapper on the shoreline. Otherwise, they should just be banned from the beach.
ADVERTISEMENT - CONTINUE READING BELOW
"Jeez, I guess these guys saw ghosts and disappeared. From the looks of what they left behind, seems like they got chased by ghosts!" (Spotted in Bantayan, Cebu)
Of course, saving the environment doesn't end there. Pilar shares more reasons why "nothing could be more important than taking care of our beaches."
How important is it to take care of our beaches?
Few people realize how deeply connected everything is because their lives seem so far away, therefore, detached. However, when you live by a beach and when you're by the ocean every day, you see all the reasons why you should care for the beach:
It's not just a vacation spot. It's home. People live, eat, sleep, study, work, and grow up here. When you leave trash behind on any beach or tourist destination, you show no regard or remorse for the families who have to face the trash once you are gone. The "out of sight, out of mind" attitude is rude and it has to change.
ADVERTISEMENT - CONTINUE READING BELOW
The trash doesn't magically disappear. It seeps deep into the sand. It flows into the ocean. It kills coral reefs. Ecosystems are disrupted. San Juan is a turtle beach because it is where turtles lay eggs from September to March. When the trash situation gets out of hand, fewer turtles hatch. When there are fewer turtles, jellyfish abound. When there are more jellyfish than people, no one can swim or surf.
When you are careless with your trash, you destroy people's livelihood. Fishermen and surf instructors rely on the coastline for income. You may think that you are harming nobody when you litter, but you are actually taking away futures.
"Picnic amongst Pampers!" (Spotted in Real, Quezon)
Tourism is important for us. But at the same time, it drives a lot of people to our pristine beaches so much that sometimes we just want to keep these spots secret. What can we do to balance this?
ADVERTISEMENT - CONTINUE READING BELOW
This is why it's important for our small efforts to turn into bigger, collective actions. It doesn't stop at just throwing garbage into the bin or refusing to use a plastic straw the next time you order a drink. It goes beyond choosing non-toxic sunblock or buying eco-friendly products. It has to gain momentum so it can become a bigger force to reckon with. We encourage everyone not just to check their own actions but also join groups that can reach those in higher places so the changes we need can take place in the commercial and legislative realm.
Here in La Union, we have a community-grown movement called LU Soul. It is LU Soul's role to bring all the right players together so bigger and more effective changes can take place!
To contribute a photo, send to @bannedfromthebeach via direct message. Follow Banned from the Beach on Instagram.
ADVERTISEMENT - CONTINUE READING BELOW
CONTINUE READING BELOW
Recommended Videos
Share this story with your friends!
---
Help us make Spot.ph better!
Take the short survey
Load More Stories