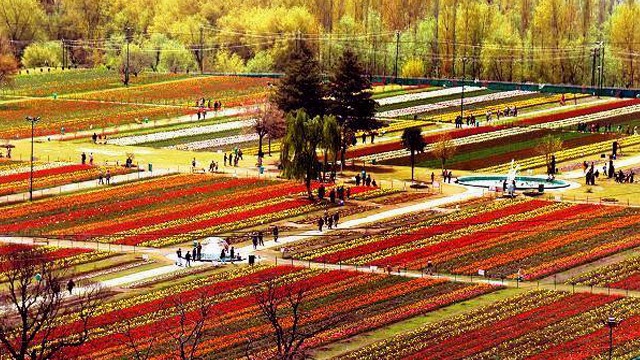 (SPOT.ph) Timelines and social media feeds are full of lush green mountain sides and deep blue seas. While there's nothing wrong with that, why not add a bit of color to your travel itinerary? The best part is, you don't have to go halfway around the world for a bit of color. Some of these picture-perfect places are right in our backyard! Here are 10 vibrant places to go to so you can achieve your feed goals.
ADVERTISEMENT - CONTINUE READING BELOW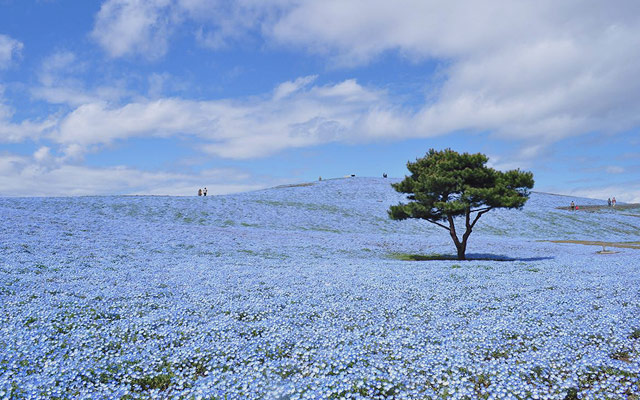 Hitachi Seaside Park
552-18 Ajigaura, Hitachinaka, Ibaraki, Japan
Be surrounded by a different sea of blue in the Hitachi Seaside Park in Hitachinaka, Japan. Around 4.5 million blue nemophila flowers bloom during April, though other flowers appear throughout the year, too.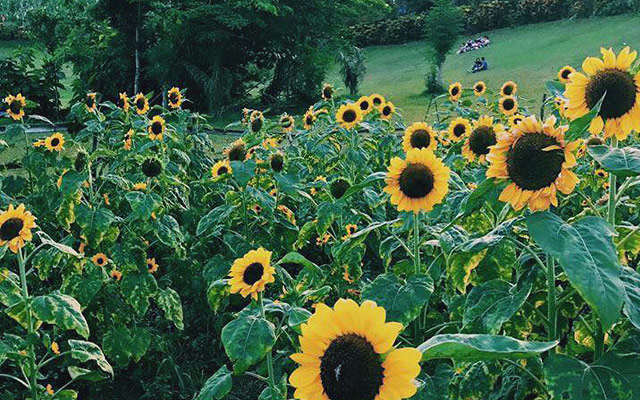 ADVERTISEMENT - CONTINUE READING BELOW
Recommended Videos
Kawa-Kawa Hill and Natural Park
Ligao City, Albay, Bicol
While Pangasinan is well-known for its sunflower maze, Bicol also takes pride in its sunflower field in Ligao, Albay. Located in the Kawa-Kawa Hill Natural Park, the tall sunflowers are a bright addition to the Albay landscape.
Guri Hangang Park
49 Wangsukcheon-ro, Guri-si, Gyeonggi-do, South Korea
ADVERTISEMENT - CONTINUE READING BELOW
The Guri Hangang Park in Korea is every pink lover's paradise. Located right outside the capital city of Seoul, the pink cosmos in the riverside park are at their peak in September. The off-center location of the park also means that not as many tourists flock here, so you'll be sure to get a great photo of the baby-pink flowers.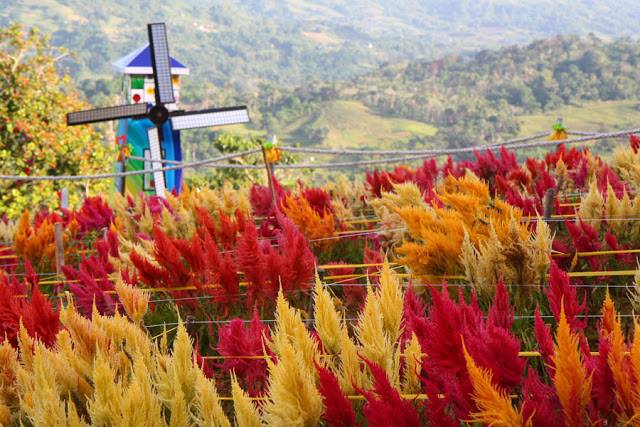 ADVERTISEMENT - CONTINUE READING BELOW
Sirao Flower Garden
Cebu City
You don't have to go all the way to the Netherlands to enjoy a field of flowers when there's a "Little Amsterdam" in Cebu. The cold temperature of the towns here makes it the ideal place for cultivating flowers. Blossoming with yellow and red celosia flowers, the Sirao Flower Garden is best visited during the months of April to May and October to November.
ADVERTISEMENT - CONTINUE READING BELOW
Canola Flower Fields
Qujing, Yunnan, China
Most known for the cooking oil that they produce, the canola flowers in China actually make for quite a sight. The bright-yellow flowers are best seen from high ground, like the Golden Rooster Hill and the Hundred Thousand Hills. The sea of gold here is best viewed from February to March though the flowers bloom in different regions throughout the year.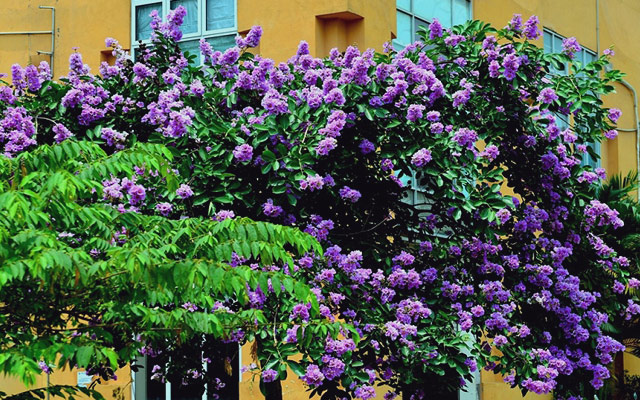 ADVERTISEMENT - CONTINUE READING BELOW
Purple Crepe Myrtles in Hanoi
Hoàn Kiem, Hanoi, Vietnam
Scattered around Vietnam's capital are these tall-but-not-towering trees with purple flowers dotting the greenery of its foliage. Usually blooming in May, the crepe myrtles (also spelled crape myrtles or banaba in Filipino) are often associated with the end of school and the start of summer.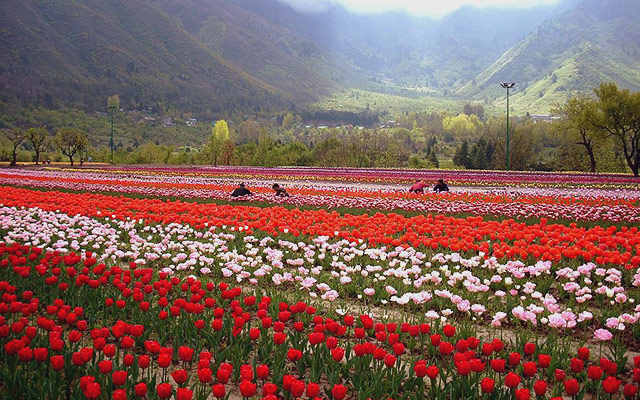 ADVERTISEMENT - CONTINUE READING BELOW
Indira Gandhi Memorial Tulip Garden
Jammu and Kashmir, Cheshma Shahi Road, Rainawari, Srinagar, Jammu and Kashmir, India
Since it's located on the foothills of Zabarwan Range, the Indira Gandhi Memorial Tulip Garden sits on sloping terraces that are home to colorful tulips as well as daffodils and hyacinths. Flowers cover the 30-hectare area and they blossom in April, which is when the annual Tulip Festival is held.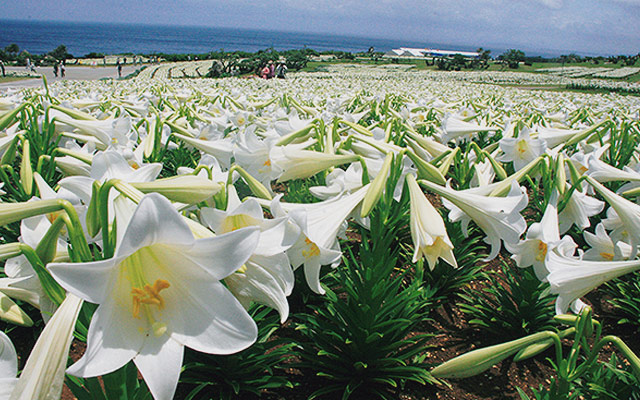 ADVERTISEMENT - CONTINUE READING BELOW
Lily Field Park
Higashieue, Ie Village, Ie Island, Japan
Walk in a field of white in Japan's Ie Island where over one million lilies bloom in the Iemura Lily Field Park, the biggest in Japan. It also has an annual Lily Festival every May where 90 species of lilies can be seen by visitors from all over the world.
ADVERTISEMENT - CONTINUE READING BELOW
Panjin Red Beach
Dawa, Panjin, Liaoning, China
The world's largest wetland turns red every autumn in China. The suaeda salsa is a kind of seaweed that covers the Panjin Red Beach, which is around 51 square miles. Many animals can also be found at the beach, like the black beaked gulls and the red-crown cranes.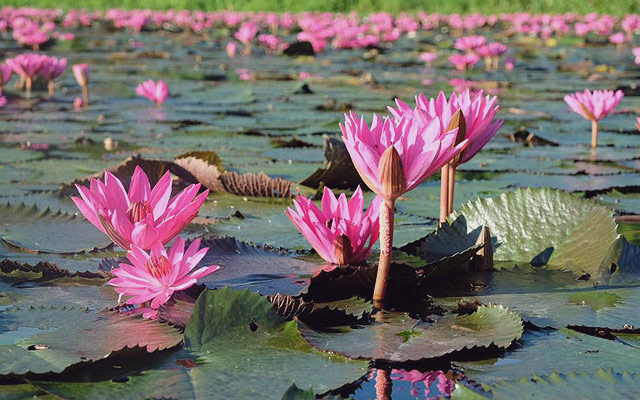 ADVERTISEMENT - CONTINUE READING BELOW
Lotus Garden
Lake Sebu, South Cotabato
Experience the beauty of nature as you paddle your way around the Lotus Garden in Lake Sebu. The bright pink lotus flowers that dot the lake bloom early in the morning, making a perfect sunrise for visitors and locals alike.
Share this story with your friends!
---
Help us make Spot.ph better!
Take the short survey
Load More Stories