This Hidden Eco-Friendly Surf Spot Sits Right Next to Baler
Get caught in the moment at Côte Resort.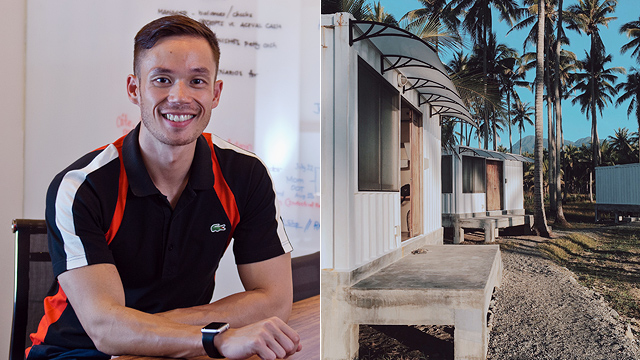 (SPOT.ph) We've all been there. You go on a quick vacation for the weekend and head over to the beach for a quick R&R session with your closest friends. But even if you do score a miraculous booking at a hotel, the place is still crawling with tourists that come in droves and have no intention of making any space anytime soon. Enter Côte Resort, quietly tucked away in the town of Dipaculao, the sleepy little town right beside Baler.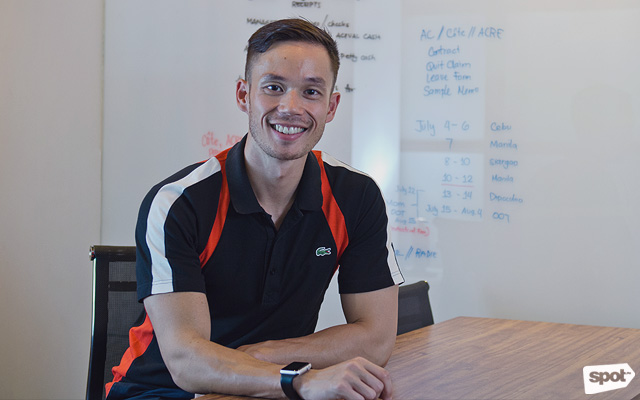 It all started with a spontaneous road trip with friends. "My friends and I went camping and we decided to just get a travel book and randomly go to a page to see where we'd end up," begins Enrique Sola, the owner of Côte Resort, in an interview with SPOT.ph. "We opened the book to a map of Baler."
One five-hour drive later, Enrique and his friends found themselves in the surfing hotspot, but without any place to stay in. "We were shocked because there were no rooms available. We didn't book anything in advance so we ended up staying in a tent on the beach," he continues.
ADVERTISEMENT - CONTINUE READING BELOW
While the story has the makings of a cool anecdote you'd retell at parties over a few beers, not everything went according to plan. "It was fun but they charged us a thousand bucks and we didn't even get a bathroom!" Enrique laughs. "And our backs were painful the next day, but it was fun," he resolves.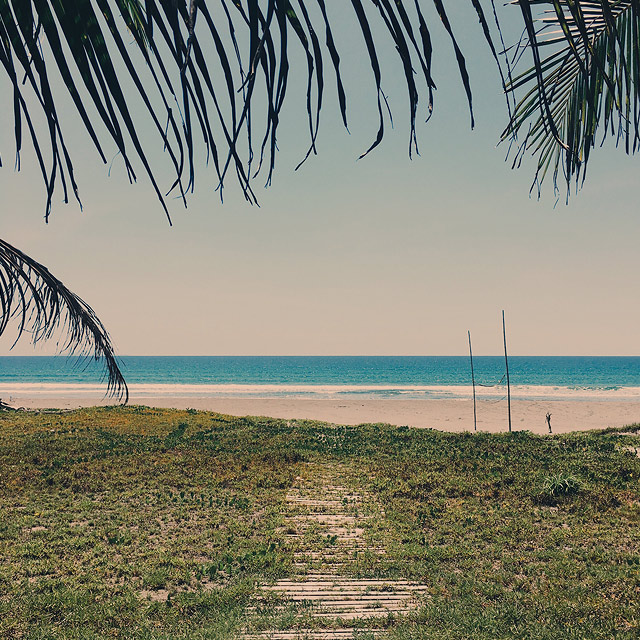 CONTINUE READING BELOW
Recommended Videos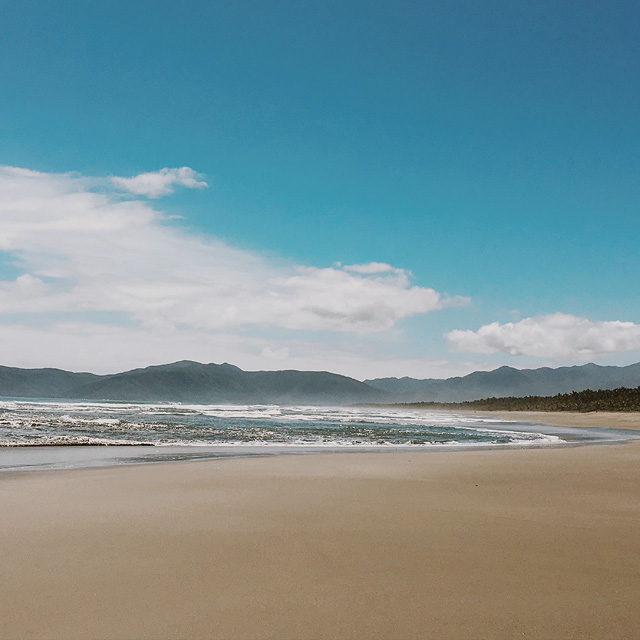 ADVERTISEMENT - CONTINUE READING BELOW
It wasn't all smooth-sailing, but it was this experience that had the group heading over to the next town the following day in search of a place to make their own. Once in Dipaculao, they chanced upon a coconut plantation that was for sale. But instead of just leaving it as is or clearing everything out to make way for a huge hotel, they built their way around it. Throughout the construction of the resort, not one tree in the whole plantation was cut down.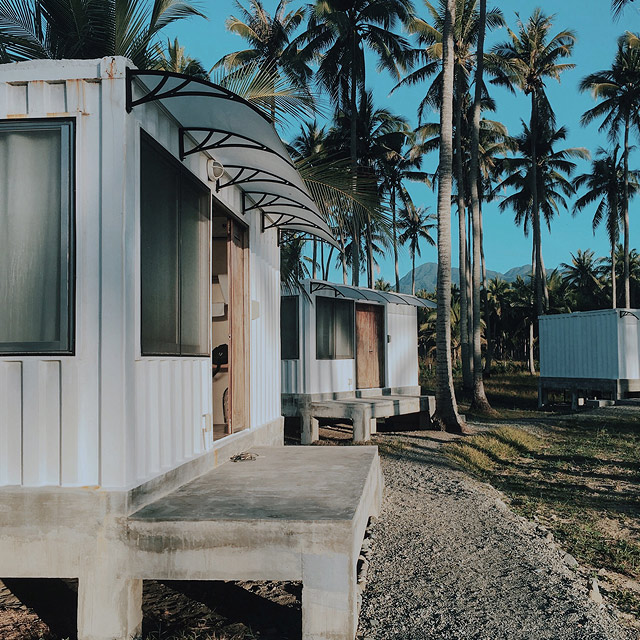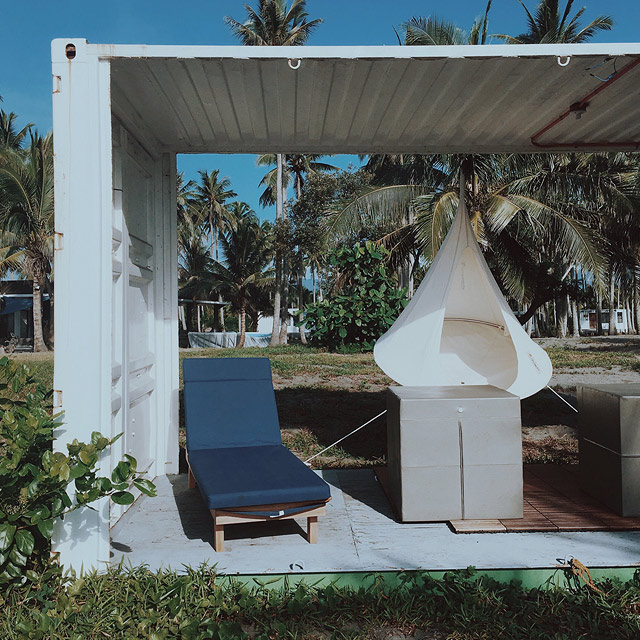 ADVERTISEMENT - CONTINUE READING BELOW
It almost seems natural to have six huge container vans lined in the middle of the wide coconut plantation where Côte makes its home. The versatility of the container vans make it the perfect accommodation for a place that aims to disrupt as little of its environment as possible. "They're transient. I didn't want to build anything too permanent on the property. If we were to turn it back into a coconut plantation, I could—overnight," Enrique explains. "It would just cost a lot of money," he quips, "but we could."
The container vans also serve as a strong shelter against the elements in storm-ridden Aurora. Enrique told us about how people in the area are so used to typhoons that it's become routine for one of the structures to get blown away around November or December. He explains, "We figured, why not container vans? They're used in open sea delivery transport so they can withstand anything. We just have to make sure that we maintain them."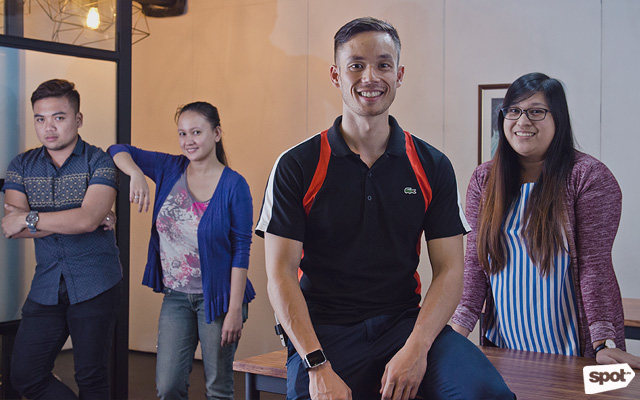 ADVERTISEMENT - CONTINUE READING BELOW
Aside from the unique rooms and surroundings, Côte also takes pride in the hardworking people who make it all happen. The well-trained workers never let a guest go too long without a drink in hand—whether it's just a glass of water or a freshly harvested buko. With activities and treats like nightly bonfires, inclusive meals, and unlimited surfing lessons, it's not that hard to believe that the staff are the ones who really make the resort feel like home.
While the resort is in Aurora, Enrique's family hails from Iloilo and Bacolod and the staff come from different parts of the country. "We actually encourage mixing it up. We give jobs to the locals but we're Ilonggo," he shares. "We really love the service and quality of the hospitality industry back home so we brought in a few people to lead the team in Aurora. Now we have a very healthy mix of both Luzon and Visayas."
ADVERTISEMENT - CONTINUE READING BELOW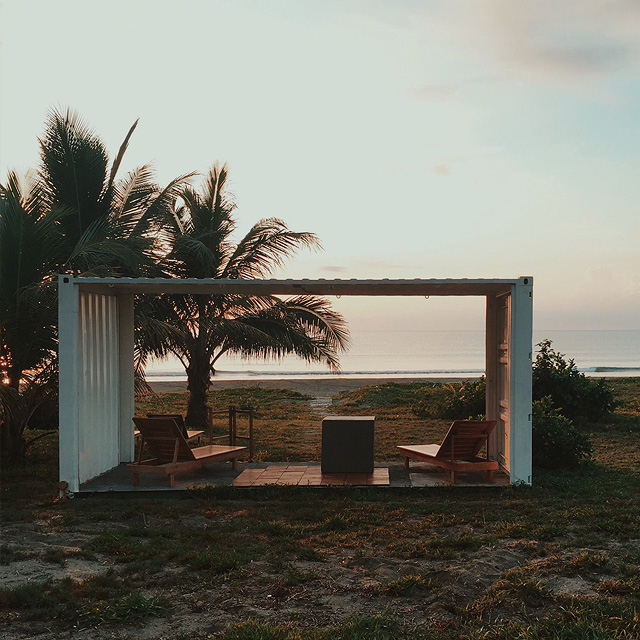 With the one-of-a-kind environment and the homey feel that Côte evokes, it can only get better. They have plans to build their own pool to replace the makeshift pool they currently have. Of course, it's still going to be as eco-friendly as possible. "We won't have to drain our own well or poison anything with chlorine. It will be a very clean, still, seawater pool," Enrique shares.
Baler will always be filled with eager tourists hoping to catch a wave or two while floating on their boards by the shore. But for those looking for something more low-key without missing out on the fun, then Côte is the place to be. "We want this place to be your best friend's beach house. We're not just an establishment that you come to and you pay for things. We want this to feel like your home so when you get there, you don't have to worry about anything."
ADVERTISEMENT - CONTINUE READING BELOW
Côte Resort is at Barangay Lipit, Dipaculao, Aurora. For inquiries, e-mail reservations@coteresort.com.ph or visit Côte Resort's Facebook page.
Share this story with your friends!
---
Help us make Spot.ph better!
Take the short survey
Load More Stories