Hong Kong Disneyland's New Adventure-Themed Hotel Will Take You Around the World
The Disney Explorers Lodge Hotel will unleash your inner explorer.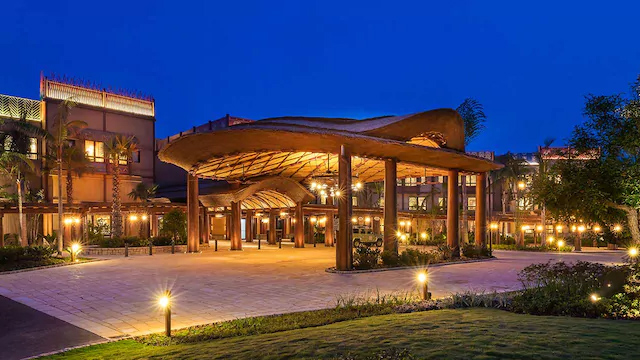 (SPOT.ph) Whether you're young or old, Disneyland is and will always be a good idea. It's the happiest place on earth, after all! Exploring the theme park means having a fun adventure no matter how old you are—and this year, Hong Kong Disneyland takes it to a whole new level with a brand-new hotel dedicated to the spirit of exploration: the Disney Explorers Lodge.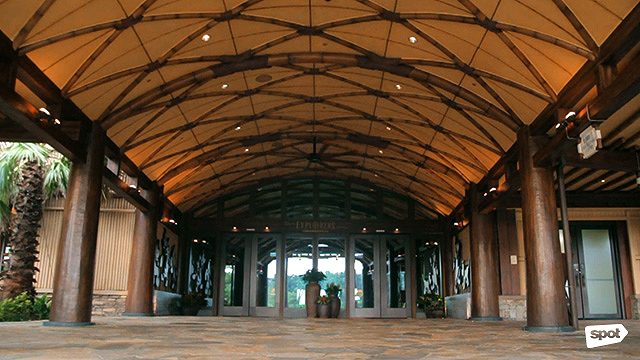 Hong Kong Disneyland's newest hotel is a 750-room resort with views of the open sea and lush landscapes. The seven-storey adventure-themed hotel was launched in May 2017. It has since been transporting guests to the 1920s a.k.a. the golden age of exploration. Confused? Here's a mini-backstory: Mickey, Minnie, Donald Duck, and Goofy were explorers in the '20s who built the lodge (the hotel) as a place where they can rest. Here, you can find artifacts and memorabilia they collected from their travels all over the world. You can even play a game of Hidden Mickey, since the hotel is loaded with hidden Disney elements!
ADVERTISEMENT - CONTINUE READING BELOW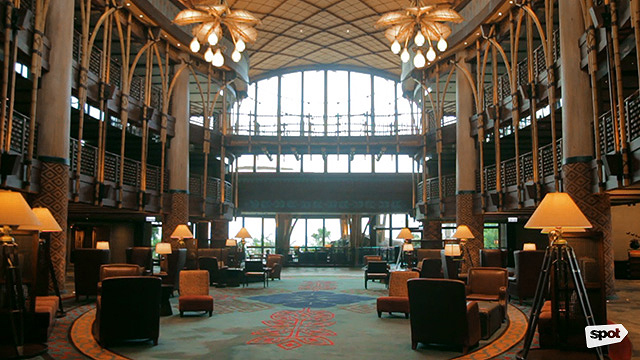 CONTINUE READING BELOW
Recommended Videos
Lobby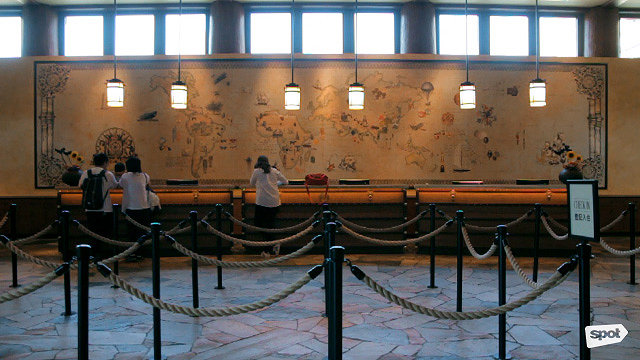 Front desk
The earthy patterns, dark timbers, and subtle animal-print details set the mood once you step into the hotel lobby. The left-most part is lined with the explorers' suitcases, giving you a glimpse of what Mickey, Minnie, Donald Duck, and Goofy bring on their adventures. To the right is the front desk, and behind it is a giant world map where you can find hidden Disney characters!
ADVERTISEMENT - CONTINUE READING BELOW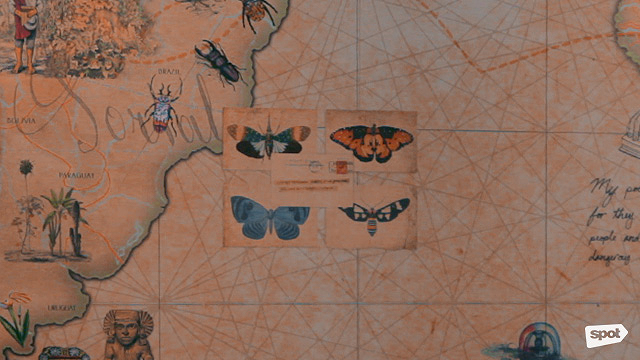 Can you spot the Hidden Mickey?
You'll be impressed at all the little details that add to the overall experience: Lamp posts made with giant compasses, tables made out of giant suitcases, wall lamps in the form of binoculars, luggage tag doorbells, and world map table-tops, among many others.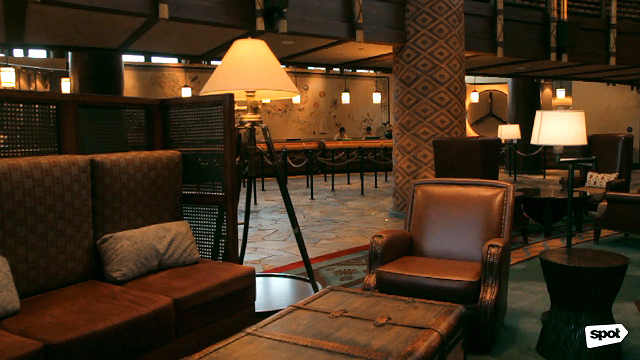 ADVERTISEMENT - CONTINUE READING BELOW
Spot the compass lamp post and luggage table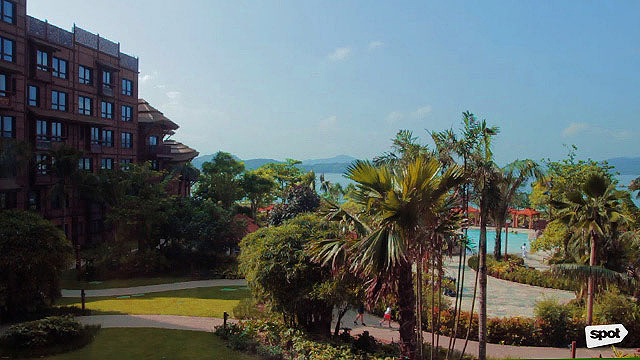 The hotel is divided into four wings: Asia, Oceania, South America, and Africa—each of them overlooking their own gardens. All rooms have two queen-sized beds and can accommodate up to four adults. Each room features a large mirror, a drum-shaped stool, and Mickey and Minnie tiki-styled masks, which are inspired by each wing's theme.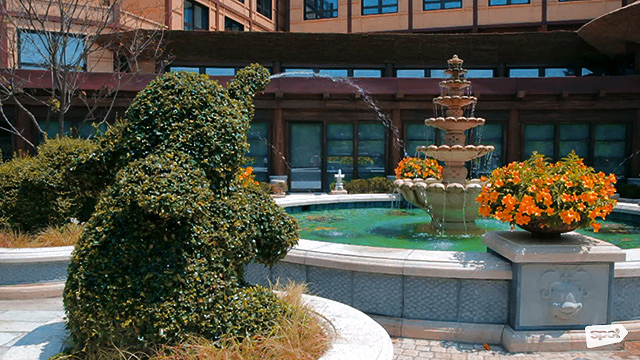 ADVERTISEMENT - CONTINUE READING BELOW
The Asia wing has traditional Malay wood screens and Sumatran saddle roof house structures. Its outdoor garden, called The Hathi Jr. Garden, is inspired by the Asian landscape from The Jungle Book. You'll spot some baby elephant elements while there, since it's named after the baby elephant from the movie. It also showcases a collection of lanterns and artifacts like a carved stone fountain and stone lanterns, and it also features all kinds of greenery which offer different textures, scents, and colors throughout the year.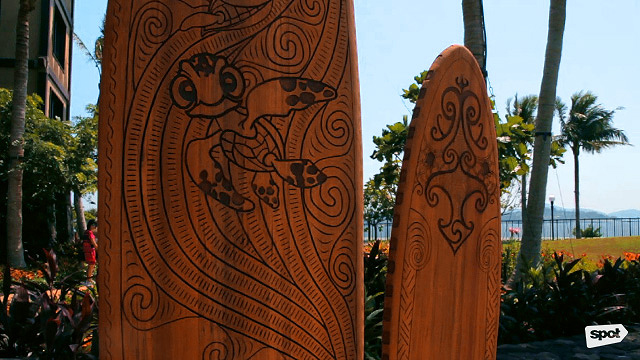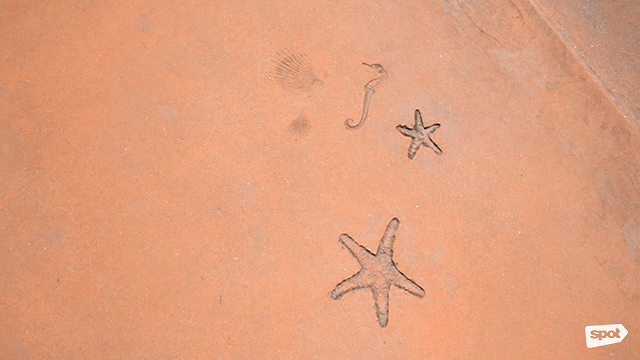 ADVERTISEMENT - CONTINUE READING BELOW
You'll fall in love with the Oceania wing because it's inspired by crowd-favorite Disney movie, Finding Nemo. Here, you will find Vanuatu arched thatch roof structures and the Little Squirt Garden (named after Little Squirt, the surfing sea turtle son from the movie). The pathway resembles a sandy beach while the lawn is sculpted into waves. You can spot several islands with borders made with corals. You'll also find sea shells and starfish imprints in the garden's pathway!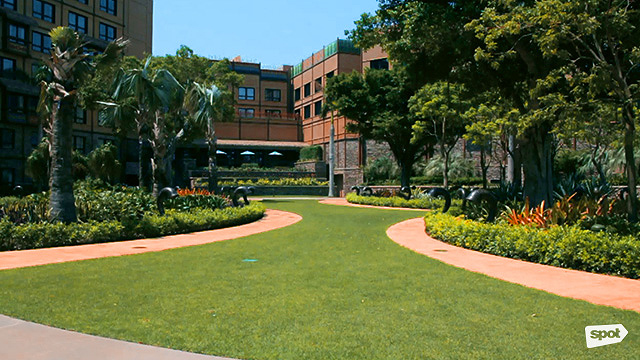 The South America wing overlooks the vibrant Kevin Garden, which is inspired by South America as seen in the movie Up. You'll find bold colors and distinct lines in the garden, which is connected to one of the hotel's restaurants, World of Color.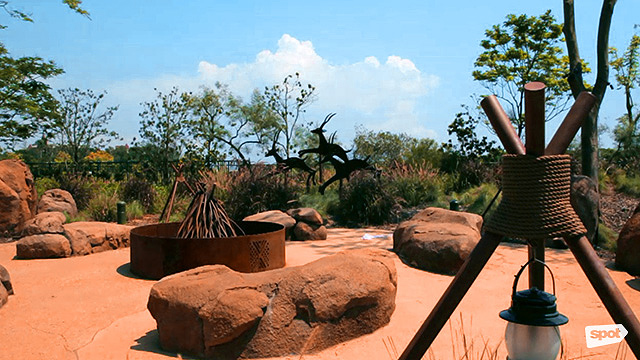 ADVERTISEMENT - CONTINUE READING BELOW
And finally, the Africa wing overlooks the Rafiki Garden, an African Savannah inspired by The Lion King. The garden has pathways that appear muddy and cracked, complete with animal tracks, and a large fire pit as a centerpiece that also serves as a campfire.
You can also go on a gastronomical adventure because Disney Explorers Lodge houses three restaurants that will take you and your taste buds around the world.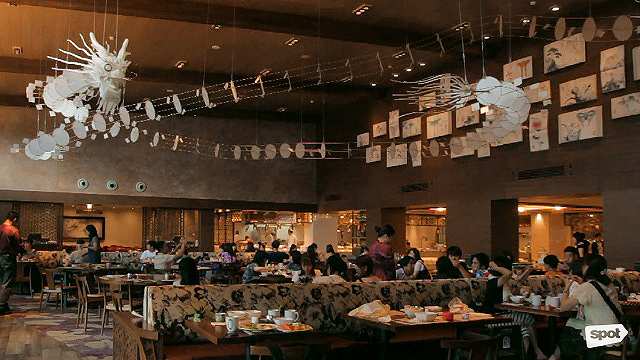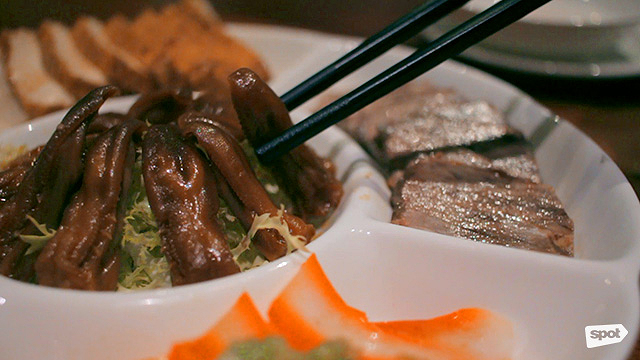 ADVERTISEMENT - CONTINUE READING BELOW
Dragon Wind is where you can get your fill of traditional Chinese fare. The warmly lit restaurant is decorated with whimsical dragon kites and features two private dining rooms: the Eastern Mountain and Western Mountain. The former is a semi-private dining area with a Middle Eastern and Indian theme, while the latter gives guests an enclosed dining experience and a gorgeous private view of the Asian garden.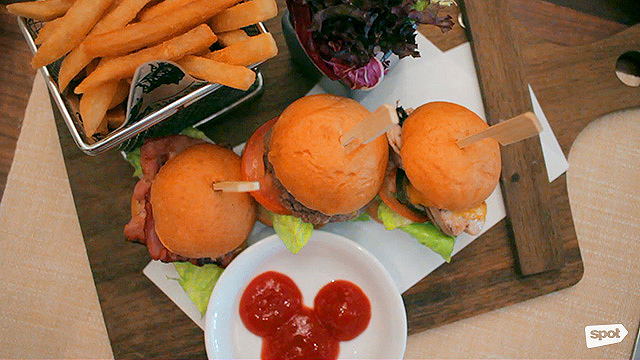 If you want international fare, check out the World of Color restaurant. You can have your share of pizzas, burgers, soups, salads, pastas, a grill for healthy meat and seafood dishes, as well as a variety of vegetarian dishes. They also serve popular curry dishes, Spanish paella, and Thai dishes which you can watch the chefs whip up through their open kitchen.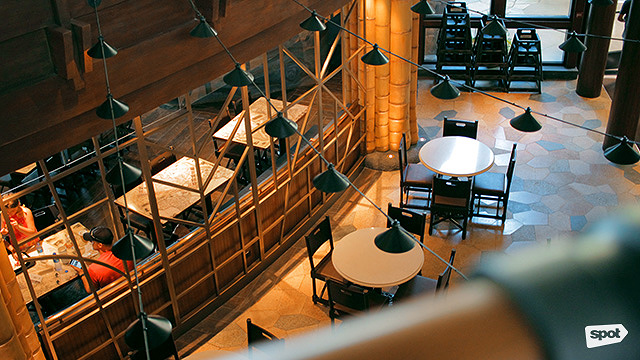 ADVERTISEMENT - CONTINUE READING BELOW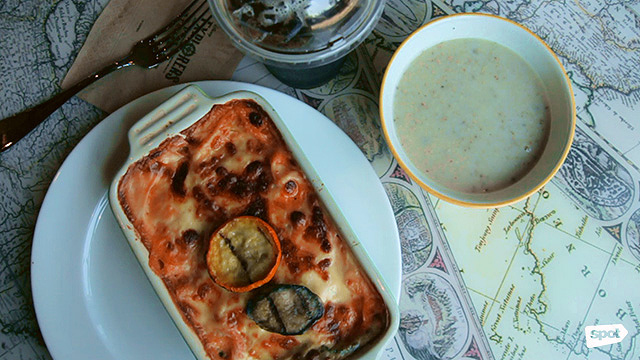 The Chart Room Café is where you can just sit back and enjoy a cup of coffee or tea. They offer a wide selection of drinks, and it's where you can enjoy continental breakfast and all-day dining! They have freshly baked pastries, fresh fruits, juices, pasta, sandwiches, and salads.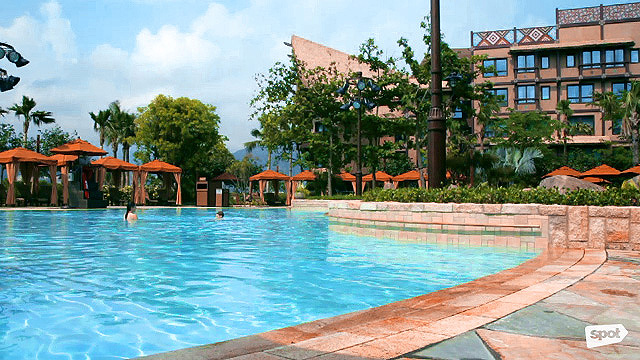 ADVERTISEMENT - CONTINUE READING BELOW
Rain Drop Pool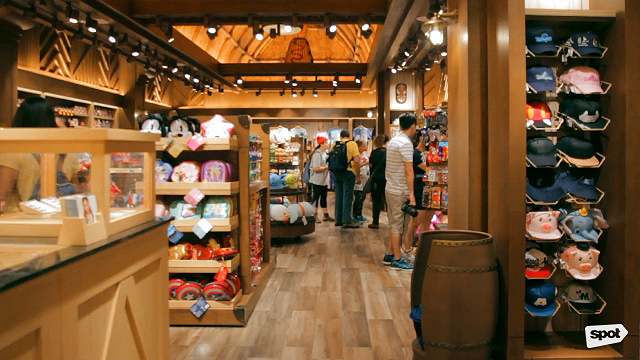 Guests can go on morning jogs along the Waterfront Promenade, take a dip in the Rain Drop Pool, or go souvenir shopping at The Trading Post which features over 20 exclusively designed merchandise along with other cool Disney finds which you can purchase for your loved ones.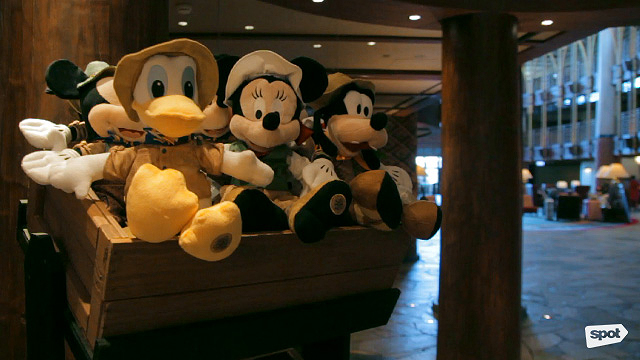 ADVERTISEMENT - CONTINUE READING BELOW
The fun doesn't end there because Mickey, Minnie, Donald Duck, and Goofy make special appearances in the lodge so you might just chance upon them during your stay. You'll spot them in their super cute explorer-themed costumes and be able to take selfies with them if you're lucky!
Tip: Filipinos get to enjoy an exclusive 40% discount on all rooms and in all hotels (including Disney's Hollywood Hotel and Hong Kong Disneyland Hotel) when you book from now until December 31, 2017. Oh, and if you're traveling in groups or if you have a huge family, you'll be pleased to know that 70% of the rooms can be converted into connecting rooms, giving you and your family or friends lots of flexibility during your stay.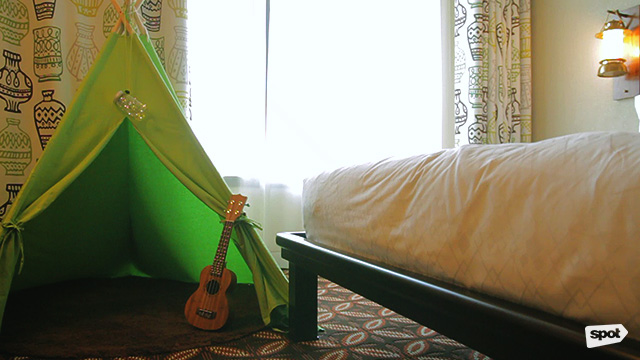 If you're traveling with young ones, you can choose to upgrade their rooms with the Young Explorer Decoration Package for an additional HK $1,099. This will get you a room that comes with an explorer's tent with fun badges you can use to decorate, a makeshift firefly jar, and ukulele which you can bring home after your stay!
ADVERTISEMENT - CONTINUE READING BELOW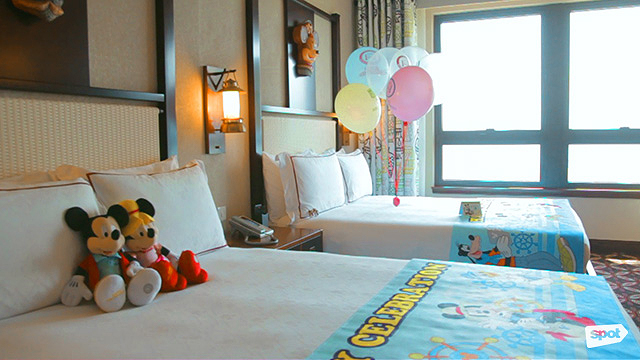 Celebrating a special occasion? You can choose the Celebration Room Decoration Package add-on when you check in for an additional HK $1,099. This will get you a room that's decorated with door stickers, mirror stickers, a celebration bed runner, special room slippers, balloons, a greeting card, and Mickey and Minnie plush toys.
The Disney Explorers Lodge is a destination in itself. It can be an adventure park when you want it and a relaxing refuge when you need it. Pair that with a fun trip to the actual theme park and you'll have a magical experience you'll never forget.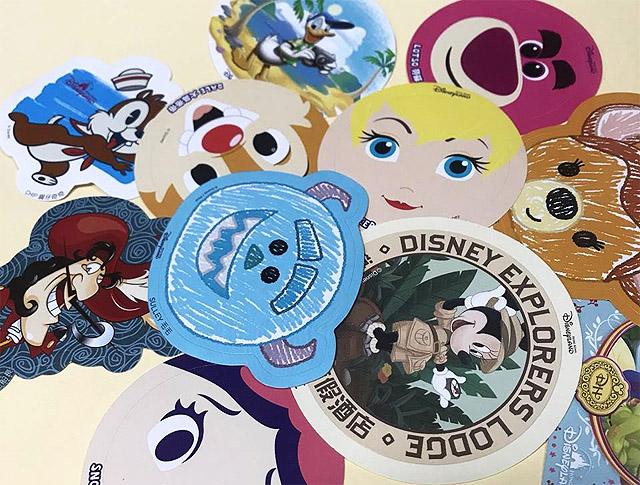 ADVERTISEMENT - CONTINUE READING BELOW
How cute is our sticker collection?!!
Oh, and one last very important tip: Approach any staff member (yes, ANY!) and ask if they have stickers! You might end up buying a pouch where you can keep all the stickers you'll be able to collect. Wink, wink.
Disney Explorers Lodge is at Hong Kong Disneyland Resort, Lantau Island, Hong Kong. You can book your rooms online. For more information, log on to Hong Kong Disneyland's Facebook page.
Share this story with your friends!
---
Help us make Spot.ph better!
Take the short survey
Load More Stories