10 Cheery Christmas Sights to See In and Around Manila (2017 Edition)
From Alabang to North Ave!
(SPOT.ph) As everyone knows by now, Christmas in the Philippines starts as early as September. Everywhere you look there are families shopping for Christmas lights, malls are putting together grand Christmas parades, and public parks are all dressed up for their lights and sounds shows.
If you're thinking of taking in some of the most spectacular scenes, make a note to see the ones listed here. They're some of the best Christmas sights near and around Metro Manila that you shouldn't miss this year.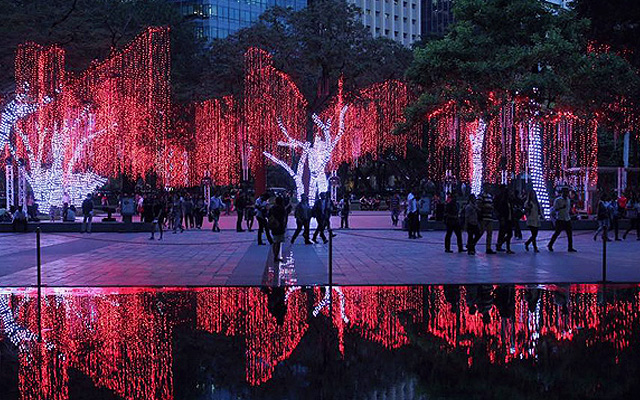 Ayala Triangle Gardens, Makati Avenue corner Ayala Avenue, Makati City
The much-awaited Christmas display in the city astounds visitors with its three 20-watt animation lasers and giant haze machines. You can also find huge gift-wrapped boxes, Christmas balls, and parols with traditional patterns of Filipino textiles all lit up along Ayala Avenue.
Festival of Lights runs daily until January 7, 2018, every 30 minutes from 6 p.m. to 10 p.m.
ADVERTISEMENT - CONTINUE READING BELOW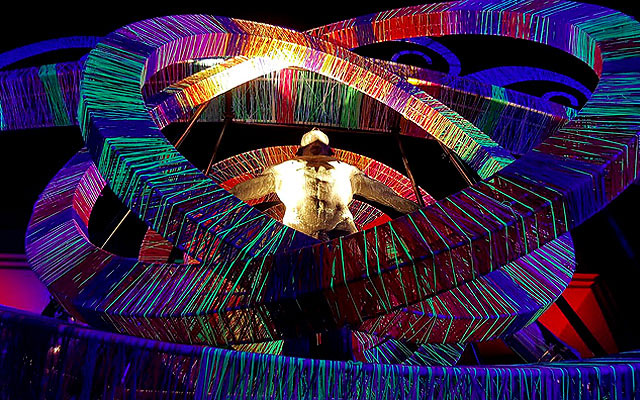 University of the Philippines' "Mulat"
Oblation Plaza, University of the Philippines - Diliman, Quezon City
The state university once again wowed its students, professors, and guests with another year of Pag-iilaw, held on November 24. It presents Toym Imao's piece, "Mulat," which surrounds the historic UP statue with a representation of a giant eye made of colorful threads. It seems to watch over a field where silhouettes of children playing are spread out. Don't miss this poignant Christmas sight when you're in Diliman.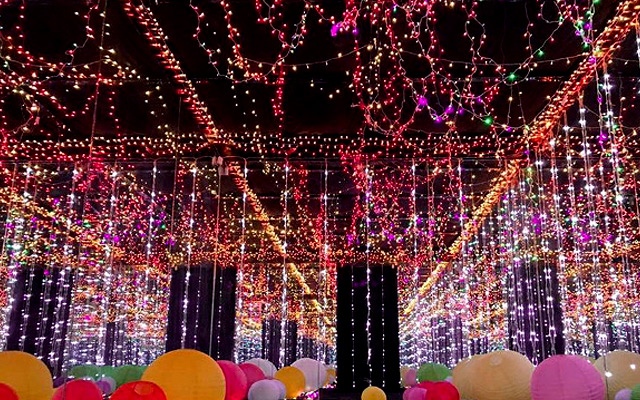 ADVERTISEMENT - CONTINUE READING BELOW
Estancia at Capitol Commons, Meralco Avenue, Ortigas Center, Pasig City
Estancia draws inspiration from Japanese artist Yayoi Kusama, known for her psychedelic paintings of loops and dots, dizzying walk-in installations, and picture-perfect sculptures. Making use of lights and mirrors, Vast Imaginarium presents three rooms—The Lit Room, The Abyss Room, and The Green Room—on different floors of the mall. There's also The Enchanted Room, which looks like a giant gift box found at the Capitol Commons Park. 
Filinvest Homes East, Marcos Highway, Cainta, Rizal
To make his house as festive as possible, Alexander Cruz of Filinvest Homes East used 5,000 boxes of LED lights, each with 100 hundred bulbs. That's half a million lights! You can see a tunnel of lights, Christmas trees made of lights, curtains made of lights, and more lights. This tradition started in 2010 and Cruz' family has welcomed up to 1,000 visitors per day because of his amazingly decorated house.
Cainta Christmas House is open for public viewing from Monday to Saturday, 7 p.m. to 9:30 p.m.; and Sunday, from 7:30 p.m. to 9:30 p.m.
Policarpio Street
New Zuniga, Mandaluyong City
For residents of Policarpio Street, Christmas is the time to go all out with lights and decorations. Families adorn their houses with colorful lights, parols, and other Christmas symbols. Huge Santa displays are perfect for quick photo-ops.
CCP's "Habi ng Pagkakaisa"
Cultural Center of the Philippines, Roxas Boulevard, Pasay City
For the Cultural Center of the Philippines' annual Holiday Light Installation Competition, it was "Habi ng Pagkakaisa: Weaving the Multi-Cultural Filipino Together" designed by architects Rochelle Ong and Louie Suizo that caught the attention of the judges (and now, all the passers-by). The giant Christmas tree features geometrical patterns inspired by the Philippines' weaving traditions and is made of local materials.
ADVERTISEMENT - CONTINUE READING BELOW
"Habi ng Pagkakaisa" is lit daily from 6 p.m. to 11 p.m.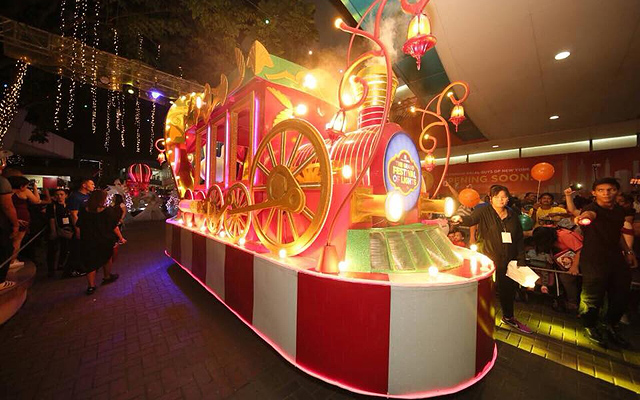 MOA Grand Festival of Lights
North and South Arcades, Mall of Asia, Pasay City
Shoppers in SM Mall of Asia get front-row seats to a fun parade every Saturday this Christmas season. The magical show features mascots dancing to Christmas carols, good ol' Santa and his elves, and a grand fireworks display. The route starts at the North Arcade then ends at the South Arcade, along Seaside Boulevard.
Grand Festival of Lights runs every 5:30 p.m. on all Saturdays of December and on Christmas Day.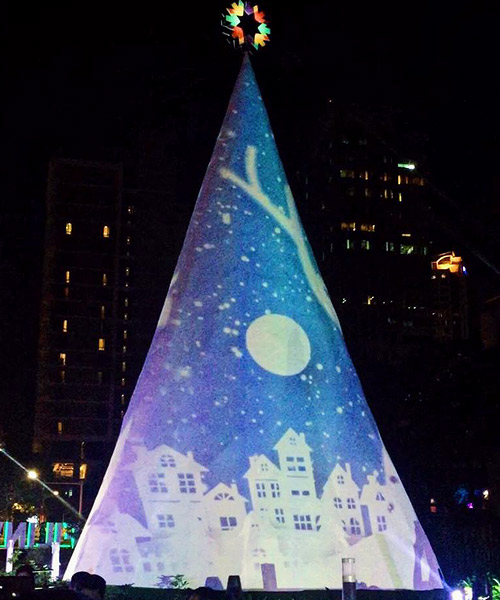 ADVERTISEMENT - CONTINUE READING BELOW
Sparkle of Christmas at Filinvest City
Spectrum Midway Linear Park, Filinvest City, Alabang, Muntinlupa
The newly opened Spectrum Linear Park has been transformed into a magical Christmas paradise through an enchanting lights-and-sounds show. Sparkle of Christmas features a 40-foot tall Christmas tree animated through very cool 3D mapping. There's also an arch of Christmas lights leading to the towering tree.
Sparkle of Christmas at Filinvest City runs every weekend until December 31, 2017, every 30 minutes from 6 p.m. to 9 p.m.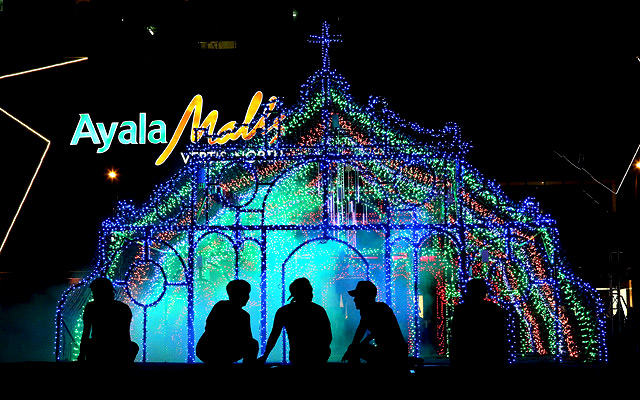 Vertis North, North Avenue, Bagong Pag-asa, Quezon City
Voltaire de Jesus, who is also behind Makati's Festival of Lights, outdoes himself with a Christmas spectacle that awes the Quezon City crowd. The Vertis Northern Lights features a giant cathedral draped in thousands of colorful lights as inspired by the Filipino tradition of simbang gabi. Musical medleys are also played during the lights show, including "Pinoy Fiesta" by Roy del Valle, "Traditional Christmas" by Von de Guzman, and "Techno Christmas" by Tris Suguitan.
ADVERTISEMENT - CONTINUE READING BELOW
Vertis Northern Lights runs daily until January 8, 2018, every 30 minutes from 6 p.m. to 10 p.m.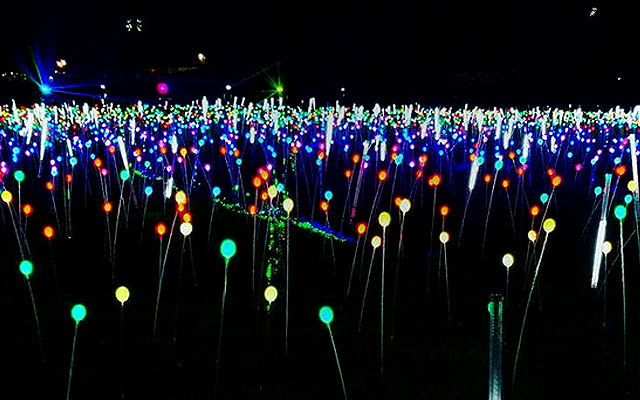 Nuvali's Magical Field of Lights
The Fields, Nuvali, Santa Rosa, Laguna
Nuvali in Laguna makes a patch of its green space brighter with a spectacular lights-and-sounds show. It features a 3,600-square-meter lot filled with 5,000 pieces of tulip-bud lights that change color, 1,000 tube lights on the outskirts, colored laser lights from every direction, and man-made fog. The 50-meter tunnel surrounded by Christmas lights is a perfect photo spot.
Magical Field of Lights runs daily until January 7, 2018, every 30 minutes from 6 p.m. to 10 p.m.
Load More Stories