15 Unusual Christmas Traditions Around the World
Like bonding in a sauna and burning the devil.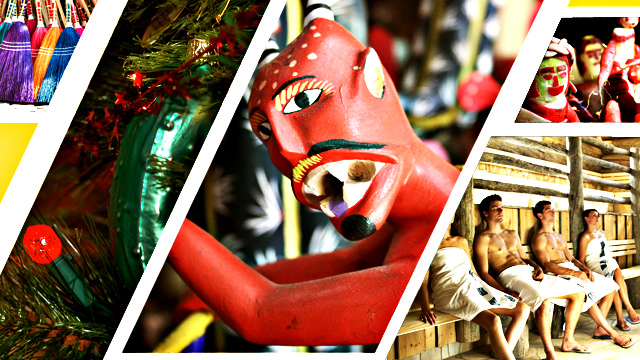 (SPOT.ph) The holidays call for countless celebrations, and there's no shortage of traditions in the Philippines. Not so surprising for a country that starts the holiday season in September. We may come off as a little too excited, we're actually much tamer compared to other countries. Here we round up some of the most fascinating Christmas traditions from around the world.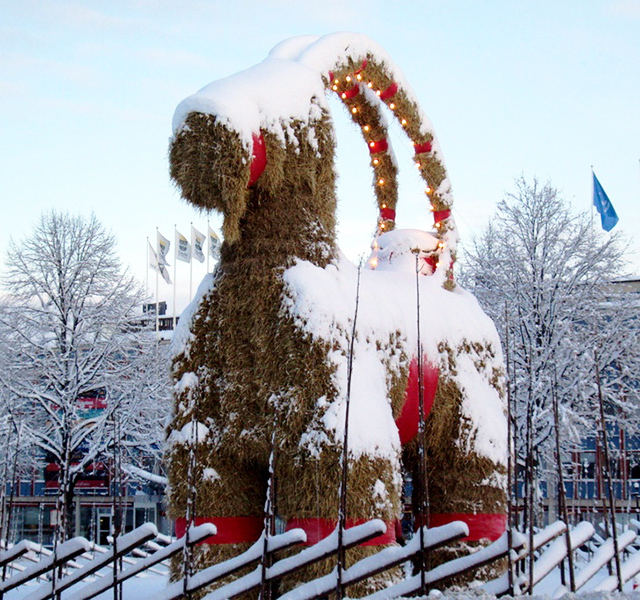 Gävlebocken or Gavle Goat in Sweden
A giant version of the Swedish Yuletide Goat, the Gavle Goat (Gavleblocken) has been burned down 35 times for the past 50 years. Gavle's local government always tries its best to make it last until the Feast day of St. Lucia (December 13), but the goat usually stands a slim chance against tradition.
ADVERTISEMENT - CONTINUE READING BELOW
Tio de Nadal and Caganer in Catalonia, Spain
Weirdly, Catalans have a thing for pooping figures. Dating back to the 1700s, the Caganer is a ceramic miniature that first appeared as a defecating peasant farmer near the nativity scene, and its poop symbolizes fertility and good fortune. From there, Caganers have evolved into public figures and famous characters, all of which are posed defecating. Meanwhile, the Tio de Nadal is a hollow log given to children weeks before Christmas. Standing up on two or four stick legs, these logs are fed with candies, nuts, and fruit, starting on the Feast of Immaculate Conception. Once Christmas Eve arrives, children get the stored goodies by hitting the log with sticks while singing variations of the Tio de Nadal song.
CONTINUE READING BELOW
Recommended Videos
Hiding brooms in Norway
Ever wonder where witches go after Halloween? They visit Norway. It appears that Christmas Eve coincides with the arrival of witches in the country, looking for brooms to steal. Like most superstitions, the logic behind this belief is lost, and yet Norwegians still take preventive measures by hiding all their brooms on Christmas Eve.
ADVERTISEMENT - CONTINUE READING BELOW
Roller-skating in Caracas, Venezuela
For Venezuelans, attending the Misa de Gallo in roller-skates is a tradition with not much of an explanation. Roads are closed off to let locals roller-skate their way to church. The night before that, kids tie one end of a string on their big toe and hang the other end out of the window, allowing passersby to help wake them up in time by tugging on the strings.
ADVERTISEMENT - CONTINUE READING BELOW
Spider web decor in Ukraine
Cobwebs are commonly used for Halloween, but in Ukraine, they're used for Christmas trees. According to legend, a poor woman who couldn't decorate her own Christmas tree woke up to see her tree covered in a sparkly cobweb on Christmas day. From then on, cobwebs became a century-long tradition that was believed to bring good luck.
Pohutukawa Christmas Trees in New Zealand
In New Zealand, the pohutukawa tree is the most recognized symbol for Christmas. But not only is it synonymous with the holiday season, it is also prominent in Maori tradition. For their people, a pohutukawa on the windswept clifftop at Cape Reinga is known to be "the place of reaping." From there, spirits of the dead begin their descent into the underworld.
ADVERTISEMENT - CONTINUE READING BELOW
Sauna bonding in Estonia
During Christmas, Estonia feels like an outdoor freezer. Taking a bath in the sauna during Christmas Eve is not only a logical tradition, but also an important one. This age-old custom is usually done with the family after preparing for Christmas dinner. Once done, children are given new clothes and shoes to wear for the evening mass. After the service, kids will go home to eat with their families.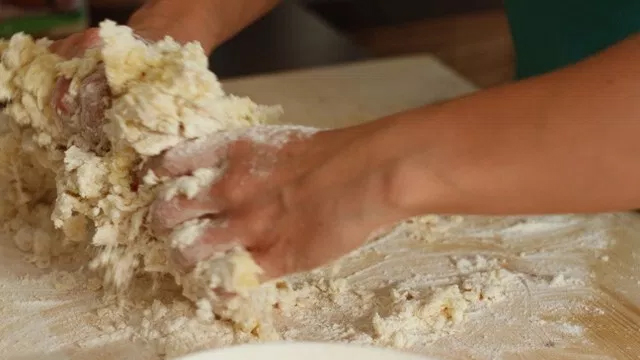 Sticking loksa pudding in the ceiling in Slovakia
If ever you're invited to a Slovakian family's Christmas dinner, try not to be easily shocked. During Christmas Eve in Slovakia, it's custom for the head of the family to take a spoonful of lokse (potato flatbread) mixed with honey, raisins, and nuts. Instead of being eaten, it is flung to the ceiling with a spoon. According to Slovakian lore, the bigger the lump that sticks to the ceiling, the larger the crops will be in the coming year.
ADVERTISEMENT - CONTINUE READING BELOW
Eating mattak and kiviak in Greenland
Greenland's Christmas delicacies, the mattak and kiviak, are not for the faint-hearted. The mattak is made of raw whale skin with a strip of blubber inside, while the kiviak is a small decomposed auk (arctic bird) wrapped in seal skin. It's tradition for local men to serve food throughout the Christmas meal and to clean up after, so eating these will be your only problem.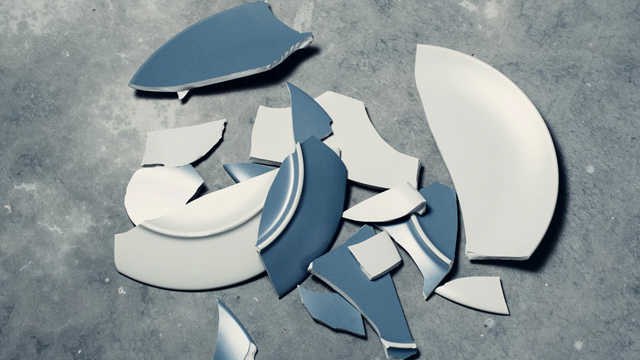 ADVERTISEMENT - CONTINUE READING BELOW
Breaking of plates in Oaxaca, Mexico
Oaxaca should be your next holiday destination thanks to their entertaining customs: "Night of the Radishes," and smashing plates. Every December, it's socially acceptable to smash your used plates in Oaxaca, as long as you eat bunuelos and drink hot chocolate first. The breaking of plates' a custom that originated from the ancient Indians, and signifies the nearing end of the year. Once you're done smashing ceramics, attend the Night of Radishes at Oaxaca's main plaza. Held every 23rd of December, the competition exhibits sculptures of radishes in varying themes. Whoever wins gets their work photographed and published in the paper the next day.
Hunting for pickles or Christmas Pickle in Germany
Most people associate pickles with burgers, but for Germans, pickles are for Christmas. Much like Easter eggs, a pickle is hidden in the branches of the Christmas tree for children, and even adults, to find on Christmas Day. Once found, children will get a prize, while adults get good luck for the coming year. This custom is celebrated in a lot of countries, including the United States and Canada.
ADVERTISEMENT - CONTINUE READING BELOW
Deep-fried caterpillars in South Africa
Traditional Christmas delicacies aren't exotic, or so you thought. If you thought Greenland's mattak and kiviak were extreme, you should try South Africa's deep-fried caterpillars. The locals look for the Emperor moth caterpillar and proceed to deep-fry them for their Christmas dinner. These crawlers are a holiday favorite.
ADVERTISEMENT - CONTINUE READING BELOW
Plunging into cold water in the U.K.
The Peter Pan Cup has been around since 1864, and members of the Serpentine Swimming Club aren't retiring any day soon. Every Christmas Day, members of the club race each other at Hyde Park, with temperatures dropping as low as four degrees Celsius. To maintain the safety of the competition, non-members of the Serpentine Swimming Club aren't allowed to join. The 100-yard swim attracts hundreds of bundled-up Londoners annually, becoming its own Christmas tradition.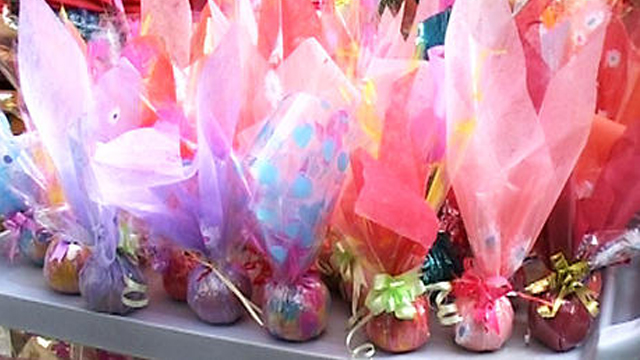 Cellophane-wrapped apples in China
Christmas in China is its own phenomenon, with commercialism skyrocketing especially during the holidays. Apparently, the Chinese word for apple, pingguo, sounds a lot like Merry Christmas in Mandarin, ping'anye, a coincidence that ultimately became a tradition. Often wrapped in cellophane, apples are customary gifts for your loved ones.
ADVERTISEMENT - CONTINUE READING BELOW
Burning the Devil in Guatemala
Every December 7, Guatemalans burn down the devil. Made up of the neighborhood's piled trash with a paper mache figure on top, the devil represents the misfortunes of the past year, and locals believe that burning it down will let them rise from the ashes. Practiced since the 18th century, locals have been burning their trash in anticipation of the feast of the Immaculate Virgin Mary.
Share this story with your friends!
---
Help us make Spot.ph better!
Take the short survey
Load More Stories