(SPOT.ph) As a kid, you may have found museums to be boring and stuffy, but they are anything but when you pair the right type of museum to the right personality. These days, museums come in many forms that range from the traditional, don't-touch-the-art type to the playful, touch-all-the-art kind. While some may balk at some of today's museum concepts, this spot remains to be defined as a place where objects of interest or value are displayed, and interest or value is very much relative. At the end of the day, a museum houses art, culture, and history, and more importantly, brings together people.
If you're looking for interactive and playful museums, here are 10 places that will bring out your inner kid: 
Art in Island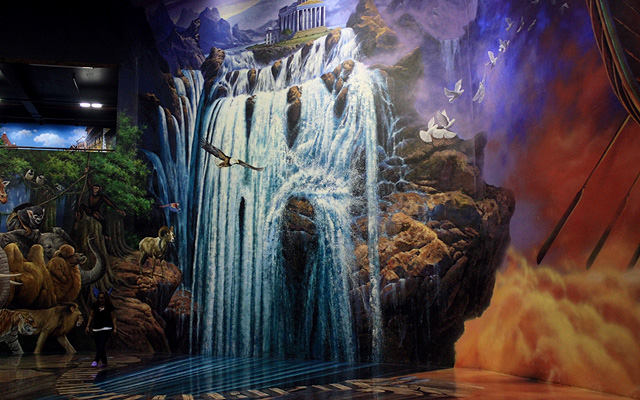 ADVERTISEMENT - CONTINUE READING BELOW
175 15th Avenue, Cubao, Quezon City
facebook.com/artinisland
Fee: P500 for adults
Open from Tuesday to Sunday, 9:30 a.m. to 9:30 p.m.
If playing with art and taking lots of photos sound like a great time to you, Art in Island should be your next museum destination. The 3D interactive museum plays with illusion and lets viewers literally be part of the art with its over a hundred hand-painted exhibits. Jump into paintings, take note of the camera guides on the floor for the best angles, and just let your imagination run wild. To make the most of the experience, get your wacky poses ready and wear cool socks since you'll have to take off your shoes inside.
The Mind Museum
J.Y. Campos Park, 3rd Avenue, Bonifacio Global City
themindmuseum.org
Fee: P625 for adults for a three-hour slot, P750 for adults or kids for an all-day pass
Open from Tuesday to Sunday, 9 a.m. to 6 p.m.
ADVERTISEMENT - CONTINUE READING BELOW
Recommended Videos
At The Mind Museum, geek out and explore science in all its shapes and sizes, from the atomic to the larger than life. It has 250 interactive exhibits presented in five interconnected stories. The Atom Gallery has the most number of interactive exhibits, including the metal ball that makes your hair stand up when you touch it, and other cool experiment demos. The Life Gallery focuses on different habitats around the world, the Earth Gallery features the T. rex exhibit, and the Universe Gallery takes you to outer space. Finally, the Technology Gallery occupies the biggest floor space and shows how technology is essential to the human race. The Mind Museum's diverse exhibits and programs includes the Science Sleepover, a night of activities for both adults and kids capped by a sleepover in the museum—a childhood dream come true!
The Dessert Museum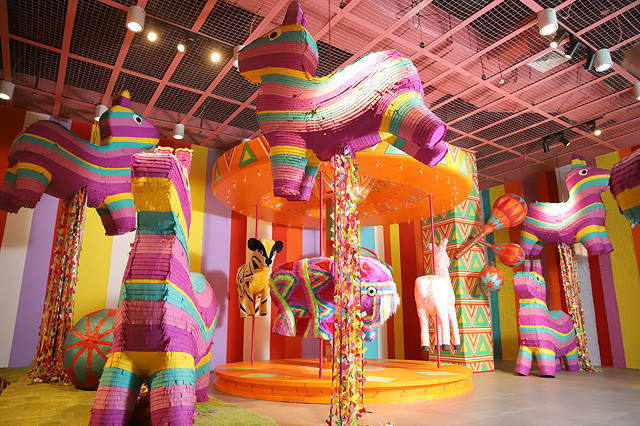 ADVERTISEMENT - CONTINUE READING BELOW
Units 124, 126, 127a, Coral Way, S'Maison, Conrad Hotel Manila, Mall of Asia Complex, Pasay City
Fee: P699 (online rate) or P799 (walk-in rate) for a two-hour tour with up to six free desserts 
Open daily from 10 a.m. to 10 p.m.
Got a sweet tooth? At The Dessert Museum, learn about the stories behind your favorite desserts while sampling chocolates, cake pops, and more (tell the staff if you have any allergies). Enter the museum through the Sprinkle Slide—yes, a slide—and explore eight candy-colored wonderlands that will no doubt give you a sugar high. This different kind of museum has no shame in its Instagram game, so take as many photos and selfies as you want in your two-hour slot.
Upside Down Museum
Cultural Center of the Philippines Complex, Roxas Boulevard, Pasay City
Fee: P450
Open from Tuesday to Sunday, 11 a.m. to 9 p.m.
Sometimes, all you need in life is a change in perspective, and this is what you'll definitely find at the Upside Down Museum. Taking inspiration from upside-down establishments abroad, the museum features 15 exhibits like the Leaning House, Floating Corner, Mirror House, Inverted Steel Bridge, and of course, the Upside Down House. Here, you can interact with the exhibits and let your inner kid run wild. You'll come out with amazing photos, fun memories, and a fresh perspective.
ADVERTISEMENT - CONTINUE READING BELOW
Museo Pambata
Roxas Boulevard corner South Drive, Manila City
Fee: P250
Open from Tuesday to Saturday, 9 a.m. to 12 p.m. and 1 p.m. to 5 p.m., Sunday 1 p.m. to 5 p.m.
Take a trip down memory lane and visit one of the classic stops of school field trips of '90s kids. Like its name suggests, Museo Pambata was made for children. It encourages kids to interact with exhibits and use all five senses for an immersive experience. But that doesn't mean you're too old to play, create, and explore. Check out their herbal garden and learn more about plants (perfect for plant parents!), explore the human body tunnel maze at the Katawan Ko exhibit, and even draw your future goals at the Paglaki Ko exhibit. 
National Museum of Natural History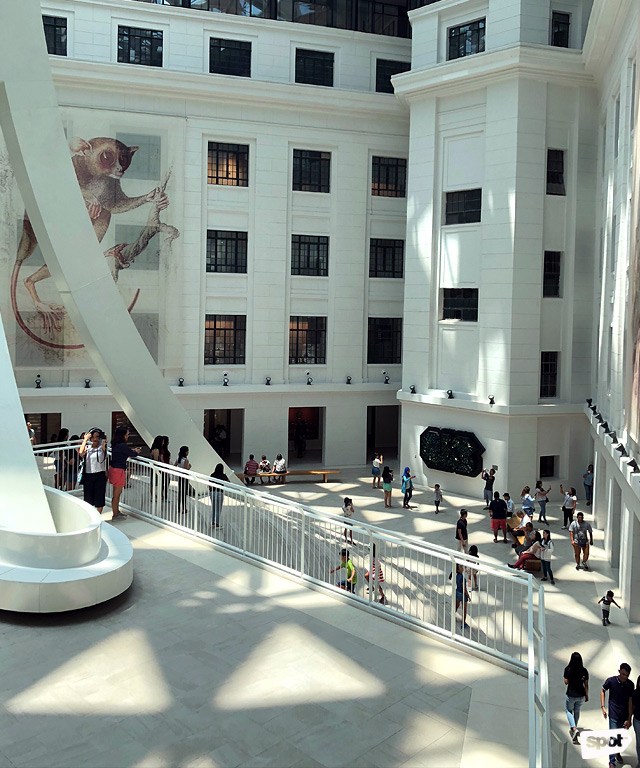 ADVERTISEMENT - CONTINUE READING BELOW
Teodoro F. Valencia Circle, Ermita, Manila City
Admission is free
Open from Tuesday to Sunday, 10 a.m. to 5 p.m.
Remember the magic of learning as a kid? Rediscover that feeling at the National Museum of Natural History, which is beautifully and consciously designed to showcase the best of the country's flora and fauna. You'll be spellbound from the moment you enter and see the Tree of Life, a structure inspired by the DNA strand, which houses a glass elevator. Go all the way up and start with the Philippine Biodiversity gallery and work your way through our lands and seas and everything that lives in these habitats. A few standouts: the skeleton and preserved body of Lolong, the largest saltwater crocodile held in captivity, a replica of the endangered Philippine Eagle, and the immersive mangrove exhibit.
Since the museum opened its doors last year, it's been attracting droves of visitors. For a hassle-free experience, choose a bag no bigger than a small bond paper and avoid bringing food, drinks, and tripods. Leave umbrellas at the baggage counter, and save the "wacky" poses for other museums.
ADVERTISEMENT - CONTINUE READING BELOW
D' Bone Collector Museum
San Pedro Street, Poblacion District, Davao City, Davao del Sur
Fee: P150 for adults
Open from Monday to Friday, 10 a.m. to 5 p.m. and Saturday, 1 p.m. to 5 p.m.
Fascinated by bones? Founded in 2011 by a non-governmental organization, D' Bone Collector Museum houses the skeletons and preserved remains of animals from around the world. Learn about different species and be awestruck by how they can be so different yet similar in certain ways. A tour guide accompanies you through the three floors for an informative experience that will leave you with a newfound respect for bones.
ADVERTISEMENT - CONTINUE READING BELOW
Marikina Shoe Museum
J.P. Rizal Street, Marikina City
Fee: P50
Open daily from 8 a.m. to 12 p.m. and 1 p.m. to 5 p.m.
It's only fitting that the shoe capital of the country houses the globally known Marikina Shoe Museum. Showcasing the shoes of famous personalities, you could say it's one way to see what it's like to walk in their shoes. (Just to be clear, you can't actually wear or touch the shoes!) These personalities include presidents, politicians, and celebrities, including Imelda Marcos, the wife of the late dictator Ferdinand Marcos, who was known for her extravagant shoe collection. The centerpiece in the museum is the 17-foot-long leather pair of shoes that once held the Guinness World Record for largest shoe in the world. Built in the 1800s, the building itself is steeped in history; it was an arsenal in the Spanish colonial era and a detention cell during the Filipino-American war.
ADVERTISEMENT - CONTINUE READING BELOW
Puzzle Mansion
Cuadra Street, Barangay Asasin, Tagaytay, Cavite
Fee: P100
Open daily from 8 a.m. to 5 p.m. 
The B&B has a special treat for guests and non-staying visitors: a huge collection of puzzles in every size, shape, and style you could possibly think of. In fact, it held the Guinness World Record for the largest collection of jigsaw puzzles for a time, until the previous titleholder from Brazil reclaimed the title in 2017. Each puzzle states the origin, number of pieces, and time of completion. Looking at over one thousand puzzles in the collection, you'll definitely want to solve a puzzle of your own—grab one or two at the museum's puzzle shop.
Museum of Miniatures
2/F E-Com Building, 84 A. Bonifacio Avenue, Riverbanks Center, Marikina City
Fee: P75
Open from Friday to Sunday, 8 a.m. to 5 p.m.
Derek Zoolander's "What is this—a center for ants?" may be the first thing on your mind when you enter the Museum of Miniatures, but there's so much more to this place than a witty IG caption. It houses a collection of shadow boxes filled with teeny tiny replicas of the rooms in an ornate European mansion, like an artist studio, a sewing room, and a covered patio. Part of the collection of the late artist Aleli Vengua, the miniatures are made from scrap items such as plastic, wood, fabric, glass, and aluminum. Aside from the European mansion rooms, there are dollhouses and individual pieces on display. All together, there are over 60,000 miniature pieces in the museum established in 1977.
ADVERTISEMENT - CONTINUE READING BELOW
Share this story with your friends!
---
Help us make Spot.ph better!
Take the short survey
Load More Stories