lyf Funan
7 Hill Street, Central Business District, Singapore
Rates start at P4,510
At a Glance
Room: Comfy and efficient
Food and drink: Depends on how well you can cook
Staff: Young, friendly, and always up for a chat
Why you should stay: It's a coliving property, so think hostel, but upgraded and revamped.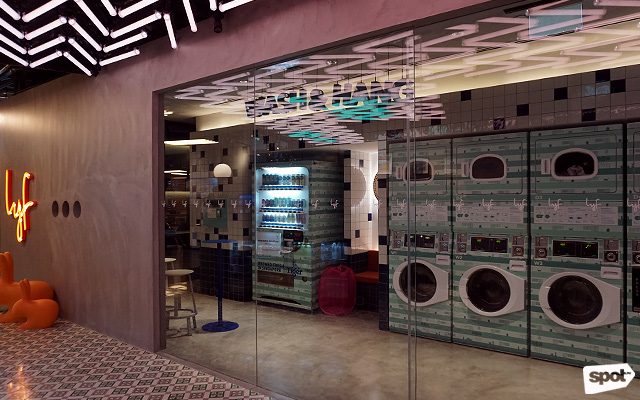 ADVERTISEMENT - CONTINUE READING BELOW
(SPOT.ph) The first thing that greets you upon entering lyf Funan—Asia's largest coliving property—is a laundromat. Yes, all decked out in white, green, and other funky colors and pieces (spot Singapore's first ever beer-vending machine right here), these washers and dryers were placed right by the lobby entrance for a reason: aptly called Wash and Hang, the space balances out function and fun, setting the tone for everything lyf is about.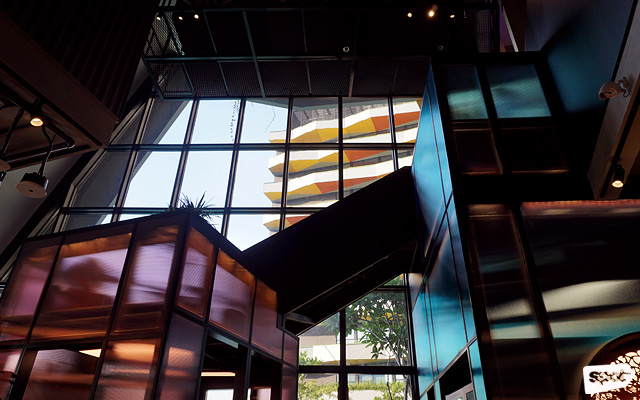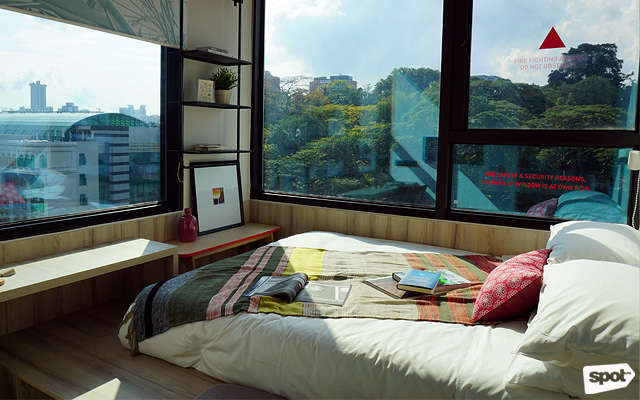 "There is a rising class of millennials with spending power and they are not looking for hotels or serviced apartments; they want something more unique, more Instagrammable, more fun," explains Mindy Teo, deputy managing director for the lyf brand. Much like the concept of coworking, lyf is a coliving space that focuses on creating a community with its tenants, whether they're staying for one night, two nights, or several months—and right with the nature of millennials, lyf doesn't take itself too seriously.
ADVERTISEMENT - CONTINUE READING BELOW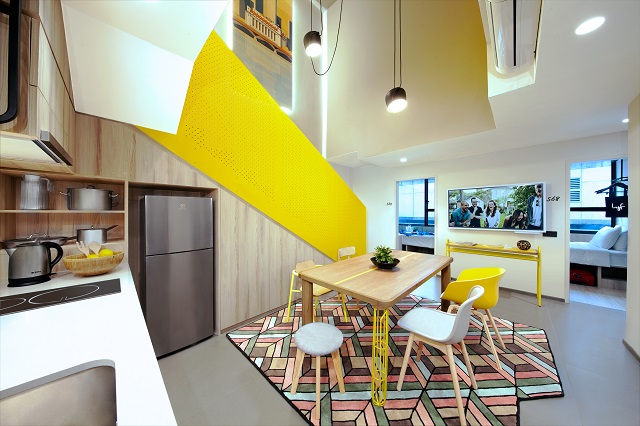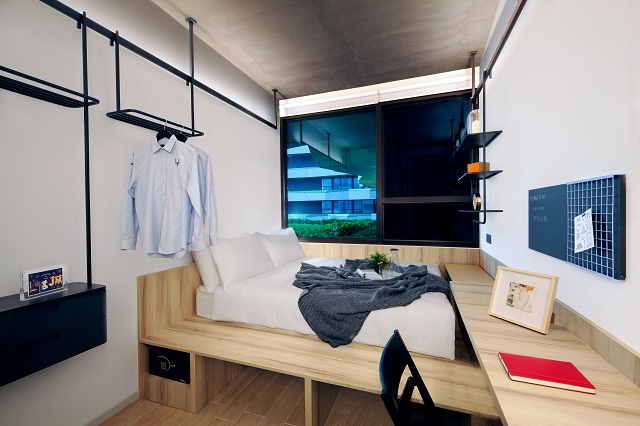 ADVERTISEMENT - CONTINUE READING BELOW
It incorporates the basics of a hotel—clean, well-designed rooms (yes, with housekeeping), and dependable staff—but it takes down the usual barriers of short-term stays with added flexibility thanks to its wide range of room types (from studios to apartments), and of course, the benefit of a community.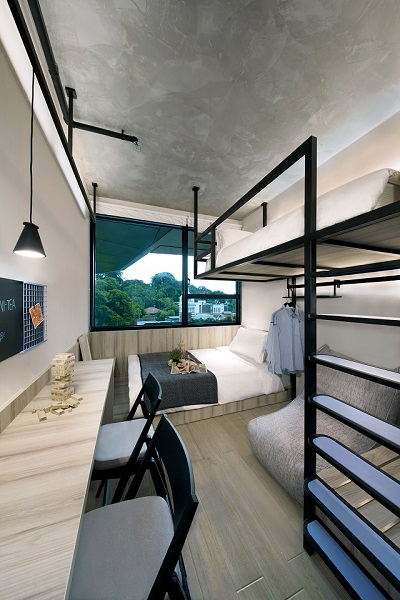 ADVERTISEMENT - CONTINUE READING BELOW
When you check in to lyf, there are two main spaces you get to use. There is the private space, a.k.a. your room, "where you can retreat to and have your 'me time.'" Each room comes with its own bathroom so you don't have to worry about having to make friends in an awkward place. There are also social spaces. Teo explains, "[These social spaces] are really meant for people to interact: learn about new cultures, have fun together, and on a more serious front, network as well."
"As one of our long-staying guests put it, 'Even if I'm in the coworking space and no one is talking to me, I know that I'm not alone,'" says Teo. lyf has created a wholly flexible experience that is arguably very millennial—and in the midst of the many things this generation has been accused of destroying—coliving is just one of the many positive ways that they have adapted to the times.
ADVERTISEMENT - CONTINUE READING BELOW
What to Do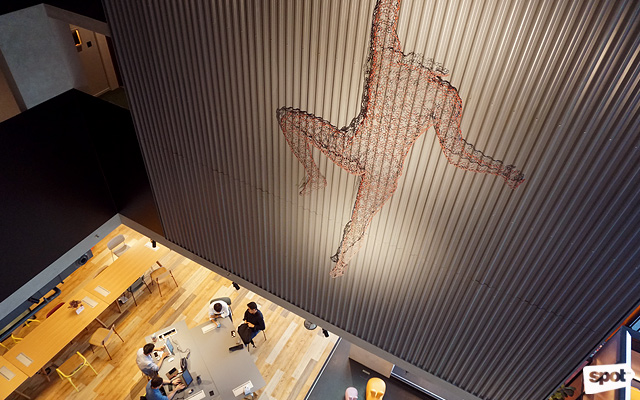 Shared spaces are scattered around lyf Funan where you're welcome to make friends, work with your team, or just relax and chill. Past the Wash and Hang is the communal lounge—a.k.a. hotel "lobby"—aptly nicknamed Connect. The reception area is here, where you can chat with lyf Guards and ask about anything Singapore. There are desks and small meetings rooms for people to work at, but there's also a photobooth, a huge playable game set for Connect Four, and even a ball pit for when you need a breather but can't leave your workstation just yet.
ADVERTISEMENT - CONTINUE READING BELOW
Each lyf property also has an Ambassador. "His or her goal is to go out and interact with the guests, find out what their needs are, and organize events accordingly," explains Teo. Depending on the crowd, the Ambassador could plan weekly workshops, talks, demos, movie nights—pretty much anything under the sun that all guests could come and join.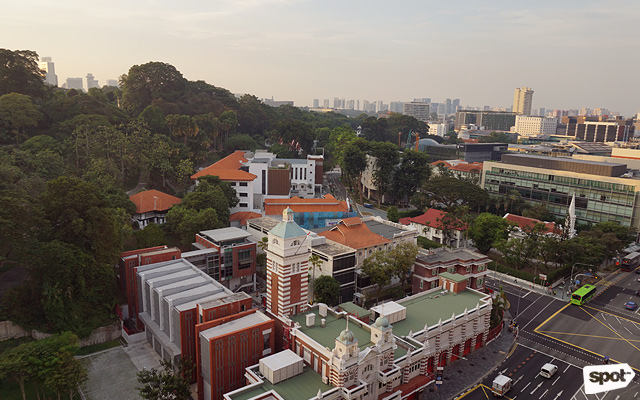 ADVERTISEMENT - CONTINUE READING BELOW
When you're finished experiencing lyf inside, you can simply step out the property and find something new to do. The coliving property is situated right inside Funan Mall along the historic Hill Street. The Central Fire Station, Singapore's oldest—and still functioning—fire station sits right across. A little further down the road is the much photographed Old Hill Street Police Station with its multicolored windows giving the stately old building a lively and current look. The property is right in the Central Business District area, and is just a taxi or bus ride away from the Marina Bay.
Where to Eat
lyf has a shared kitchen and dining area called Bond. The kitchen is fully equipped with anything you could possibly need: just bring your own ingredients—cooking skills not necessary. If you're not in the cooking mood, Funan Mall is right there. There are several restaurants on the same floor: Tiong Bahru Bakery, a French bakery with a uniquely Singapore twist, and Godmama, a restaurant that specializes in Peranakan cuisine, a mix of Chinese and Malay flavors. Tucked away on the seventh floor is Noka, a specialty Japanese restaurant that sources fresh ingredients from the urban farm growing right on one of the mall's open rooftops.
ADVERTISEMENT - CONTINUE READING BELOW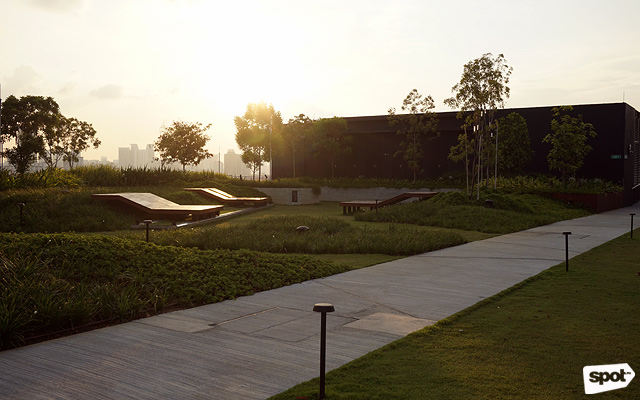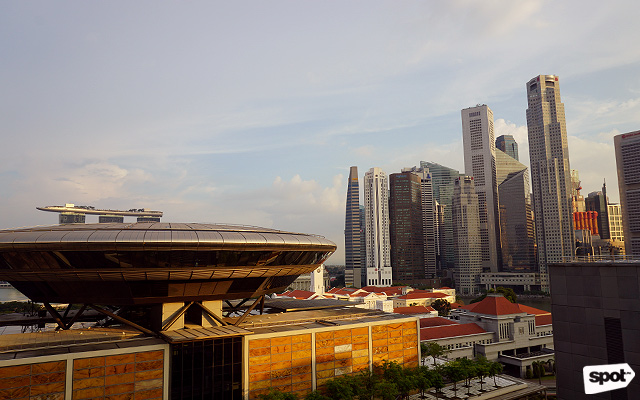 ADVERTISEMENT - CONTINUE READING BELOW
PPP Coffee, which focuses on creating a multi-sensory coffee experience, is also on the second floor of the mall. There are also several restaurants scattered around the mall; not even a month-long stay would guarantee you being able to try everything. And just because it's the Central Business District (CBD) full of shiny new skyscrapers, doesn't mean hawker markets aren't nearby either. Makansutra Gluttons Bay is right along the swanky Marina Bay where you can enjoy your chicken rice meal with the Marina Bay Sands towering over in the background.
Where to Shop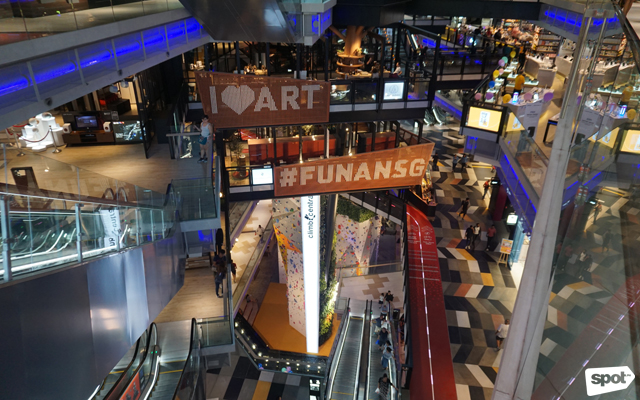 ADVERTISEMENT - CONTINUE READING BELOW
In case you didn't know, Funan Mall is something of a cultural mainstay. It's not a secret, but every local has been heading to the mall since the '80s to get all their gadgets and tech gear. Reopened in 2019 by CapitaLand Malls, it now has an array of cool shops its roof. Tech shops are still present, of course, but now there are also retailers of everything from cutesy stationery at shops like Think, clothes from Love, Bonito (where they have stylists to help you pick out clothes), and even eco-friendly brands like the Green Collective.
How to Get There
From Changi Airport, you can hop on the MRT to City Hall, which is on the same East West Line track. Exit to North Bridge Road, skip along for four minutes and the entrance to Funan Mall will be right there. Though the elevator to lyf—which is on the fourth floor—is on the other side, near the entrance at Hill Street, a walk through the mall is a chance to scope out the area. From lyf, you can get to practically anywhere in Singapore through the City Hall MRT station, or the nearby bus stop along Hill Street.
ADVERTISEMENT - CONTINUE READING BELOW
lyf Funan is at 7 Hill Street, Central Business District, Singapore. For more information, visit lyf Funan's website.
Share this story with your friends!
---
Help us make Spot.ph better!
Take the short survey
More Videos You Can Watch
Load More Stories