(SPOT.ph) We set out from the glistening white sands of Alona Beach a little after daybreak, just as the sun was lazily claiming its spot against a startlingly blue sky. The weather was gorgeous, but no sooner had we reached the open waters of Bohol Sea did the gentle lapping of waves turned rough, causing our mid-sized boat to lurch and jerk every so often, with each dip and rise of the bow drenching us in a spray of saltwater.
Dolphin Watching in Bohol
We were headed to Pamilacan, an island fabled for its rich marine wildlife and frequent dolphin sightings, and if you're luckier, you'd spot a whale or two gliding past without a care in the world. On that particular morning, though, we were warned that we may be up for a disappointment. Choppier waters mean less of a chance that we'd see dolphins.  
More than an hour later and we're still circling the waters surrounding the island waiting for some sign of the animals, enough reason to think that the trip was shaping up to be a futile attempt. One of our companions stood pensively by the boat's bow: Joselino "Jojo" Baritua, the soft-spoken general manager of Pamilacan Island Dolphin and Whale Watching Tours, and the driving force behind marine life conservation on the island for the past 20 years. As we wait to see at least one of the 11 species of marine vertebrates that call these waters home, Baritua tells us about a certain way of life thought to have only existed elsewhere. 
ADVERTISEMENT - CONTINUE READING BELOW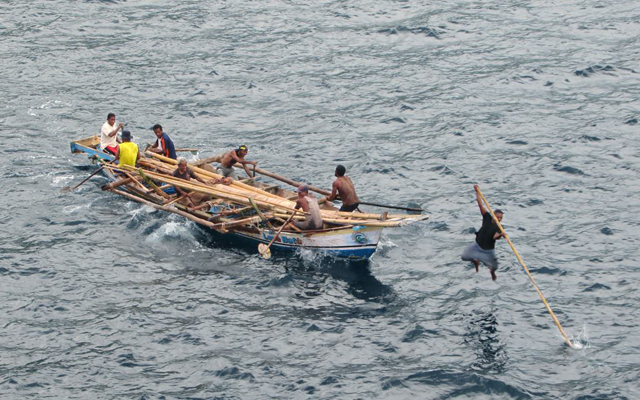 Bohol's Whaling Communities 
The Philippines has a long whaling history, stretching as far back as the 1600s, with Bohol home to at least two communities that actively engaged in whale hunting. 
Pamilacan Island is one of these two well-documented whaling communities, the other area being Lila—both part of the municipality of Baclayon. In a 2013 study by Jo Marie V. Acebes of balyena.org, it was mentioned that Spanish missionaries from as early as the 16th century described how coastal Filipinos "relished eating whales." Records show how, in the 19th century, British and American sperm whalers were lured by the bounty of the Bohol Sea and its promise of an abundant hunt. The exact origins of whaling in Bohol remains unknown, but according to the study, the practice in Lila began in the late 1800s and in Pamilacan in 1939. 
ADVERTISEMENT - CONTINUE READING BELOW
Recommended Videos
This long and largely uninterrupted whale-hunting tradition which started as subsistence fishing ended in 1997, when a ban on whaling and whale shark hunting forced the practice to a screeching halt. Interestingly, there was also another game changer in 1997 that contributed to the death of whaling in Bohol.