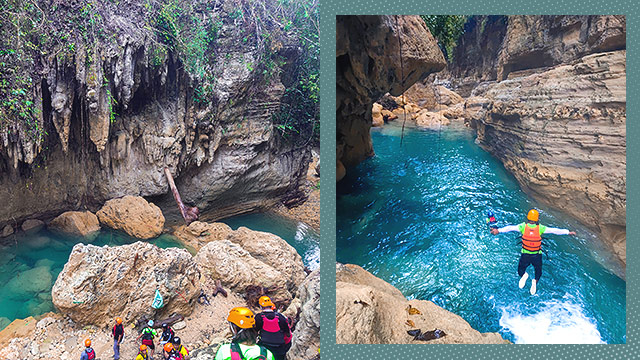 (SPOT.ph) Nature means many possibilities for adventure, and canyoneering is one of those thrill-inducing quests that you should try even just once in your lifetime. It involves hiking through the woods, jumping off cliffs and waterfalls, and crossing canyons. It also takes you through stunning views of nature with turquoise waters and sand-colored stalactites and boulders. We're sure you've heard of the Kawasan Canyoneering adventure in Badian, Cebu. Whether you've been or are just planning to, we checked it out again for you post-Odette devastation and during the pandemic.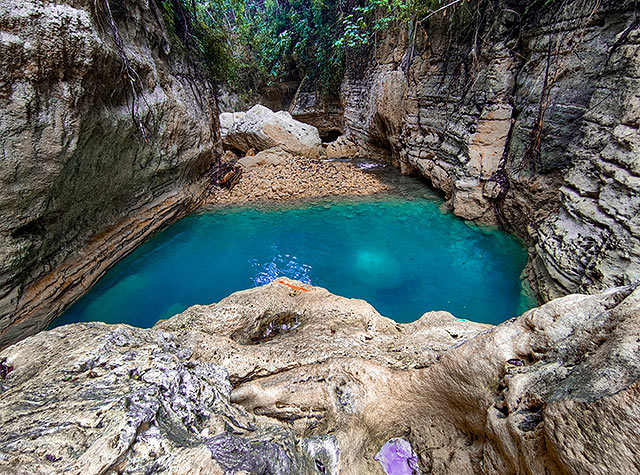 ADVERTISEMENT - CONTINUE READING BELOW
How is the Kawasan Falls adventure in Cebu now?
The Elevator Pitch
Canyoneering in Badian covers two trails, each a few kilometers long. The paths are rocky and are cut by waterfalls and streams. Waterfall jumps can go as high as 30 feet, so you better commit before deciding to go on this adventure just for the 'gram. Trust us, conquering these challenging trails with friends and family make for the best memories. Plus, you really don't have to worry as the guides are experts at what they do and safety measures have been put in place. Canyoneering is also regulated by the local government in Cebu and is a major source of income for the local community.
Trekkers, nature lovers, and adventure seekers alike can now enjoy canyoneering in Badian again. It's one of southern Cebu's famous getaways, and it just reopened in February. This comes after the government closed it for two months following Odette's aftermath.
Of course, like many places, Badian has been affected by the pandemic, in addition to the calamity that wrecked the region back in December 2021. If you're wondering what it's like to go canyoneering in Badian post-pandemic and post-Odette, you're in the right place.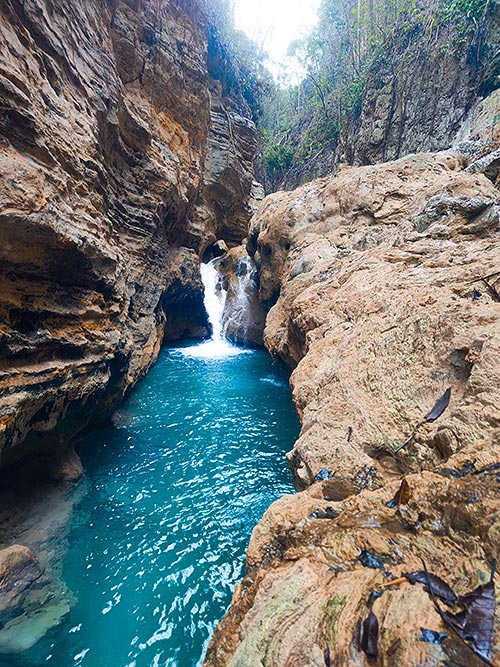 ADVERTISEMENT - CONTINUE READING BELOW
Recommended Videos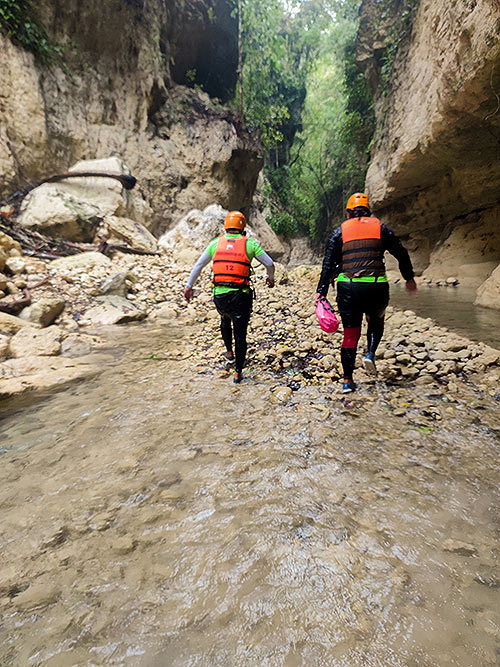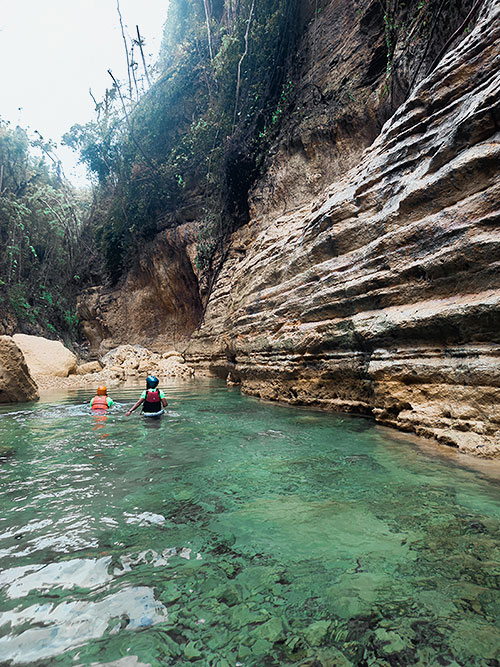 New Sights, New Experiences, in the New Normal
Locals and operators first feared that the typhoon may have completely destroyed the canyoneering spots. However, they were surprised to see a new breathtaking landscape forming into place. Things took on a picturesque golden brown color rather than the usual mossy and green hue.
ADVERTISEMENT - CONTINUE READING BELOW
Guests can now feast their eyes on new sets of stalactites and rock formations, giving the area a mystifying look. Cozy pools have also sprouted in secret nooks, and the beloved blue waters are still as crystal clear as before. They are even more accented now that the river walls have an earthy golden tinge.
Some jump sites were unfortunately obliterated by the typhoon, but new jump sites have been set. Not to worry, though, as they have been completely surveyed and tested for safety. Areas that are still being repaired are closed off, including Level 1 of Kawasan Falls.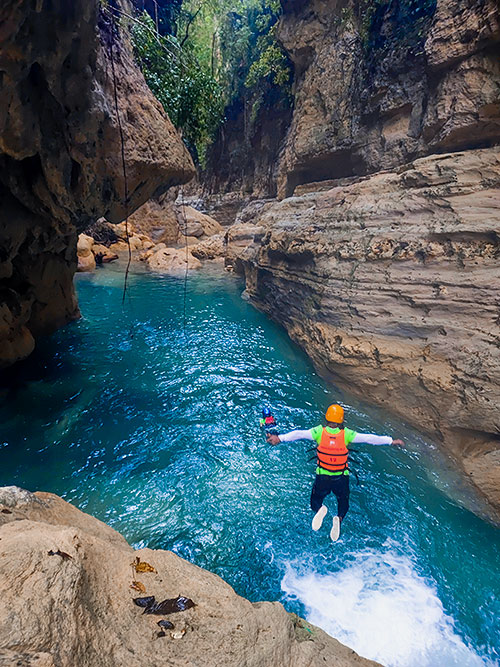 If you're curious about the jumping sites, there are about six to seven in all, mostly from nine to 15 feet, the highest being 35 feet for those who dare. The one-kilometer zipline from the entrance to the first jump area is still available. If you've never tried canyoneering in Badian before, expect some slight changes on the paths. One thing's for sure, the trails have now become more adventurous!
ADVERTISEMENT - CONTINUE READING BELOW
The canyoneering activity has also become more eco-friendly, as guests can now opt to plant trees along the trail to contribute to the rehabilitation of Kawasan Falls.
The Bayanihan Spirit
Odette was the strongest typhoon to directly hit Cebu in the last thirty or so years (the last being the infamous Ruping in 1990). Odette wreaked havoc on the place, so the clearing and rehabilitating operations were without a doubt incredibly painstaking. It took great effort from multiple groups and sectors (LGU, canyoneering operators, tour guides, community, etc.) to pull it off.
Kawasan Canyoneering, one of the go-to canyoneering tour operators, said that boulders of fallen rocks and uprooted trees obstructed the trail, making some parts impassable. There were even debris that fell into the Cancalanog River and Kawasan Falls that needed to be pulled out from underwater. According to MCM Canyoneering, another operator, it was the spirit of bayanihan that made their efforts a success despite the difficult challenges they have faced.
Afterward, the site went through a safety assessment before it was reopened to the public in late February 2022. Now that the restrictions have been eased, and the Kawasan Falls well rehabilitated, the community of Badian, whose major source of income is tourism, is happily looking forward to catering their guests in the new normal.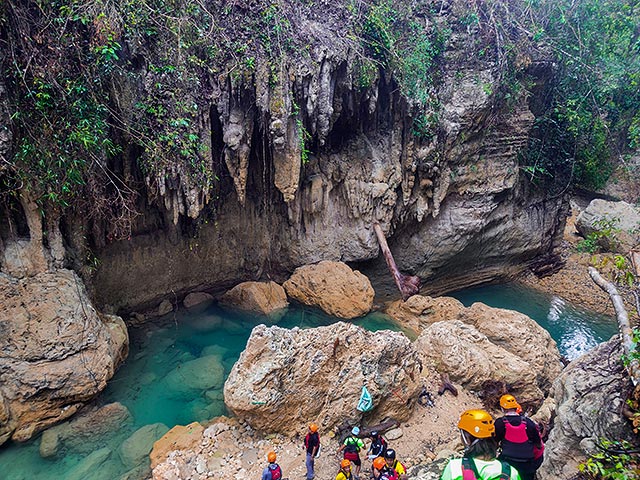 ADVERTISEMENT - CONTINUE READING BELOW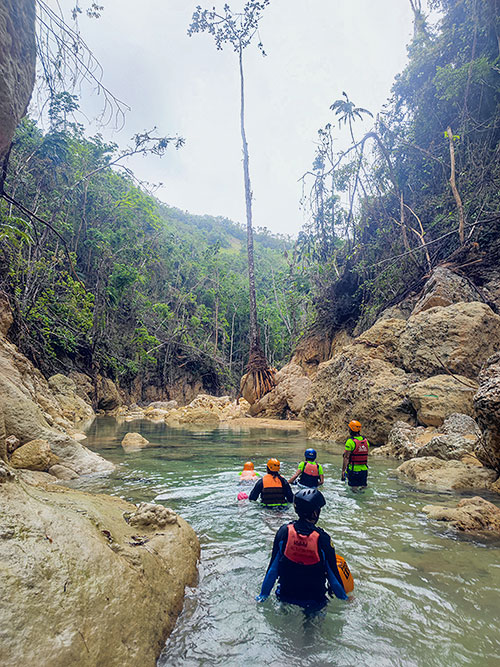 Important Things to Note 
Phone reception in Badian is shoddy. Sometimes there's no reception for an entire day, so the operators had to explain to their guests how to go about coordinating the adventure. For example, Kawasan Canyoneering will arrange beforehand where their guests are to meet with their assigned guides, which is usually at their headquarters. They will also send pictures that will serve as a layout to the place just to make sure guests won't get lost. That shouldn't be much of a problem since most offices are located along the road and are hard to miss.
Canyoneering packages cost around P1,500 per person, which is the government-mandated rate. Fees include a life vest, helmet, entrance, bottled water, dry bag, lunch, snacks, the help of a tour guide, and more. The operators also prepare first-aid kits on every trip as well as communication devices, such as a radio set, in case your group encounters bad weather conditions. Some operators have even upgraded their equipment to keep up with the changes. 
ADVERTISEMENT - CONTINUE READING BELOW
As always, the gear is sanitized before and after the canyoneering activity. There's always a group briefing before you embark on the journey. The operators set the groupings at the start of the journey and no one is allowed to join midway. Also, take note there's a limit to the number of guests per day as well as a limit to how many individuals are allowed per group. So better ask the operators about this and make bookings in advance, even if some of them accept walk-ins provided they arrive early enough.
It's best to start the itinerary as early as 6 a.m. to get the best conditions. The whole canyoneering activity is good for three to five hours, with the trail between three to five kilometers long. Operators also pace intervals during the activity so that the groups won't come in contact with each other. Social distancing is practiced all throughout the duration of the activity, and the guides were all encouraged to get fully vaccinated. 
Another thing to note is that tour operators have a list of suggestions for guests to fully prepare for the activity. Guests should wear light clothing, avoiding materials that are super-absorbent. For footwear, sandals, rubber or aqua shoes should do fine. Leave your flip-flops at home, since slippers are not recommended. Ziplock bags or waterproof protectors are necessary for your phones. You should also pack light. Wearing jewelry is discouraged. After all, you don't want to lose anything of sentimental value on the trail! Above all, operators always urge that you should listen carefully to your guides.
ADVERTISEMENT - CONTINUE READING BELOW
Kawasan Canyoneering is in Badian, Cebu. Rates start at P1,500 per person. For more information, call 0905-333-2623 or 018-654-4111 or visit their website or their Facebook page .
MCM Canyoneering is in Matutinao, Badian, Cebu. Rates start at P1,500 per person. For more information, call 0977-126-9691, 0925-4736-226, or 0969-533-1497 or visit their Facebook page.
Photos courtesy of Kawasan Canyoneering. Note these photos show the path and views as of March 2022.
We are now on Quento! Download the app and enjoy more articles and videos from SPOT.ph and other Summit Media websites.
Share this story with your friends!
---
Help us make Spot.ph better!
Take the short survey
Load More Stories