10 Things to Do This Weekend: May 8 to 10
Celebrate girl power at a fun run, put your shopping skills to the test, and more.
(SPOT.ph) We know you're already looking forward to the weekend. We zero in on the events you shouldn't miss.
Check out SPOT.ph's Gig Guide: 10 Gigs and Parties to Go to This Week: May 6 to 12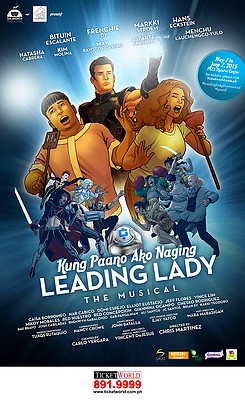 Catch the opening of Kung Paano Ako Naging Leading Lady on May 7, 8 p.m., at the The PETA Theater Center. This production from PETA runs through June 7. It tells the story of Mely, a maid who lands a job under a group of superheroes and steps up to the unique challenge for the sake of her family. Based on Carlo Vergara's one-act play and graphic novel of the same title, Kung Paano Ako Naging Leading Lady the Musical revolves around Mely and Viva's sibling relationship, made complicated by an unsettling past and a budding romance, all in the context of an ongoing war between the superhero and supervillain teams. The musical takes us through the journey of the characters as each tries to find his/her place in the world.
ADVERTISEMENT - CONTINUE READING BELOW
Tickets are priced at P1,200, P900, and P600.
For ticket inquiries or reservations, call 891-9999.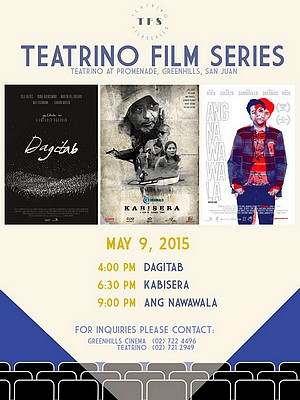 The Teatrino Film Series continues on May 9 at Teatrino in Promenade, Greenhills. The films to be screened include Dagitab, Kabisera, and Ang Nawawala. Tickets are priced at P200.
Dagitab is a film that revolves around the failing relationship of two married professors, and the woman who is dragged into the middle of a scandal with a student. The man, on the other hand, falls in love with an unlikely entity. Kabisera tells the story of Andrés, a humble Filipino fisherman who finds part of a consignment of drugs floating in the sea. The film shows the transformation of a simple man into one capable of selling his soul for money. Ang Nawawala is about Gibson, who's been mute since childhood, and how his visit to his home in Manila redefines his relationships with his family, his friends, and himself.
ADVERTISEMENT - CONTINUE READING BELOW
For more information, click here.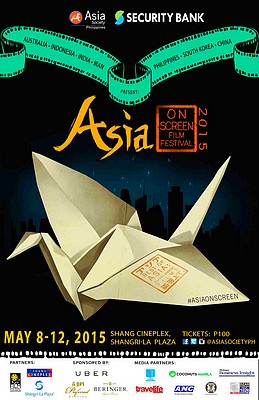 Witness the best films from Asia at Asia On Screen 2015, Asia's most premier film festival, from May 8 to 12 at the Shang Cineplex in Shangri-La Plaza. It features award-winning and critically-acclaimed films from around Asia: Australia, Indonesia, India, Thailand, Malaysia, South Korea, China, and the Philippines. Enjoy a showcase of high-quality films from across the region: the amusing trials of a Korean husband trying to rid himself of a nagging spouse, the harrowing tale of a Japanese father forced to choose between two sons, glimpse of fraught family ties in distant Iran, and more. Tickets are priced at P100.
For more information, click here.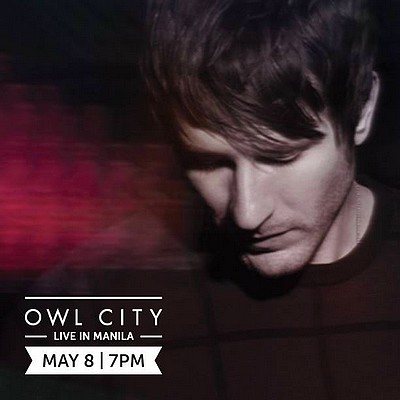 ADVERTISEMENT - CONTINUE READING BELOW
Catch Owl City Live in Manila on May 8, 7 p.m., at the Bonifacio High Street Ampitheater. Owl City is behind the hit song "Fireflies." Adam Young has contributed songs to several animated films including Legend of the Guardians ("To The Sky"), Wreck-It Ralph ("When Can I See You Again?), The Croods ("Shine Your Way"), and The Smurfs 2 ("Live It Up"). He's also dropped hints about a new album this 2015. Entrance to this concert is free.
For more information, click here.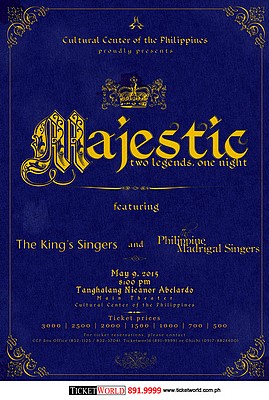 It's going to be a Majestic night on May 9, 8 p.m., at the CCP Main Theater, as The King's Singers and The Philippine Madrigal Singers come together for a night of music. Acclaimed for their life-affirming virtuosity and irresistible charm, The King's Singers are synonymous with the best in vocal ensemble performance and appeals to a vast international audience. They are one of two vocal artists who are chosen for the Gramophone Hall of Fame for their unique discography of 150 albums. Tickets are priced at P3,090, P2,575, P2,060, P1,545, P1,030, P721, and P515.
ADVERTISEMENT - CONTINUE READING BELOW
For ticket inquiries or reservations, call 891-9999.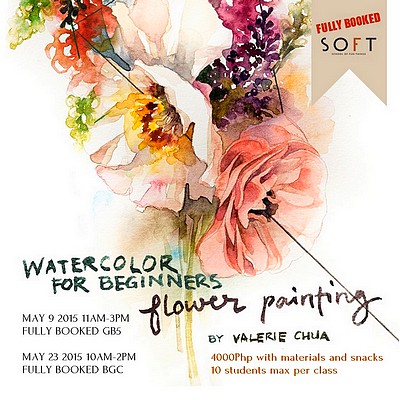 Sign up for the School of Fun Things: Watercolor Flowers with Valerie Chua, happening on May 9, 11 a.m., at Fully Booked Greenbelt 5. Another session is scheduled on May 23, 10 a.m., at Fully Booked Bonifacio High Street. Learn how to render flowers that exude gentleness and whimsy with an artist who has already showcased her work in Hong Kong, Singapore, New York, and across different galleries in Manila. This class is suitable for beginners. The workshop fee is P4,000, inclusive of materials and snacks.
To register, click here.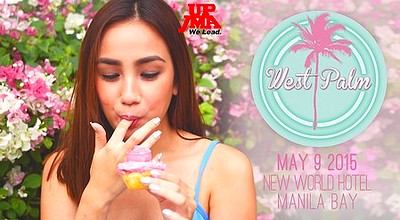 ADVERTISEMENT - CONTINUE READING BELOW
Don't miss UP JMA's West Palm on May 9, 1 p.m., at the New World Hotel Manila Bay. Invited guests, featuring today's up-and-coming bloggers, will be treated to the hotel's finest dessert buffet, music from fresh talents, a summer essentials giveaway, a makeover and nail care booth, and a chance to win an all-expense-paid getaway.
For more information, visit UP JMA's Facebook page.

Join the first ever Nike Women's 10K Race Manila on May 9, 9 p.m., at Filinvest, Alabang. The race promises to be an incredible experience! Girls can come with their buddies, sisters, or best friends, and encourage them to run together to make things a lot more fun! Registration is priced at P1,800 for two people. You may register online or at the following stores:
ADVERTISEMENT - CONTINUE READING BELOW
Nike Park BGC
Nike Women's TriNoma
Nike Park SM Mall of Asia
Nike Stadium Shangri-La
Nike Forum Greenhills
Nike Stadium Glorietta 2
Nike Stadium Alabang Town
Also read: Join the first ever Nike Women's 10K Manila
For more information, click here.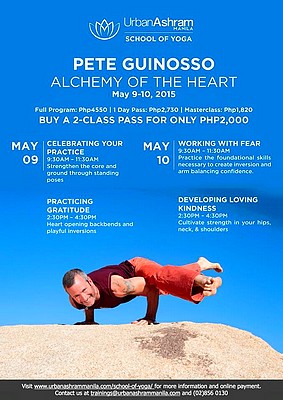 Discover the Alchemy of the Heart with Pete Guinosso on May 9 and 10 at Urban Ashram Makati. Explore the powerful practice of mindful appreciation, and how our practice can open you to a life of grace and gratitude. The full program is priced at P4,550, one-day pass at P2,730, and the masterclass at P1,820. Pete Guinosso's teaching style is best described as a Forrest Yoga Inspired Vinyasa Flow. His classes are designed to help in the journey toward connecting the mind, body, and spirit through breath work and awareness.
To register, click here.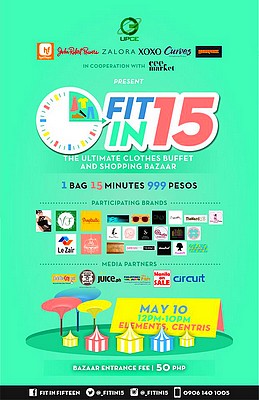 ADVERTISEMENT - CONTINUE READING BELOW
Shopaholics unite at FitInFifteen: The Ultimate Shopping Sprint on May 10, 12 p.m., at Elements, Eton Centris. It's a groundbreaking event that offers the ultimate bazaar experience to over a thousand female and male university students and young professionals. More than the typical concessionaire set-up, it highlights a shop-all-you-can marathon area where shoppers can race among piles of clothes, shoes, bags, and accessories in 15 minutes. Experience all the action just for P999.
To reserve slots, click here. For more information, click here.
Load More Stories