10 Beautiful Boutique Hotels in Manila
R&R paired with a charming visual experience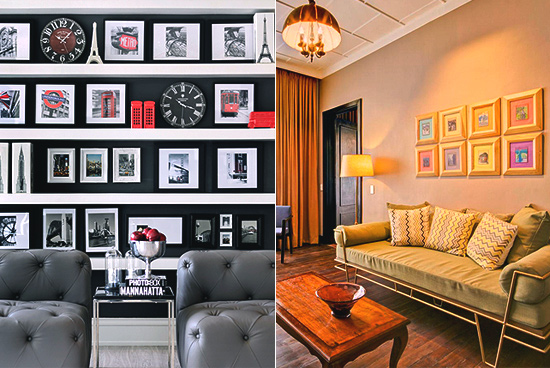 (SPOT.ph) Hotel staycations in Manila don't have to be the same experience every time, because there are plenty of establishments that offer something extra. If you're looking for places that focus on providing comfort and style by way of art and design, here are 10 boutique hotels that create that overall pleasant and indulging visual experience. Their standout architectural designs and interiors radiate energy and encourage maximum recuperation.
This list is not ranked.
Also read:
10 Boutique Hotels for Your Romantic Staycation
10 Beautifully Designed Stores in Manila
10 Most Beautiful Restaurants in Manila (2014 Edition)
Feast Your Eyes: 10 of the Most Beautiful Restaurants in Manila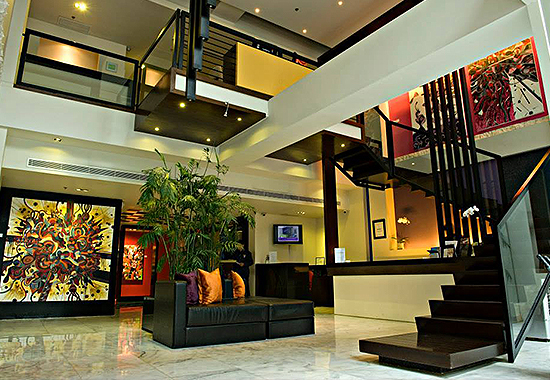 Picasso Boutique Serviced Residences
Architect Dominic Galicia and interior designer Tina Periquet designed Picasso Boutique Serviced Residences with inspiration from renowned artist Pablo Picasso. The establishment is inspired by cubism—mirrored by vibrant colors and patterns, while the floors represent the eight significant periods of Picasso's life. Even their exterior is a sight to see—with the right angle, a mural is formed by the sidewalls of the balconies. Every corner (even its exterior) is Instagram-worthy!
ADVERTISEMENT - CONTINUE READING BELOW
Picasso Boutique Serviced Residences is at 119 L.P. Leviste Street, Salcedo Village, Makati City (828-4774).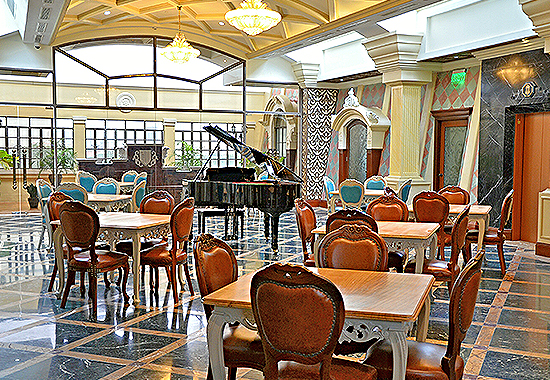 CONTINUE READING BELOW
Recommended Videos
Luneta Hotel
The Luneta Hotel is a six-story building that was designed by Spanish architect and engineer Salvador Farre in the early 1900s. It gives visitors a glimpse of Old Manila in its sophisticated prime, and was decreed a National Landmark by the National Historical Commission. The hotel exterior displays its standout mansard roof, along with intricately designed grilles and French windows, and detailed stone fixtures. General Manager Dr. Grace Francisco-Torres handpicked some of the room furnishings and artworks. There's even a vintage telephone that still works. The whole place looks like it was taken straight from the era of illustrados and Ibarra.
Luneta Hotel is at 414 Teodoro M. Kalaw Avenue, Ermita, Manila (lh_resorts@lunetahotel.com or 875-8921).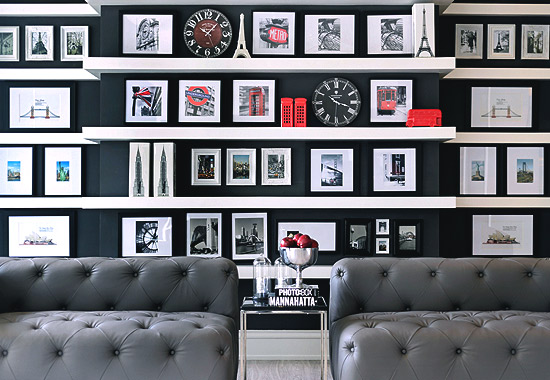 ADVERTISEMENT - CONTINUE READING BELOW
Azumi Boutique Hotel
A vibrant mélange of plush gray seats, long glass tables, and shelves full of books, photographs, and travel souvenirs will greet you once you enter the doors of Azumi Boutique Hotel. Designers Ivy and Cynthia Almario created this environment-friendly establishment with a minimalist approach. The rooms are clad with pops of orange, earth tones, and laminate wood flooring. Their rooftop infinity pool is also a nice spot to appreciate the cityscape.
Azumi Boutique Hotel is at 2205 Market Street Madrigal Business Park Phase III, Alabang, Muntinlupa City (869-9888 or 894-2011).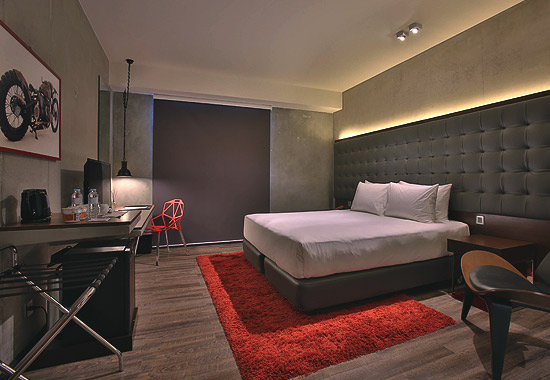 B Hotel Quezon City

Modern architecture is unimaginable without fair-faced concrete, and that's what B Hotel takes pride in. Heavily driven by Brutalist architecture—geometric, blocky, and massive in style—concrete is seen everywhere, complemented by splashes of warm wood, crimson, and charcoal. It has a very industrial yet homey feel, with pops of stylish furniture pieces. This no-frills, edgy abode suits an urban taste.
ADVERTISEMENT - CONTINUE READING BELOW
B Hotel Quezon City is at 14 Scout Rallos, Laging Handa, South Triangle, Quezon City (771-8181).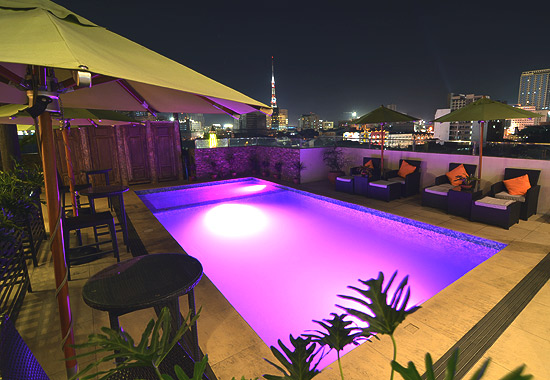 Cocoon Boutique Hotel
Owners Rafael and Gigi Vinzon collaborated with Steven J. Leach, Jr. + Associates for the design of Cocoon Boutique Hotel. Inspired by a cocoon, the whole eco-friendly sanctuary envelops its guests in softness and warmth, and lets them bask in nature so they leave invigorated. Their receiving area has beautifully crafted details of wood on the walls, and couches that bear leafy motifs. Their rooms have wooden walls and floorings, decorated with paintings of plants. With its tropical and serene colors of umber and pine, you'll feel like you're on a retreat surrounded by nature. Their rooftop pool also emits a vibrant shade of purple at night.
Cocoon Boutique Hotel is at 61 Scout Tobias corner Scout Rallos, Barangay Laging Handa, Quezon City (info@thecocoonhotel.com or 921-2706).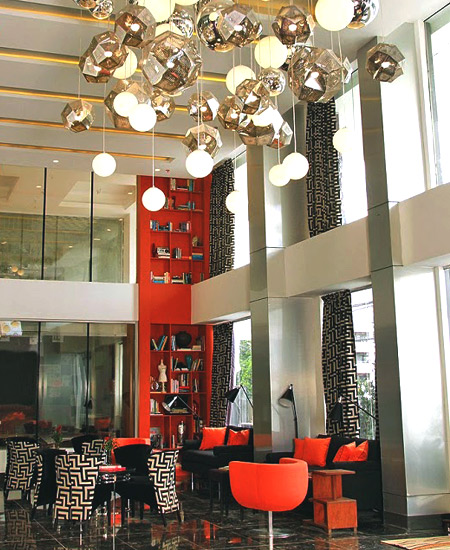 ADVERTISEMENT - CONTINUE READING BELOW
Hive Hotel

Hive Hotel exudes a retro vibe where each corner is bustling with energy. The overall aesthetics of the hotel combines what seem to be incompatible elements in beautiful cohesion. Your eyes will be drawn to the modern chandelier with round, hanging bulbs encased in silver, geometric pieces. Vintage meets modern with orange and gray interiors, with surprising punches of purple. Circles and squares adorn the walls to add to the groovy feel.
Hive Hotel is at 68 Scout Tuason Street, Diliman, Quezon City (998-3117).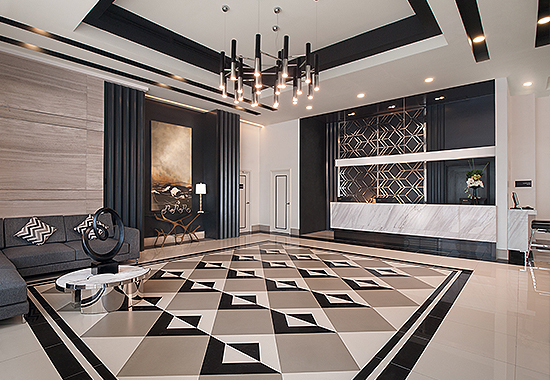 Summit Hotel Magnolia
According to interior designer Hisako "Chako" Hirayama, Summit Hotel Magnolia embodies an urban and global appeal. The ceilings and floors are garbed in black and white. Guests are greeted by an Art Deco-inspired lobby, with metallics set against geometric patterns. Their suites have different themes: The Nostalgic Suite was designed after the iconic Magnolia ice cream parlor, displaying old milk bottles and graphic letterings. Meanwhile, the Fabulous Suite displays movie posters, with luggages as side tables. Their Magical Suite is inspired by Aladdin's lamp, with architectural curves and filigree Moroccan lamps. Lastly, reconnect with your inner Zen in the the Divine Room Suite, decorated with oriental lattice work and paintings. 
ADVERTISEMENT - CONTINUE READING BELOW
Summit Hotel Magnolia is at Doña Hemady Street corner Aurora Boulevard, New Manila, Quezon City (705-6300).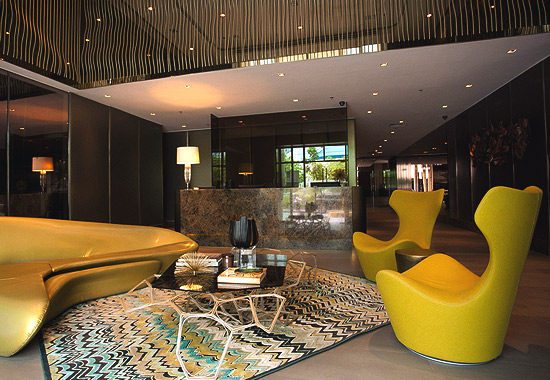 KL Tower Serviced Residences

KL Tower Serviced Residences' design is a shared vision of its creators, the Kalaw-Ledesma clan, and Hospitality International, Inc. (HII) This resulted in sleek, classy, and modern architecture decorated with contemporary pieces. Feast your eyes as soon as you step into their lobby that exhibits linear details on the center table, carpet, and grilles, with accented yellow and gold chairs. Another creative highlight is The Biggest Little Room, a gallery within the establishment that displays the owners' extensive art collection.
KL Tower Serviced Residences is at 117 Gamboa Street, Legazpi Village, Makati City (reservations@kltower.ph or 845-0084).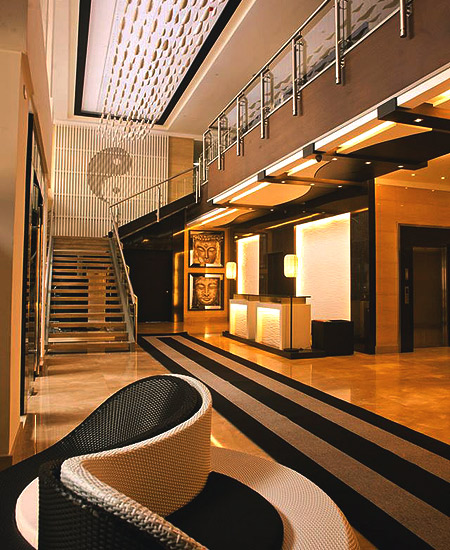 ADVERTISEMENT - CONTINUE READING BELOW
Y2 Residence Hotel
Y2 stands for yin and yang—the philosophy of balance and harmony of two contrasting forces coming together to form chi or energy. This inspired designers Tessa Prieto-Valdez and Tessa Alindogan to fashion the hotel with the balance of form and function, as each room is decorated with a unique work of art. Asian details in black and white can be seen in all corners, radiating a Zen-like ambiance. Their lobby leads your eyes to the striped carpet, to the ornate couch shaped like the yin and yang symbol, to the edgy wood and glass staircase, and finally to the hanging white ceramics "floating" from the ceiling.
Y2 Residence Hotel is at 4687 Santiago corner Valdez and Singian Streets, Makati City (reservations@y2hotel.com or 224-3000).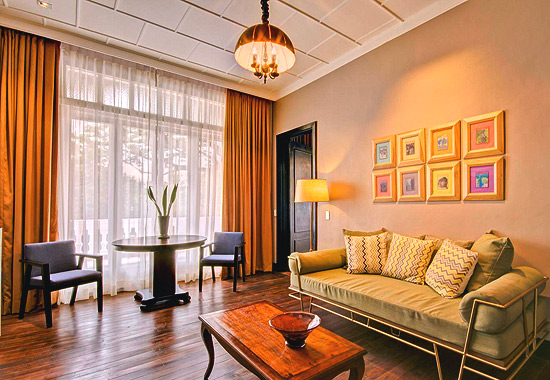 In the middle of Pasay City is an elegant sanctuary where five old homes were beautifully refurbished to form The Henry Manila. According to designer Eric Paras, the property concentrated on "adaptive reuse," where it kept the mid-20th Century classic design details of the houses and added modern furnishings. Art Deco is visible in the Scala grilles inspired by National Artist Pablo Antonio's design of the Scala Theater in Avenida. The baldosa tiles—which were the trend back in the day—were also untouched. Watching the beautiful sunset in the quiet courtyard will make your stay feel even more nostalgic.
ADVERTISEMENT - CONTINUE READING BELOW
The Henry Manila is at 2680 FB Harrison Street, Pasay City (807-8888). 
Photos from the establishments' archives, official websites, and Facebook pages.
Also read:
10 Boutique Hotels for Your Romantic Staycation
10 Beautifully Designed Stores in Manila
10 Most Beautiful Restaurants in Manila (2014 Edition)
Feast Your Eyes: 10 of the Most Beautiful Restaurants in Manila
Share this story with your friends!
---
Help us make Spot.ph better!
Take the short survey
Load More Stories