10 Local Beaches You Probably Didn't Know About
Ready your bikinis!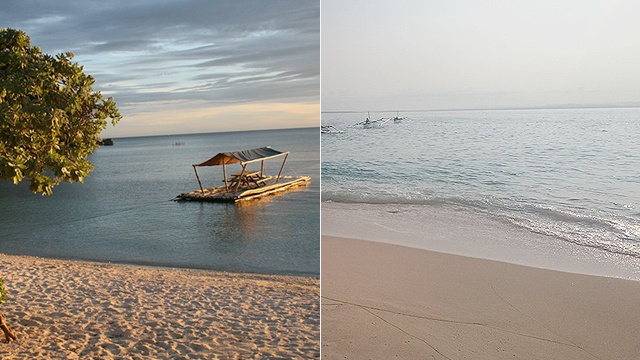 (SPOT.ph) The Philippines is home to a number of white sand beaches (and even a couple of pink ones!), hidden coves and lagoons, and remote islands. Most of these are probably still on your bucket list.
With the help of the most intrepid travelers we know, we round up some local beaches you probably haven't heard of yet. You might have to travel a bit farther out for any of them, but the best ones are usually the hardest to reach, right?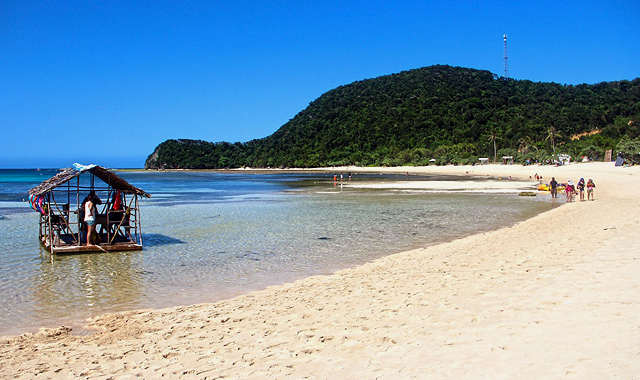 Anguib Beach (Sta. Ana, Cagayan)
Anguib Beach, located on the northern tip of Cagayan, is known as the "Boracay of the North" for having fine white sand and clear waters. It faces open waters—the Pacific Ocean—so expect strong waves on your way to this secret paradise. Wait for the sunset and be amazed by the dramatic set-up: the sky changing its hues, the pine trees being enveloped in the warm light, and the white sand slowly cooling down.
ADVERTISEMENT - CONTINUE READING BELOW
How to get there: From Manila, take a bus bound for Sta. Ana, Cagayan. Take a tricycle from the town center to San Vicente Port. Get on a boat to Anguib Beach.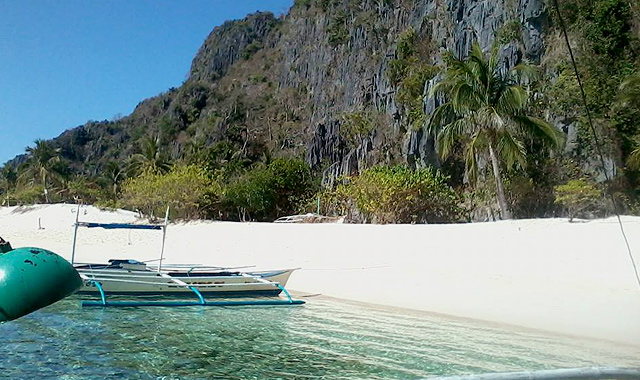 CONTINUE READING BELOW
Recommended Videos
Black Island (Coron, Palawan)
Malajon Island in Busuanga features towering dark-colored karst cliffs, making it look like the island is black, thus the name. Beach lovers will enjoy the fine white sand, crystal clear waters, and a lovely coral garden not far from the shore. Once you're done lazing around, you can also check out the beautiful cave riddled with stalactites and stalagmites covered with sparkling white silica.
How to get there: There are direct flights from Manila to Coron, Palawan. From the airport, take a van bound for the town proper.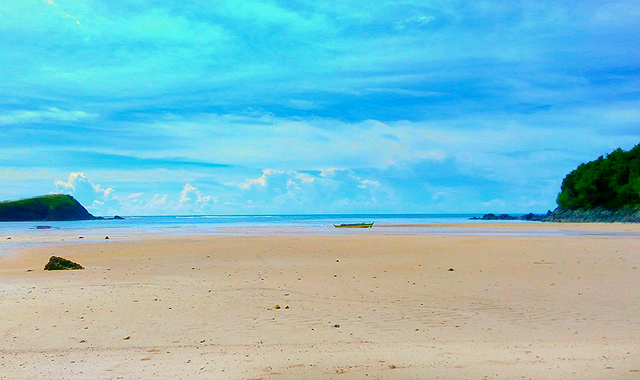 ADVERTISEMENT - CONTINUE READING BELOW
Cagnipa Cove (Pandan, Catanduanes)
Catanduanes is dubbed as the "Land of the Howling Wind" so it's no wonder that not a lot of people visit this island. It's a shame because this place has so much to offer. In its northernmost municipality, Pandan, there's grassland called the Cagnipa Rolling Hills, which will remind you of Batanes. After you're done singing à la-Sound of Music, you can trek down and enjoy the secluded white-sand beaches.
How to get there: Book a flight from Manila to Virac. An alternative route is to ride a bus from Manila to Tabaco, Albay; then hop on a ferry from Tabaco Port to Virac Port. Jeepneys and buses ply the route between Virac and the island's various municipalities like Pandan.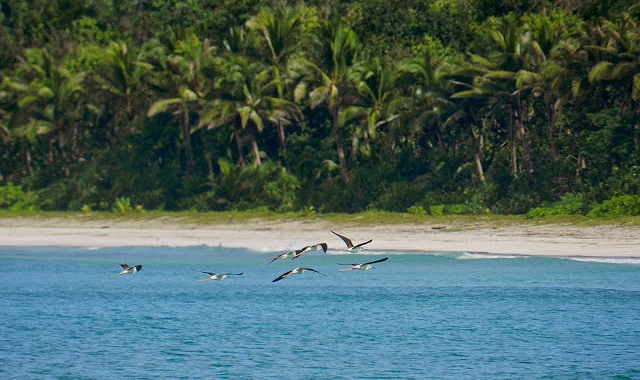 Casapsapan Beach (Casiguran, Aurora)
Baler, Aurora is already a destination in itself with its waves perfect for surfing, but further up north is a white-sand beach waiting to be discovered. Casapsapan Beach has a long shoreline with creamy sand, which may not be as fine as Boracay's but is definitely as beautiful. There's table coral right near the shore, which gets exposed come low tide.
ADVERTISEMENT - CONTINUE READING BELOW
How to get there: Genesis' Joybus Deluxe, which has air-conditioned buses with reclining seats, onboard restroom, blankets, and free snacks, plies the route between Manila to Baler with no stopover. You can take a mini-bus or hire a van from Baler to Casiguran.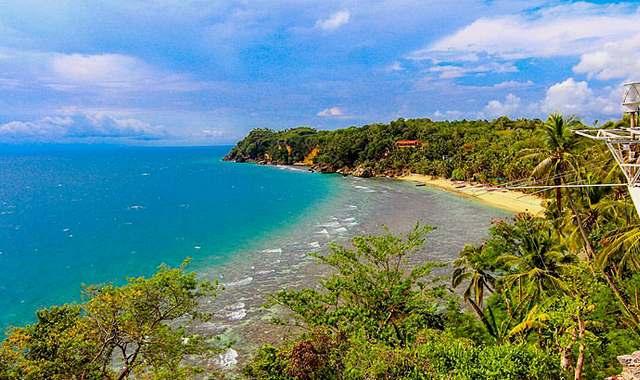 Guisi Beach (Nueva Valencia, Guimaras)
They say that the sweetest mangoes come from Guimaras Island. But lazing around at Guisi Beach is a whole lot sweeter, especially with its golden sand and sky-colored waters. It also features amazing rock formations and an 18th Century lighthouse perfect for selfies.
How to get there: Book a flight from Manila to Iloilo. From Ortiz port in Iloilo City, hop on a ferry to Jordan Wharf in Guimaras. You can then take a jeepney to Guisi Beach.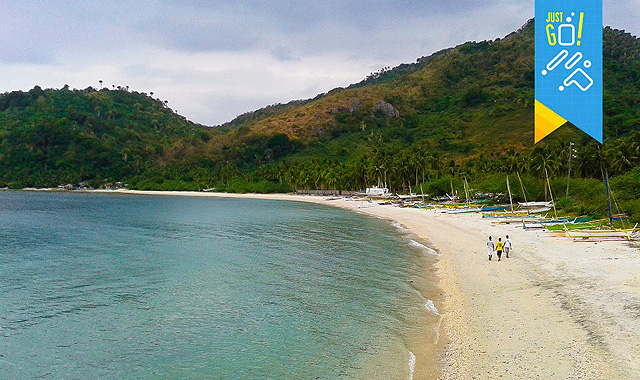 ADVERTISEMENT - CONTINUE READING BELOW
Masasa Beach (Tingloy, Batangas)
Batangas is a popular beach destination—from divers who can't wait to see the beautiful underwater world of Anilao, to beachcombers who want to lounge around the white-sand beaches of Laiya in San Juan. Because of their popularity, these places can get crowded especially in the summer. Good thing there's Tingloy, a fish-shaped island off the coast of Mabini, that features secluded beaches like Masasa. There are no resorts in this paradise so prepare to camp and rough it out.
How to get there: Take a bus bound for Batangas. From Batangas Grand Terminal, get on a jeep bound for Anilao Port. Hop on a boat to Tingloy Port, then ride a tricycle to Masasa.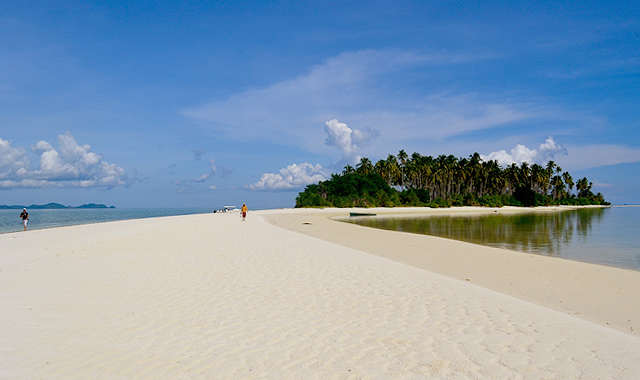 Panampangan Island (Bongao, Tawi-Tawi)
Don't let Tawi-Tawi's reputation scare you—Panampangan Island is worth the trip. Many locals call it Virgin Island, an obvious guarantee that this place is still not known to many. It features a long sandbar, powdery white sand, and rows of coconut trees. It's advisable to visit the island just for a day, which means you have to leave the mainland early in the morning and head back before dusk.
ADVERTISEMENT - CONTINUE READING BELOW
How to get there: You can book a flight to Zamboanga International Airport, then another flight to Sanga-Sanga Airport in Bongao, Tawi-Tawi. You can also take a ferry from Zamboanga to Bongao.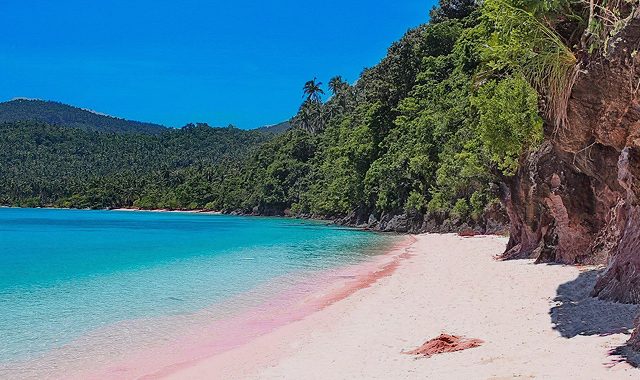 Sila Beach (San Vicente, Northern Samar)
Early this year, the Pink Beach of Zamboanga was cited as one of the 21 Best Beaches in the World by international magazine National Geographic. But the Philippines has another pink beach to be proud of—Sila Beach in Northern Samar. This hue comes from the pulverized remains of dark red shells of hermit crabs and skeletons of corals and other sea shells that blend with the white sand.
How to get there: There are flights from Manila to Tacloban, Leyte. From there, you can board a van to Calbayog City (five hours), then another van to San Isidro, Northern Samar. Hop on a boat from San Isidro to San Vicente.
ADVERTISEMENT - CONTINUE READING BELOW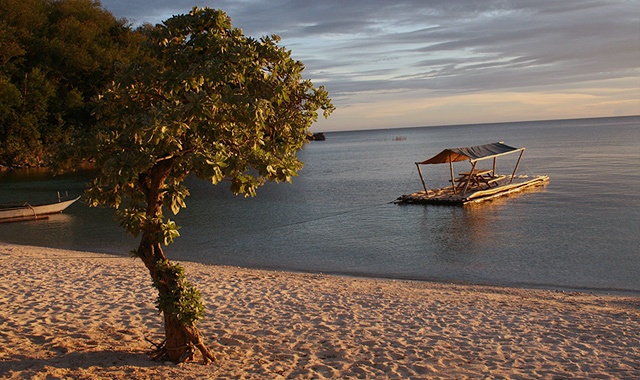 Tambaron Island (Bulalacao, Oriental Mindoro)
Tambaron Island on the southernmost tip of Oriental Mindoro is a secluded getaway where you can experience the no-frills isla life. There's no infinity pool, but you have the whole cove to yourself; no air-conditioned suites, but you have the fresh ocean breeze; and no breakfast buffet, but you have an abundance of fresh seafood in your backyard. You can also check out nearby islands in Bulalacao, which is still an unexplored paradise.
How to get there: Take a bus to Batangas City Pier, then board a Fastcraft ship or RoRo vessel to Calapan. You can then ride a van to Roxas, then take a bus or a van to Bulalacao. A motorized banca will take you to Tambaron Island.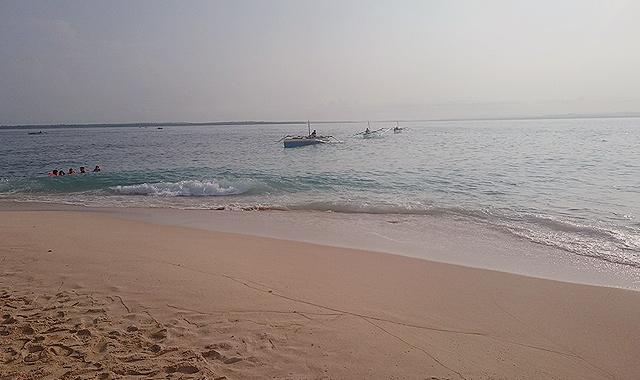 ADVERTISEMENT - CONTINUE READING BELOW
Tambobong Beach (Dasol, Pangasinan)
There was a time when Patar Beach in Bolinao, Pangasinan wasn't as crowded and commercialized as it is now. There were no expensive resorts and you could pitch your own tent anytime, anywhere on the white-sand beaches—much like the way Tambobong Beach still is, and we hope it remains that way. This lesser-known beach is a traveler's reward especially after a long drive on unpaved roads. You can even take a nap under a talisay tree, which has leaves that turn orange and red during summer.
How to get there: Get on a bus bound for Alaminos, Pangasinan. Ride another bus going to Sta. Cruz, Zambales and ask the driver to drop you off at Burgos Market. Ride a tricycle to Tambobong.
Share this story with your friends!
---
Help us make Spot.ph better!
Take the short survey
Load More Stories