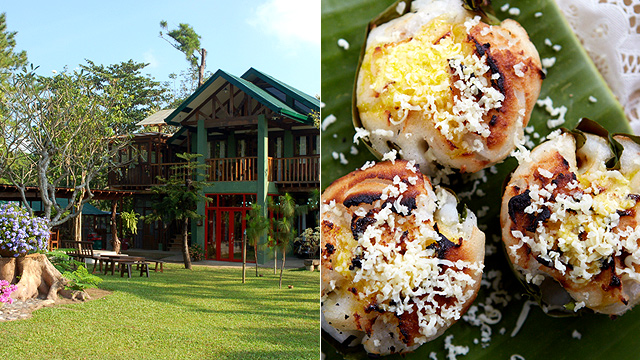 (SPOT.ph) When you think of Laguna, you think about the different outlet stores at Nuvali in Sta. Rosa, the numerous buko pie and cassava cake stores along the National Highway, or the ubiquitous hot spring resorts in Calamba or Los Baños. Laguna is also the go-to destination for company team-building activities at Enchanted Kingdom or summer family getaways in Pansol.
ADVERTISEMENT - CONTINUE READING BELOW
This time, let's not take it for granted. If you go further into its simple towns and colorful stories, you'll be able to appreciate the role Laguna played in history, its rich heritage, natural wonders, and culinary scene that has grown over the last few years. Round up your best friends, hire a van, and go on a gastronomical and historical adventure to get your first, real slice of Laguna.
WHERE TO GO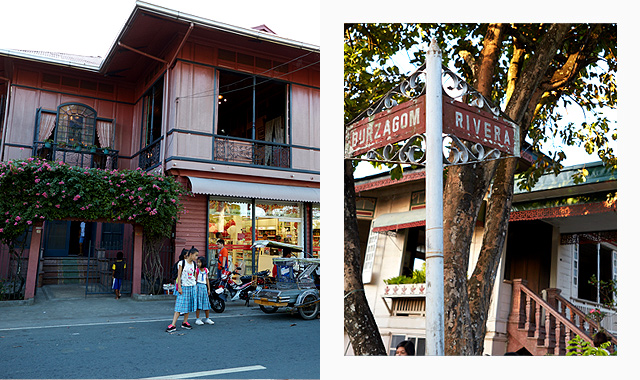 Bayang Pinagpala
Pila, Laguna
Contact: (049) 559-0382 (Pila Historical Society Foundation) 
E-mail: lacoring@gmail.com (Cora Relova)
Declared as a National Historical Landmark, Pila takes you back in time with its town plaza and centuries-old houses and structures owned by the town's pioneering families. Bring out the old soul in you by checking out San Antonio De Padua Parish Church, the Municipal Hall of Pila, and historical houses like the Corazon Rivera House, the Jose Agra/Rosario Villarica House, and Teodoro Rivera Alava/Soledad Agra House. There are over 30 historic structures in Pila alone.
Get in touch with the Pila Historical Society Foundation for walking tours, if they permit. Don't forget to grab local snacks such as puto with kesong puti, maja blanca, and fresh buko juice!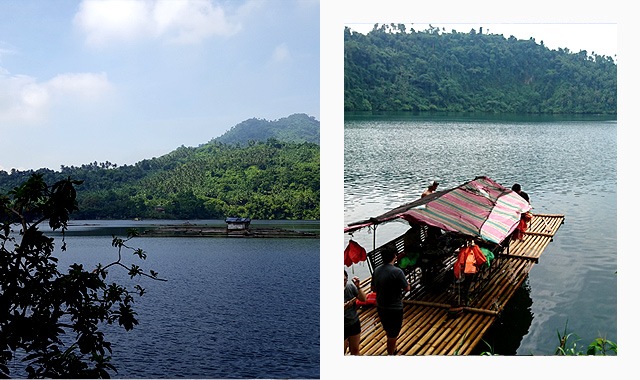 ADVERTISEMENT - CONTINUE READING BELOW
Seven Lakes of San Pablo
San Pablo, Laguna
There's something intimidating about climbing mountains around the Philippines, so why not try a whole day of trekking instead? The famed Seven Lakes of San Pablo can give you the balance of thrill and relaxation. Be amazed by the refreshing views of Sampaloc, Bunot, Calibato, Pandin, Yambo, Palakpakin, and Mohicap. Though some of the lakes still need rehabilitation, the best places to go for a swim are the Twin Lakes Pandin and Yambo.
All these can be explored in one day. There are guides available, but not required, in Lakes Pandin and Yambo. Pro-tip: Take a private vehicle to explore these lakes or hire a local tricycle driver to serve as your tour guide.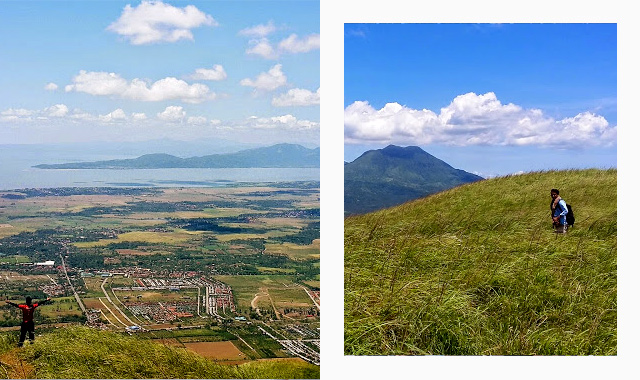 ADVERTISEMENT - CONTINUE READING BELOW
Mt. Kalisungan
Lamot, Calauan, Laguna
If you're not intimidated by mountains or would rather enjoy the view of bodies of water from the summit, you can challenge yourself to a day hike to Mt. Kalisungan in Barangay Lamot, Calauan. It's one of the smaller mountains in the province, with just a two- to three-hour hike to the summit. From there, you can get a glimpse of the Seven Lakes of San Pablo, too.
To get there, just ride a bus to Sta. Cruz from Buendia, get off at the Duck Junction and take a tricycle to Barangay Lamot. You can hire a guide for a fee or explore the mountain yourself.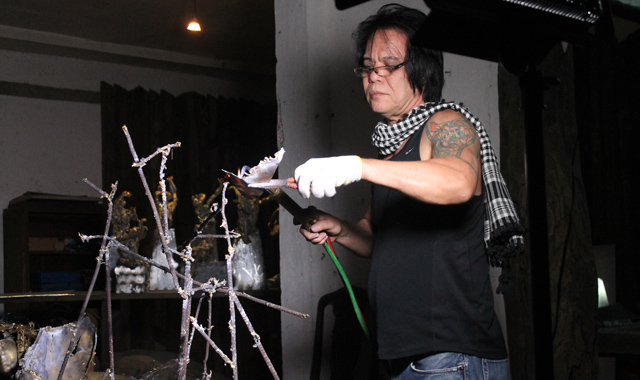 ADVERTISEMENT - CONTINUE READING BELOW
Carlito Workshop
Maharlika Highway, Sta. Ana, San Pablo, Laguna
Contact: 0919-837-7755, (049) 562-0351
Open from 9 a.m. to 5 p.m. (Saturday and Sunday)
If you're interested in stone sculptures and silversmiths, have merienda at the studio of brass sculptor Carlito Ortega. His studio can be a bit daunting, but you'll be charmed by how hospitable the artist is with his stories over a simple afternoon snack. 
Be sure to make a reservation prior to your visit. The artist is very welcoming and will share his knowledge with a short lecture and demo.
WHERE TO EAT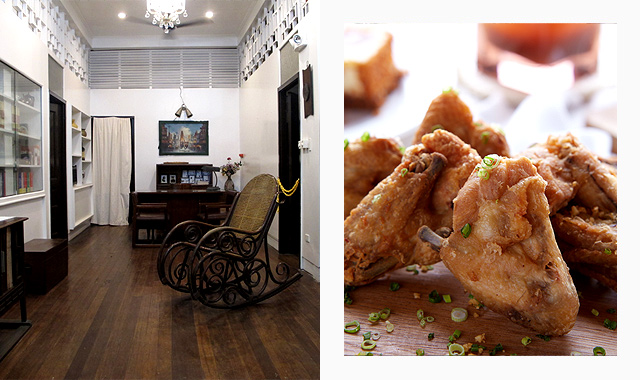 ADVERTISEMENT - CONTINUE READING BELOW
Aurora Filipino Cuisine
1488 P. Guevara Street, Santa Cruz, Laguna
Contact: (049) 523-9014
www.facebook.com/AuroraFilipinoCuisine
Open from 10 a.m. to 10 p.m. (Monday to Sunday)
Aurora is a family-owned restaurant in the town of Santa Cruz. Managed by Chef Day Salonga, his sister Gel Salonga, and Chef Mon Urbano, this ancestral home-turned-restaurant boasts Southern Tagalog cuisine.
Make sure to try Aurora's 1920 Chicken Wings Adobo, Inalamangang Baboy (fresh alamang sautéed in chunky pork); Crispy Adobong Tadyang na Bakang Angus (twice cooked angus short ribs); Pancit Chami (stir-fried fresh egg noodles); Minanok (banana heart cooked in burnt coconut cream served with maruya); and Tinuto (minced shrimps and coconut meat wrapped in taro leaves with rich coconut cream sauce). Top it all off with their Bibingka Cheesecake and you'll be sure to get an authentic Laguna experience.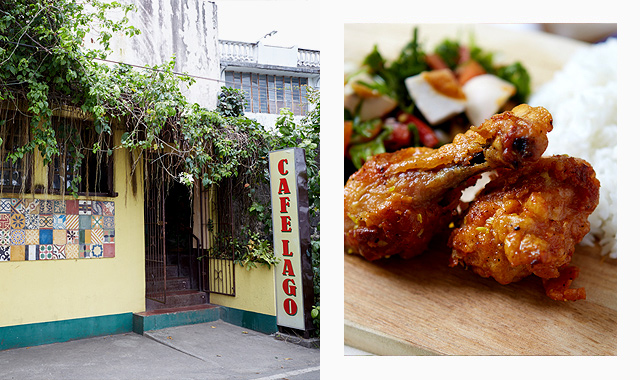 ADVERTISEMENT - CONTINUE READING BELOW
Café Lago
Dagatan Boulevard, Barangay V - A, San Pablo, Laguna
Contact: 0917-501-6694
E-mail: mandymarino29@gmail.com
www.facebook.com/Cafe-Lago-203420099689949
Open from 10 a.m. to 9 p.m. (Monday to Friday); and from 7 a.m. to 9 p.m. (Saturday and Sunday)
After 30 years in New York, Café Lago owner Tony Marino, with his brother Mandy, started this café while pushing for the rehabilitation of Sampaloc Lake. Like Aurora, Café Lago is an ancestral home-turned-restaurant. It gives a magnificent view of the lake and provides its customers with a cool breeze. Best part? A big, white, and cuddly dog will be there to greet you!
Best time to go here is for lunch. Order their best-seller—Buttered Chicken and Pako Salad. Don't go home without treating yourself to their Fried Halo-Halo topped with vanilla ice cream! After rewarding your tummy, walk around and enjoy the view of Sampaloc Lake, one and the largest of the seven lakes of San Pablo.
ADVERTISEMENT - CONTINUE READING BELOW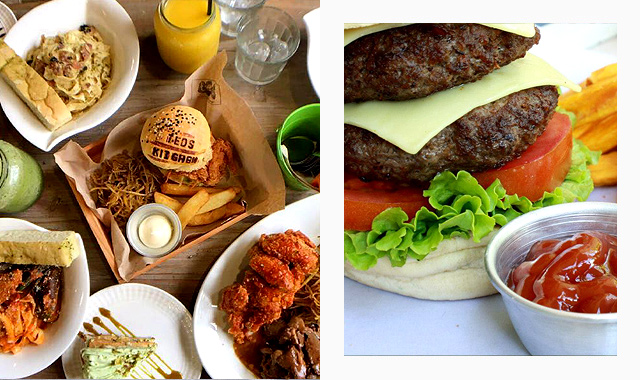 Ted's Kitchen
Km. 83 National Highway, Duhat, Sta. Cruz, Laguna
Contact: 0915-866-9974, (049) 501-6858
E-mail: teds.sxl@gmail.com
www.facebook.com/teds.sxl
Open from 10 a.m. to 10:30 p.m. (Tuesday and Wednesday); and from 8 a.m. to 11:30 p.m. (Thursday to Sunday)
Also managed by Aurora's owners, Ted's offers your favorite American food such as their all-day breakfast (when you can't get enough of bacon!), burgers, and steaks. Be sure to order the Ted's Platter which comes with their refreshing drinks! While waiting for your food, walk around the restaurant and amuse yourself with the various vintage items and inspiring quotes on display. Make sure to order dessert! Our recommendations are the Brazo de Fernando, Chocolate Lava Cake, or Blueberry Cheesecake. 
ADVERTISEMENT - CONTINUE READING BELOW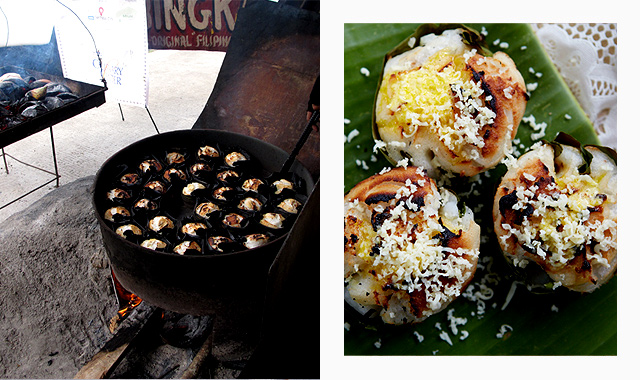 Special Rice Bibingka
Maharlika Highway, San Pablo, Laguna
Don't wait for Christmas for your favorite bibingka because San Pablo offers one of the best. Instead of regular baking flour, they use ground rice flour (bigas) and coconut meat (alangan). They also use banana leaves (dahon ng saba) and clay pots to cook. To bring out the best taste, vendors top the bibingka with margarine and cheese.
ADVERTISEMENT - CONTINUE READING BELOW
They're available all-year-round for P12 each. Best time to drop by the side roads is in the morning. Tip: Ask the vendor to add extra Star margarine on your bibingka. We dined in and asked for extra margarine after every bite. It's that good! You can also take home a dozen and reheat it with either margarine or Quickmelt cheese.
WHERE TO STAY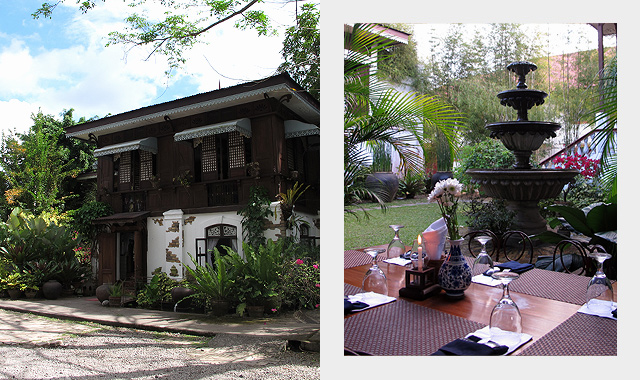 ADVERTISEMENT - CONTINUE READING BELOW
Sulyap Gallery Café
Cocoland Compound, Del Remedio, San Pablo, Laguna
Contact: 0927-938-8822
E-mail: noriel@sulyap.net
www.sulyap.net
Rates start at P1,500 per head
Originally built as an antique museum, Sulyap Gallery Café was established as a bed and breakfast in 2006. Choose rooms from Casa Obando or Casa de Alitagtag. We recommend getting rooms on the second floor. Apart from their rooms and café, Sulyap also has a museum, swimming pool, and a function hall.
Remember to have breakfast while you're there. Try Sulyap's Fried Bangus and Pork Tapa, Sautéed Corned Beef; and Deep-Fried Honeycured Bacon. There's also pancake and eggs! You can have coffee, milk, lemon tea, or their best-selling hot chocolate.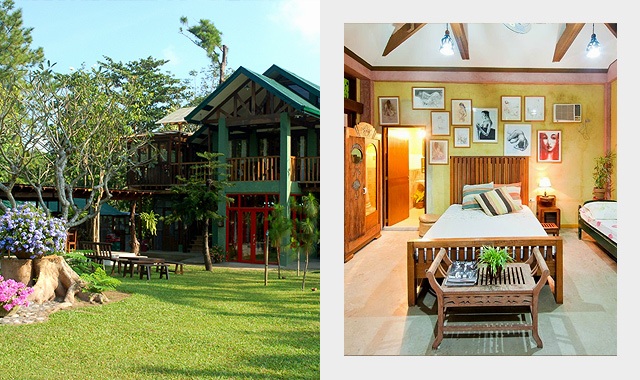 ADVERTISEMENT - CONTINUE READING BELOW
Casa San Pablo
Gomez Compound, San Roque, San Pablo, Laguna
Contact: 0917-812-6687, 0920-967-5277
E-mail: info@casasanpablo.com
www.casasanpablo.com
Rates start at P1,300 per head
Most of us living in the Metro always look for an escape that feels like home. As they say, the grass is always greener on the other side. If you're looking for a staycation venue on a more intimate scale, Casa San Pablo is one of the best homes Laguna can offer.
Their rooms will remind you of your grandmother's house in the province, while their food is all-Filipino. You can choose to bask under the sun or savor the sight of the night sky filled with stars.
Share this story with your friends!
---
Help us make Spot.ph better!
Take the short survey
More Videos You Can Watch
Load More Stories