10 Beautiful Heritage Hotels Around the Philippines
Feel like an Ilustrado at these places.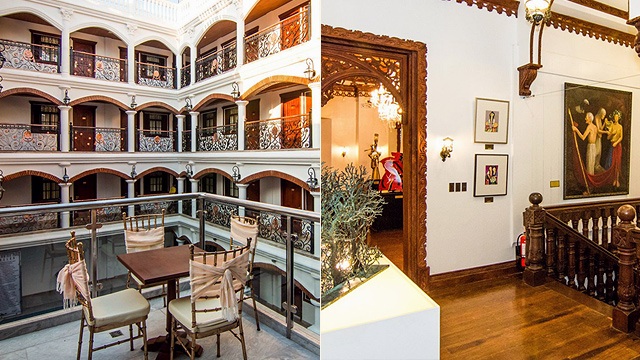 (SPOT.ph) With the Philippines' long colonial history—from the Spaniards, to the Americans, to the Japanese—it doesn't come as a surprise that even our hotels reflect architectural and design influnces from our colonizers. What makes these accommodations different, however, is that they come with Filipino hospitality, their own tales of surviving wars and earthquakes, and other add-ons that are definitely Pinoy.
These hotels around the Philippines have stories that deserve to be remembered.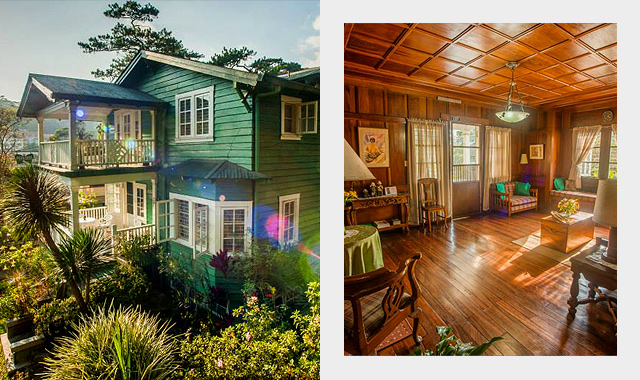 Peredo's Lodging House
5 C.M. Recto Street, Baguio City, Benguet
Contact: 0922-942-0698
E-mail: peredoslodginghouse@yahoo.com
www.facebook.com/peredoslodginghouse
Rates start at P1,450++
Peredo's Lodging House is so old that the National Museum declared it as a "Mahalagang Yamang Pangkalinangan" on its 100th anniversary in December 2015. Owners Roque and Rita Peredo originally had the house made for their big family, which explains the long narra table that can sit up to 12 people. It was occupied by Japanese soldiers during World War II, while the Peredo family fled to Bontoc. Now, it's one of the cultural treasures of Baguio City.
ADVERTISEMENT - CONTINUE READING BELOW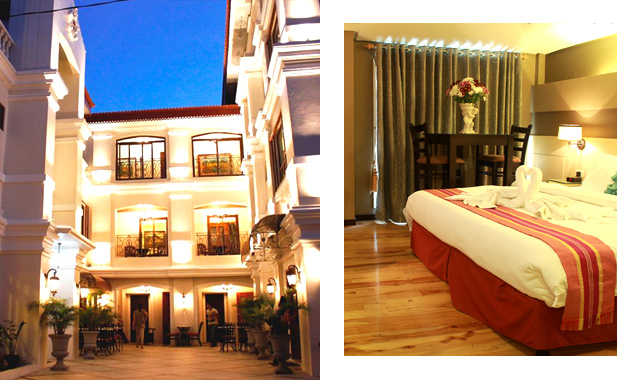 CONTINUE READING BELOW
Recommended Videos
Ciudad Fernandina Hotel
26 Mabini corner Plaridel Streets, Vigan, Ilocos Sur
Contact: (077) 644-0005
E-mail: info@ciudadfernandinavigan.com.ph
www.ciudadfernandinavigan.com.ph
Rates start at P2,800++
Ciudad Fernandina Hotel traces its history back to 1758 when it was owned by Chinese mestizo couple Don Francisco de la Encarnacion and Doña Rosa Anastacia. It was passed on from one generation to another until it was bequeathed to Atty. Ramon Encarnacion, who later converted it into a hotel. When Dr. Benito Purugganan Jr. acquired the property in 2007, it was renovated but still maintained the classic design of the ancestral house. You can see the red bricks from the original structure, all gloss-painted to prevent the structure from wearing away.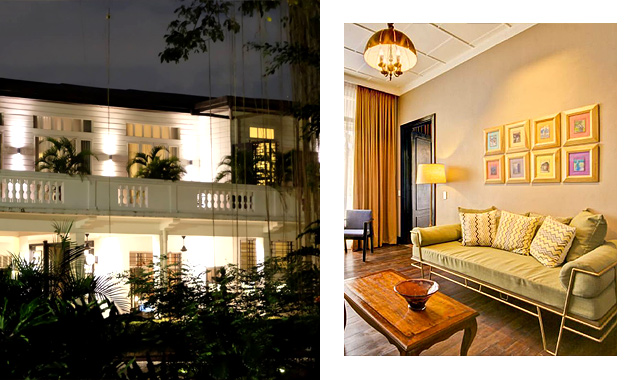 ADVERTISEMENT - CONTINUE READING BELOW
2680 FB Harrison Street, Pasay City
Contact: 807-8888
E-mail: reservations.manila@thehenryhotel.com
www.thehenryhotel.com
Rates start at P5,000++
The Henry Hotel in Manila takes after the boutique hotel chain's first branch in Cebu. It opened in 2015 with 34 rooms furnished with vintage closets (aparador) side-by-side with a flat screen TV. The whole compound owned by the Cheng family features post-war houses that now serve as an enclave for arts, design, and tourism. Aside from The Henry Hotel, you can also find furniture designer Eric Paras' showroom A11, Albert Avellana's gallery, and fashion designer Jojie Lloren's atelier behind the gates of 2680 FB Harrison Street.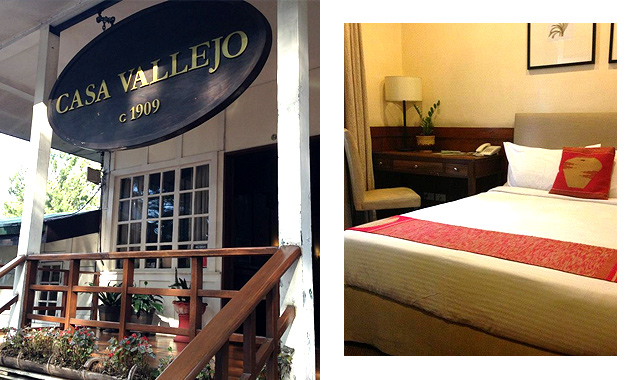 Casa Vallejo
Upper Session Road, Luneta Hill, Baguio City, Benguet
Contact: (074) 424-3397, (074) 424-3370
E-mail: fo.casavallejo@gmail.com
www.casavallejohotel.com
Rates start at P2,500++
Baguio's oldest hotel, Casa Vallejo, was built in 1909 and was then called "Dormitory 4." Reports say that the property is owned by the Acop family, a clan that traces its roots to Cosen Piraso of Benguet's Ibaloi tribe. The hotel features 24 rooms that are all housed with four other establishments in Casa Vallejo: fusion restaurant Hill Station, a quirky bookstore called Mt. Cloud, the North Haven Spa that offers traditional Cordilleran massage, and outdoor gear-seller Lagalag.
ADVERTISEMENT - CONTINUE READING BELOW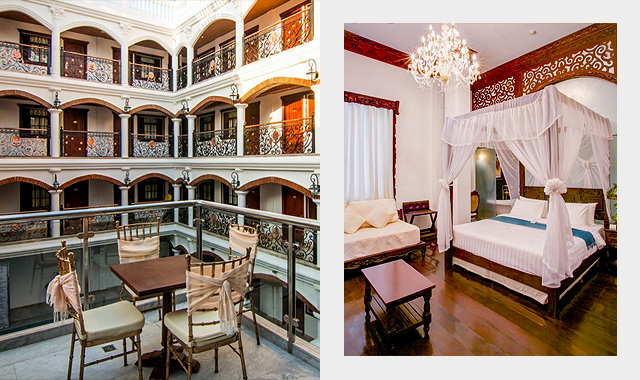 Hotel Luna
Gen. Luna Street, Vigan City, Ilocos Sur
Contact: 584-4945
E-mail: rsvn.hotelluna@ahmgi.com
hotelluna.ph
Rates start at P4,000++
Is it a hotel or a museum? It's actually a bit of both. The two-storey structure was built in 1882 as a wedding gift from Ilocos Sur's affluent Don Jose Florentino to his daughter. It was expanded into a four-storey structure and opened as a luxury hotel in 2014. Taking after its namesake, Ilocano painter Juan Luna, the hotel showcases important art pieces in all its suites, rooms, and halls—from the 20-foot mural wall by Rene Robles in the courtyard to the BenCab painting in the lobby.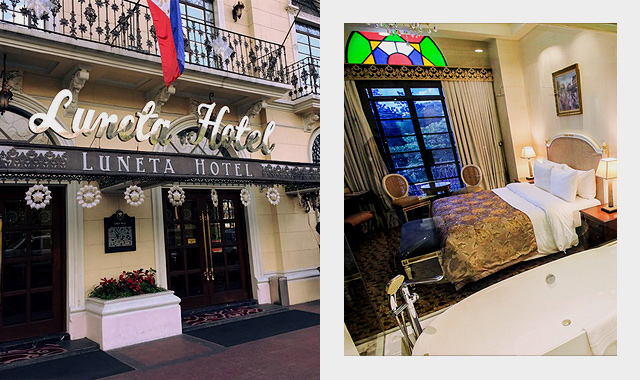 ADVERTISEMENT - CONTINUE READING BELOW
414 Teodoro M. Kalaw Avenue, Ermita, Manila
Contact: 875-8921 to 29
E-mail: lh_resorts@lunetahotel.com
lunetahotel.com
Rates start at P2,500++
The Luneta Hotel was first launched in 1918, which means that the structure survived the tragic bombing of Manila during World War II. Designed by Spanish architect-engineer Salvador Farre, the accommodation saw its heyday in the early 1900s when it welcomed society's elite, foreign dignitaries, and American military personnel. U.S. President Dwight Eisenhower stayed there for months in 1930. It closed down in 1987, and then was relaunched in 2014 following retrofitting and reconstruction.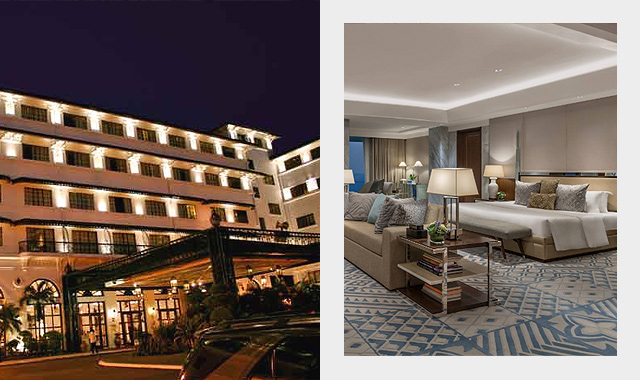 The Manila Hotel
One Rizal Park, Manila
Contact: 527-0011
E-mail: resvn@themanilahotel.com
manila-hotel.com.ph
Rates start at P9,400++
If Luneta Hotel had U.S. President Dwight Eisenhower, Manila Hotel had American novelist Ernest Hemingway, who used it as an allusion: "It's a good story if it's like Manila Hotel" after his stay there. It was constructed in 1908 to complete the 1898 vision of architect and city planner Daniel Hudson Burnham of having a tree-lined boulevard with a grand hotel at the end. Officially inaugurated in 1912 and renovated in 2008, the structure features more than a hundred high-ceiling rooms and suites furnished with huge windows, emphasizing the famed Manila Bay sunset.
ADVERTISEMENT - CONTINUE READING BELOW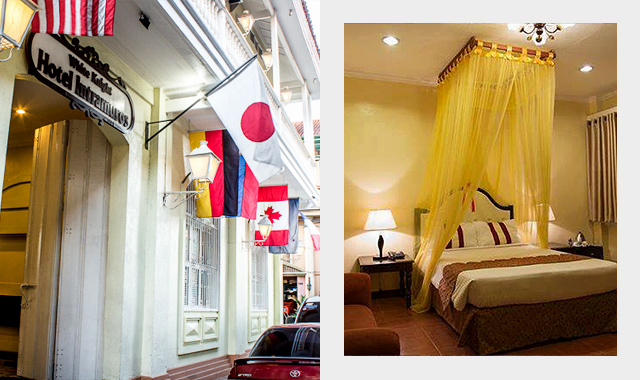 White Knight Hotel Intramuros
Plaza San Luis Complex General Luna Street corner Urdaneta Street, Intramuros, Manila
Contact: 526-6539, 353-9549
E-mail: whiteknighthotel@gmail.com
www.whiteknighthotelintramuros.com
Rates start at P2,000++
White Knight Hotel stands along the cobblestone streets of Intramuros and near Manila's historic structures such as the Manila Cathedral, San Agustin Church, and Fort Santiago. This afforable accommodation features 29 rooms, the in-house Coco Bango Café, and Spanish-era design. But the best thing about White Knight Hotel is its Two-wheel Electric Chariot Tour (a.k.a. the Segway) around the Walled City. It's perfect if you're too tired (or lazy) to walk!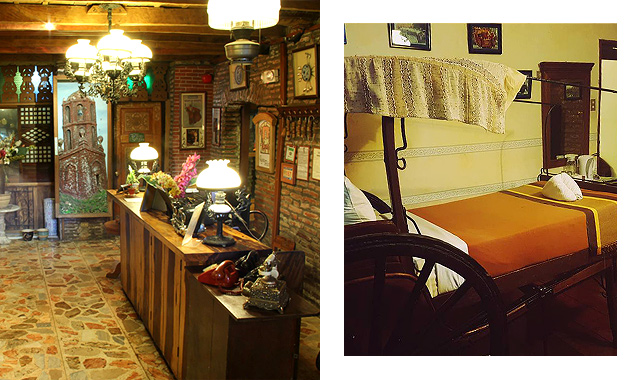 ADVERTISEMENT - CONTINUE READING BELOW
Grandpa's Inn
1 Bonifacio Street corner Quirino Boulevard, Vigan City, Ilocos Sur
Contact: (077) 674-0686, (077) 674-0729
E-mail: reservation@grandpas-inn.com
www.grandpas-inn.com
Rates start at P2,800++
Grandpa's Inn was the residence of the Donato Family until it was converted into a small hotel with 19 rooms in 1979. The property was expanded to include the ancestral house of the Pilar Encarnacion-Tongson Family, adding three dormitory rooms in its offerings. To complete the Ilocano experience, some of the rooms are furnished with beds that look like calesas, farm carriages, and farm sleds.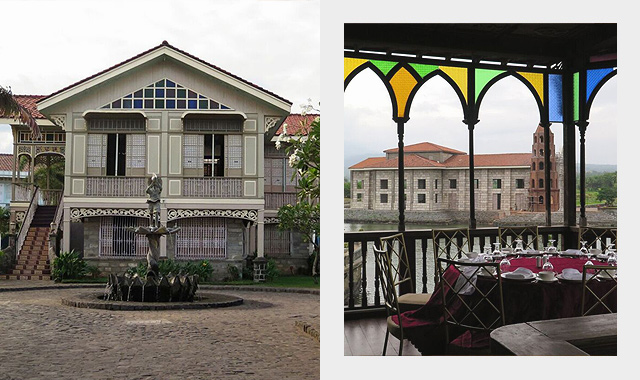 Barangay Ibaba, Bagac, Bataan
Contact: 0917-872-9631
E-mail: reserve@lascasasfilipinas.com
lascasasfilipinas.com
Rates start at P7,000++
Las Casas Filipinas de Acuzar gives you a full-on Spanish Colonial Era experience through a display of ancestral houses and staff in guwardiya sibil costume. Most of the structures were taken piece by piece from their original locations as far as La Union and Tawi-Tawi and put together again through the leadership of Filipino architect Felix Roxas y Arroyo. Accommodations range from Spanish mansions to houses with wooden stilts—all these against the backdrop of Mount Natib.
ADVERTISEMENT - CONTINUE READING BELOW
Share this story with your friends!
---
Help us make Spot.ph better!
Take the short survey
Load More Stories