10 Fun Floating Destinations in the Philippines
From cool obstacle courses to quaint local restaurants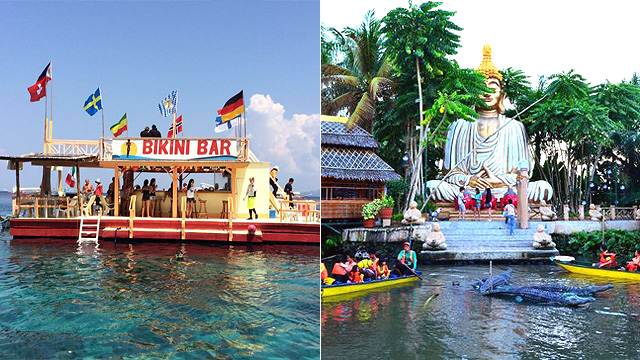 (SPOT.ph) Floating destinations are man-made structures strategically placed on bodies of water. There are many luxurious floating destinations around the world, like Thailand's Archipelago Cinema (an outdoor movie theater surrounded by the waters of Kudu Island) and South Korea's Floating Island (an artificial recreational island on Han River). While we have yet to see luxurious types with billion-peso architecture, there are small-scale versions that are worth the quick getaway.
ADVERTISEMENT - CONTINUE READING BELOW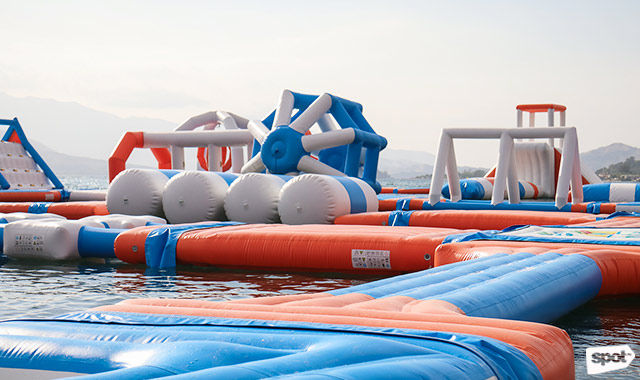 Inflatable Island, Zambales
The biggest floating playground in Asia, Inflatable Island is both an adventure experience and a workout (you can burn up to 800 calories an hour!). Reminiscent of the TV show Wipeout, this floating structure features obstacle courses such as swings, slides, towers, bridges, and human launchers. Don't worry about falling or wiping out; it's all part of the fun and there are many lifeguards to assist you. Because tourists have been flocking to Inflatable Island since it opened on April 1 this year, it's best to book tickets early. Just choose from the two-hour, four-hour, or whole-day pass.
ADVERTISEMENT - CONTINUE READING BELOW
Inflatable Island is at Purok 6, National Highway, Lower Kalaklan, Olongapo City, Zambales.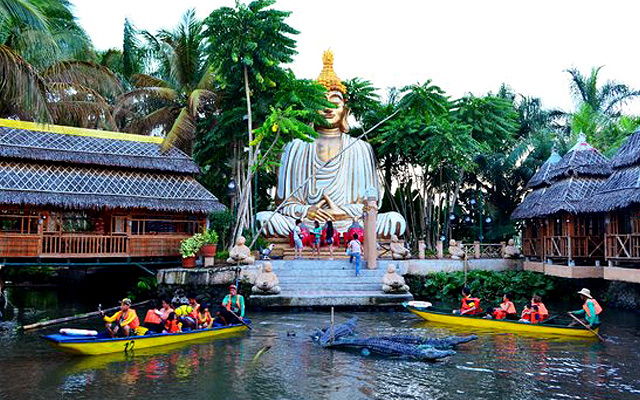 Isdaan Resto Fun Park, Laguna
Run by the owners of Barrio Fiesta, this floating restaurant is an eccentric combination of Thai and Filipino culture, Marvel characters, and Disney elements. As you enter, you are greeted by Thai-inspired statues and floating nipa huts surrounded by a man-made river. Their menu is composed of mostly Filipino food, but there are other Asian dishes to choose from. While waiting for your food, walk around to see a hodgepodge of Marvel characters, Disney statues, mascots, Buddhas, magicians, acrobats, and even a giant gorilla statue. Other activities include fishing, carnival games, and boat rides.
ADVERTISEMENT - CONTINUE READING BELOW
Isdaan Resto Fun Park is at National Highway, Barangay Santo Domingo, Calauan, Laguna. The second branch is in Gerona, Tarlac.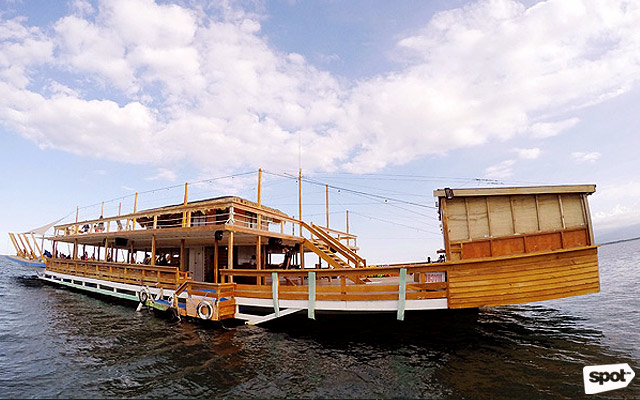 Tawhai Floating Bar, Negros Occidental
Lakawon Island used to be a secret getaway for local travelers, but this banana-shaped spot was renovated under new management and relaunched in 2016. It now has more rooms, new restaurants, and the island's centerpiece, Tawhai Floating Bar. It's a party boat that's dubbed as the biggest floating bar in Asia. There's a separate entrance fee of P250 (with a complimentary drink). And since they allow guests to muck around and jump into the water, you have to sign a waiver before hopping on.
ADVERTISEMENT - CONTINUE READING BELOW
Tawhai Floating Bar is at Lakawon Island Resorts and Spa, Cadiz Viejo, Negros Occidental.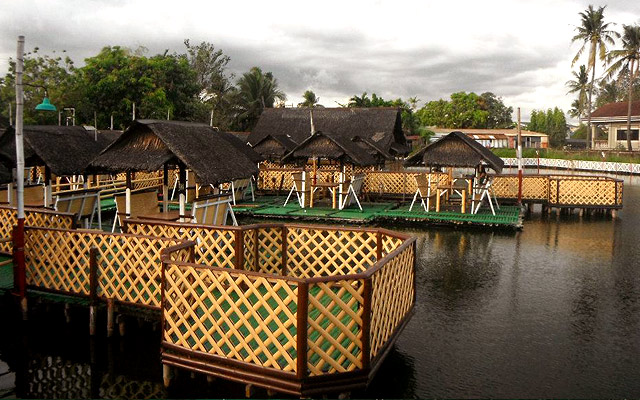 Kainan Sa Balsa, Cavite
This floating restaurant is worth a visit when you find yourself in Bacoor, Cavite for the first time. It's a pond surrounded by floating bamboo rafts (balsa) and nipa huts. You can go fishing in the pond and ask the crew to cook your fresh catch any way you want—fried, grilled, sinigang, or any other Pinoy cooking options. If you're too lazy to go fishing, just order straight from the menu and they'll bring the dishes to your hut.
ADVERTISEMENT - CONTINUE READING BELOW
Kainan Sa Balsa is at 143 Evangelista Street, Barangay Banalo, Bacoor, Cavite.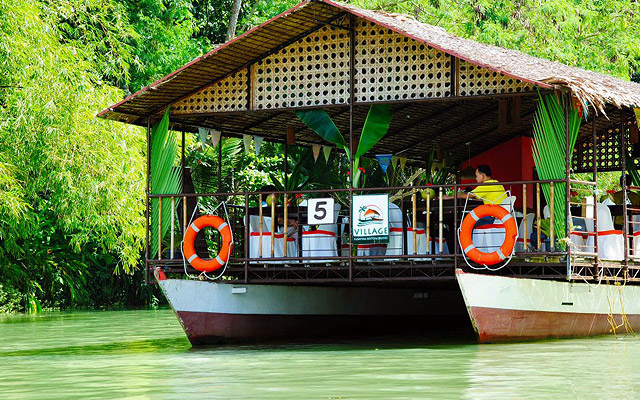 Loboc Floating Resto and River Cruise, Bohol
A cruise on a floating restaurant along Loboc River is part of the usual tourist package when visiting Bohol. The ticket includes a hearty Filipino buffet on a floating resto, while being entertained by onboard musicians and seeing the river sights such as waterfalls. There are a number of floating restaurant options in Bohol, such as Village Floating Resto and Cruises and Loboc Riverwatch.
ADVERTISEMENT - CONTINUE READING BELOW
Loboc Floating Resto is at Loay Interior Road, Loboc, Bohol.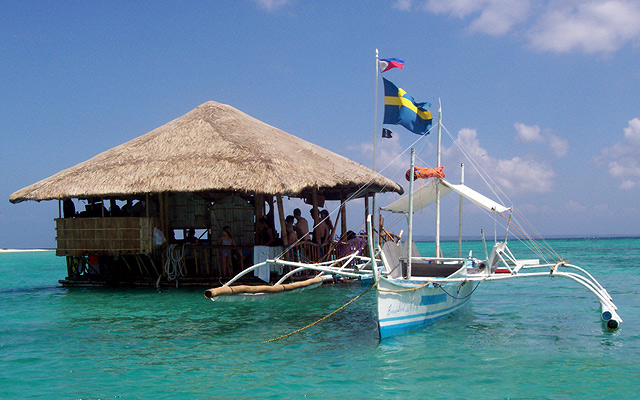 Floating Bar, Cebu
If you find yourself on Bantayan Island, the northern tip of Cebu, then ride a boat to this floating bar anchored a few meters away from Sugar Beach. It's not as huge as Tawhai Floating Bar in Negros Occidental, but it has enough food, tropical drinks, booze, and cocktails to keep guests entertained while waiting for the Cebu sunset.
ADVERTISEMENT - CONTINUE READING BELOW
The Floating Bar is at Santa Fe, Bantayan Island, Cebu City.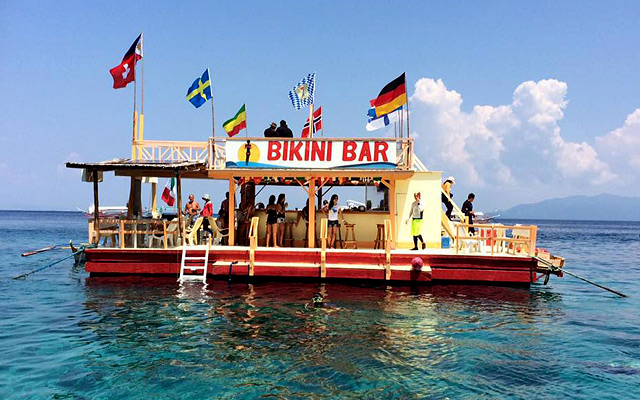 Bikini Floating Bar, Puerto Galera
A short boat ride from the shore of Sabang Beach, Bikini Floating Bar is a great alternative if you want to avoid the jam-packed bars and clubs of Puerto Galera. It has two floors—the shaded bar on the bottom, and the open-air deck where you can get a tan while sipping cocktails. There's even a waterslide on the upper deck that launches you straight into the water.
ADVERTISEMENT - CONTINUE READING BELOW
Bikini Floating Bar is at Sabang Beach, Puerto Galera, Oriental Mindoro.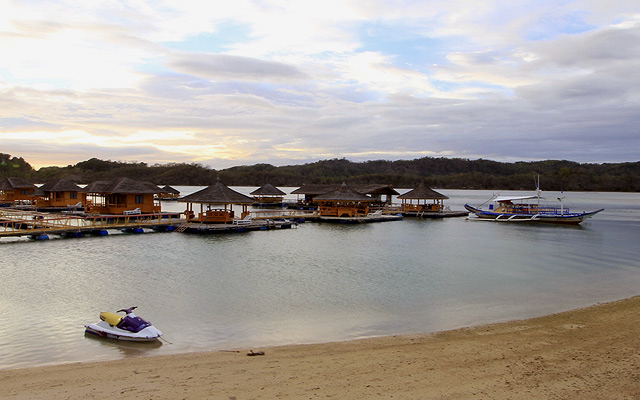 Grace Island Resort Floating Cottages, Mindoro
This two-hectare resort in Mindoro has eight floating cottages that you can book instead of their hilltop cottages and executive houses. They're not as luxurious as the floating villas in Maldives, but these floating cottages designed after the traditional bahay kubo (nipa hut) will give you an amazing view of the sea and neighboring Ambulong Island.
ADVERTISEMENT - CONTINUE READING BELOW
Grace Island Resort is at Ambulong, San Jose, Occidental Mindoro.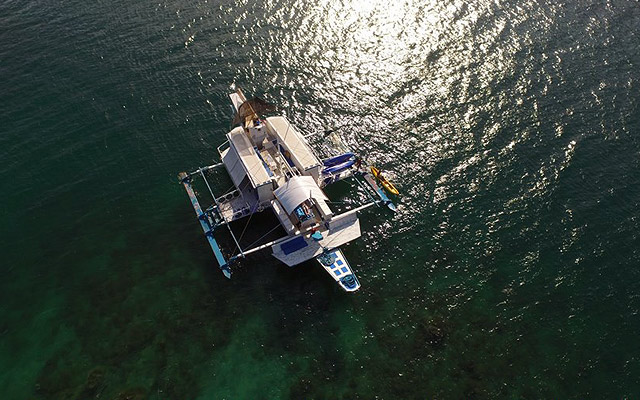 Palawan Secret Cruise Floating Hotel, El Nido
Stationed in El Nido's Bacuit Bay, this boat hotel features open cabin rooms with standard amenities like free toiletries, bar and resto access, and free WiFi. Because it's a small, non-luxury cruise, the beds are pod-sized and the bathrooms are shared. But you get a great view of El Nido in the comfort of your little bedroom. If you're looking to do other activities, such as snorkeling, island tours, and fishing, the staff will take care of the arrangements for you.
ADVERTISEMENT - CONTINUE READING BELOW
Palawan Secret Cruise Floating Hotel is at Bacuit Bay, El Nido, Palawan.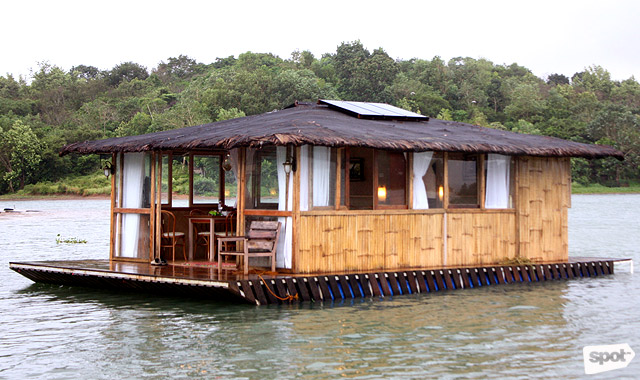 Aquascape Floating Cottages, Lake Caliraya
If you've always wondered what it's like to live in the middle of a lake, this Laguna destination will tick that item off your bucket list. Aquascape, a resort that opened in 2016, has a floating suite and floating cottages powered by solar electricity. After a day of doing water activities, you can go to bed in the middle of the lake and be away from it all. But if you'd rather sleep on solid ground, you can book one of their regular lakefront villas.
ADVERTISEMENT - CONTINUE READING BELOW
Aquascape (by Cottages and Many More) is at Eco-Saddle, Lake Caliraya, Laguna.
For more travel stories from Kate Alvarez, visit KateWasHere.com.
Load More Stories