The SPOT.ph Guide to La Union
Where to eat, stay, and sightsee.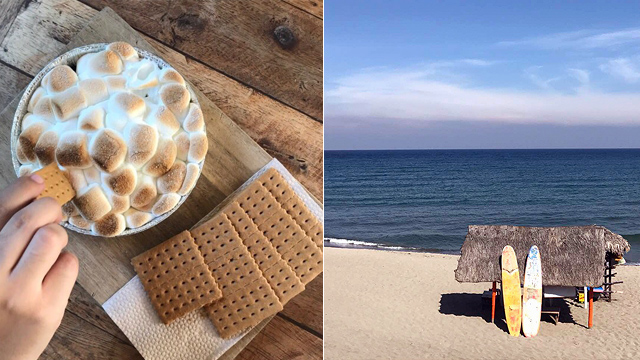 (SPOT.ph) There was a time in history when La Union was a collective of nine Pangasinan towns, three Ilocos Sur towns, and even a few Igorot villages. It wasn't until 1854 when the province was created as a union of all those communities, thus the name. Now, it has been classified as a progressive and developing region, not only for the economic progress in San Fernando and the surf tourism boom in San Juan, but also because of all the other destinations and establishments.
Here's a list of a few things that we love about La Union, or as the regulars and locals call it—eLyU.
WHERE TO GO
Natural Wonders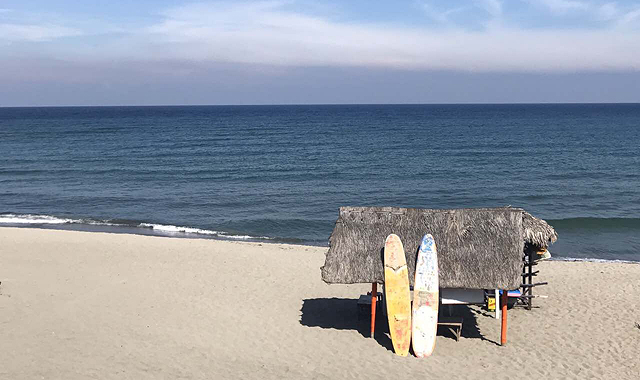 Urbiztondo Beach
San Juan
Urbiztondo Beach is popular among all kinds of surfers—from the beginner who can easily ride on soft waves breaking on a sandy bottom to the advanced surfer who can maneuver through the trickier waves breaking on coral reefs. On calmer days, beachcombers can just take an afternoon dip and lounge on the long strip.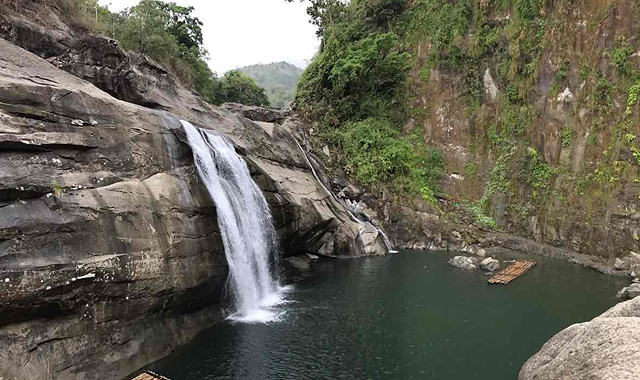 Tangadan Falls
San Gabriel
It wasn't until 2007 when Tangadan Falls, tucked in the town of San Gabriel, was discovered by local surfers—and we're sure glad they did. Five years later, it was opened to the public and people can't get enough of the lace curtain-like waterfalls draped on smooth boulders.
Cultural Landmarks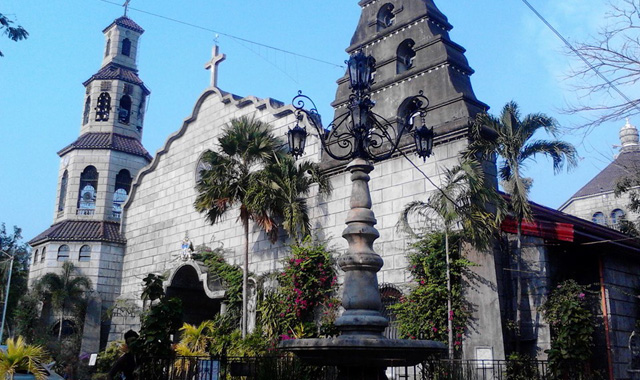 Basilica Minore of Our Lady of Charity
Agoo
Better known as Agoo Basilica, the Basilica Minore of Our Lady of Charity in La Union's oldest town catches many visitors' attention because of its two non-identical bell towers, beautiful chandeliers hanging from the wooden ceiling, colorful window panes, and stained glass. You can also find the Santa Monica Parish Museum to the left of the church where extensive memorabilia of the basilica's former archbishops are kept.
ADVERTISEMENT - CONTINUE READING BELOW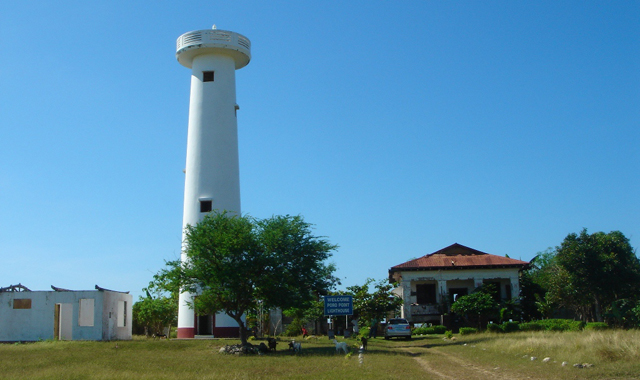 Poro Point Lighthouse
San Fernando
Because of its terrain that juts out into the West Philippine Sea, Poro Point has served as an important marker for maritime navigation since the 1880s. The first lighthouse made of steel was built during the Spanish colonial period, then changed into a concrete tower during the American occupation. It was also converted into a U.S. reservation, then called Camp Wallace or Wallace Air Station.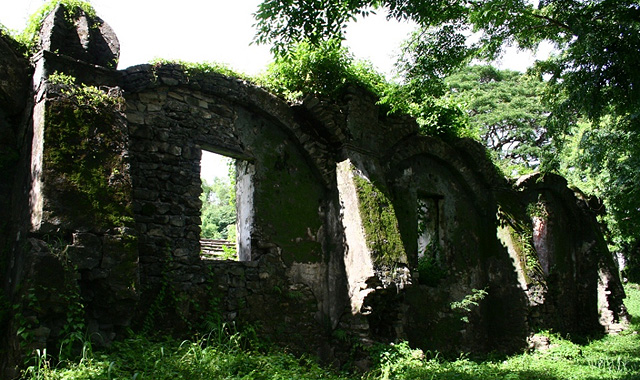 Pindangan Ruins
San Vicente, San Fernando
The Pindangan Ruins, tagged after San Fernando's original name, was once a church built by Spanish friars Francisco Romero and Santiago Holarte in 1764. It was frequently raided by Japanese, Chinese, and Moro pirates, so the clergy decided to transfer the church to Barangay Tanqui, then to Barangay Cabaroan. Now, all that's left are buttresses, walls, and an old well—all maintained by the Carmelite Sisters, whose monastery stands behind the ruins.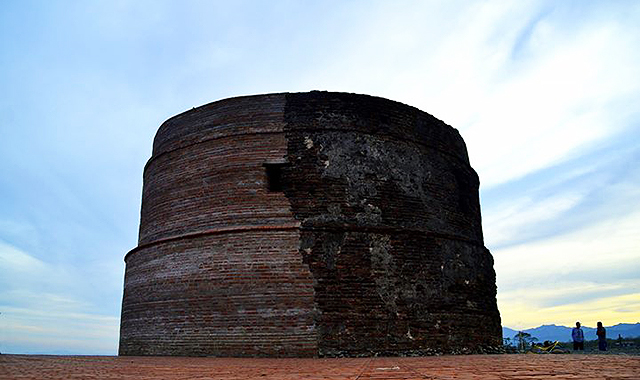 Baluarte Watch Tower
Pebble Beach, Luna
The 400-year-old Baluarte along Luna's famous Pebble Beach, known for its seemingly unlimited supply of rocks of different colors, shapes, and sizes, was built by the Spaniards. It was used to warn the coastal town's residents against Japanese, Chinese, and Moro pirates. By World War II, the fortress functioned as a communication tower for the American forces. Its much-needed restoration was completed in April 2017.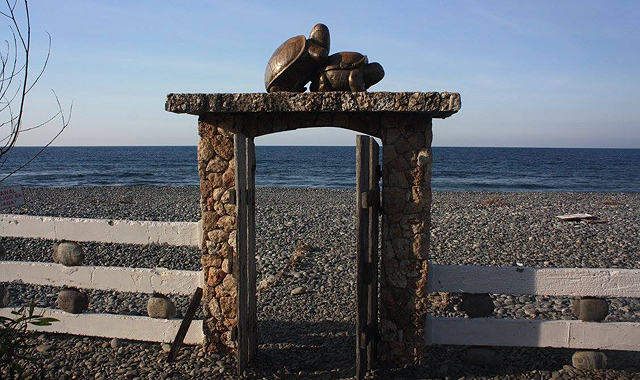 Bahay na Bato
Nalvo Norte, Luna
Bahay na Bato was built in 2000 as a rest house of Dr. Edison and Dr. Purita Chan Noble. It was made from stones and pebbles that are found along the beaches of the municipality. Bong Kim, a Korean, also adorned the interiors with painted pebbles and wooden sculptures to complete the artful feel. With encouragement from local tourism groups, the couple opened the house as a tourist destination in 2015.
ADVERTISEMENT - CONTINUE READING BELOW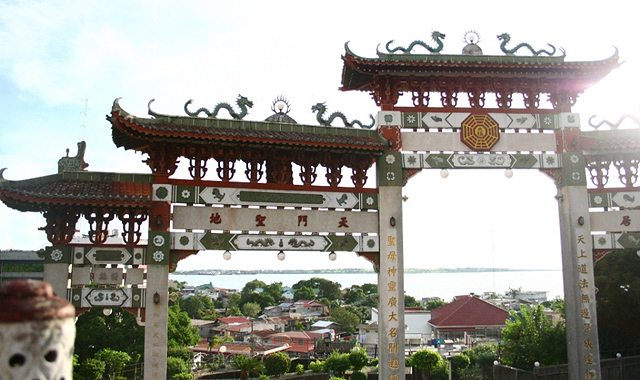 Ma-Cho Temple
Barangay II, San Fernando
Ma-Cho Temple's location on a hill 70 feet above sea level is perfect for a panoramic view of the West Philippine Sea. It features carved stone statues of the "18 Chinese Saints," an expansive courtyard with a circular design, and a towering arch that faces the sunset.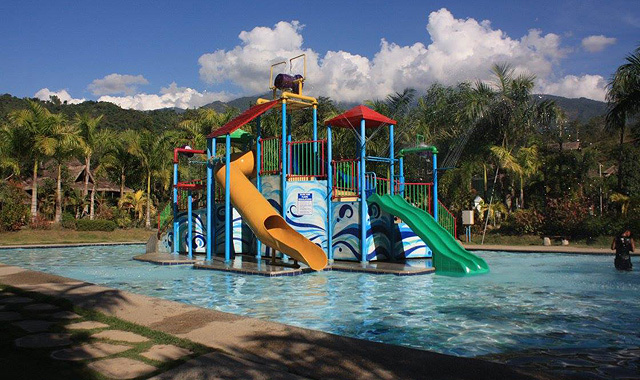 Pugad Adventure
Palina, Pugo
Pugad, short for Pugo Adventure, is a recreational park nestled on the outer ridges of the Cordilleras. Thrill-seekers can try out the different types of ziplines, ride an ATV and explore the great outdoors, or go wall-climbing. Big groups can even sign up for a game of paint ball.
WHERE TO EAT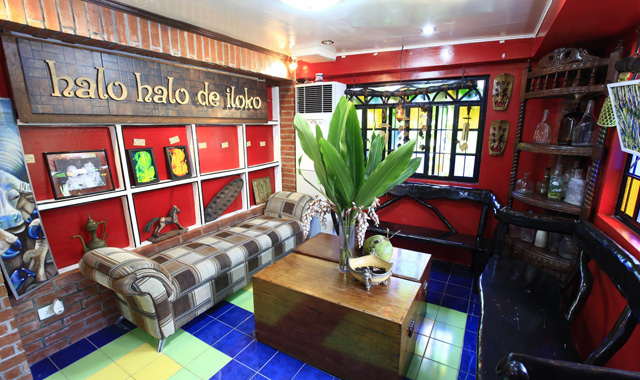 Halo Halo de Iloko
12 Balay Mercado, Zandueta Street, San Fernando
www.facebook.com/Halo-halo-de-iloko-Balay-178590498862723
Open daily from 9 a.m. to 9 p.m.
Halo Halo de Iloko Balay is a classic when it comes to La Union's local fare. The two-storey resto attracts customers with knickknacks, paintings, wood works, and colored bottles adorning a wall. The capiz window might even remind you of lola's house, where you used to indulge in generous amounts of halo-halo topped with ube halaya, yema, pastillas, and more. This makes Halo-halo de Iloka Balay feel just like home.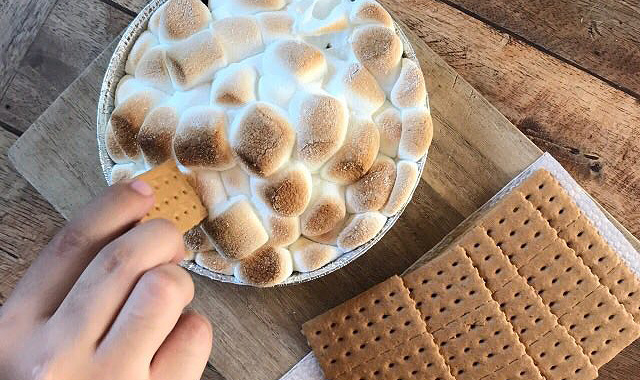 El Union
MacArthur National Highway, Urbiztondo, San Juan
www.facebook.com/elunioncoffee
Open from 9 a.m. to 9 p.m. (Monday to Thursday), 9 a.m. to 10 p.m. (Friday), 7 a.m. to 10 p.m. (Saturday), and 7 a.m. to 9 p.m. (Sunday)
ADVERTISEMENT - CONTINUE READING BELOW
El Union Coffee, owned by Kiddo Cosio, started out as a small corner café. Now it's a two-storey lounge where you can drink their "expert-roasted and thoughtfully prepared coffee" while having a good time with friends post-sesh or attending their workshops and social events on the second floor. Be sure to pair their drinks with either a plate of the fluffy Indoor S'mores (P160) or the huge and sinful Skillet Cookie (P160).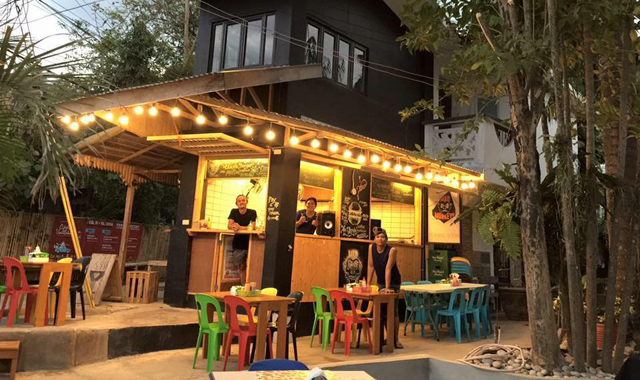 Mad Monkeys
MacArthur National Highway, Urbiztondo, San Juan
www.facebook.com/MadMonkeysLaUnion
Open from 10 a.m. to 10 p.m. (Monday, Wednesday, and Thursday), 10 a.m. to 11 p.m. (Friday to Sunday)
You can never go wrong with burgers, especially if it's from Mad Monkeys. Their popular recipe is The Classic (P210) topped with their own secret mix of melted cheddar beer sauce. You can also try the Smoky BBQ Bacon (P295) if you want to go all out.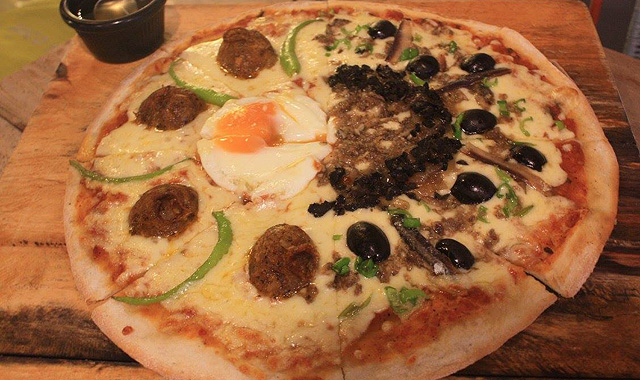 Surf Shack
MacArthur National Highway, Urbiztondo, San Juan
www.facebook.com/surfshacksanjuanlaunion
Open from 10 a.m. to 1 a.m. (Sunday to Thursday), 10 a.m. to 3 a.m. (Friday and Saturday)
Surf Shack makes sure that it highlights La Union produce through its menu: Bacnotan Longganisa Pizza (P258), Mommy Lou's Gourmet Tuy Pizza with Honey (P278), Golden Tinapo Pesto (P278), and basi mixed with mango and pineapple (P158). In the background, you can listen to a San Juan surfer with sun-kissed skin play some tunes. The restaurant also has a "Wall of Heroes," decorated with photographs of the town's pioneer surfers, world-class instructors, entrepreneurs, and board shapers.
ADVERTISEMENT - CONTINUE READING BELOW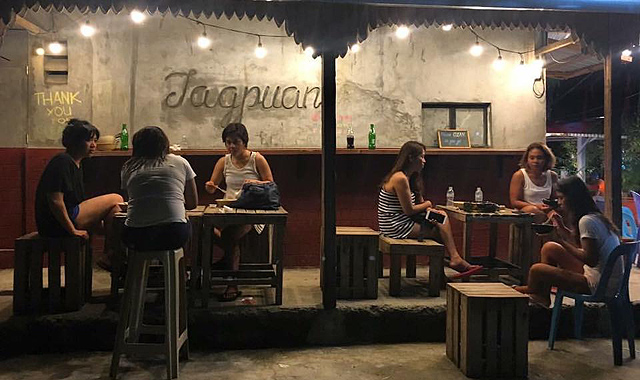 Tagpuan sa San Juan
MacArthur National Highway, Urbiztondo, San Juan
www.facebook.com/tagpuansj
Open from 8 a.m. to 2 p.m. and 5 p.m. to 2 a.m. (Wednesday to Monday)
You can find Tagpuan sa San Juan on a street corner just because there's no need to be fancy when you're with friends. They serve no-nonsense rice bowls such as tapa (P95) and bagnet (P120), tokwa't baboy (P50), and even lugaw (P40). If you're scrimping, they have combo meals that you can wolf down after a tiring afternoon.
WHERE TO STAY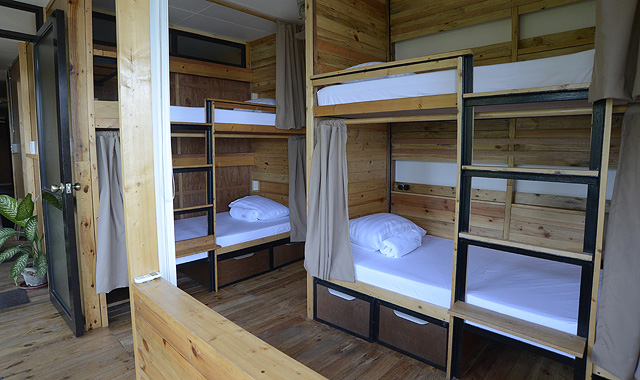 Vessel Hostel
MacArthur National Highway, Urbiztondo, San Juan
E-mail: vesselhostel@gmail.com
www.facebook.com/VesselHostel
Rates start at P980/head
Architect-surfers Buji Libarnes and Nikki dela Paz-Libarnes opened Vessel Hostel in December 2016 and it immediately became a hit. Can't blame the regulars! Not just any other place to stay, it is built from repurposed container vans and maintains a "60s, mid-century modern vibe," according to the owners. All rooms have air-conditioning and the roof deck-slash-kitchenette is perfect for wave checks over breakfast.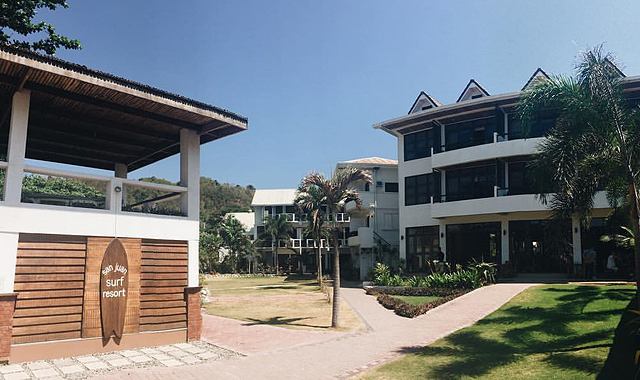 San Juan Surf Resort
MacArthur National Highway, Urbiztondo, San Juan
E-mail: sanjuansurf@yahoo.com.ph
Contact: 0917-887-5470
Room rates start at P1,930++
San Juan Surf Resort was established in 1992 by Australian surfer Brian Landrigan, father of surfer-model Luke Landrigan. It has expanded from having three rooms in the '90s to the current 35-room resort with its own restaurant, bar, surf school, surf shop, and swimming pool.
ADVERTISEMENT - CONTINUE READING BELOW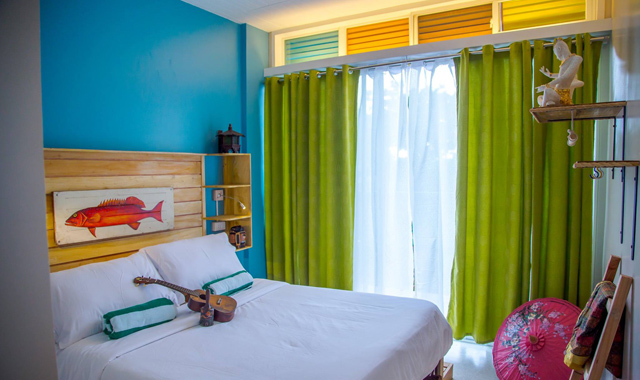 Flotsam and Jetsam Artist Beach Hostel
MacArthur National Highway, Urbiztondo, San Juan
Contact: 0917-802-1328
E-mail: flotjetlife@gmail.com
flotsamandjetsamhostel.com
Rates start at P680/head
This living space founded by Mia Sebastian, Carla Suiza, and Joncy Sumulong is filled with art, music, style, design, happiness, and imagination. Feel free to lounge around the common area and listen to good music, have a round or two of mixed drinks from the bar, or just doze off in their brightly colored private rooms or dorms.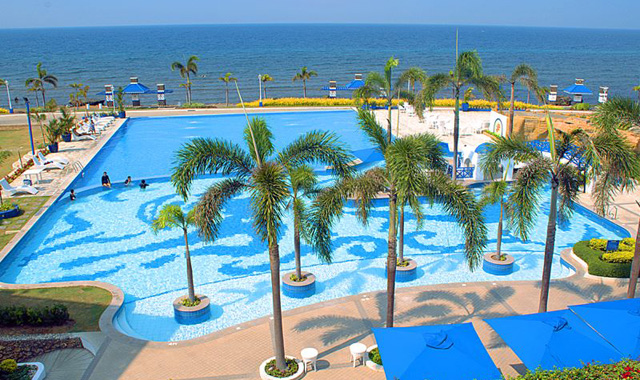 Thunderbird Resort Poro Point
VOA Compound, Pennsylvania Avenue, San Fernando
Contact: (072) 888-7777
E-mail: pororeservations@thunderbird-asia.com
www.thunderbirdresortsporopoint.com
Room rates start at P6,600++
This five-star resort is inspired by the Mediterranean design of Santorini, with its white and blue accents and dome-like architecture. Facilities include the Zaphira Spa where guests can choose from their array of relaxing treatments, the Fiesta Casino, The Cliffs Golf and Beach Club, and more. Thunderbird Resort Poro Point is your best bet in La Union when it comes to luxurious accommodations.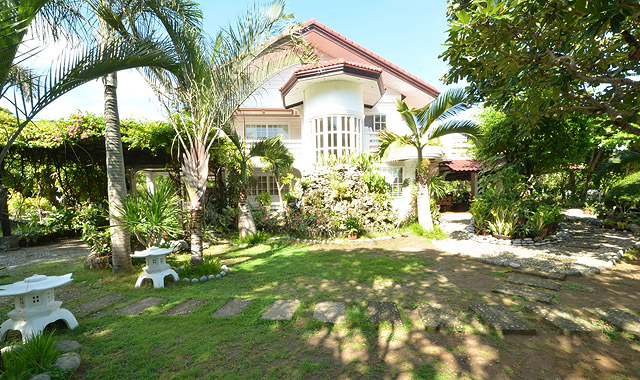 Urbiz Garden Bed and Breakfast
134 Beachfront Urbiztondo, San Juan
Contact: 0917-590-8256
E-mail: mch.antonio@gmail.com
www.facebook.com/urbizgarden
Room rates start at P3,000++
Urbiz Garden enjoys its location near Urbiztondo's surf spot but still far away from the crowd. It was originally built as a summer vacation house and you can still feel at home when you're there because guests' requests are given priority. Pets are welcome, too!
ADVERTISEMENT - CONTINUE READING BELOW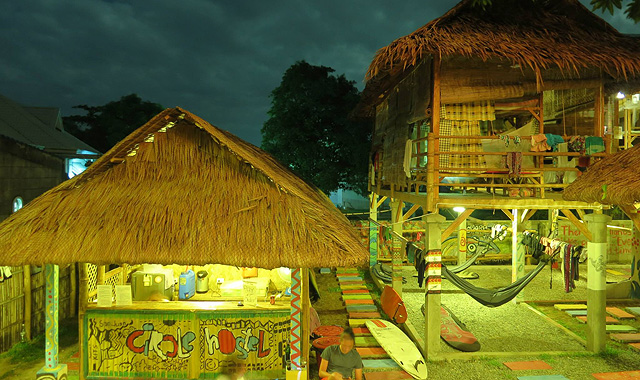 Circle Hostel
Circle Road, Urbiztondo, San Juan
Contact: 0917-505-4329
E-mail: lu@thecirclehostel.com
launion.thecirclehostel.com
Rates start at P500/head
This eco-hostel is not only a sanctuary for surfers but also for artists who want to express themselves freely through interesting conversations, jamming sessions, or even painting on the walls. It goes by the motto 'There are no strangers' and their dorm-style bunk beds and hammocks prove that it's always better to have new friends.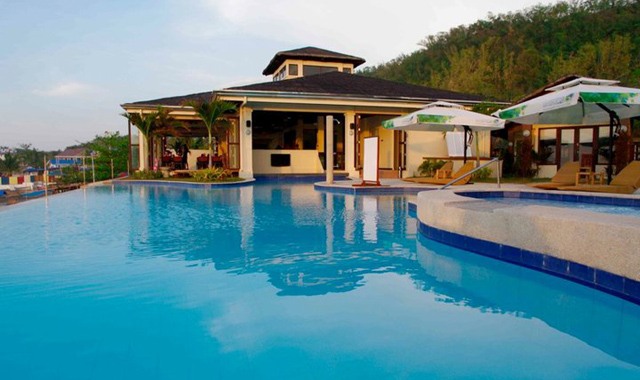 Kahuna Beach Resort and Spa
MacArthur National Highway, Urbiztondo, San Juan
Contact: 0917-830-0363
E-mail: info@kahunaresort.com
www.kahunaresort.com
Rates start at P5,300++
Kahuna features 40 Balinese-inspired cottages; so if you're looking for some privacy along with direct access to the beach, then this is probably the place you're looking for. In case you're too lazy to DIY, the resort also offers tour packages for destinations all over La Union.
HOW TO GET THERE
There are buses bound for San Fernando, the provincial capital. If you're going to San Juan, ride a bus bound for Vigan or Laoag and get off at Urbiztondo.
Load More Stories