10 Unusual Places You Can Visit Right Now
You don't need to apply for a visa before flying to these amazing spots.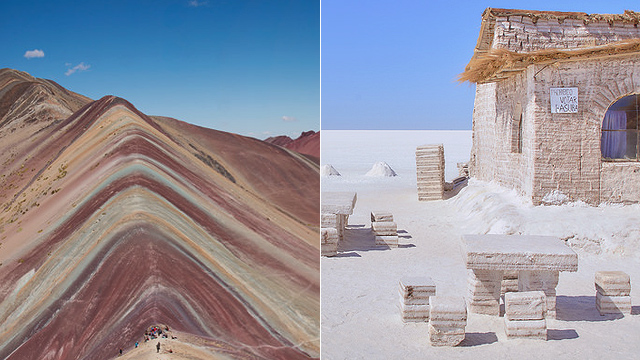 (SPOT.ph) Planet Earth has so much to offer beyond the typical (but still breathtaking) mountain or underwater paradise. Nature just has its ways of surprising us every day—from a blue lava-spewing volcano to a beach strip that glows like the night sky. Luckily, you don't need to go through the usual hassle of applying for a visa to visit these amazing places (for some of them, you can get a visa when you arrive). Here's another bucket list that's the stuff of your vacation dreams.
ADVERTISEMENT - CONTINUE READING BELOW
Photo by Pedro Szekely
Salt Hotel (Salar de Uyuni, Bolivia)
Bolivia's Salar de Uyuni is the world's largest salt flat formed by a thick crust of—well, salt that stretches in every direction. It is now the world's largest reserve for lithium, that thing that makes your batteries and gadgets work. You can even find a hotel that's entirely made of salt blocks, from the walls to the roof, and even furniture.
ADVERTISEMENT - CONTINUE READING BELOW
Photo by Nick Hubbard
Plain of Jars (Xieng Khuang, Laos)
Not much is known about the thousands of mysterious giant stone jars of Laos up to this day. Experts estimate that these lichen-encrusted structures crafted from sandstone date as far back as 500 BC to AD 200. What's more interesting is that the Plain of Jars' location in northern Laos was the usual target of carpet-bombing during the Indochina wars and yet, the curious cylinders have survived.
ADVERTISEMENT - CONTINUE READING BELOW
Photo by Fotur Colombia
Caño Cristales (Colombia)
Caño Cristales, dubbed as Colombia's "Liquid Rainbow" or "River of Five Colors," becomes a vibrant explosion of red, blue, yellow, orange, and green for a brief period of time—between July and November—every year. This color comes from the endemic Macarenia clavigera, a marine plant that turns into various shades of red and green with the right weather conditions.
ADVERTISEMENT - CONTINUE READING BELOW
Photo by Titto Velusi
Vinicunca (Pitumarca, Peru)
Vinicunca (a.k.a. Rainbow Mountains) features a vibrant display of lavender, maroon, gold, and turquoise on its terrain. This natural wonder is made possible by the exposure of the mountains' sedimentary layers and minerals to various weather elements—think of how nails rust when exposed to air and water. Despite its striking colors, the painted part of the ridge is extremely hard to find so make sure that you're with experienced guides before starting your journey.
ADVERTISEMENT - CONTINUE READING BELOW
Photo by Danielle Pereira
Lençóis Maranhenses National Park (Maranhão, Brazil)
Lençóis Maranhenses, or "bedsheets of Maranhão" in Portuguese, features an all-white sand dune that looks like a huge and comfy ruffled up bed. During rainy season, water flows and pools between the dunes to form pockets of blue, green, and black lagoons.
ADVERTISEMENT - CONTINUE READING BELOW
Photo by Java Tourism
Kelimutu (Indonesia)
If our Taal Volcano has one huge lake on its crater, Indonesia's Mount Kelimutu has three and their waters don't even have the same colors. There's the Lake of Old People (Tiwu Ata Mbupu) which has a blue shade, the Lake of Young Men and Maidens (Tiwu Nuwa Muri Koo Fai) which is typically green, and Enchanted Lake (Tiwu Ata Polo) which is blood red in color, but sometimes appear darker in shade. The best time to go is at daybreak during the dry season for a dramatic atmosphere.
ADVERTISEMENT - CONTINUE READING BELOW
Video by Avrilia Anggraeni
Vaadhoo Island (Maldives)
Vaadhoo, one of the inhabited islands of Raa Atoll in Maldives, is famous for the so-called "sea of stars." As soon as dusk falls, the waves crashing into the shore turn neon blue. The same thing also happens when you touch the water. As it turns out, this isn't some magical spell that surrounds the island but a phenomenon that occurs because of the dinoflagellates found in Vaadhoo's waters. This type of phytoplankton releases a blue luminescence when the water is disturbed by oxygen as their way to protect themselves from predators. You can get your visa upon arrival and it's valid for 30 days. Just show them your return ticket.
ADVERTISEMENT - CONTINUE READING BELOW
Photo by Ninara
Badab-e Surt (Mazandaran, Iran)
Badab-e Surt looks a lot like the Philippines' very own rice terraces, but instead of rice paddies, it has water that comes from mineral hot springs; and instead of handmade muddy terraces, it's made of limestone deposits. The orange, red, and yellow colors of the pools come from the iron oxide sediments that flow from the hot springs. Iran lets you get a visa upon arrival, which lets you stay in the country for seven days. You should also be able to provide details of your hotel booking.
ADVERTISEMENT - CONTINUE READING BELOW
Photo by Dave Lonsdale
To Sua Ocean Trench (Samoa)
To Sua Ocean Trench, loosely translated as "big hole," is a 100-foot deep hole on the volcanic Upolu Island in Samoa. You can either climb down a ladder or jump off a diving board to get into the emerald green water surrounded by lush vegetation. It looks like a scene straight from Avatar or Ferngully.
Video by Marc Szeglat
Kawah Ijen (Java, Indonesia)
Volcanoes are often associated with terrifying red lava flowing from the mountain's crater. For Indonesia's Kawah Ijen, it's a whole lot different. Blue glow forms on the crater and creates an illusion of lava-like rivers of neon light. This is caused by the combustion of sulfuric gases that come out from the cracks in the volcano and eventually form into liquid sulfur that flows down the slopes.
Load More Stories