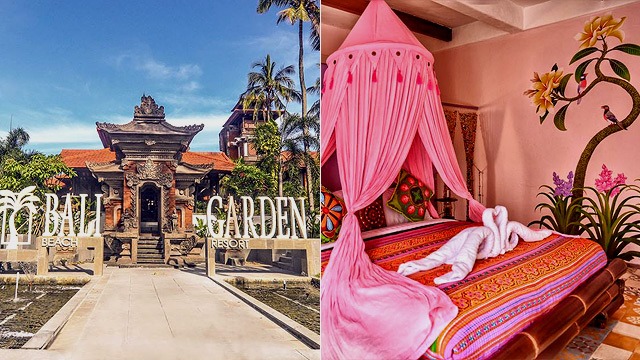 (SPOT.ph) Any beach-lover would have Bali on their bucket list—and rightfully so. Bali has enthralled visitors far and wide for years with the roaring waves of their pristine beaches, the calming atmosphere of their temples, and of course, their welcoming hospitality. There are so many things that you can do in Bali but only so much time, so we rounded up the must-visit spots and landmarks, the accommodations that are destinations of their own, and the delicious food finds that make Bali both a tropical and cultural paradise.
ADVERTISEMENT - CONTINUE READING BELOW
WHERE TO GO
Ubud Traditional Art Market
Jalan Raya Ubud No.35, Ubud, Kabupaten Gianyar, Bali 80571, Indonesia
Channel your inner Julia Roberts from Eat, Pray, Love and go souvenir shopping in Ubud's Art Market, locally known as "Pasar Seni Ubud." (This really is where they shot the movie!) Here you'll find stylish and sturdy handwoven bags that range from petite handbags to spacious backpacks. All the stores are lined with endless supplies of dream catchers, wooden carvings, pearl trinkets, and of course, adorable printed clothing. The market is strategically placed near the villages that produce all of the products you'll find, which means that the deals here are the best you'll find.
Pro tip: The bargaining skills you've mastered from haggling in Divisoria and Greenhills work wonders here.
Tulamben
Kubu, Karangasem Regency
A favorite of local and international divers, Tulamben's main attraction is the Liberty, a shipwreck from the U.S. Navy that was torpedoed by the Japanese in World War II. Diving shops and rentals line the street in front of the beach where the wreck is, so it's okay if you don't have your own equipment. Divers of all levels enjoy this site as the wreck is only 25 meters away from the rocky shore. Plus, you can hire a guide who will accompany you and even identify the parts of the ship. It's well worth the three-hour drive from Denpasar.
ADVERTISEMENT - CONTINUE READING BELOW
Pro tip: You can also rent a life vest if it's your first time skin diving (or if you're scared of cramping up while swimming).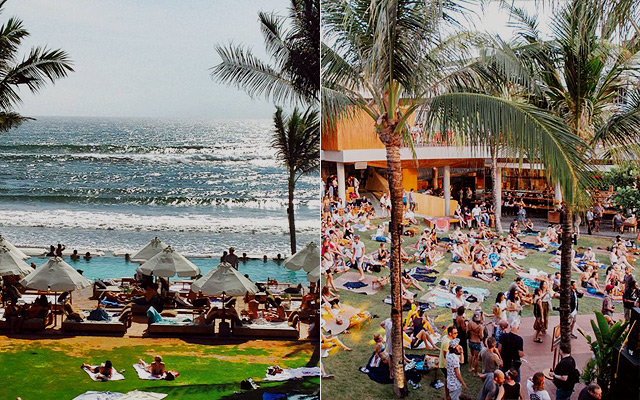 Potato Head Beach Club
Seminyak, Jalan Petitenget Number 51B, Kerobokan Kelod, Kuta Utara, Kabupaten Badung
Imagine lounging around by the pool with a drink in hand, watching the sun set over the horizon as waves crash in the background. It seems like a fantasy, but that's exactly what Potato Head Beach Club is like. When you enter the large, almost mansion-like building, you'll be greeted by a wide, green field where guests sit around and enjoy their cocktails. At the far edge of the field is the infinity pool, which serves as a border between the club and the shore. You can spend your afternoon here, making your way from the bar, to the pool, to the beach.
ADVERTISEMENT - CONTINUE READING BELOW
Pro tip: Potato Head Beach Club is also often the venue for concerts and music festivals. The next one in August includes performances by Phoenix, Big Sean, Charli XCX, Jonas Blue, and Snakehips.
Kuta Beach
Badung Regency
A trip to Bali isn't complete without surfing—or at the very least, an attempt to surf. While there are many places where you can surf, Kuta is still the most popular one of them all. Being the original surfing spot comes with flocks of tourists and water sports enthusiasts who take advantage of the calm waves that are beginner-friendly.
ADVERTISEMENT - CONTINUE READING BELOW
Pro tip: There are surfing schools along the shore that offer classes and surfboard rentals. Just make sure to do your research before choosing one!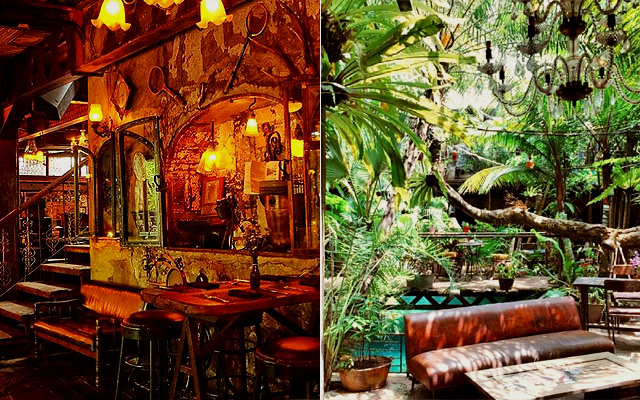 La Favela Restaurant and Club
Jalan Laksamana Oboroi Number 177X, Seminyak, Kuta, Kabupaten Badung
Don't be fooled by La Favela's quiet facade. While it's a rustic Mediterranean-slash-Latin-American restaurant by day, you can also experience the New York underground club scene here at night. You might get discouraged by the number of people partying in this hotspot, but even when push comes to shove—literally—a night in La Favela is still a night well-spent.
ADVERTISEMENT - CONTINUE READING BELOW
Pro tip: Sometimes the bouncers ask for a valid I.D. at the entrance, so don't forget to bring your license or passport.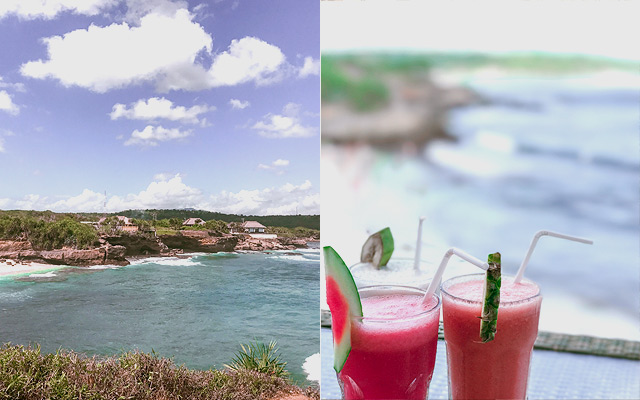 Nusa Lembongan
Jungutbatu, Nusapenida, Klungkung Regency
If you want to get away from the crowds, then Nusa Lembongan is the place for you. Lembongan is a neighboring island that used to be a surfer secret. They don't even have a gas station! To get to Lembongan, make your way to Sanur Beach, which is where most of the boats headed towards Lembongan dock. After the 30-minute boat ride worth around 500,000 rupiah (P1,851), you have to decide how to make your way around the semi-isolated island. You can rent a motorcycle for 100,000 rupiah (P370) or a jeep for 700,000 rupiah (P2,600). You'll be amazed (and a little bit worried) that even the kids ride motorcycles here. You can stroll around the secluded Dream Beach or stare in awe at the wild waves crashing on Devil's Tear.
ADVERTISEMENT - CONTINUE READING BELOW
Pro tip: Dream Beach is so secluded that there's only one resort there. But they have a café where you can order refreshments and enjoy the serenity that the island has to offer.
CULTURAL LANDMARKS
Tanah Lot
Beraban, Kediri, Tabanan Regency
Probably one of the most picturesque views in all of Bali (and that's saying something!), Tanah Lot is a rock formation that also houses Pura Tanah Lot or literally, the Tanah Lot Temple. Pura Tanah Lot is just one of seven temples built along the Balinese coast but it's probably the most famous one as the sunsets here are every photographer's dream. The jagged offshore rock has been continuously shaped by the large, strong waves that crash onto the formation. The Pura Batu Bolong, another temple, is just a few meters away from Pura Tanah Lot and is also built on an interesting rock formation that has a sizeable hole in the middle. Batu Bolong actually means "rock with a hole." The entrance fee for both rock formations and temples is 60,000 rupiah (P230).
ADVERTISEMENT - CONTINUE READING BELOW
Pro tip: If you want to enter Tanah Lot Temple, make sure to time your visit during low tide.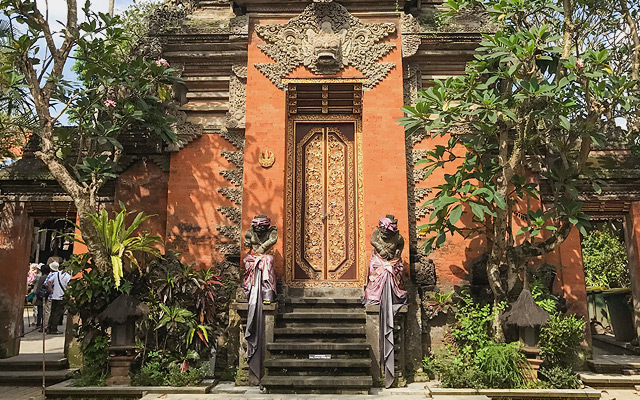 Ubud Royal Palace
Jalan Raya Ubud Number 8, Ubud, Kabupaten Gianyar
Just an hour's drive away from Denpasar, the Royal Palace is undoubtedly the center of culture in Ubud. The palace houses well-maintained structures that make it hard to believe that it was built way back in the 1800s. They also showcase Balinese architecture that serves as the backdrop of countless tourist photos taken here. What makes the visit extra special is how it's strategically placed near the best restaurants where you can have your lunch and it's also in front of the Ubud Art Market where you can buy souvenirs.
ADVERTISEMENT - CONTINUE READING BELOW
Pro tip: For the full traditional experience, get there at 6 p.m. to buy tickets and get the best seats to their nightly dance performances at 7 p.m.
Uluwatu Temple
Pecatu, South Kuta, Badung Regency
Built to guard Bali against evil sea spirits, the Uluwatu Temple is yet another impressive structure standing on the edge of a cliff. People actually cite Uluwatu's divine power as the reason why there's been no remarkable erosion at the foot of the cliff despite the constantly strong waves that hit it. You'll also have to stay alert here as monkeys from the nearby forest can jump right into your path at a moment's notice.
ADVERTISEMENT - CONTINUE READING BELOW
Pro tip: If you're not wearing clothes appropriate for the temple, you'll be asked to wear a sarong over your clothes.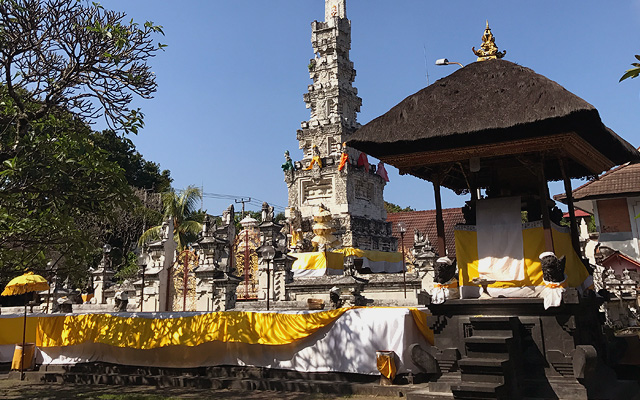 Jagatnatha Temple
Jalan Surapati, Dangin Puri, Kota Denpasar
Located in the middle of Denpasar, Pura Agung Jagatnatha or Jagatnatha Temple is the biggest temple in the provincial capital. For only 20,000 rupiah (P74), one of the temple's caretakers will take you on an interactive tour of the temple complex. You will be taught the significance of the structures as well as the importance of the rituals held at the temple. You can even play some of the instruments used for the rituals. Next to Pura Agung Jagatnatha is the Bali Museum. For something cool and relaxed, the museum is a welcome respite from the heat while still being an educational trip about Indonesian culture.
ADVERTISEMENT - CONTINUE READING BELOW
Pro tip: Time your visit accordingly as women who are on their period are not allowed to enter the temple.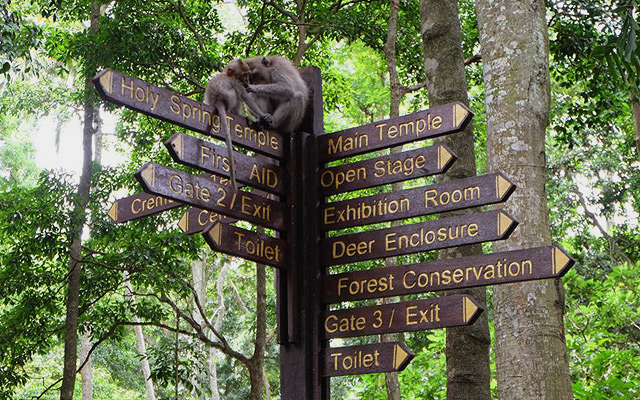 Ubud Monkey Forest
Jalan Monkey Forest, Ubud, Kabupaten Gianyar
No place instills both fear and excitement like the Ubud Monkey Forest does. A Hindu temple and a nature reserve, the monkey forest allows visitors to walk through paved pathways while around 700 monkeys roam freely from tree to tree. After a five-minute walk from the entrance, you can easily find your way to the open stage where you can buy bananas that you can feed to the monkeys. You'll have to be careful though because once the monkeys see you holding food, they'll immediately jump on you.
ADVERTISEMENT - CONTINUE READING BELOW
Pro tip: Make sure you're not wearing or using anything that can easily be grabbed by monkeys.
WHERE TO EAT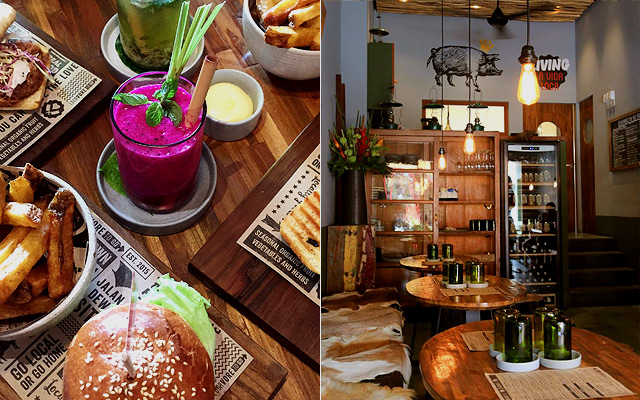 Locavore to Go
Jalan Dewisita Number 1, Ubud, Gianyar, Kabupaten Gianyar
Contact: +62 (0) 361-977-733
www.locavore.co.id/togo
Open for lunch from 12 p.m. to 2 p.m. (Tuesday to Saturday) and for dinner from 6:30 p.m. to 10 p.m. (Monday to Saturday)
ADVERTISEMENT - CONTINUE READING BELOW
While we have our own Locavore in Manila, Ubud's Locavore to Go is the perfect pit stop while making your way around Ubud. It's only a small reincarnation of the main Locavore restaurant (also in Ubud), but their carefully crafted gourmet burgers and sausages are a satisfying recharge you'll need for the rest of the day.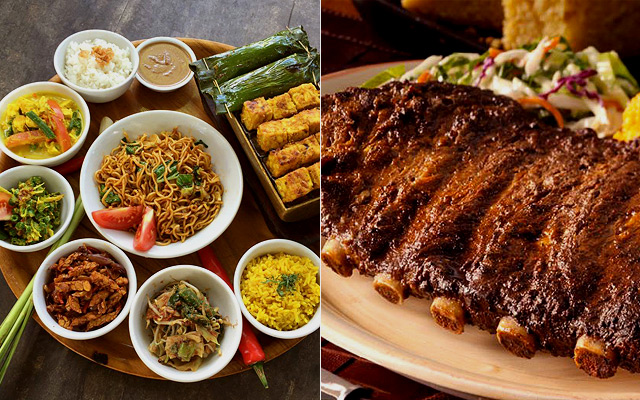 ADVERTISEMENT - CONTINUE READING BELOW
Warung Nia
Kayu Aya Village, Flea Market Utara, Seminyak, Jalan Kayu Aya, Seminyak, Kuta, Badung Regency
Contact: +62 (0) 877-6155-6688 (Whatsapp)
www.warungnia.com
Open daily from 10 a.m. to 10 p.m.
The best ribs in town aren't much of a secret, but it takes extra effort to look for this simple, no-frills restaurant. While their version of ribs isn't the fall-off-the-bone type that we're used to, rest assured that it has that Indonesian flavor that will have you coming back for seconds.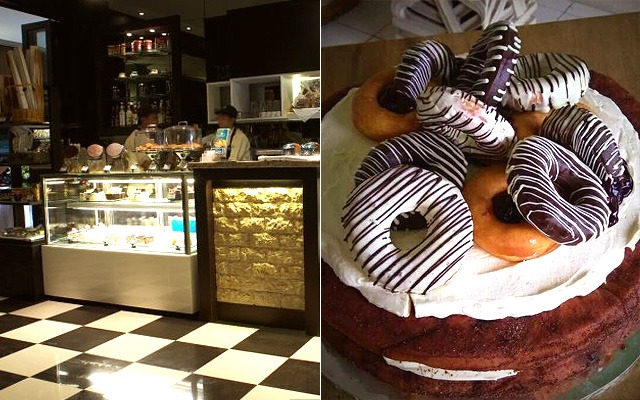 ADVERTISEMENT - CONTINUE READING BELOW
Bali Bakery and Café
Jalan Raya Kuta Number 65, Denpasar; Jalan Sudamala Number 26, Sanur; Jalan Hayam Wuruk Number 181, Tanjung Bungkak, Denpasar; Jalan Kayu Jati Number 1, Seminyak Square
E-mail: info@balibakery.com
www.balibakery.com
Open daily from 7:30 a.m. to 10:30 p.m.
There aren't a lot of pastry shops in Bali, but Bali Bakery and Café makes up for it. They have a good selection of cakes and sweet delicacies along with rice meals and pasta for those who want something savory.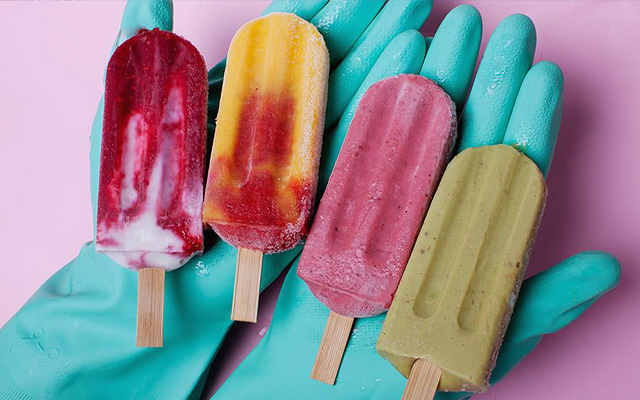 ADVERTISEMENT - CONTINUE READING BELOW
Mad Pops
Jalan Kayu Aya Number 48, Seminyak, Kuta, Kabupaten Badung
Contact: +62 (0) 8133-777-9122
E-mail: madpopsbali@gmail.com
www.madpopsbali.com
Open daily from 11 a.m. to 10 p.m.
Take a break from the scorching heat of the Balinese sun and grab a scoop or two at Mad Pops. They offer artisanal ice cream flavors made from fresh fruits that are sourced locally and they don't have added sugar or preservatives. Their healthy ice cream might just make you consider going vegan.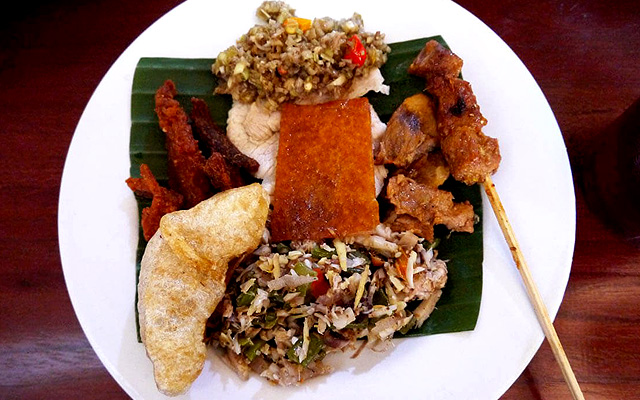 ADVERTISEMENT - CONTINUE READING BELOW
Babi Guling Pak Malen
Jalan Sunset Road Number 554, Seminyak, Kuta, Kabupaten Badung
Contact: +62 (0) 8510-045-2968
Open daily from 8:30 a.m. to 6:30 p.m.
Have you ever been to a carinderia with only one thing on the menu? Well, you might as well try it at Babi Guling Pak Malen. Their take on the roasted pork is so well-known that the small, unassuming restaurant is often included in tours of the city. Both locals and tourists alike find themselves full after their 40,000 rupiah lunch (P148). But you'll have to get there early because they're usually sold out before the end of the day.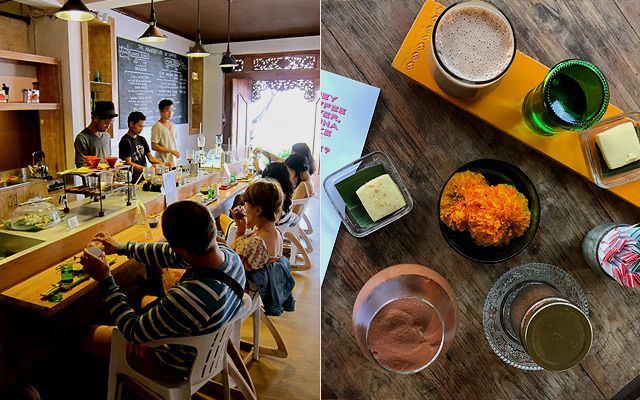 ADVERTISEMENT - CONTINUE READING BELOW
Seniman Coffee Studio
Jalan Sriwedari Number 5, Banjar Taman Kelod, Ubud
Contact: +62 (0) 6236-197-2085
E-mail: info@senimancoffee.com
www.senimancoffee.com
Open daily from 8 a.m. to 10 p.m.
As long as it's related to coffee, Seniman is the place to be. They process, roast, and even export coffee beans while also holding workshops about how to brew. You can experience their mastery of techniques from around the world in their shop in Ubud. Who says you have to be working to enjoy a good cup of coffee?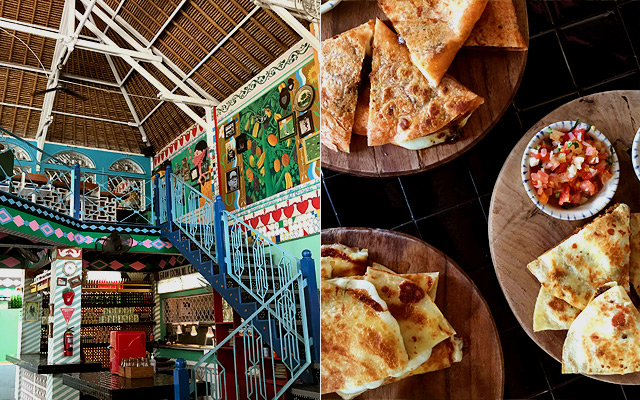 ADVERTISEMENT - CONTINUE READING BELOW
Motel Mexicola
Jalan Kayu Jati Number 9X, Seminyak, Kuta Utara, Kerobokan Kelod, Kuta Utara, Kabupaten Badung
Contact: +62 (0) 0361-736-688
E-mail: info@motelmexicolabali.com
www.motelmexicolabali.com
Open daily from 11 a.m. to 1 a.m.
Undoubtedly one of the most IG-worthy restaurants in Bali, Motel Mexicola also delivers when it comes to their food—a rarity nowadays. From their soft-wrapped tacos with a hint of crisp in the filling to their varied and tasty mains, you'll end up forgetting about that bikini body. If the benches outside seem a bit dusty during the day, that's because that's where people dance the night away when the sun goes down. So it's best to stay inside when dining, and outside when partying.
WHERE TO STAY
Before going to Bali, you have to first figure out the best area suited for you. Seminyak has the best restaurants and boutiques, a good nightlife scene, and a beach that's not that crowded. If you're the artsy type, Ubud is where museums and galleries are, along with green valleys and rice terraces. Kuta is most famous as a surfing mecca and as such, it's also popular for those who love partying all night. It's easy on the pocket, too. Denpasar, the capital of the province, is for those who want to live like a local and are eager to learn about history and culture. There are many more choices, like Nusa Dua, so there's definitely something for everyone.
ADVERTISEMENT - CONTINUE READING BELOW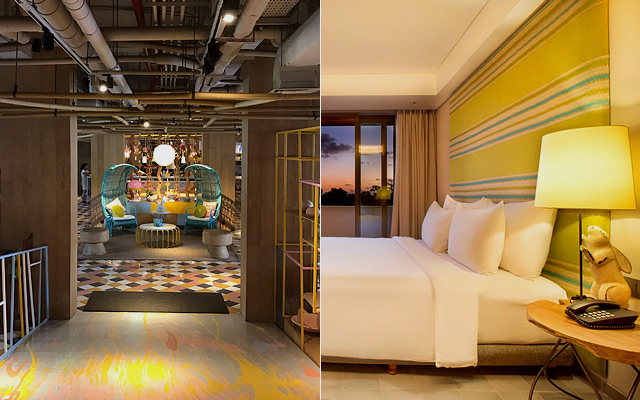 Tijili Seminyak
Jalan Drupadi Number 9, Seminyak, Kuta, Kabupaten Badung
Contact: +62 (0) 3614-741-888
E-mail: reservation@tijili-hotel.com
Rates start at P2,950++
Some boutique hotels use their stylish antics to get off the hook from being an accommodating hotel, but not Tijili. Every day, you'll come back to a fresh set of bed covers, bottles of complimentary water, and staff that will help you with every need—from a locked safe to plug adapters, to shuttle rides to the beach (even if it's just a five-minute walk away).
ADVERTISEMENT - CONTINUE READING BELOW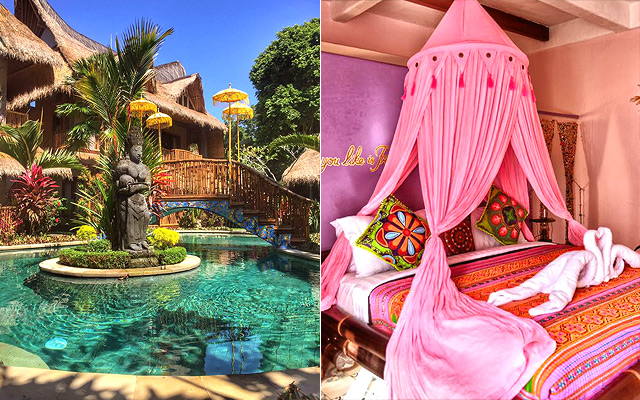 Bali Bohemia
Nyuh Kuning, Jalan Nyuh Bojog, Ubud, Kabupaten Gianyar
Contact: +62 (0) 361-978-631
E-mail: booking@balibohemia.com
www.balibohemia.com
Rates start at P2,630++
Live out your chic bohemian dreams in this quaint hotel that only has 11 rooms. They're located right behind the Ubud Monkey Forest, which is five minutes away from the city center. You won't need to get out of bed to feel like you're in Bali thanks to their colorful themed bedrooms.
ADVERTISEMENT - CONTINUE READING BELOW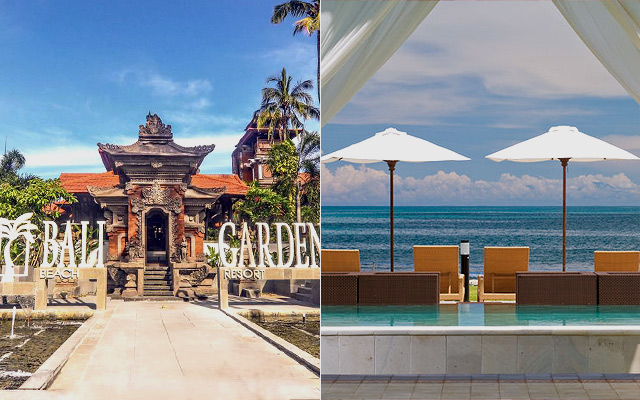 Bali Garden Beach Resort
Jalan Kartika, Kuta, Kabupaten Badung
Contact: +62 (0) 361-752-725
E-mail: info@baligardenbeachresort.com
www.baligardenbeachresort.com
Rates start at P7,800++
Make everything within walking distance when you stay at the Bali Garden Beach Resort. Here you'll be right at the beachfront and be close to shopping sites, restaurants, and the famous Waterbom Bali water park while being only five minutes away from the airport.
ADVERTISEMENT - CONTINUE READING BELOW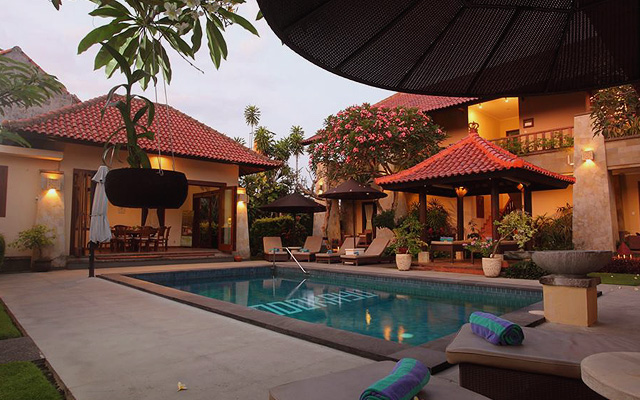 Pondok Ayu
Jalan Sekuta, Gang Pudak Number 3, Sanur, Denpasar Selatan, Sanur, Kota Denpasar
Contact: +62 (0) 361-284-102
E-mail: pondok@pondok.com.au
www.pondok.com.au
Rates start at P4,000++
Award-winning Pondok Ayu proves that you don't have to settle for less even if you're on a budget. The five rooms in the facility can be booked individually or you can rent out the entire hotel if you're a big group. Either way, your stay here will feel like home.
ADVERTISEMENT - CONTINUE READING BELOW
HOW TO GET AROUND
There are a lot of cabs in Bali. The only problem is looking for one that actually uses the meter. Most of them charge 100,000 rupiah (P380) no matter how near your destination is. Given this, you'll want to take an Uber or a GrabCar to get around the city. But then, ride-sharing apps are not allowed in Bali so the Uber and Grab drivers sneak around to get passengers. If you use Uber or Grab, the driver will most likely pick you up a bit farther than your pick-up point and drop you off before reaching your destination so as to not arouse suspicion. If you're up for the adventure, you can also rent a motorcycle to get around the city. Nearly everyone—from tourists to local students, use motorcycles to get where they want to go.
ADVERTISEMENT - CONTINUE READING BELOW
Pro tip: If you're going somewhere a bit farther from your area, you can rent a car for the day and pay the driver by the hour. Ask your hotel if they have any suggestions.
Share this story with your friends!
---
Help us make Spot.ph better!
Take the short survey
More Videos You Can Watch
Load More Stories