10 More Great Glamping Spots in the Philippines
Can't be bothered to pitch a tent? No problem.
(SPOT.ph) Glamping, a portmanteau of glamorous camping, is becoming more and more popular among tourists who want to experience a different kind of adventure. It's a good way to enjoy the great outdoors if you're not too excited about pitching your own tent or digging your own toilet. If you're still on the fence about roughing it up on your getaway, we found 10 more places for glamping in addition to the ones we found in 2016.
Feel like giving it a try? Then you're in for a treat as most of the ones listed here offer bigger and better tents!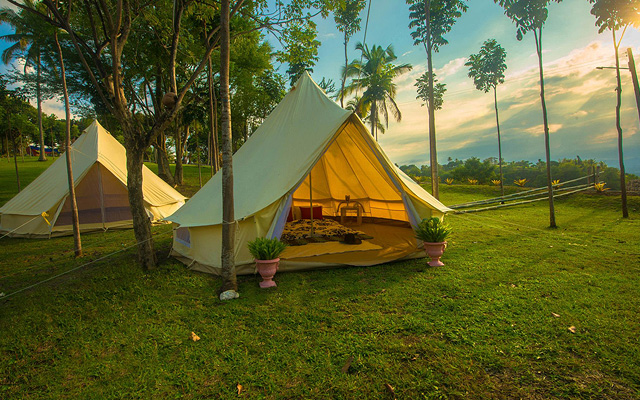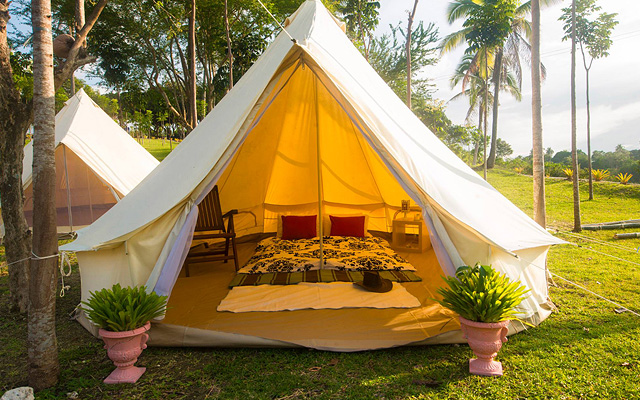 Ultra Winds Mountain Resort
CDO Convention Centre Access Road, Pualas, Baungon, Bukidnon
Contact: 0917-708-6215
E-mail: ultra_winds@yahoo.com
www.ultrawindsresort.com
Rates start at P999 for two pax
Ultra Winds Mountain Resort offers large safari tents that can fit up to five beds. Of course, you can opt to get just one big bed for a more intimate stay. Camping fee includes comfortable beddings and the use of any of the 15 shower rooms in the area, but you may have to pay extra for breakfast, access to the swimming pool, and other activities like horseback riding and zip lining.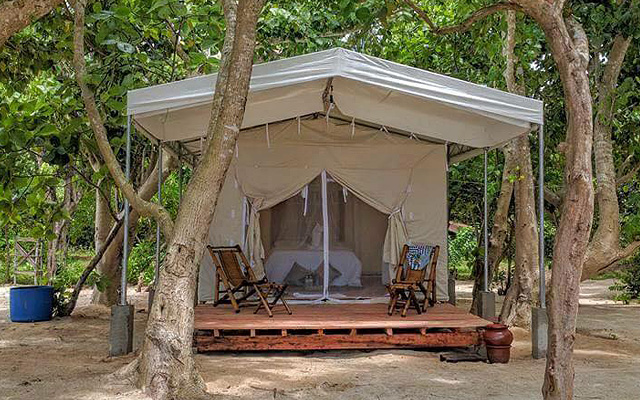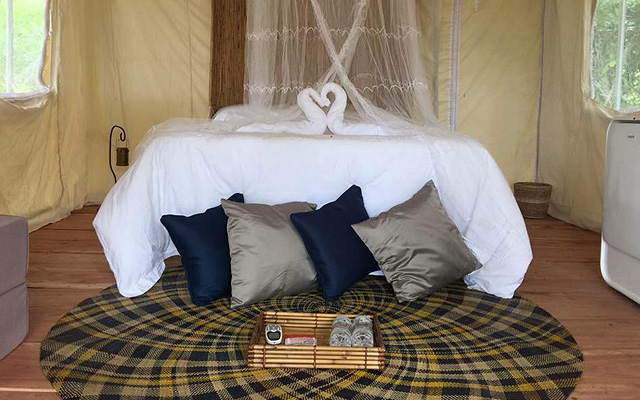 Sta. Ana Glamping and Camping Resorts
Anguib Beach, Santa Ana, Cagayan
Contact: 0917-805-6228
E-mail: staanacagayan16@gmail.com
www.facebook.com/staanaglampingandcampingresorts
Rates start at P5,500 for four pax
ADVERTISEMENT - CONTINUE READING BELOW
Anguib Beach, located on the northern tip of Cagayan Valley, is known as the "Boracay of the North" for its fine white sand and clear waters. What better way to experience this paradise than by roughing it (a bit) in a glamping tent at Sta. Ana Glamping and Camping Resorts? This accommodation is equipped with portable air-conditioning—how's that for comfort?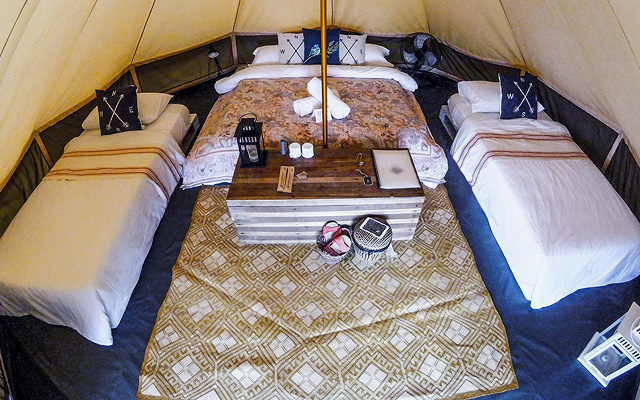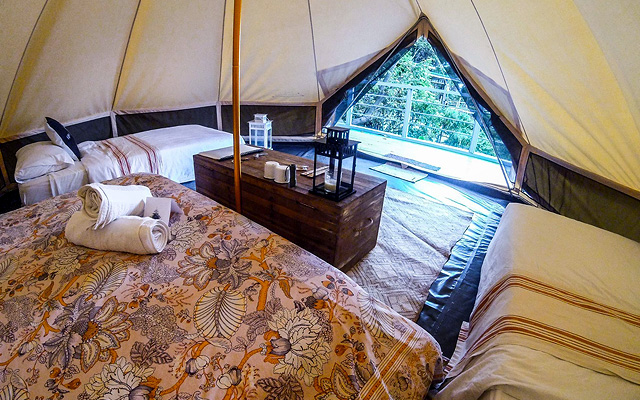 The Birdhouse El Nido
Maremegmeg Beach, Corong-Corong, El Nido, Palawan
Contact: 0920-606-1186
E-mail: thebirdhouseelnido@gmail.com
www.thebirdhouseelnido.com
Rates start at P5,000 for two pax
The Birdhouse El Nido lets you hide from the rest of the crowded island in its hillside property. You may have to walk up 150 steps to get to the luxury tents (a.k.a. nests), but you won't mind that once you see the beautiful view of Bacuit Bay. Accommodation includes a five-meter tent sitting on a seven-square meter platform with a large outdoor balcony space and private bathroom, queen-sized mattresses, a fan, and complimentary breakfast.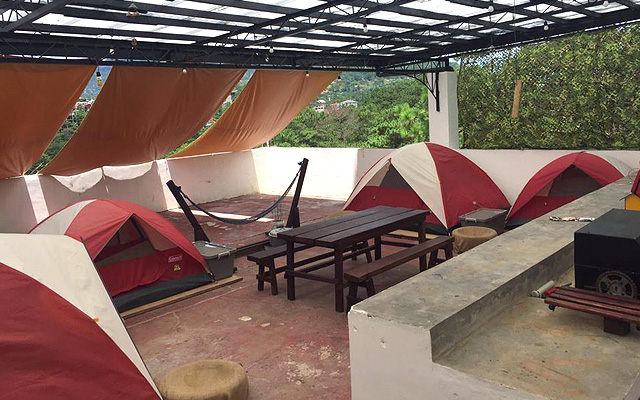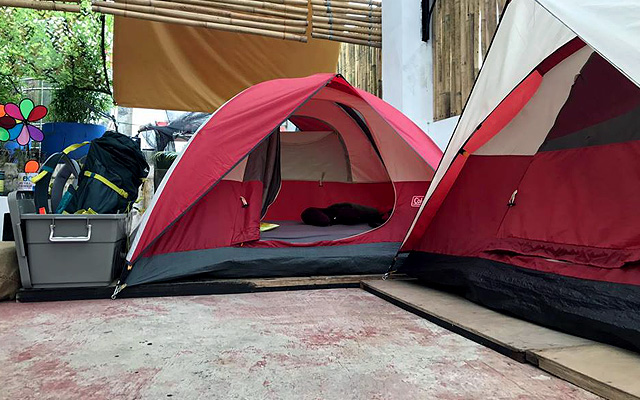 B.Glamp
B34 Chapis Village, Baguio City
Contact: 986-4534
E-mail: b.glamp34@gmail.com
www.facebook.com/BGlampHQ
Rates start at P720/person
B.Glamp takes credit for offering the Philippines' first urban rooftop glamping service. Its tents sit on the roof deck of a local bed and breakfast in the outskirts of Baguio City. Aside from rows of sundome tents, the campground has hammocks and benches where backpackers can enjoy the chilly weather.
ADVERTISEMENT - CONTINUE READING BELOW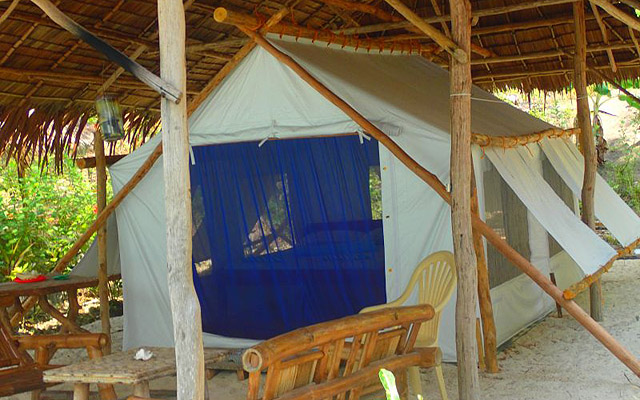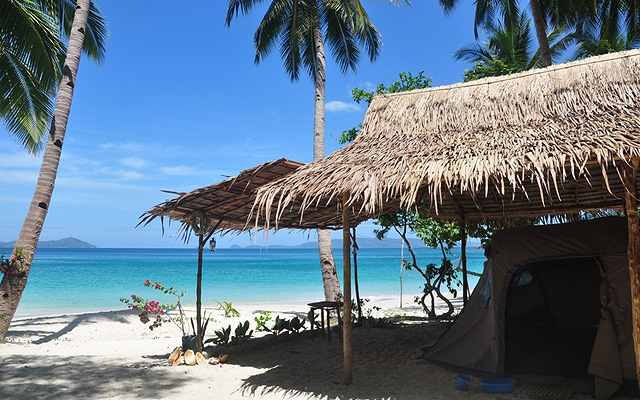 Thelma and Toby's Island Camping Adventure
Port Barton, Palawan
Contact: 0999-486-3348
E-mail: palawancamping@gmail.com
www.palawancamping.com
Rates start at P1,600/person
Port Barton in Palawan is not as popular as El Nido or Coron so expect an undisturbed stay when you're at Thelma and Toby's Island Camping Adventure. Large tents are pitched under a thatched roof to keep rain away. You also have your own hammocks and dining tables for when you want to share a home-cooked meal prepared by the owners. Rates are inclusive of three meals and access to all sports activities in the resort, such as kayaking and offshore snorkeling trips.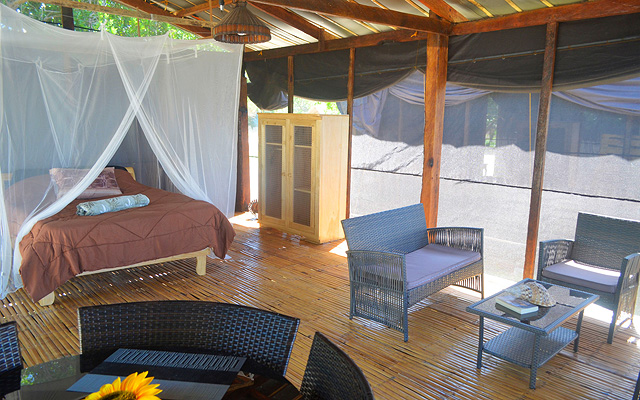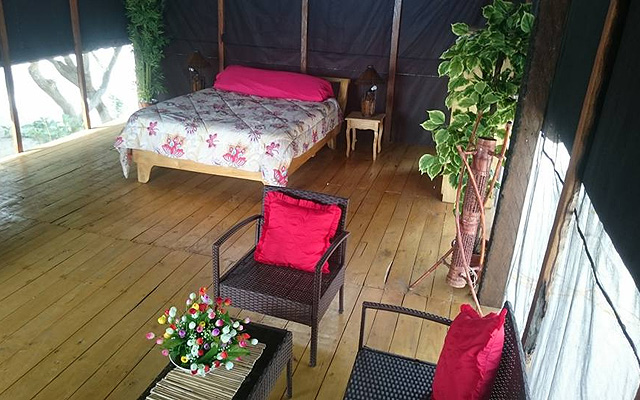 Tablas Point
Tablas Point, Agnamic, Sante Fe, Romblon
Contact: 0998-532-4149
E-mail: info@tablaspoint.com
tablaspoint.com
Rates start at P4,500
Tablas Point brings glamping to a whole new level by using open-air safari tents that house canopy beds, a dining area, and a terrace. The family-friendly tent even has its own outdoor shower and tent, with a complete set of toiletries. Laundry service and housekeeping are included in the camping fee. If you need a nanny to look after the little ones, you can request one at the front desk.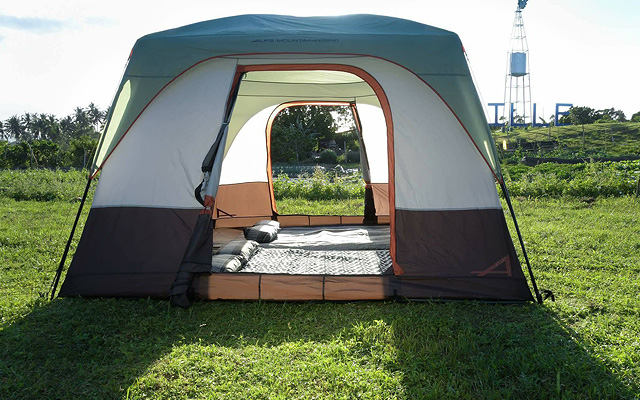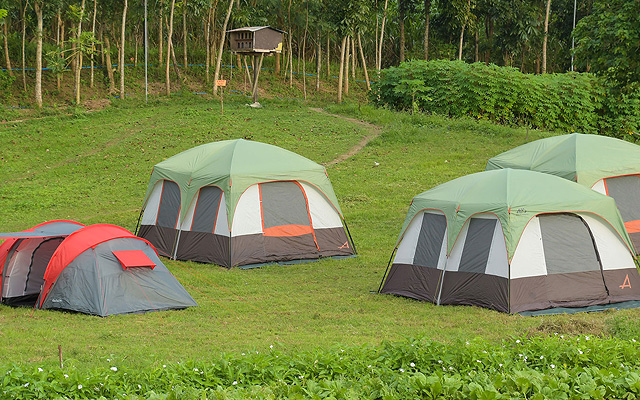 Taal Maranan's Farmville
Iba East, Taal, Batangas
Contact: 0917-309-7879
E-mail: admin@taalmaranansfarmville.com
taalmaranansfarmville.com
Rates start at P1,200 for four pax
Taal Maranan's Farmville, the town's first organic farm, has been around for over 10 years. As part of its mission to raise awareness about sustainable farming, the farm resort now offers a glamping option to guests. You also get to enjoy delicious meals with ingredients that are freshly harvested. Pets are allowed at Taal Maranan's Farmville so you don't have to worry about leaving your furbabies behind.
ADVERTISEMENT - CONTINUE READING BELOW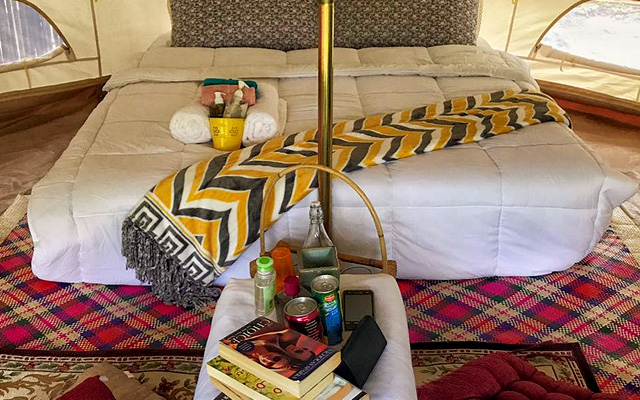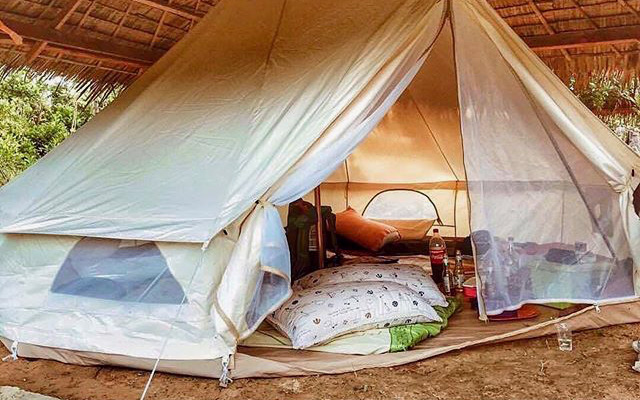 Cabanas de Nacpan Camping Resort
KM 18, Sitio Loblob, Pasedeña, El Nido, Palawan
Contact: 0926-694-8994
E-mail: cabanasdenacpan@gmail.com
www.facebook.com/cabanasdenacpan
Rates start at P2,400 for two pax
El Nido's newest camping resort offers a peaceful respite near the popular twin beaches of Nacpan and Calitang. Aside from comfortable beds and pillows, guests of Cabanas de Nacpan are also allowed to use the resort's motorbike—the best way to tour the island and its many sights. In the evening, you can sit by the bonfire and nurse a bottle of beer while enjoying the view of the night sky.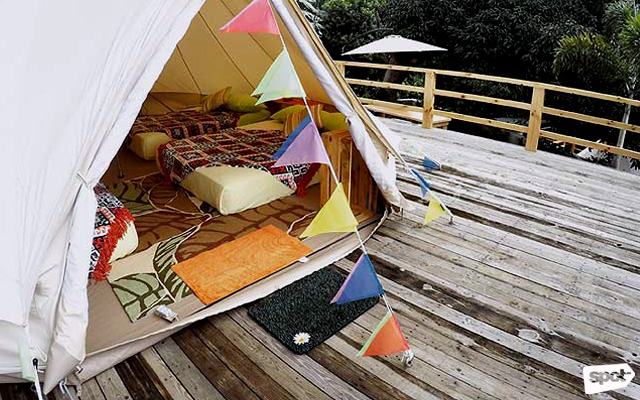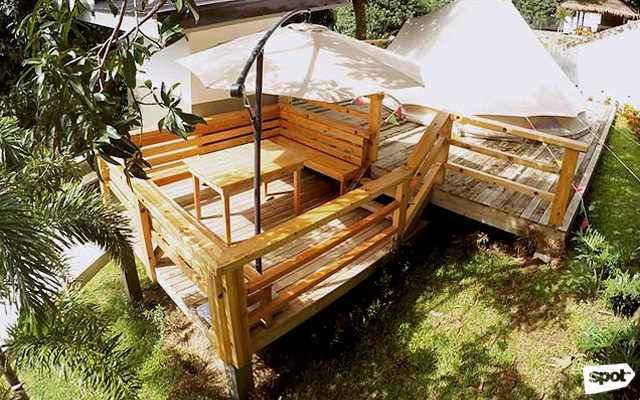 JM Katigbak Street, Alangilan, Balete, Batangas
Contact: 645-3092
E-mail: nayomiresort@gmail.com
nayomiresort.com
Rates start at P8,600 for six pax
Like Birdhouse El Nido, Nayomi Sanctuary Resort's glamping tents sit on their own expansive decks made of pine wood to provide privacy. Each station also has its own lounge area and bathroom so you don't have to worry about queuing up for a shower. You can take a dip in their swimming pools or book a tour of Taal Volcano after a good night's sleep in their hip and colorful beds.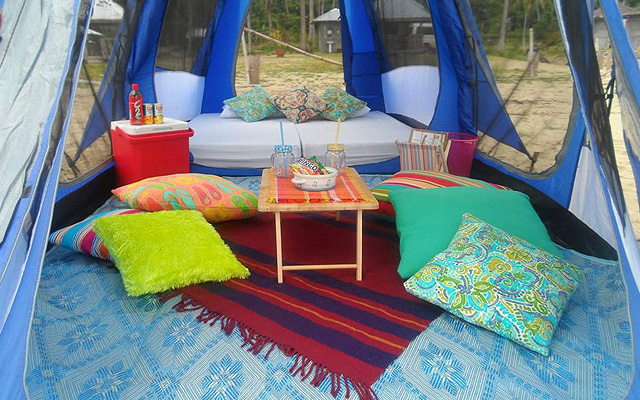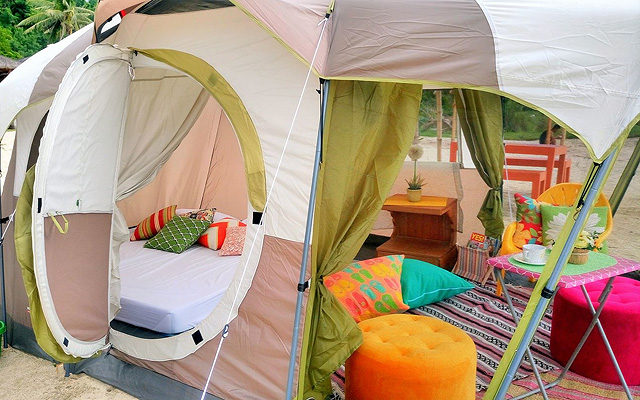 Dinadiawan, Dipaculao, Aurora
Contact: 0995-624-2280
www.facebook.com/sandandstarsdinadiawan
Rates start at P1,500 for two pax
Sand and Stars has everything you need if you're looking for some peace and quiet. It's an hour-and-a-half away from Baler, which has been drawing crowds since its surf spot became popular among Manileños. Aside from offering a vast beach strip that gives an unobstructed view of the stars at night (thus the name), the resort features tents with mattresses, pillows, a solar-powered lamp, a rechargeable fan, and electric sockets. The camp fee also comes with complimentary breakfast and welcome drinks.
ADVERTISEMENT - CONTINUE READING BELOW
Load More Stories