10 Instagram-Worthy Spots in South Korea
For your #aesthetic.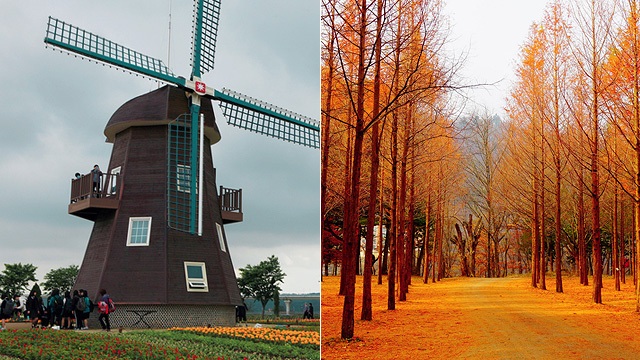 (SPOT.ph) A trip to South Korea means hoarding a whole bunch of K-Beauty and skincare products, eating savory street food, filling up on KBBQ, and maybe buying K-Pop and K-Drama merch in between. But beyond all the great food and shopping finds, South Korea is also full of picture-perfect spots that'll make great additions to your Instagram feed. So, you better make sure your phones and cameras have enough memory, because we list down 10 places around South Korea where you're sure to take countless pics.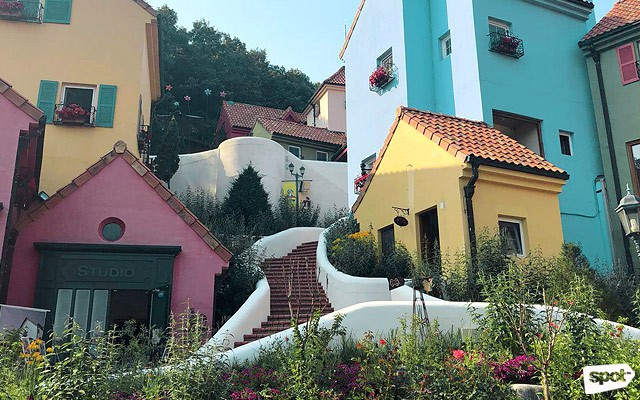 Petite France
1063 Hoban-ro, Cheongpyeong-myeon, Gapyeong-gun, Gyeonggi-do
www.pfcamp.com
Fee: KRW 10,000
Open from Sunday to Thursday (9 a.m. to 6 p.m.) and Friday to Saturday (9 a.m. to 8 p.m)
If you have that pastel #aesthetic going on in your feed, you only have to head to Petite France to get all the photos you need. The theme park features light-colored buildings that recreate the look of French homes and village culture, complete with music boxes and paintings. When you walk around, you'll also find a small replica of the Eiffel Tower as well as murals and monuments dedicated to Antoine de Saint-Exupéry's The Little Prince.
How to get there: From the Cheongpyeong or Gapyeong Station, get on the bus going to the Gapyeong Tourist Attraction. From the Cheongpyeong or Gapyeong Station, you can also walk to the Cheongpyeong terminal and get on the bus to Goseong-ri.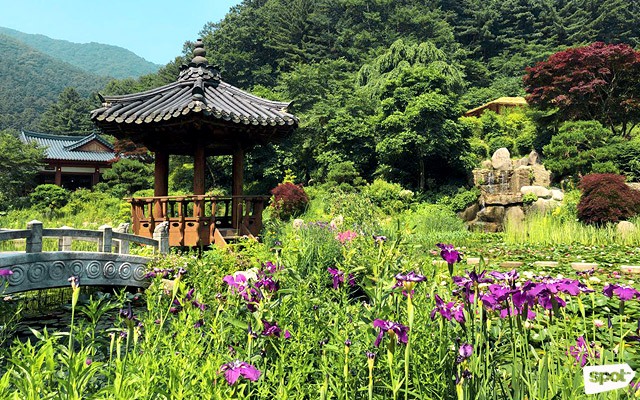 Garden of Morning Calm
ADVERTISEMENT - CONTINUE READING BELOW
432 Sumogwon-ro, Sang-myeon, Gapyeong-gun, Gyeonggi-do
www.morningcalm.co.kr
Fee: KRW 9,500
Open on weekdays from 10 a.m. to 4 p.m. and on weekends and public holidays from 10 a.m. to 5 p.m.
No matter what time of the year you visit the Garden of Morning Calm, you can expect beautiful sights on the sprawling 30,000 square meters of land—which actually only used to be a private garden when it opened in 1996. Take a walk around and you'll see that every corner is picture-perfect, with lots of pathways lined with bright, colorful flowers—one even leads to a small chapel on top of a hill. In the spring, the flowers start to blossom and in summer, the trees are greener and the flowers become more vibrant. The trees turn yellow and red as autumn takes over and in winter, the garden is covered in colorful lights, making the night views just as spectacular.
How to get there: From the Cheongpyeong Station, walk to the Cheonpyeong Bus Terminal and take Bus 31-7 to the Garden of Morning Calm. You can also take the Gapyeong City Tour Bus.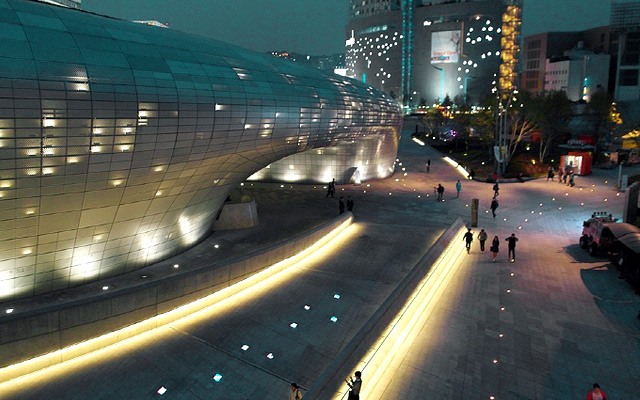 Dongdaemun Design Plaza
281 Eulji-ro, Jung-gu, Seoul
www.ddp.or.kr
Open on Tuesday to Sunday (10 a.m. to 7 p.m.) with extended hours on Wednesday and Friday (10 a.m. to 9 p.m.)
Though DDP primarily stands for Dongdaemun Design Plaza, it also means Dream, Design, Play—as embodied by the beautiful building that was designed by renowned architect Zaha Hadid. You don't even have to go inside the building for it to be IG-worthy, as the structure's grand, futuristic design will already leave you in awe. But if you do go inside, you'll also find performances, exhibits, and galleries (with their own entrance fees) as the building also serves as a hub for artists and designers to display their works.
ADVERTISEMENT - CONTINUE READING BELOW
How to get there: Take the train or the bus going to the Dongdaemun History & Culture Park Station.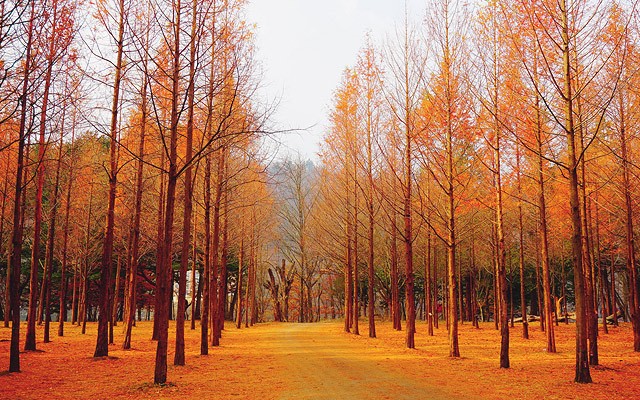 Nami Island
Namiseom-gil, Chuncheon-si, Gangwon-do
www.namisum.com
Fee: KRW13,000
Open daily from 7:30 a.m. to 9:45 p.m.
Famous for its towering trees, Nami Island is actually a republic of its own—they even have their own currency! You need a "visa" to get to the island and there are two ways to enter: By ferry or by going on a 90-second zipwire from the mainland to the island itself. K-Drama fans would know that the island is also famous for being the shooting location of Winter Sonata. Once there, you'll find many tree lanes that are perfect backdrops to your photos. You have the Metasequioa Tree Lane, the Cherry Tree Lane, the Korea Pine Tree Lane, and the White Birch Lane or the Tulip Tree Lane. The Ginkgo Tree Lane is famous for its bright yellow leaves that cover the ground during the autumn season. For something a bit different, you'll also find the Red Woods Lane lining the wooden walkways by the waters of the Southeastern shore.
How to get there: From the Gapyeong Station, walk to or take a cab to the ferry wharf.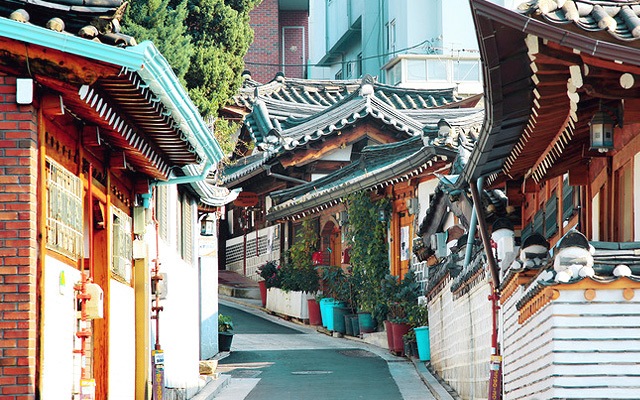 Bukchon Hanok Village
37 Gyedong-gil, Jongno-gu, Seoul
www.hanok.seoul.go.kr
In the midst of Seoul's towering glass buildings and modern complexes, the Bukchon Hanok Village is the only place in the city with hundreds of traditional Korean houses. They were built over 600 years ago during the Joseon dynasty. You can take photos of the houses—with their wooden beams, iron roofs, and stone blocks—while also learning about Korean traditions and culture because most of them serve as restaurants, museums, workshops, and cultural centers for tourists and locals.
ADVERTISEMENT - CONTINUE READING BELOW
How to get there: Take the train going to Anguk Station then walk to the Bukchon Hanok Village. You can also take the bus and get off at the Bukchon Hanok Village bus stop.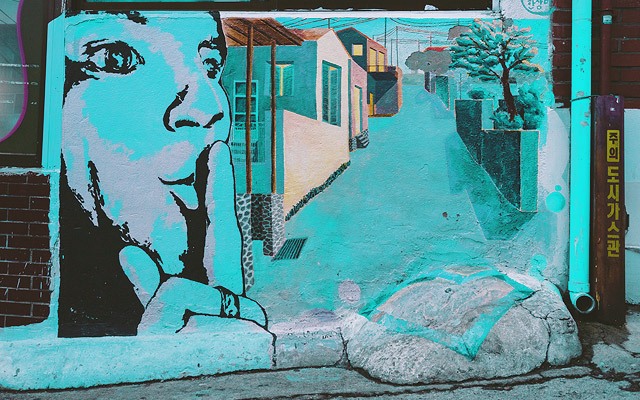 Ihwa Mural Village
6-18 Ihwa-dong, Jongno-gu, Seoul, South Korea
It's hard to believe that this artsy neighborhood started out as a suburb that was about to be demolished. Thanks to a campaign that invited artists to install art and paint murals around the village, tourists started to take notice. Now, over a hundred artists' works can be found painted on the walls and on the tiled staircases, as well as interactive installations. Just make sure to not disturb the locals while you're there, because it's still a residential area, no matter how IG-worthy it is.
How to get there: Take the train going to Hyehwa Station then walk to Naksan Park.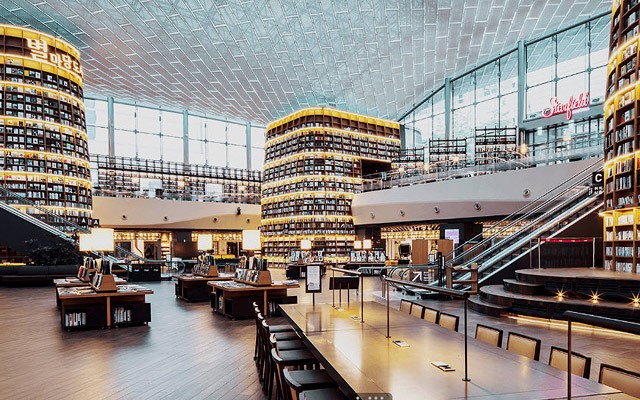 Starfield Library
513 Yeongdongdaero, Gangnam-gu, Seoul
www.starfield.co.kr
Fee: Free
Open daily from 10:30 a.m. to 10 p.m.
A library might not be something you'd expect to find in a huge shopping complex, but the Starfield Library is an actual place located at the Starfield Coex Mall in Gangnam. You can spend hours on end poring through pages of books or attending book readings, talks with artists, and lectures—but not before you take a few photos of the impressive 13-meter-high shelves stocked with over 50,000 (!) books. The best part is, you can enjoy all the amenities—including iPads for reading e-books—for free.
ADVERTISEMENT - CONTINUE READING BELOW
How to get there: There is a passageway to Coex Mall directly connected to the Samseong Station. You can also take a train to Cheongdam station then walk to ASEM Square connected to Coex Mall.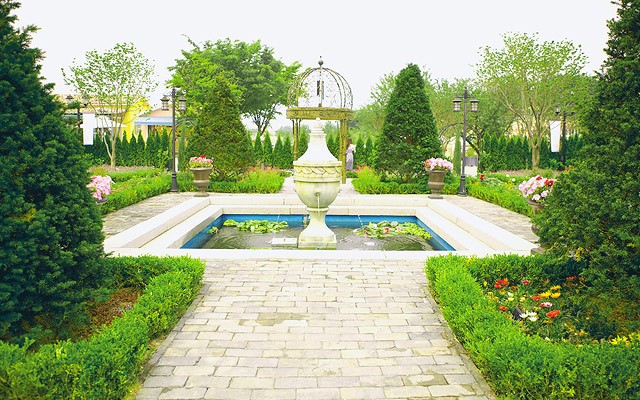 Provence Village
69 Saeori-ro, Tanhyeon-myeon, Paju-si, Gyeonggi-do
www.provence.town
Fee: Free
Open daily
The quaint and charming Provence Village all started from a French restaurant that opened in 1996. Since then, bright, pastel-hued stores popped up in the surrounding area and a whole village with different kinds of establishments being built. All of the stores in the neighborhood actually help each other out—for example, the tableware used in the cafes come from the art studio, and the décor is made by the Living Gallery. While you shop around the trendy fashion stores, make sure to strike a pose by some of the murals painted on the walls or by the pockets of green around the village.
How to get there: From the Hapjeong Station, take Bus No. 2200 and get off at Seongdong Intersection bus stop.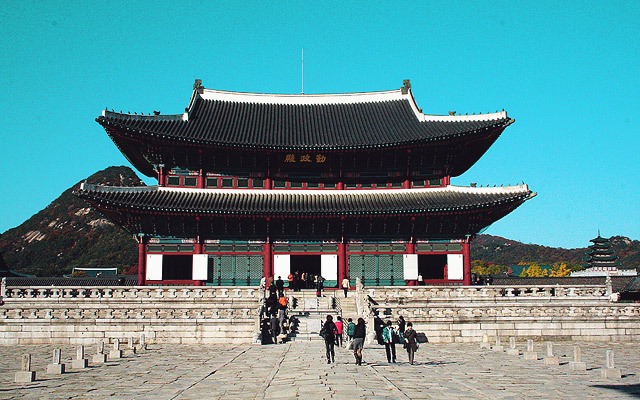 Gyeongbokgung Palace
161 Sajik-ro, Jongno-gu, Seoul
www.royalpalace.go.kr
Fee: KRW 3,000
Open daily from 9 a.m. to 5 p.m. except on Tuesdays
There are five grand palaces located in Seoul, but the biggest—and arguably the most beautiful—is the Northern Palace, or the Gyeongbokgung Palace. Though it was once ravaged by a fire, then abandoned in the 1500s, all of the buildings around the palace area were restored by the late 1850s. Today, its symmetric central building and its large courtyard are popular with tourists who want to take a photo while wearing the traditional hanbok.
ADVERTISEMENT - CONTINUE READING BELOW
How to get there: Take the train to the Gyeongbokgung Station or to the Anguk Station.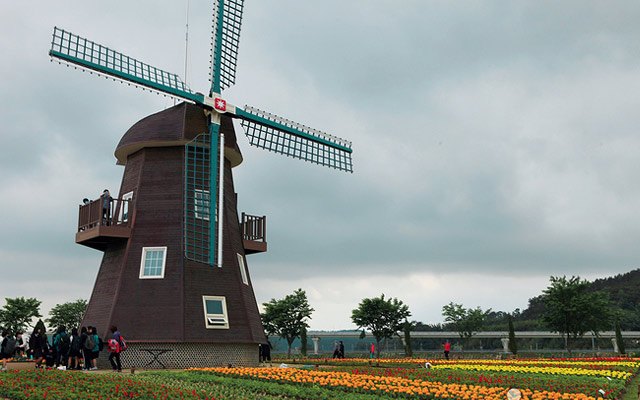 Suncheonman Bay National Garden
47 Gukgajeongwon1ho-gil, Suncheon-si, Jeollanam-do
www.scgardens.or.kr
Fee: KRW 8,000
Open daily from 8:30 a.m. to 6 p.m.
The vast Suncheonman Bay National Garden boasts over 860,000 trees and 650,000 autumn flowers, like sunflowers, roses, and cosmos—which means you won't be running out of scenic spots to snap. One of the areas, the World Garden, consists of smaller gardens that are designed after different countries. The Dutch Garden features a windmill and tulips while the Italian garden takes inspiration from villas in Pompeii. You might also catch the huge field of yellow canola flowers in full bloom if you visit in May.
How to get there: From the Seoul Central City Bus Terminal, take a bus to Suncheon Bus Terminal then take the Green Bus No. 101 and get off at Suncheon Bay Garden bus stop.
Load More Stories