(SPOT.ph) The beautiful island of El Nido in Palawan continues to be a favorite spot for many travelers. It's rare (if not impossible) for a seasoned wanderer to not have it on their top favorite places in the world. But just how spectacular is this tropical paradise?
Here are a few picks for the most beautiful places to see—from jagged limestone ciffs to white-sand beaches, restaurants to check out, and options for comfortable accommodations.
Where to Go
There are currently four island-hopping tours offered in El Nido. The most popular one is Tour A as it focuses on El Nido's most beautiful lagoons and a couple of beaches. Tour B, on the other hand, will bring you to caves and some beaches. Tour C is also a popular tour with amazing snorkeling spots, white-sand beaches and the Matinloc Shrine. Tour D is the least popular but the Cadlao Lagoon is definitely worth seeing. If you don't have enough time to avail all tours, consider doing a combination tour so you can choose to only visit the highlights of each.
ADVERTISEMENT - CONTINUE READING BELOW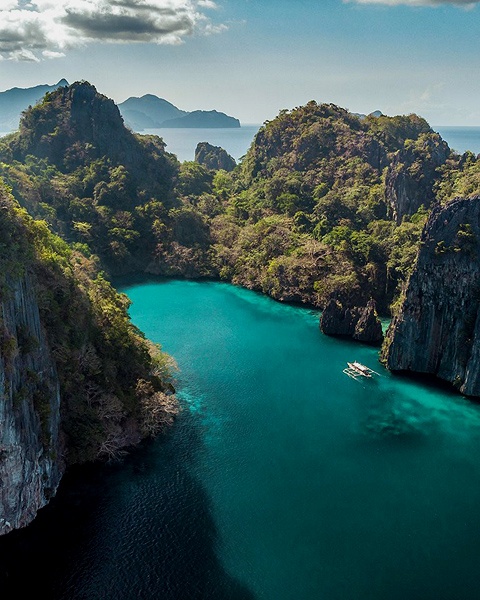 Big Lagoon
The imposing limestone cliffs will welcome you as you enter the lagoon and the view, without exaggeration, is whimsically magical. The karst formations are surrounded with gradient shades of clear, blue-green waters perfect for a refreshing swim. Boats can't access the Big Lagoon during low tide so you'll have to rent a kayak. Its unspoiled beauty definitely lives up to the hype.
ADVERTISEMENT - CONTINUE READING BELOW
Recommended Videos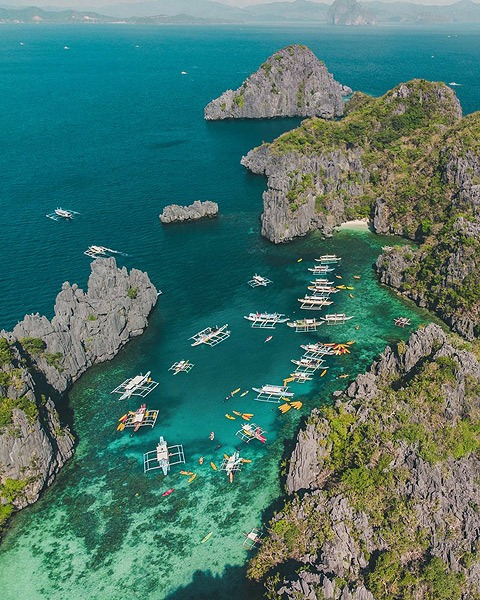 Small Lagoon
The Small Lagoon is accessible through a narrow gap between two big limestone rocks. It's best explored with a kayak (around P400 for two people) so you can squeeze in through the narrow opening and check out hidden caverns. There's also a small sea cave towards the back of the lagoon where you can swim. This spot is so tranquil especially because there are no boats, allowing travelers to take their time and marvel in its jaw-dropping splendor.
ADVERTISEMENT - CONTINUE READING BELOW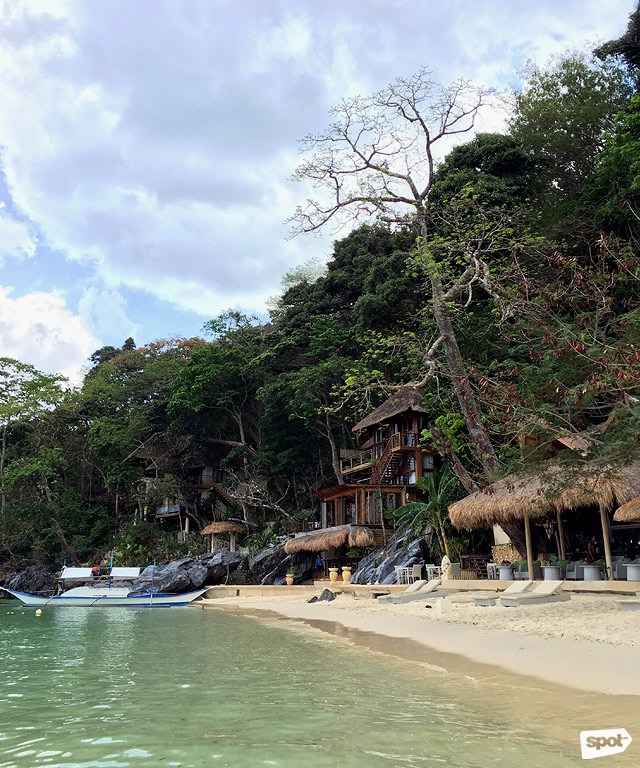 Seven Commandos Beach
Seven Commandos is one of the most popular beaches in El Nido. Its velvety white sand simply lures you to lie down, soak up the sun, and listen to the crashing of the waves. The calm turquoise water is also perfect for snorkeling and kayaking. It's usually the last stop of Tour A and it's the perfect place to just chill (fresh coconut juice on hand!) before going back to El Nido town proper.
ADVERTISEMENT - CONTINUE READING BELOW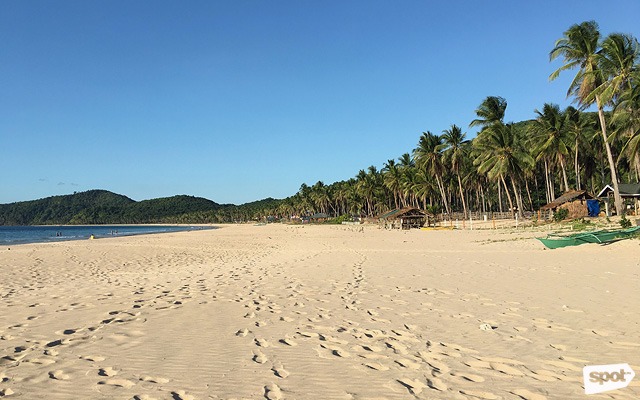 Nacpan Beach
There's not much to do in this golden-hued beach other than to laze around—but you'll love it exactly for that. The vibe is laidback with coconut trees dotting the shoreline and only a few establishments in sight. Nacpan Beach is part of the famed twin beaches of El Nido (the other being Calitang Beach) and if you walk to the southern end of the beach and go up a lush green hill, it will give you a spectacular view of both beaches.
ADVERTISEMENT - CONTINUE READING BELOW

Taraw Cliff
If you want to see the breathtaking bird's eye view of El Nido, Taraw Cliff should be on your list. It's not for the faint-hearted, though, as it sometimes requires complete vertical climbing on jagged limestone. On an average, it will take at least an hour but the view on top is nothing short of magnificent. Another alternative for the inexperienced climbers is the Canopy Walk. It still comes with some challenges—like the 75-meter bridge suspended 30 meters above ground, among others—but it's definitely safer.
ADVERTISEMENT - CONTINUE READING BELOW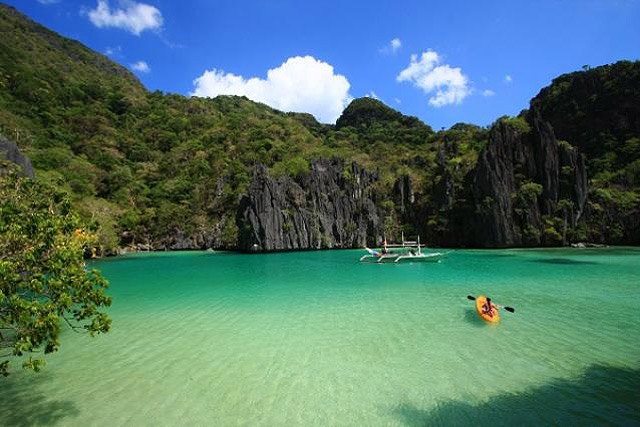 Cadlao Lagoon
It's probably one of the most overlooked destinations in El Nido but this spot is not to be missed. The place is simply enchanting with towering limestone formations surrounding the lagoon, lush forest, and crystal-clear waters. There are also areas where you can snorkel to see corals and different colorful marine life.
ADVERTISEMENT - CONTINUE READING BELOW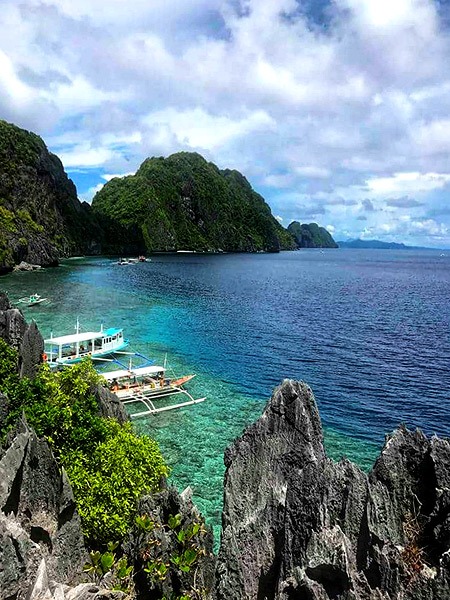 Matinloc Shrine
This abandoned site was built in 1982. Aside from the shrine, there's also a mini-museum that tells the story behind it. It was said that after the completion of the dome-shaped structure, a bountiful harvest happened. While it may be a spiritual oasis for some, most tourists actually go here to check out the enchanting view of the neighboring islands.
ADVERTISEMENT - CONTINUE READING BELOW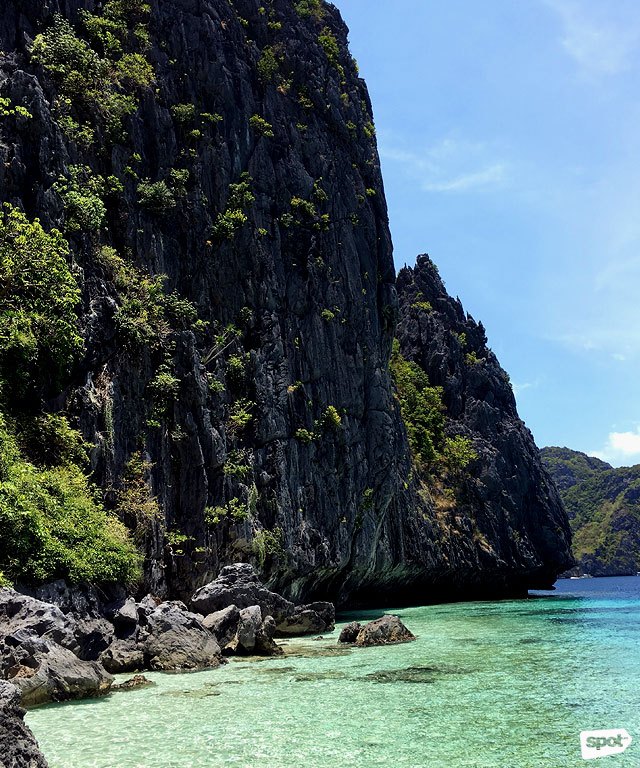 Ipil Beach 
Some tourists prefer to go to this island through kayaking. It's filled with palm trees (perfect to hang a hammock on!) and the white sand is the perfect bed if you just want to enjoy the serene environment. The water here is clear and shallow—ideal for a refreshing dip anytime of the day. Other activities you can do here when you're not busy admiring the beauty of nature include volleyball and table tennis.  
ADVERTISEMENT - CONTINUE READING BELOW
Where to Eat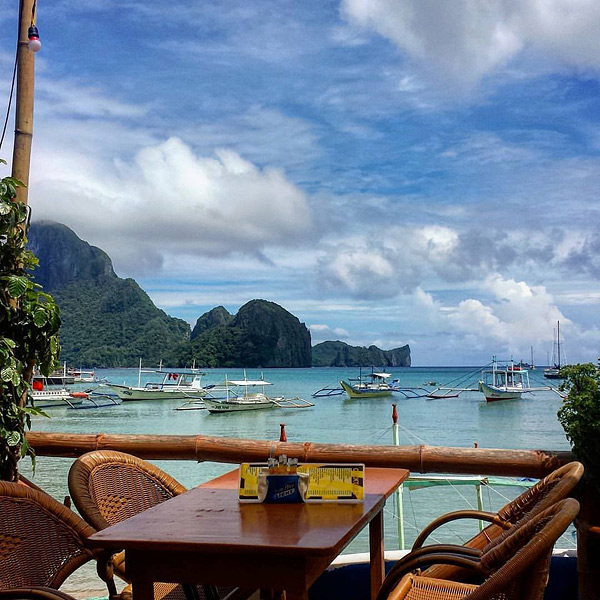 El Nido Boutique & Artcafé
Serena Street, Barangay Buena Suerte
www.elnidoboutiqueandartcafe.com
Open daily from 6:30 a.m. to 11 p.m.
It's called an art café for a reason. Everywhere you look, you'll see beautiful paintings and interesting trinkets. This restaurant offers an extensive and hearty breakfast menu, from pancakes, omelettes, and crepes to classic Filipino dishes. They make their own bread and brew their own coffee but don't miss their homemade yoghurt. At night, the café transforms into a more vibrant place where people can drink while enjoying live music. They're known for their pizzas and pastas, too, but if you're a dessert person, you'll definitely enjoy an order of pineapple upside-down cake or their best-selling chocolate and mango tarts.
ADVERTISEMENT - CONTINUE READING BELOW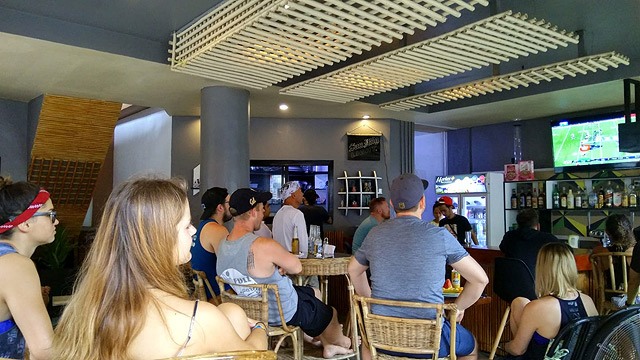 Squidos Sports Bar
Calle Hama, Barangay Masagana
Open 24/7
Squidos may be a small and unassuming place but the food options are extensive. Aside from their best-selling grilled stuffed squid, some of the must-tries include their massive seafood platter and seafood curry. Many travelers go to this native-style restaurant because it's cozy and the prices are relatively cheap. They also have an overlooking deck with a beautiful view of El Nido if you go during daytime.
ADVERTISEMENT - CONTINUE READING BELOW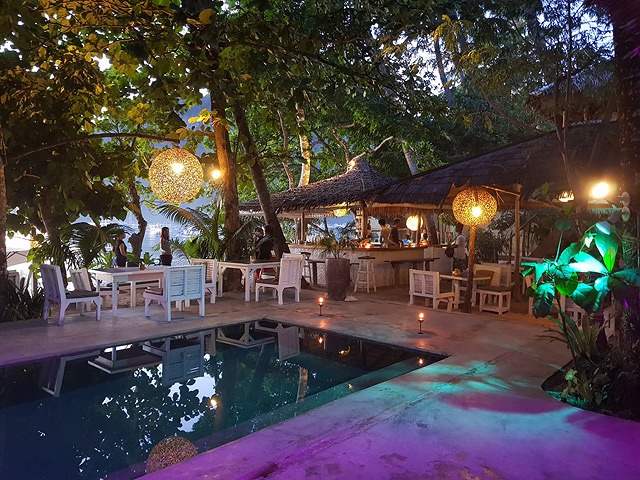 La Plage Sunset Bar & Restaurant
Barangay Corong-Corong
Open daily from 12 p.m. to 12 a.m.
This restaurant is one of the most famous places to score French cuisine on the island. It's located right in front of the beach and the main highlight here, if not the food, is the ambience—it showcases an amazing view of the sunset. Try their Pistou Pasta or Seafood Pasta, then cap off with an a plate of Mango Crumble. After your meal, head to one of the hammocks on the floating raft and order yourself a drink.
ADVERTISEMENT - CONTINUE READING BELOW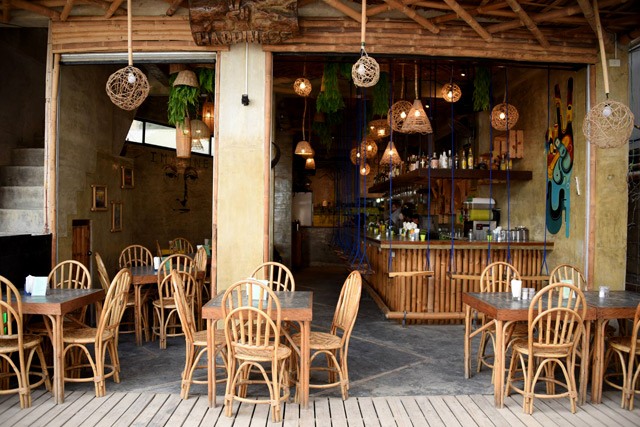 Happiness Beach Bar
Serena Street, Barangay Buena Suerte
www.happinessbeachbar.com
Open daily from 7 a.m. to 12 a.m.
There's not a lot of vegan options in El Nido but this dining destination is becoming a go-to even for non-vegetarians. The vibe is very hip and the swing seats at the bar complements the cool and fun atmosphere. Make sure to try their Hummus Falafel. For dessert, order the Malabi, which is made with coconut cream and strawberry syrup. At night, you can enjoy amazing cocktails while listening to upbeat music.
ADVERTISEMENT - CONTINUE READING BELOW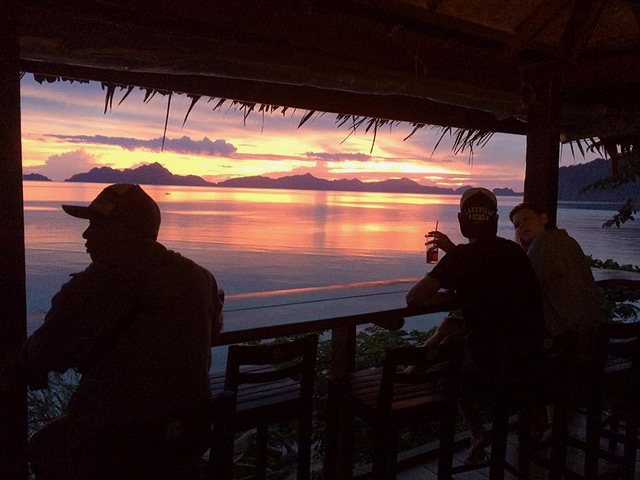 Republica Sunset Bar
Sitio Lugadia, Barangay Corong-Corong
Open daily from 2 p.m. to 10 p.m. 
Republica Sunset Bar is a lovely spot for traditional Spanish tapas and paellas. The place is pretty small and intimate with only a couple of tables. After sundown, people stay for their cocktails, awesome house music, and chill atmosphere. 
ADVERTISEMENT - CONTINUE READING BELOW
Where to Stay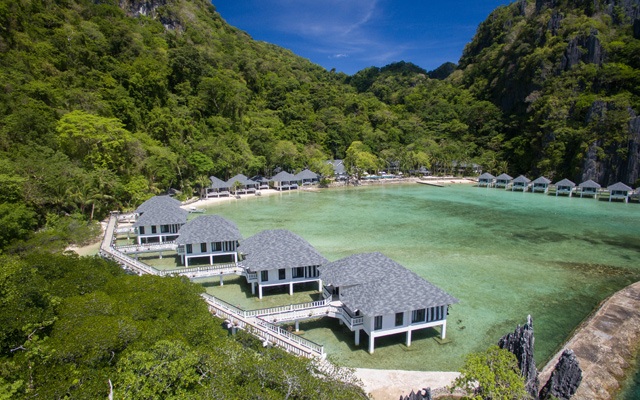 El Nido Resorts
Contact: 0917-584-1576
E-mail: holiday@elnidoresorts.com
www.elnidoresorts.com
Rates start at P27,000
If you're into luxury island accommodations, Apulit Island, Miniloc Island, Lagen Island, and Pangalusian Island are just some of the best places to stay in El Nido. Each one has its own charm. Apulit in Taytay is an eco-adventure island perfect for thrill seekers while Miniloc is famous for its Filipino coastal village vibe with native design. Lagen, on the other hand, is an eco-sanctuary island surrounded with lush forest, and Pangalusian in Bacuit Bay is known for its pristine white-sand beach with a tropical forest as backdrop.
ADVERTISEMENT - CONTINUE READING BELOW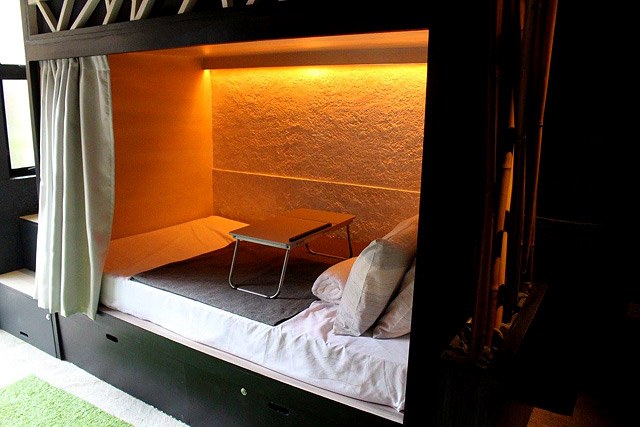 The Cavern Pod Hotel & Specialty Café
527 National Highway, Barangay Corong-Corong
Contact: 0906-514-7456
E-mail: thecavern.customercare@gmail.com
www.thecavernelnido.com
Rates start at P880/head
The interiors of The Cavern Pod Hotel are well-planned with wooden and stone accents. The rooms are cozy and spacious and each bunk bed has a curtain for privacy, which is useful when you're sharing a room. Every detail here makes the guest's stay as pleasurable as possible. Little details like having a separate changing room, bed tray for laptops or books, as well as the storage under the bed for bottom bunks and under the stairs for upper bunks really make the difference. Also, everyone raves about their coffee!
ADVERTISEMENT - CONTINUE READING BELOW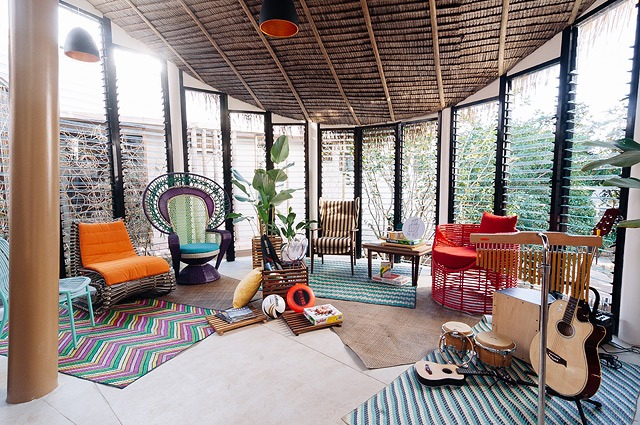 Spin Designer Hostel
Balinsasayaw Road corner Calle Real, Barangay Buena Suerte
Contact: 0917-566-7746
E-mail: spinhostelph@gmail.com
spinhostel.com
Rates start at P1,000/head
You can easily spot Spin Designer Hostel with its orange logo and Instagram-worthy exteriors. The vibe is relaxed and cozy with several events lined up every night and different hangout spots where you can meet new people, play board games, or just simply listen to music. They have various room types like the private rooms perfect for solo travelers, private bunks for those traveling in pairs, the mixed dormitory for a fun bunking experience, and an all-female dorm where you can stay with your girl friends. If you stay in Spin, you also get to have your dose of brewed coffee and local tea every day.
ADVERTISEMENT - CONTINUE READING BELOW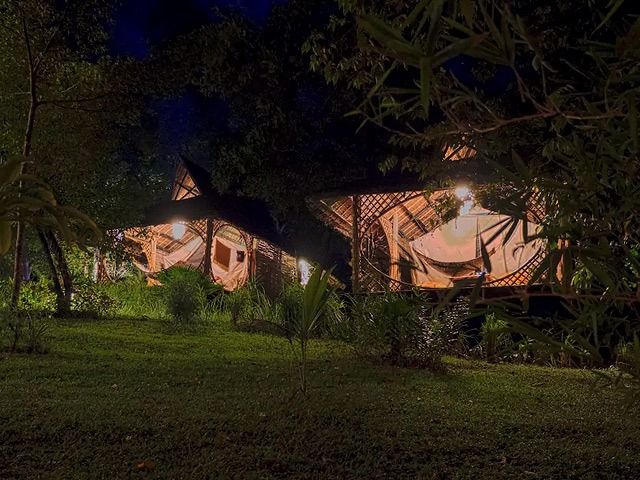 Aetas Glamping
Sitio Nasigdan, Barangay Villa Libertad
Contact: 0917-540-0513
Rates start at P4,500 for two
For a unique stay, El Nido also offers a five-star camping experience. Aetas Glamping is located about eight minutes away from the beach, up on the hill with mountain views. Expect privacy and peace and quiet here. Each of its luxurious tents comes with a porch and your own bathroom. It's the perfect place to just enjoy nature but they also offer activities like cooking lessons or jewelry-making lessons to make your stay even more memorable. All in all, this place is perfect for those who are looking to experience local food and adventure, Filipino style.
ADVERTISEMENT - CONTINUE READING BELOW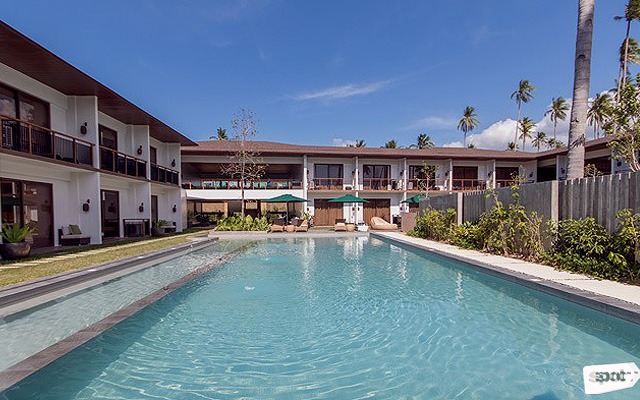 Casa Kalaw
Lio Tourism Estate
Contact: 0917-659-7694
E-mail: fo@casakalaw.com
www.casakalaw.com
Rates start at P7,000
This Filipino-inspired bed and breakfast hotel is only four minutes away from the beach. You'll definitely fall in love with its close-to-nature ambience with its surrounding gardens. It's not one of those high-rise, luxurious hotels but the exclusivity will make you feel like staying in your own paradise. There are bamboo bikes for rent if you want to check out the whole property and a nearby lagoon where you can kayak to your heart's content. 
ADVERTISEMENT - CONTINUE READING BELOW
How to Get There
There are direct flights from Metro Manila and Cebu to El Nido, or you can fly to Puerto Princesa Airport then take a van or bus (five to six hours) going to El Nido proper. Some travelers prefer to stay in Puerto Princesa for a day to make the trip less tiring but if you choose the earliest flight, you can be in El Nido after lunch—just enough time to rest for a bit before catching the sunset at the bay area.
Share this story with your friends!
---
Help us make Spot.ph better!
Take the short survey
Load More Stories