The Sound and the Fury
Charice, by the grace of Oprah, which is to say, God, seems to be fast-becoming favorite interpreter of the American national anthem.
As of this writing, yet another Charice performance in the U.S. makes it to the entertainment headlines. Yes, now they call her simply by her first name ("Pempenco" perhaps posing some incovenience to the Western tongue). She sang "The Star-Spangled Banner" at a football game. This girl, by the grace of Oprah, which is to say, God, seems to be fast-becoming favorite interpreter of the American national anthem. We are a country that specializes singing in sonic registers that can burn villages to the ground. As proof, check out any unctuous videoke dive and you'll hear people wailing away to Air Supply and Celine Dion. If there's anyone to blame, it's the judges of Bagong Kampeon, that '80s singing contest that may have hammered this sort of high-decibel vocal gymnastics into the national consciousness. Birit- it has come to be known and every 5-year-old thinks Whitney Houston's "And I Will Always Love You" is the only legitimate way of singing. And that a posting on You Tube is a birthright. But note that this isn't the first time a Pinoy had tried to break into mainstream American music scene. We can't help but wonder: Whatever happened to the likes of Josephine "Banig" Roberto? Billy Joe Crawford (once described by journalist Robby Alampay as the most irritating five-year-old in the Philippines), packaged himself as a hiphop-stained Latino, recording an album that managed to impress even the reviewers of Spin magazine. But now he's back here, all grown up and tattooed, breaking the heart of every teenage girl and German Moreno. The list is long. When do we stop exporting glorified karaoke singers and start asking: Is it really possible to ship to the rest of the planet not just steel-throated singers, but something more like a distinctive musical style- like what Brazil did with samba, bossa nova, and tropicalia? We can't go singing, "Oh say can you see..." for the rest of our lives. Indeed, what happened after "Anak?" Then again, we ask in hindsight what it was about the Freddie Aguilar hit that appealed to international tastes? Was it the lyrics- the universal concept of the evil, ungrateful spawn? Or is it the melodies? But what was uniquely Filipino about them? To begin with, what is Filipino anyway? Is it a matter of putting in kulintang notes, nose flutes, and wearing a bahag? Last I checked, we don't have monopoly of these things. An academic from UP once said, "Being Filipino is not a state of being, but a state of becoming." Which is to say, national identity remains in a state of flux. Whatever cultural signifiers we have are still prone to steady assaults of rapid technological development. But one thing I am sure will not go away is birit- and until government imposes a moratorium on it, our little girls will keep singing in impossibly high octaves. And post their videos on You Tube. Image from oprah.com. Video from youtube.com.
ADVERTISEMENT - CONTINUE READING BELOW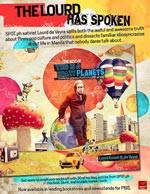 CONTINUE READING BELOW
Recommended Videos
This is a Crazy Planets is available in newsstands, bookstores and supermarkets nationwide for only P195. For more information, click here.
Share this story with your friends!
---
Help us make Spot.ph better!
Take the short survey
Load More Stories