Now everyone's a goddamned filmmaker
Every schmuck who's seen Pulp Fiction thinks he can be a hot-shit director.
"Independent cinema" was such a cool phrase back in the '80s. There was an underground-punk sort of resonance to it, in a time when "Kidlat Tahimik," "Roxlee," "Super 8," and "Bolex," were talismanic names, before the bright young boys of Mowelfund started directing shampoo commercials. Independent film- operative word: "film"- was like a mysterious coven.
Then came digital.
Digital meant the democratization of the filmmaking process. But as the Chinese, the Singaporeans, and the Malaysians will tell you, democracy can sometimes be bad for you.
"Democratization" took out the romance and the mystique from the art form. Every schmuck who's seen Pulp Fiction thinks he can be a hot-shit director. "Wait, I can do that, too!" was the collective gasp each time they see an arthouse. Tarantino's also to blame- you don't need to go to film school; you just need to hang out in the video-rental shop. Oh, wait. Film school? That shouldn't be a problem. We've got a plethora of them, too, plus workshops by this and that filmmaker (Never mind if you've never heard of him). You can't go into a theater's restroom and without hearing the words "mise-en-scene" casually uttered by two know-it-all loudmouths.
You have a higher chance of being struck by lightning than not bumping into a filmmaker when walking the streets. Now anyone who knows how to use a 3CCD camera thinks he's Martin Scorsese. Wait, you don't even have to know how to operate a frigging camera- ta-da! You can just hire a "cinematographer." But wait, there's more: the cinematographer has a friend who knows how to edit, who has a friend who knows how to program music on a PC, who also has a mildly good-looking friend who can cry on cue and knows how to write screenplays (via Comm 2 class, most probably) and knows of a competition to which they can submit an entry. That they didn't win shouldn't discourage them- they can screen their masterpiece at a cozy little bar where friends and some casual strangers will be generous with applause. Making digital indie films is the equivalent of forming a band (if this were the '80s, we'd all be doing dance showdowns).
ADVERTISEMENT - CONTINUE READING BELOW
Chances are, you have a friend, a professional in his chosen field, who quit his job because he realized filmmaking is his "true calling." You don't have the heart to tell him that it was a disastrous choice, that he should beg his boss to give him back his copywriting job because his first movie was crap. Many a friendship has been ruined because of the interminable number of unattended invites for this and that screening at yet another digital film festival in, say, SM Marilao. But what many of these "friends" do not understand is that life is too precious to waste on bad movies.
CONTINUE READING BELOW
Recommended Videos
Sadly, this democratization has also unleashed a Pandora's box of lousy films. The digital dream has devolved into a dystopian jungle of unimaginative plot lines, empty visual gimmickry mistaken for profundity, and pretentions to social conscience a.k.a. shoot in slum area and go to the Rotterdam Film Festival.
The remark by Harmony Korine, that trenchant young American director when "indie" was truly "indie," hits the nail on the head: "Most independent films are nothing but mainstream movies with bad lighting."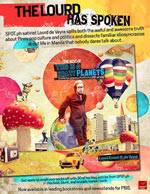 ADVERTISEMENT - CONTINUE READING BELOW
This is a Crazy Planets is available in newsstands, bookstores and supermarkets nationwide for only P195. For more information, click here.
Pulp Fiction poster from imdb.com.
Share this story with your friends!
---
Help us make Spot.ph better!
Take the short survey
Load More Stories