A Rhose by Any Other Name
Years from now there will be a generation of parents who think that "Bamboo" is a perfectly common name.
Queen Elizabeth Pacquiao
There is a generation of parents who will grow up believing that marijuana is not a dangerous drug, who think that tattoos are a casual fashion accessory, and whose concept of harmless recreation is Grand Theft Auto. Years from now there will be a generation of parents who think that "Bamboo" is a perfectly common name.
Twenty years from now, our phone directories, mailing lists, and census records will be full of names of forgotten rock stars, Hindu deities, obscure literary characters, political martyrs, philosophical concepts, constellations, flora, fauna, and other phenomena of the natural world. Twenty years from now, Her Royal Highness Queen Elizabeth Pacquiao will become a stark, raving alcoholic, smoking away her trust fund and cursing her father for not naming her something as simple as "Pamela" or "Joy."
Naming, after all, is the first act of creation, a wise man once said. And indeed, this generation likes to believe they are more creative, more enlightened than their parents. The ordinary and the commonplace is their enemy. Also gone are the "Jomars," the "Rembers," the "Rastems," the "Rosmons," the "Edberts," and the millions of tragic conjuctions of the first syllables of their parents' names. Gone are the aspirated gems like "Jhun-Jhun," "Rhose," and the all-time classic "Vhingo."These new names are perhaps acts of generational defiance.
ADVERTISEMENT - CONTINUE READING BELOW
Or you can also blame Hollywood.
Nicolas Cage named his kid "Kal-El." Jason Lee calls his spawn "Pilot Inspektor." U2's The Edge has a daughter named "Blue Angel." Sly Stallone, perhaps hungover from those Rambo movies, is father to "Sage Moonblood."
Which is just about as bad as "Lourd," intended by my folks as a male version of "Lourdes" on whose feast day I was spat out into this dark, uncaring world. But those were the '70s, and my mother claims to have been under the influence of some industrial-strength anesthesia. Good thing "Lourd," I had learned later on, is the French word for, ahem, "heavy."
CONTINUE READING BELOW
Recommended Videos
Babies' names can also be a reflection of the zeitgeist. In the early '90s, a friend of mine became a teenage father and named his son "Axl" in honor of the volatile Guns N' Roses frontman ("volatile" meaning the ability to wear a bandanda, a sports blazer, cycling shorts, and Doc Martens boots in the same regrettable ensemble). Now the list of my godchildren reads like a dictionary of the occult: Tala, Mishka, Kaya Mandala (sister of Haiku Soleil), and the latest, Psyche Calliope. And you thought only the hippies and Frank Zappa could get away with murder.
By far the most common are Rain, Tala, and Tao-" especially among the bohemian set. But so far, nobody's naming their sons "Bahaghari" just yet. Don't worry, Richard, it'll catch on soon.
For years, I had been planning to name my kids, if ever I have them, after jazz heroes: Miles, Coltrane, Mingus, Ellington (wait, that sounds too Xavier School), Ornette, Gordon. But that would just be too... easy. Too common. Now I'm fantasizing about the magnificently dull and plain: "Bong," or the highly convenient "Huy," "Boy," or "Psst."
ADVERTISEMENT - CONTINUE READING BELOW
Which reminds me. My sister once introduced me to a friend who was named-" and I kid you not-" Stalin. I whispered to her what heartless mother would name her son after one of the most brutal tyrants of the 20th century, and how any church could have allowed him to be baptized. The requirement, it seems, is a Christian name; "Stalin" was unacceptable.
So they added the name "Joseph."
And so he was welcomed into the Christian world.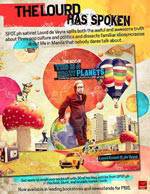 This is a Crazy Planets is available in newsstands, bookstores and supermarkets nationwide for only P195. For more information, click here.
Image by Melo Balingit for Yes! Magazine.
Share this story with your friends!
---
Help us make Spot.ph better!
Take the short survey
Load More Stories