10 Stupid Expressions That Must Die Soon
Ayt, aylavet, ayuz and other expressions that contribute to the speedy decline of civilization.
Unfortunately, language does not have a governing body like the WHO. There are no monitoring bodies to track down the migration of viruses, no one to combat their spread, no one to file criminal charges. These are the phrases that contribute to the speedy decline of civilization. And whoever started them deserves a slow and painful death by swine flu.
1. "Ayt"- Because you're not black, and you're not a total idiot. And don't think for one second you're cute.
2. "Aylavet"- It's like Kris Aquino- tolerable on the computer monitor and the cellphone screen but irritating when heard. This takes on a heightened level of annoyance when the speaker animates the expression by prolonging the last syllable. At which point I summon all my powers of restraint to stop strangling speaker with my bare hands. Especially when said speaker happens to be a red-blooded male.
3. "Meh ganun?" - Because the radio station Energy FM 91.5 is among the best reasons for avoiding public transport.
4. "Elow po"- With the optional "poh." Indicates that the speaker is either a 14-year-old girl who has a pink-wallpapered Friendster account or just a complete dumbass.
5. "Chorva"- Because in 1574 God invented the dictionary. Two and a half months before that, God invented the human brain, which he intended for complex systems of operations like logic, reasoning, analysis, and language. Which means, God did not want all his creatures to speak like they worked the night shift at Reyes Haircutters. If he did, we'd all have naturally bleached, over-gelled hair. That, plus perennially raised collars.
ADVERTISEMENT - CONTINUE READING BELOW
6. "Nownah"- Which is "now na" pulled down to unfathomably moronic depths, but is actually persuasive in specific instances. E.g. "I will bludgeon you until you're comatose, you stupid idiot. When? Nownah."
7. "Ayuz"- The bigger schmuck, however, is that record company dork behind Ayuz: The Compilation.
8. "Haller" - God's way of telling us we're not reading enough books.
9. "Text-text"- Indicates several things: a. A certain appointment/ person is not important enough to merit an exact time and place. b. "We're so dumb we can't even make up our minds about which restaurant. You'll be late? It's okay. I'll be late, too." b. "Let's play it by ear. Maybe I'll feel lazy and I won't be in the mood to see you." c. The improvisational nature of the Filipino temperament. Which is probably explains why we're the mightiest, most efficient nation on the planet.
CONTINUE READING BELOW
Recommended Videos
10. "OMG" - Marks the completion of our descent from human beings into ants.
To read Lourd's previous blog entries, click here.
To read other blogs, click here.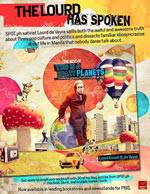 ADVERTISEMENT - CONTINUE READING BELOW
This is a Crazy Planets is available in newsstands, bookstores and supermarkets nationwide for only P195. For more information, click here.
Artwork by Warren Espejo.
Share this story with your friends!
---
Help us make Spot.ph better!
Take the short survey
Load More Stories