Guns, goons, and gore
Or: an argument for the immediate return of the Pinoy action film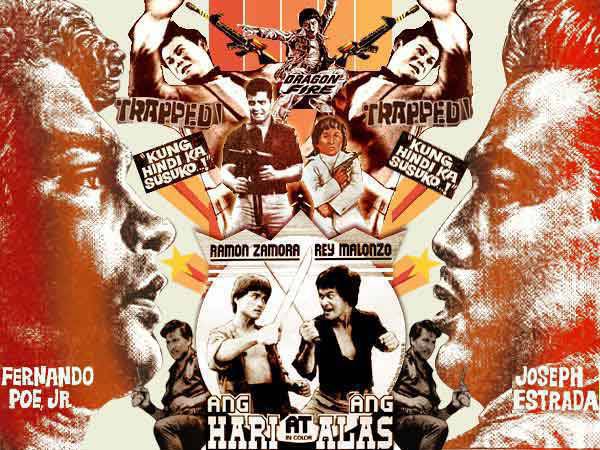 A Filipino finally won Best Director at the Cannes Film Festival, yippee, and now even your six-year-old daughter knows how babies are assembled via the famous HK-KH reproductive health documentary.
Okay now that we've proven we can be world-class artistes and capable pornographers, can I have my action movie back, please?
Guns, horses, car chases, explosions, ugly goons in denim jackets, improbable plotlines, and wittily apocalyptic dialogue like "Mas masarap pang tumae kesa kausapin ka!"-just some of the things I miss in this digital-indie day and age. I grew up a passionate watcher of movies by FPJ, Rudy Fernandez, and Lito Lapid, whose Leon Guerrero and Geronimo occupy a warm, shining place in my grease-clogged heart. He may not exactly win any awards for outstanding legislation, but to a seven-year-old growing up in the province, Lapid's dazzling stunts were God's own deadly choreography.
Today, if it's not big-budgeted but underwhelming romances from Star Cinema, GMA, Regal, and Viva, it's all about sad people staring into empty space for five hours, and slums, slums, and more slums! Pornography of poverty, as it is called.
ADVERTISEMENT - CONTINUE READING BELOW
Something happened with the so-called "death" of Philippine cinema. Pundits said that a death was necessary for a rebirth to happen. Uninspired pito-pito films, the emerging video piracy industry, cheaper home entertainment systems-around the late '90s, the movie-going public began to lose its taste for locally made shoot-'em-ups. In the face of increasingly sophisticated Hollywood special FX wizardry, commercial Pinoy cinema was Ricky Hatton after one round with Pacquiao. The result: an entire subculture having the financial rug pulled from under its feet. Now you see jobless stuntmen and mustachioed character actors hanging out in that area near National Bookstore on Quezon Avenue, with the shut, rusting doors of Magnatech Studios-once the hub of action-film activity-serving as lonely metaphor. Once in a while you can see Tony Ferrer getting a pedicure at the nearby Tropical Hut. Or Amay Bisaya nursing a cup of coffee with a bunch of scary looking gentlemen.
CONTINUE READING BELOW
Recommended Videos
But even with the proliferation of the digital indies, it's still dead, at least financially. Because people don't exactly enjoy watching a movie with vertiginous camera movements. Because lyrical discourses on the human condition aren't always fun to watch-slum dwellers do not need to be reminded of the misery of slum life.
Not even Manny Pacquiao, with all his immeasurable fame, could muster a decent audience for his last movie, Anak ni Kumander. And if you've seen him act, you'd understand why.
In the past few years, the last memorable action movie was Apoy Sa Dibdib ng Samar-and it certainly wasn't because of Mark Lapid's displays of combat skills or firearms virtuosity but for the climactic soliloquy that's worthy of Shakespeare.
ADVERTISEMENT - CONTINUE READING BELOW
Like it or not, we draw our myths from popular culture, not from books by Edith Hamilton. But you can't create myths out of stories about decapitated prostitutes and forlorn macho dancers. Myths are supposed to be projections of strength and nobility. "But action movies do nothing to express the human condition!" your typical college cinephile might shriek. As if human condition can only be portrayed by painfully static camerawork and deep, shadowy close-ups.
That he was named National Artist for Film is only the most minor of honors garlanded on him. There's a reason why Fernando Poe Jr. even in death continues to be enveloped in a mist of legend-enough for him to win the presidency of the republic. There's a reason many of us feel-myself included-like he's not really dead at all. The man understood the power of myth: which explains why he remained obstinate in his choice of roles throughout his career: upright policeman fighting a corrupt society and variations thereof. Even if he took on different characters, it was always the same guy, speaking in the same unmistakably breathy drawl, wearing the same denim jacket. He knows he can't be seen crying or smoking cigarettes; he can't curse or hit women. Neither can he afford to be seen furiously liplocking with his leading ladies. He can't be a morally ambiguous character, a flawed hero. That, in real life, he was equally known for his generosity (he'd randomly hand thousands of pesos to sampaguita vendors) only served to intensify his legend. Myth-making demands consistency. Myth-making demands a well-told story. One cannot create a myth through a 15-second ad where you hijack a pedicab from a poor kid.
ADVERTISEMENT - CONTINUE READING BELOW
Action movies should not necessarily be equated with a dearth of intelligence. I know of a hundred pa-art flicks that are a thousand times dumber than the worst Ronnie Ricketts karate extravaganza. One should not look for things like plausibility of plot and veracity of character. Action films operate on their own physical universe, where Paquito Diaz, Subas Herrero, and George Estregan are perennially evil politicians and murderous businessmen, where a single bullet shot through a sharp knife can splinter and kill an army of 10 men, and even directly blow up tanks and helicopters. Where everyone wears a jacket even in the hottest afternoon, and the arch villain and his henchmen are always clad in oversized sports blazers (with sleeves rolled up) while sipping brandy. We do not question the presence of horseback-riding cowboys in the middle of Pampanga. Or Eddie Garcia's penchant for quoting scripture. Like it or not, the good guy will always bring home pancit (always in a brown paper bag) for his dying mother-only to find her slaughtered by Rez Cortez and Dick Israel. The good guy will break down under the rain, and there'll be hell to pay.
But as the saying goes, what goes around comes around. So it's just a matter of time when the action film returns. After all, ask your friendly neighborhood dibidi hawker and chances are he's got the 19-in-1 Robin Padilla Collection. The action-adventure genre didn't really go away; in fact it's in a number of primetime telenovelas, but its only authentic home is the big-ass screen. The last Terminator franchise didn't do that well at the local box offices-maybe we're tired of gigantic explosions that even your senile grandfather knows are computer-generated. Perhaps the Pinoy action film's smashing return can be hinged not on special effects but on that one thing we can be good at: martial arts. Especially now that boxing and MMA (mixed martial arts) are hot stuff.
ADVERTISEMENT - CONTINUE READING BELOW
Action movies aren't always about guns. Combine a gripping narrative and the human body's violent poetry and maybe we've got something. Now that we've become familiar with the sensibilities of art cinema of the world, the Filipino action film no longer need insult our intelligence. They can discourse on the human condition while kicking ass at the same time.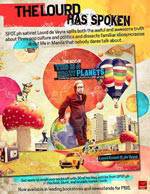 This is a Crazy Planets is available in newsstands, bookstores and supermarkets nationwide for only P195. For more information, click here.
Artwork by Warren Espejo
Share this story with your friends!
---
Help us make Spot.ph better!
Take the short survey
Load More Stories