Five Ways to Vastly Improve the Congress of the Republic of the Philippines
Suggestions on how to better use the Batasang Pambansa.
Finally the House of Representatives lives up to its acronym, HOR, which sounds exactly like that monosyllabic word we use to describe the world's oldest profession.. After that ignominious day of June 2, 2009 when the ugly majority voted for Con-Assing, the HORs finally proved how it has become a symbol of everything crappy and futile about the Philippine political system. Billions of taxpayers' money spent on an institution legally allowed to screw the taxpayer. Here are suggestions for the alternative uses of the Batasang Pambansa complex, in the happy event of its dissolution. Which-again-- is something our friendly neighbors, the North Koreans, can fix with an intercontinental ballistic missile.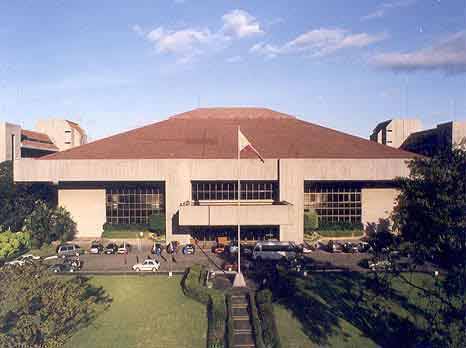 1. CONVERT INTO A LANDFILL- The nearby Payatas dumpsite is already overflowing, but the garbage there is nothing compared to the fetid variety contained in the House of Representatives. The pointlessly sprawling 16-hectare Batasang Pambansa Complex is enough to accommodate Payatas' excess volumes of solid waste. Trash, after all, begets trash. Even the congressmen's hideous tarpaulin posters, in spite of their non-biodegradability, must be forever buried with our daily waste. Oh, and don't forget those number 8 car plates and wang-wang lights.
ADVERTISEMENT - CONTINUE READING BELOW
2. A SHOPPING MALL- Because there are no decent malls in that area, and Ever Gotesco is certainly not an example of a decent mall-not with its façade, which is like Walt Disney's architectural whimsy after sniffing enormous amounts of rubber solvent. Its north and south wings can accommodate floors and floors of stores, each congressman's office more than spacious enough for display areas and stockrooms. Parking should be a breeze. Wide verdant lawns as well as a view of the Marikina Valley can soothe tired mallers' eyes. The session hall at the main building can be transformed into a multipurpose convention center, one function of which can be the biggest-ass moviehouse in the land. But for the sake of public safety, it must first be ensured that the entire area is thoroughly disinfected-there may be more decades of filth from its previous occupants stubbornly sticking in the tiny little corners than an old Escolta theater.
CONTINUE READING BELOW
Recommended Videos
3. IF IT WON'T BUDGE ...TURN IT INTO A CARNIVAL- See fierce, exotic creatures from all parts of the Philippine archipelago! Step right up to the museum of subhuman curiosities! The ugliest wigs that pork barrel can buy! The most thick-skinned, bottom-feeding freaks that cling to power in their respective districts like black, slimy things sticking to garden rocks, each one with the self-perpetuating capabilities of single-celled organisms! Witness the endless grotesquerie of pomade and the stench of wrinkled skin! The putrefying flesh of the old, the infirm, and the morally decayed!
ADVERTISEMENT - CONTINUE READING BELOW
4. GEOTHERMAL PLANT- After an eternity of bullshit speeches, can you imagine all the accumulated gas in that place?
5. A SCHOOL-- During school opening, Payatas Elementary School-a mere sniffing distance away from the Batasan complex-became TV news' metaphor for overcrowded public schools. Pitiful footage shows eager children holding classes in backyard gardens, or listening to the teacher through the windows. In contrast, Congress boasts of obscene amounts of idle floor space. Can you imagine how many classrooms these can make? Can you imagine the number of properly educated kids who might one day grow up to be great leaders, lawyers, judges, businessmen, teachers, councilors, mayors, governors, senators, cabinet secretaries, and even, oh God ... congressmen?.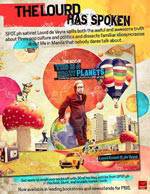 This is a Crazy Planets is available in newsstands, bookstores and supermarkets nationwide for only P195. For more information, click here.
Image from congress.gov.ph.
Share this story with your friends!
---
Help us make Spot.ph better!
Take the short survey
Load More Stories