Michael Bay reimagines Himala
If Michael Bay were to recreate Himala...SPOT.ph blogger Lourd de Veyra gives us the likely scenario.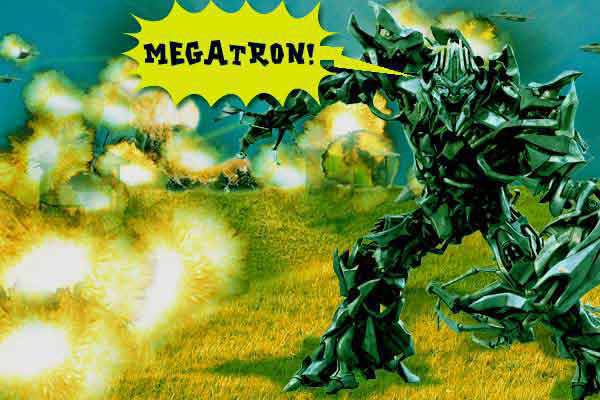 I don't know who is stupider: people who enjoyed Transformers 2, or idiot reviewers who complain that it's noisy, artless garbage. That's like paying for a Burger Machine and moaning that it's not Elbert's Philly cheese steak. Let's see: giant robots + aircraft carriers + the word "revenge" in the subtitle + Megan Fox's sweaty cleavage = obviously not an Ingmar Bergman film.
With his aesthetic strategy of blowing up anything that appears on screen, a Michael Bay movie isn't exactly the kind you'd expect to provide insights into the human condition. Critical bombs dropped on Transformers 2 are certainly hurtful, and the only too-human Mr. Bay- whose works include Bad Boys I and I, Armageddon, The Rock, and Pearl Harbor-is now crying all the way to bank. Now there are rumors circulating that he is depressed and rethinking his career. Allegedly he has decided to pursue the path of pure art, of cinema that is enlightened, challenging, and transcendent.
ADVERTISEMENT - CONTINUE READING BELOW
For his first foray in art film, he has chosen to remake what was recently voted in a CNN poll as the greatest Asian film of all time, Ishmael Bernal's Himala. Spot.ph was able to smuggle snippets of the highly confidential storyboard. It is interesting to note how Bay remained faithful to the film's original spirit, with some slight, almost negligible revisions.
1. Film opens with a total solar eclipse. The blind seer warns of an ominous sign, a curse. On the permanent left side of the screen are Japanese subtitles.
2. A nipa hut is blown up. Slow-mo sequence of people in the town of Cupang panicking. More houses explode, children are trampled underfoot, and people empty into the desert. We see streaks of smoke and light in the sky. They hurtle fast into the ground. They turn out to be fighter planes. Suddenly they shift into giant robots.
CONTINUE READING BELOW
Recommended Videos
3. Close-up up of Elsa in deep prayer in front of a barren tree. A Celine Dion aria plays in the background. We see scars on her arms. Her wounds reveal metal and circuitry. Close-up on Elsa's cleavage.
4. The town of Cupang is abuzz with the news of the Virgin Mary's apparition to Elsa, as well as rumors of Elsa's miraculous healing powers. Devotees, along with the terminally sick, flock.
5. Autobots walk in dramatic slow motion towards camera. A Linkin Park song blares in background. Explosions in the distance (Justification not required; need to meet pyrotechnics quota)
ADVERTISEMENT - CONTINUE READING BELOW
6. Cynical independent filmmaker/ documentarian Orly (Spanky Manikan) is shown driving. Ground-shaking rap-metal plays in the car's sound system with massive subwoofers.
7. With the influx of devotees, the town comes alive with hawkers of softdrinks, scapulars, rosaries, T-shirts, candles, healing oils, and resort accommodations.
8. Orly interviews Elsa with his portable tape recorder. Suddenly the machine transforms into a robot dog named Ravage that belongs to Soundwave, a Decepticon.
9. Cupang opens a whorehouse. The town begins to crumble from the seeping immorality. A battalion of Decepticons descends and becomes the first customers. Strippers pole-dance to the pounding rhythms of Limp Bizkit's "Nookie."
10. While praying on the hill, Elsa and her assistant Chayong are raped by Decepticons. Spanky's Bolex camera is sole witness. He confesses to the priest who looks like Joel Lamangan. Starscream flies overhead to drop napalm bombs. The church and its surrounding perimeter are engulfed in huge flames.
11. Cholera outbreak grips town. A mournful Celine Dion song sweeps through the streets. A depressed Elsa decides to stop healing and spends her days staring in space, in monastic silence. Gloom and desolation envelop the town as there is a mass exodus of pilgrims. Decepticons wreak havoc on Cupang.
12. Autobots strike back. The desert becomes a loud, noisy, and fiery combat zone. Cut to: women in bikini fleeing in terror. VERY IMPORTANT SCENE: Tricycles at top speeds smash on top of one another, resulting in earth-shaking explosions.
13.Autobots defeat the Decepticons. The skies darken and a sudden rain pours. Villagers rejoice, believing that the "curse has been lifted."
ADVERTISEMENT - CONTINUE READING BELOW
14. Elsa asks her disciples to gather everyone. Devotees in Biblical proportions make a throng across the desert. Autobots triumphantly roll behind them as escorts.
15. Elsa declares, "Walang himala.... I... AM... MEGATRON!" She transforms into a gigantic gun and destroys everyone within a five-kilometer radius.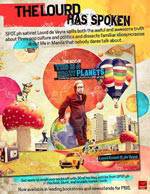 This is a Crazy Planets is available in newsstands, bookstores and supermarkets nationwide for only P195. For more information, click here.
Artwork by Warren Espejo.
Share this story with your friends!
---
Help us make Spot.ph better!
Take the short survey
Load More Stories