Rene Requiestas, Kuya Germs, Celia Rodriguez for National Artist? Part 2
Due to insistent public demand, SPOT.ph blogger Lourd de Veyra's list of nominees for National Artist gets longer...
THE NATIONAL ARTIST AWARDS: AN ALTERNATIVE LIST PART 2
Last month we suggested a list of names of who should be proclaimed National Artists. That June 23 post was surprising for several reasons. One, the number of comments made me realize that this blog actually has more than three readers. Two, that people really love Ma Mon Luk and Yoyoy Villame. Three, that most people have no sense of humor, and will nominate names like Freddie Aguilar, whose classic "Anak" may have already taken on a rather scary dimension for Marc Abaya. We continue the honor roll
Xerex Xaviera of Abante- National Artist for Literature
No other body of work in the history of Philippine letters matches the erotic intensity of Xerex. The fact that Xerex is not an actual person but a pool of hard-drinking, prize-winning poets and fictionists does not in any way diminish the significance of his creative stamina: day in and day out, for decades on, this columnist's scorching prose is a moist fingertip exploring the erogenous zones of our collective psyche.
ADVERTISEMENT - CONTINUE READING BELOW
German Moreno- National Artist for Broadcast and the Sartorial Arts
He may be presently languishing in television limbo as Master Showman at a timeslot only ideal for meth addicts and insomniac geriatrics. But this space would be criminally insufficient to explain the impact of That's Entertainment on Philippine culture. Massively influential figures like Manilyn Reynes, Jojo Alejar, Billy Joe Crawford, et al were all little whelps who once suckled at the teats of this modern-day amalgam of Pygmalion, Henry Higgins, P.T. Barnum, and Liberace. The day will come when the most iconic show of the '80s will be discussed in reverential tones instead of ironic yet misty-eyed reminiscence. It will be praised by academics, and anthropologists shall tear up at the mere mention of its name. But that's all self-explanatory. Even without That's Entertainment, Moreno's place in Philippine culture is secure, if only for his daring fashion sensibility-"one that defies conventions and burns retinas at the same time.
CONTINUE READING BELOW
Recommended Videos
Inday Badiday-"National Artist for the Broadcast Arts
The Buzz, Showbiz Central, SNN, S Files, Juicy, and all the other shameless peddlers of gossip all owe their existence to their breathy baritoned precursor. But the big difference is that she did not have to wear ridiculously ugly spaceman clothes that pass for edgy designer creations and backless dresses that expose brave amounts of celebrity fat.
Voltes V---National Artist for Robotics
If you're 13 years old and you think Transformers 2 is cool, it's because the collective fascination for gigantic robots may be genetic. Your daddy may be one of those guys in the late '70s who wept like a little girl when Marcos took Voltes V off the air. And Marcos thought he'd get away with it.
ADVERTISEMENT - CONTINUE READING BELOW
The Jingle Magazine staff-" National Artists for Music and Literature
In the '80s they made both the guitar-strumming neighborhood istambays and the music snobs happy. They showed the correct chords and lyrics to "Wonderful Tonight" while deconstructing the latest Keith Jarrett and Elvis Costello LPs, reporting on the latest Katrina's gig, while having Cindy Lauper and Menudo on the cover.
Rene Requiestas-"National Artist for Film
Sometimes, the value of an artist's work is not judged by the length of his filmography, but the impact i.e. Efren Jarlego may have directed ten thousand movies but he will never, ever be screened in Cannes. Requiestas lived a short, tragic life but his comic legacy remains unparalleled. The name "Cheeta-eh" will continue to reverberate throughout our memory, in a movie where he totally steals the show away from the main star. Rene Requiestas' brand of comedy borders on subversive genius, and decades after his death his mere presence alone can still ignite any screen with the force of an acetylene torch. Watch Elvis and James 1 and 2 and weep. Grieve at what we had lost.
With a lifetime of constant work as a street vendor and eventually a sad alcoholic who had everything in the world but the one girl he truly loved, Requiestas was a troubled genius. Legend has it that he once had to shoot this challenging scene a few minutes after hearing of his father's untimely death.
Celia Rodriguez-"National Artist for Film
ADVERTISEMENT - CONTINUE READING BELOW
Icicly elegant snow queen and gay icon (Just ask Fanny Serrano) who, like Rita Gomez, instinctively knew when to roll and aspirate her R's ("Would you light my cee-ga-rrrret, dah-ling?" "Aaayv been a good ghel "). She's a monument to style and cinematic villainy that channels Bette Davis in All About Eve and Gloria Swanson in Sunset Boulevard, and their ilk. Rodriguez can walk a poodle, carry a parrot cage, and wear a turban or a nest of snakes to party and still be taken seriously. The best part is that she remains very much active to this day, playing the same cold, devious, matapobre but always glamorously dressed witch. I think even Susan Sontag would agree: she is the very concept of camp given flesh, blood, and haughty eyelashes.
Rico J. Puno-"National Artist for Music
Say what you want about the potty mouth, the tasteless jokes, the sleazy moustache, and that suspicious wig, but there was a time that when he sang, it was as if God himself descended from the clouds with a microphone, bellbottoms, and a powerful vibrato. But aside from the singing, it's his superhuman ability to deftly turn in clever Tagalog a phrase from any famous American song, making it something that's truly his own. And, in a way, our own, too. Compare: "Memories  light the corners of my mind" to "Alaala  nung tayo'y mag-sweetheart pa/ Namamasyal pa sa Luneta, at walang pera." As a wise man once said, inferior artists borrow but the great ones steal.
ADVERTISEMENT - CONTINUE READING BELOW
Joey Gosengfiao-"National Artist for Film
Two words: Temptation Island.
(To be continued)
To read Part 1 of Lourd de Veyra's Alternative List, click here.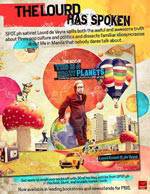 This is a Crazy Planets is available in newsstands, bookstores and supermarkets nationwide for only P195. For more information, click here.
Artwork by Warren Espejo.
Share this story with your friends!
---
Help us make Spot.ph better!
Take the short survey
Load More Stories