Unknown Pleasures: The Endless Surprises of NBN Channel 4
SPOT.ph resident blogger Lourd de Veyra searches for life beyond the usual TV stations and brassy games shows and tunes in to...yes, NBN-4.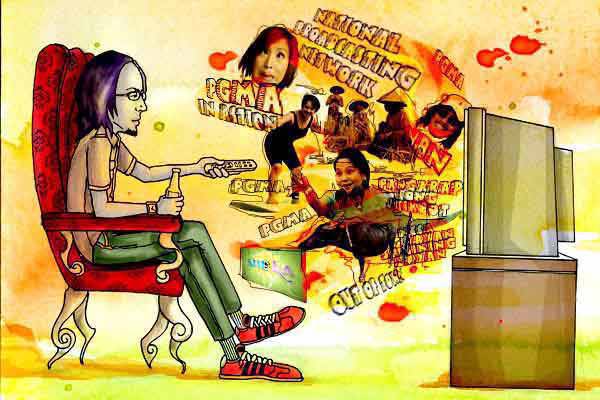 I said to myself that there must be more to television than shampoo commercials and brassy game shows. My problem is that I do not have a cable TV connection (Hey, I have to work). Now I have reached that stage where I'll scream the next time I see Manny Pacquiao or Boy Abunda trying to sell me something, I'll have to hang myself.
So in the interest of sanity, I decided to search for life beyond ABS-CBN, GMA, TV5, QTV, Studio 23, CS9, and the channels watched by the Filipino populace, to explore the twilight zones of terrestrial (read: free, non-cable) television.
Growing up in a house that deliberately refused to purchase a video player until we were in high school, I was an expert in the television of inertia. But you have to understand Philippine programming in the '80s, especially the days before cable, before the radical need to shout and dance to address the extremely short attention span.
Hilarious spoof of Ating Alamin we found on You Tube
One of my favorite shows was an IBC 13 documentary on Japanese culture where they feature anything from plastic food to robots to the agricultural techniques of Hokkaido farmers. Another favorite is Ating Alamin, an agriculture education program hosted by the Great Gerry Geronimo, who was number one on my list of senators during the 2007 elections. From him I learned about the dietary habits of tilapia and how pigs copulate. In contrast to today's fancy editing and nervous voice-over that's deathly afraid of even the slightest hint of dead air, those shows were painfully slow, unsophisticated (in terms of visual effects). And these are just some of the "exciting" few; the rest are like watching paint peel.
ADVERTISEMENT - CONTINUE READING BELOW
Which brings us to channel 4, currently known as the National Broadcasting Network (NBN) which is owned by the government of the Philippines. And as with all things with the word "government," it may or may not be described as an exercise in sloth and ineptness. It is also obvious that NBN isn't exactly burning up the viewership ratings.
But it is one of the few corners of the universe that offers a sanctuary from the slime and din of crass commercialism and the blood-smeared sensationalism of the "major" news programs. But there is one drawback: you'll have to watch all the crap about the president and all her great achievements. Rest assured you'll never have to listen to bad news ever again. Nor will you see another shampoo commercial. But it's a choice between that and endless footage of PGMA inaugurating yet another bridge in some backwater province. The obvious demographic is the people who wear short-sleeved barong. Listening to the NBN news reports give you the impression of the Philippines as an economic wonderland, and the Pinoys as an ecstatically thankful lot. One more thing you won't see being covered by its news programs: rallies.
CONTINUE READING BELOW
Recommended Videos
The first thing you notice is how pale it is, like it's being beamed from an dusty archival tape reel. Everything is coated in a deliberately unstriking veneer, as if it decided on a grading that is not quite fully colored but not quite black-and-white. Like a cardiac patient afraid of the slightest hint of excitement. The graphics have the look and feel of the latest editing software... from 1991. All its public affairs programs seem to be shot in the same moldy, badly lit studio, under the art direction of the same unyielding old production designer who seems to have eternal tenure. But the channel has its own, almost slow, sober, almost narcotic aesthetic: clips of farmers and carabaos knee-deep in mud, Mrs. Arroyo in various states of presidentiability (i.e. giving a speech, meeting her cabinet, saluting the troops, hugging old people, hunched over a computer, cutting a ceremonial ribbon, shaking some other official's hand amid the shower of camera flash).
ADVERTISEMENT - CONTINUE READING BELOW
Another thing you won't see on NBN 4 is the presence of the leading celebrities. Well, there's Jolina Magdangal, who hosts a show called PGMA in Action, but the issue of Jolina Magdangal's celebrity status is still open to debate (In fact, you'll see a number of washed up artistas here, in other attempts at self-reinvention). Generally, the channel isn't really big on good looks, although we're not saying that all of its hosts look like hemmorhoids. Sometimes, it's a relief to watch talk show hosts who do not have to thank either the Belo or Calayan medical groups. Or newscasters who are, in essence, dancing bears.
As mentioned, there are no commercials. Except by those of government agencies and government officials, especially the unctuous ones with obvious senatorial plans. Every now and then, you'll read a GSIS announcement blaming IBM computer systems for the slowness in handing out benefits and that they are now fixing things. Occasionally you will also see a President Arroyo soundbite, replete with bright graphs and animated arrows in upward trajectories. A PGMA scholar is interviewed "Kung wala itong scholarship," he says in between sobs, "hindi ko alam kung saan ako pupulutin."
A program called Out of Town is a travel show with a host who has the easy charm of a high-ranking traffic officer. He devotes his latest episode to a very curious subject: the bridges of Northern Luzon and Samar.
"Count your blessings" directed by Carlo J. Caparas
ADVERTISEMENT - CONTINUE READING BELOW
Pangarap Kong Jackpot, which has been under the direction of Carlo J. Caparas, is one of the station's crowning glories. Sponsored by the Philippine Charity Sweepstakes Office, it tells the stories of lives and fortunes suddenly changed by winning the lottery. And because it's Caparas, it must be good.
Any program titled She-Ka must be also be good.
Then there's NCCA Ugnayan sa Sining Bayan, an arts and culture program that airs on the same timeslot as the two major weekend chismis shows. The production design of a college project, with confused furniture (antique wooden tables + the occasional plastic monobloc chairs) and curtains of clashing colors. But compared to their shrillness and vacuity of Showbiz Central, NCCA Ugnayan sa Sining Bayan comes across as almost a meditative relief. On that Sunday, I watched a report on Spanish colonial churches and their significance on cultural heritage studies. I also saw the Cardona Youth Musical Ensemble, which features a blind man accompanied by an orchestra of kids blowing into empty bottles, while a interpreter on the side performs sign language (think Kapwa Ko Mahal Ko, only more theatrical).
But not everything about NBN is dreariness and ennui. Sometimes, vigilant viewing reaps surprising rewards. There are informative documentaries (if you care about how Laguna kesong puti and maja blanca is made, or where to find the best goto in Bulacan). There are interviews of artists and other significant personalities you would not otherwise encounter on Wowowee. Depending on your degree of fatalism, the live Super Lotto draw can be a major cardiac event. After that, on a timeslot where all the channels are blaring noisy gameshows and mind-numbing sitcoms, is a Go Negosyo special on the ten outstanding students of the Philippines. On a Sunday night, it is interesting to watch the contrast between an young lady giving an articulate well-crafted speech about the future of Philippine education and a young lady clad in slutty leather dancing to a Lady Gaga song. That might be a metaphor for something, but I'm not really sure which. But there's a difference between giving the people what they want instead of what they need. A kid wants a cheeseburger, donuts, and soda, but what he needs is broccoli and milk.
ADVERTISEMENT - CONTINUE READING BELOW
As of this writing, I am watching an NBN talk show that displays a marked difference in terms of set design-sleek, modern, and sophisticated. But there's a problem. In the background, you can hear a sound of wood being hammered.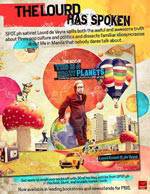 This is a Crazy Planets is available in newsstands, bookstores and supermarkets nationwide for only P195. For more information, click here.
Artwork by Warren Espejo.
Share this story with your friends!
---
Help us make Spot.ph better!
Take the short survey
Load More Stories