Carlo J. All the Way
Finally! SPOT.ph blogger Lourd de Veyra's much-awaited blog post a la "Oh My God, Ang Anak ni Janice: The Carlo J Caparas Story"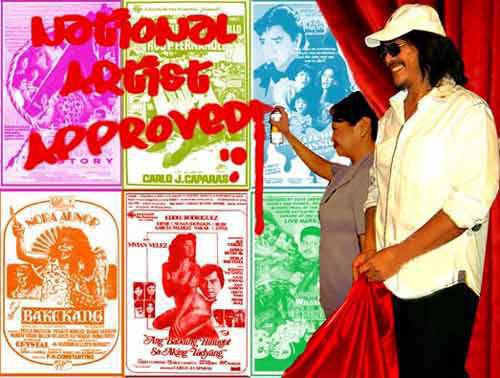 The reason I did not include him in my alternative list of National Artists-which is, of course, intended as ironic-is that some deep, intensely paranoid part of me somehow knew the bastard would get the honor. One does not need proximity to the corridors of power to predict that. Any government that's willing to finger-fuck the Constitution for its own benighted ends can certainly do something as noble as bestow the highest artistic honors on the same man behind such cinematic treasures as The Marita Gonzaga Rape-Slay (In God We Trust!) and Kuratong Baleleng Wilson Sorronda: Leader Kuratong Baleleng Solid Group.
Then it hits you: "Shit, he did win."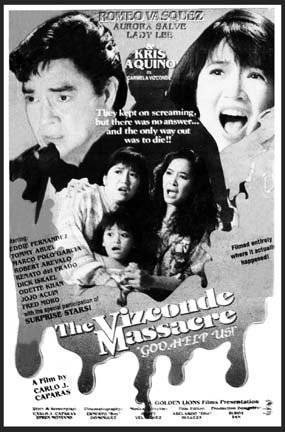 From video48.blogspot.com
ADVERTISEMENT - CONTINUE READING BELOW
I have always considered myself a great believer in the grand absurdity of human affairs, how mystery and irony has always been the underlying element of life. But Caparas as National Artist for Film tests my sense of humor. A bad joke that actually came true. Now the joke's on us. This is probably God's way of punishing all the critics and film snobs for the unflattering things they've said about Carlo Caparas. In the same way that Gloria Macapagal Arroyo is probably God's way of punishing us for... I don't know, our national fascination with That's Entertainment?
CONTINUE READING BELOW
Recommended Videos
It is not really the notion of the supposed abuse of presidential prerogative in the selection that rankles the artistic community. It's the sheer idea of sticking Carlo J. Caparas on the same hallowed ground as Ishmael Bernal, Gerry de Leon, Lamberto Avellana, Lino Brocka, et al. The Carlo J. Caparas who, while responsible for some popular comic book novels in the '70s and '80s , has become synonymous with some of the most frighteningly awful films in recent memory.
He may have his own commemorative stamp, official recognition from the national government for his contributions to Philippine "culture" through his komiks fantasies and dramas, but his entire ouvre of "massacre" movies with dramatically colon-ed titles- i.e. Anabelle Huggins Story: Ruben Ablaza Tragedy - Mea Culpa, The Marita Gonzaga Rape-Slay: In God We Trust, Lipa Massacre: God Save the Babies!, The Untold Story: Vizconde Massacre 2 - God Have Mercy on Us, The Vizconde Massacre Story: God Help Us- deserves a singular place in the pantheon of cinematic awfulness.
ADVERTISEMENT - CONTINUE READING BELOW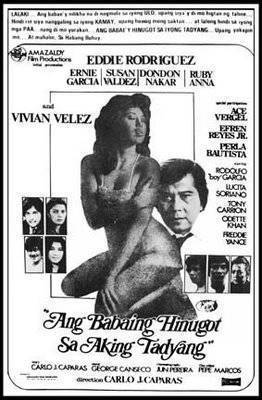 From video48.blogspot.com
In the '90s, his string of dramatizations of sensationally gruesome crime stories may have lowered the bar in terms of directorial incompetence. He was, it seems, employing the pito-pito method at a time when those young Mowelfund geniuses were still fantasizing about big-budgeted Mother Lily productions. It is a well-known industry fact that he shoots without a script, only his pen and yellow pad, as he thinks things up as he goes along. It is after all, his movie. He is, after all credited with story, screenplay, and direction. He is an auteur in the most disastrous sense of the word. The critic Isagani Cruz called his Ang Babaeng Hinugot sa Aking Tadyang "clearly one of the worst films of 1981." In a review published in Parade magazine, Cruz writes what would become one of the consistent characteristics of a Carlo J. work hitherto: 'Although Caparas is an extremely successful writer of komiks novels, his screenplay for this film lacks narrative interest, not to mention logical motivation and imaginative insight."
ADVERTISEMENT - CONTINUE READING BELOW
But it's not really the only problem. It's the ineptness of direction  and the seeming disregard for the fundamentals of moviemaking that marks a Caparas movie. Perfection and verisimilitude are not something he ambitions to. He concedes to production shortcuts, like thinking he can get away with a shot of the Makati skyline to substitute for Singapore, or the ashes of Pinatubo to simulate the Saudi Arabian desert. A movie set in the post WWII period shows people dressed like they came out of the SM Surplus Shop. Normally outstanding actors give truly embarrassing performances (If you want to see Sharon Cuneta, Joel Torre, Cesar Montano, and Gina Alajar utterly humiliated, I urge you to watch 1995's The Lilian Velez Story: Till Death Do Us Part. Don't you just love those subtitles? They complete the rhythmic flow, like 2001: A Space Odyssey or Gloria Macapagal Arroyo: Oh My God, Ang Anak ni Janice! (No such movie yet, but that's what I'll do in case I get a Cinemalaya grant).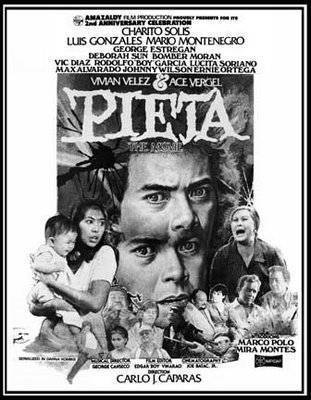 From video48.blogspot.com
ADVERTISEMENT - CONTINUE READING BELOW
My favorite Caparas film-and I say this without irony-is Pieta (1983), which starred Vivian Velez and the late, great Ace Vergel in his most intense, bad-to-the-bone performance. But I must reserve a special place in my heart for The Cory Quirino Kidnap (2003), which is so transcendentally bad it approaches the territory of genius. Ara Mina plays the famous socialite. Here the supposed North Forbes diction smokes like hell: "Yes, I wuz keeeednap!" Memorable scenes: slow motion shot of Ara a la shampoo commercial, and when she turns her head to face the camera she becomes.... the real Cory Quirino. Plus, the ending: the rescue sequence where the heavens part to the grandiose rhythms of Handel's Messiah. With special effects that seemed to have been made with laundry chemicals and discount-store crayola.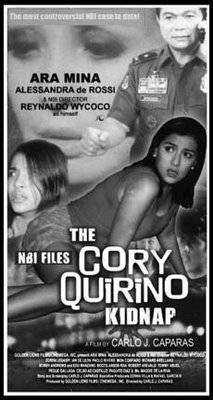 From video48.blogspot.com
Can't find his films on DVD and VCD? You can always have your regular dose of Caparas on channel 4, which airs his drama series, the PCSO-sponsored Ang Pangarap Kong Jackpot. It features stories of sad, impoverished families whose lives are suddenly transformed by winning the lottery. Again, as in his movies, you can sense the dark, heavy hand of Caparas at work: the cardboard acting technique, the silly, melodramatic dialogue, the lazy camerawork, and the overall absence of quality control. You can almost imagine him screaming in the background: "Good take! Okey na 'yan! Nice work. Next setup."
ADVERTISEMENT - CONTINUE READING BELOW
I myself have had a little brush with the greatness of Carlo J. Caparas. Years ago, I was assigned to interview him for a glossy magazine-I said yes out of perverse curiousity. So, down to Ayala Alabang Village we drove, finding a house with several BMW SUVs parked outside. We entered a house overflowing with so many huge, dust-covered ceramic and glass figures you'd think it was another bizarre set design for one of his films: saints, angels, an assortment of animals, etc. Let's just say that I've been in a number of Ayala Alabang houses and this did not particularly look like one of them. After a few minutes, the man-still clad in his trademark baseball cap and sunglasses-came down the stairs to meet us. He was sheepish: "Sorry, pare... May bisita ako. Puwede ba'ng phone interview na lang?" And who was I to go against a man who's a head taller than me and whose famous retort to his critics is, "Eh di... suntukan na lang kami!"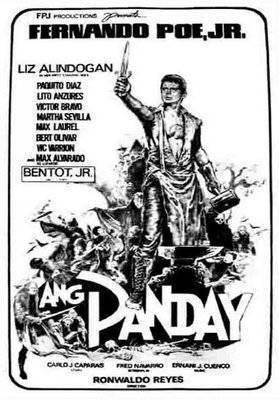 From video48.blogspot.com
ADVERTISEMENT - CONTINUE READING BELOW
I called him up the next day. He sounded profusely apologetic. It turned out that his guests were potential investors in a movie project about the life of Leon Kilat, the legendary Cebuano revolutionary of the Spanish period (All of a sudden I am reminded of his horrible, horrible historical movies like Indio and Tirad Pass: The Gen. Gregorio del Pilar Story). We spoke about... wait, I have no memory of that conversation, except hazy ones involving a priest who finds an amulet in the fields of Pasig. We talked for almost two hours. He was a witty and generous storyteller, but viciously sensitive and humorless about his work. One of his conditions for agreeing to license Panday to ABS-CBN: "Dapat hindi bakla ang mag-direct niyan!" And again, I asked him about his critics, those reviewers, columnists, and academics who all agree that his ouvre was responsible for the death of Philippine cinema. This, in a contrastingly nice and gentle tone, was his reply, "Eh di.... Suntukan na lang kami."
Now here's another source of debate. Caparas' official designation is National Artist for Visual Arts AND Film. Now does that make him fall under two separate categories or does "Visual Arts and Film" make for yet another new classification like "Theater and Film" or "Film and Broadcast Arts?" What on Satan's red earth is "Visual Arts and Film" anyway? Paintings shot with a movie camera? Comic panels that move?
As to Carlo J. Caparas the successful komiks novelist (Don't you think F. Sionil Jose et al ought to protest the use of the 'N' word?) there is no question, although some would debate that perhaps Mars Ravelo ought to be honored first. The problem is: there is no National Artist Awards for Komiks. Another problem is that while Bakekang, Gagambino, Angela Markado, Totoy Bato, Joaquin Bordado, Pieta, etc were massively famous franchises, Caparas was not the one who did the artwork. Which leads us to the question: why, if ever, put him in the Visual Arts category? If any comic book artist should belong to the pantheon it's Francisco V. Coching, who did not just illustrate-and draw like God, he did-he also wrote his stories.
ADVERTISEMENT - CONTINUE READING BELOW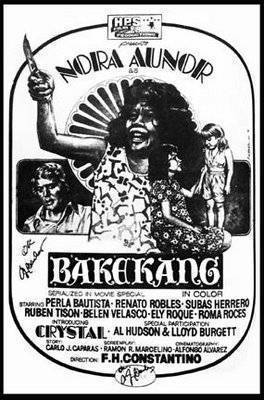 From video48.blogspot.com
However, he shows that effective komiks storytelling does not necessarily translate into cinematic genius. True, at present, television primetime is choking with fantaseryes inspired by Carlo J. Caparas' novels of yore. His defenders may argue, "Why, his works are tremendously popular. Doesn't that make him influential?" With this line of thinking, you might as well name Willie Revillame, Boy Abunda, Kris Aquino, Vic Sotto and his director Tony Y. Reyes, Piolo Pascual, Manny Pacquiao, and all the familiar faces and names you see on the television. Of course, this might spark another dumb debate between so-called high art and pop culture, but I'm all out of aspirin.
In the Inquirer, Caparas defended himself: "I am a National Artist who came from the masses. I work and struggle with them... who the masses can identify with-someone who walks beside them, someone who can inspire them... Hopefully, since I am still active in TV and in the movies, this will encourage our countrymen to learn more about our National Artists."
ADVERTISEMENT - CONTINUE READING BELOW
At least he didn't say,"Eh di... suntukan na lang kami."
Listen to the Word of the Lourd (shot two months before the brouhaha):
To read Lourd's previous blog posts, click here.
To read other blogs,  click here.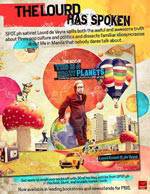 This is a Crazy Planets is available in newsstands, bookstores and supermarkets nationwide for only P195. For more information, click here.
Artwork by Warren Espejo. Movie posters from video48.blogspot.com.
Share this story with your friends!
---
Help us make Spot.ph better!
Take the short survey
Load More Stories