Keeping up with the Pacquiaos
SPOT.ph Blogger Lourd Ernest de Veyra analyzes the vicissitudes of celebrity osmosis, Pinoy-style.
"There is about world-class athletes carving out exemptions from physical laws a transcendent beauty that makes God manifest in man...Great athletes are profundity in motion. They enable abstractions like power and grace to become not only incarnate but televisable. To be a top athlete, performing, is to be that exquisite hybrid of animal and angel that we average unbeautiful watchers have such a hard time seeing in ourselves."
-- David Foster Wallace (who did not defy physical laws when he hanged himself last year)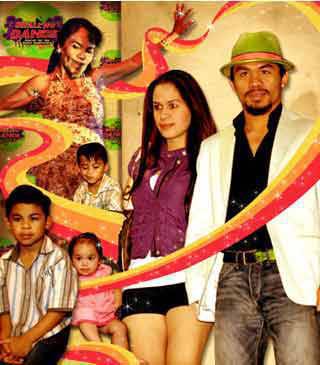 Maybe it was the tinola they served, or the way the boiled the rice, or the way they massaged his aching shoulders. Maybe it was something they would say to him. Or just the very fact that they share the same surname is enough. Or the same space in the television frame. And maybe, like God in the heavens above, the mother and the wife did have something to do with the formation of the multi-million dollar athlete.
ADVERTISEMENT - CONTINUE READING BELOW
Or not. Maybe it's simply because they're just there. Which is to say, all the time and which is why we equally view them as celebrities. Which is why we put them on ballroom-dancing shows, give their birthdays full coverage, and put them in sitcoms. Which is why some writers wax hyperbolic and regard her as a national mother figure (Those were lean times for news, obviously). Which is why they become endorsers of derma clinics and subjects of full-page newspaper features where they talk about their Chanel bags, liposuctioned body parts, and sex life. Pretty soon, they're going to be actresses in independent films, I shit you not.
CONTINUE READING BELOW
Recommended Videos
This is the Philippines, where the boundaries between showbiz, sports, and politics become more blurry by the television minute. We cannot seem to be content with the idea of the champion achieving superhuman greatness all by himself. We like to humanize them. It also helps that the mother's quite a character, whose praying-and-braying-and-Omigod-I'm-having-a-seizure act matches the intensity of his son's title match. This is the era when celebrity needs no longer needs justification. Gone were the days when you actually had to do something to be famous: write a novel, formulate an equation, discover a disease, assassinate a president, invade a country, etc.
But the magnitude of Pacquiao's fame is such that even a fender bender involving his Ford SUV in General Santos merits an urgent feature in TV Patrol. Now if his car can get in the headlines... So, do Aling Dionisia and Jinkee need to record an album, write autobiographies, win acting awards to legitimize themselves as celebrities? Last time we checked, there are no rules to fame. All you need is an extremely high element of visibility and the willingness to make an absolute dumbass of yourself.
ADVERTISEMENT - CONTINUE READING BELOW
The Philippines isn't the only country where someone achieves superstar status by virtue of sanguinity. But one of the greatest mysteries of the universe is why Roger Clinton--brother of who was once the most powerful man in the world--never achieved superstar status as a saxophonist. And I also begin to wonder why Michael Jordan's wife and mother never had any Nike endorsements.
Not in this country, where one is always introduced as the something of a famous personality. Never mind if the degree of consanguinity is virtually nil.
"This is Timmy. She's the neighbor of the great, great, granddaughter of the second wife of the third cousin of Rizal's nephew."
Family is a big deal in Philippine culture--that we already know. The struggles of the heroes of history involve an immediate member of the family. It was Paciano Rizal who sent his brother Jose to study abroad. Jose Rizal studied medicine so he can cure his mother's eyesight. Andres Bonifacio's widow Aling Oriang went on to fight in the revolution. Another widow of a victim of assassination went on to become president of the Philippine Republic. Now that they're both dead, we've elevated them to a kind of Romnick-Sheryl love team in banners. And their youngest daughter now hosts a gossip show and endorses everything from powdered detergents to bakeshops. The romantic life of their only son continues to be the subject of hyperventilating public interest-and we want him to become president. We gush over the grandsons, calling them "cute" and "properly-raised." Maybe it goes to show that deep down inside, beneath our democratic, Western-style carapace we remain genetically predisposed to royal adoration. Or we just watch too many showbiz talk shows.
ADVERTISEMENT - CONTINUE READING BELOW
But Jinkee and DionisiaPacquiao is a unique case. Which is to say, Manny Pacquiao is truly a unique case, his achievement unprecendented in Pinoy sports history. Maybe the magnitude of his popularity and influence is such that it allows, nay, demands room for expansion and sharing. Osmosis and recognition in this country work in strange ways.
People will say, "Oh, because they represent the triumph of the ordinary people, who, by discipline and hard work, were able to overcome poverty." They, is not only Manny, of course. It is the Pacquiao family, whose success and wealth we seem to collectively revel and participate in, even aspire to: we see them shopping in Beverly Hills and Las Vegas, chilling out in a Los Angeles mansion, we see husband and wife coddling the plump little babies who have now lost their Visayan accents and have instead acquired International-School twangs.
So the moment I saw her on TV being grilled by reporters, "Sinong gusto mong ka-love team, si Sam Milby o si Piolo?" I squirmed and turned it off before I could hear her answer. Granted, Dionisia is a fun character in her moments of spontaneity. But to put her on, say, Shall We Dance, squeeze her into a glittering backless gown, and watch her being lifted and twirled in the air is simply too much.
And the people behind Belo Clinic are no fools: they know which endorser works, and Jinkee Pacuiao may yet be able to appeal to a certain demographic, which is in no way small. There are millions of women who need to be weaned off their Eskinol, Lai Na, C.Y Gabriel Wonder, or Chin Shan Su and be coverted to the gospel of diamond skin peeling.
ADVERTISEMENT - CONTINUE READING BELOW
The dangerous part about celebrity of this sort is its highly fragile nature. It only takes one-and only one-loss, just one humiliating knockout, for the entire empire to crumble. As mentioned earlier, there are no rules to fame, but there are certainly expiration dates. And the business can be truly cruel. Then the irony gets tiresome and we grow irritated and start to question ourselves. Wait, why were they famous? Who gave them that stupid sitcom in the first place? They begin to join the ranks of Why The Hell Do We Even Know These People: Royette and Rommell Padilla (soon: Rustom), Dudut Jaworksi, Lance Raymundo, Hero Bautista, Marilyn Villamayor, John Nite, Dranreb, E.R. Ejercito, and the sons of Bong Revilla and Lani Mercado.
But no worries: we can laugh all we want. The Pacquiao women will still be rich.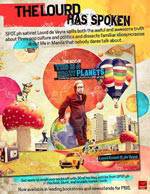 This is a Crazy Planets is available in newsstands, bookstores and supermarkets nationwide for only P195. For more information, click here.
ADVERTISEMENT - CONTINUE READING BELOW
Artwork by Warren Espejo

Share this story with your friends!
---
Help us make Spot.ph better!
Take the short survey
Load More Stories