Lourd de Veyra: Old movies always make me, er, cry
SPOT.ph blogger Lourd de Veyra on old movies, where hot women had quasi-moustaches and macho men had beer bellies.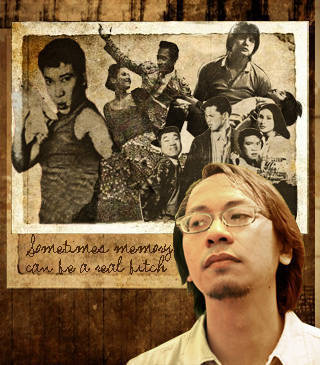 It was the great Ed Cabagnot of the CCP who once said that no movie, no matter how crappy, is totally worthless. Even the worst installment of Pido Dida–his example, not mine, I swear–serves a purpose.
It's stating the obvious: but every movie is a time capsule. It's always an era frozen in an hour and a half (unless it's Lav Diaz). Or unless it's deliberately a period movie. Regardless of genre, every film is a record of a milieu. Never mind the plot and the script, the oftentimes silly acting, and the inept direction–and never mind the scratches on the screen, the sudden cuts, and the poor sound. The delight lies in observing the entire thing with wide-eyed anthropological curiosity. What clothes were they wearing in 1979? What kind of cars did they drive when going out for dates? What about hairstyles? What were the slang words back then? What did Cubao look like back then? How many buildings were on Ayala and Ortigas? Was that a young Roderick Paulate decades before Bala at Lipistik? Was that the veteran actress before she had the boob and nose job? And why was Janice de Belen the object of collective male desire in those years? Why did most of the teen female heartthrobs of the '80s have what looked like faint hints of moustache? The answers all lie in those old movies. In a fast-changing world where a new mall and skyscraper shoots up in all parts of the city every hour, movies are maps of the vanishing terrains of memory.
ADVERTISEMENT - CONTINUE READING BELOW
All afternoons are about siesta and old movies. There's an entire generation of kids who grew up watching LVN and Sampaguita classics after lunch. I was one of them. I have vivid memories of snacking on guava jelly-slathered Sky Flakes while watching Petrang Kabayo, El Pinoy Matador, Ibong Adarna, Facifica Falayfay, etc. Now, every time so much crap happens around me, and the brain, it seems, screams for a vacation, I watch an old Pinoy movie. It was only recently that I got to enjoy the pleasures of cable TV. Old movies–black-and-whites especially. The more obscure, the better.   My cable service only has Cinema One, and most of the time it shows stuff from the '90s to the more recent titles, usually hits and superstar-actor-vehicles by Star Cinema and Regal. Once in a while, usually during early morning to late afternoon, they'll throw in the occasional indie project and the quirky, from-leftfield stuff that you don't even know existed on celluloid. I've found out, however, that the Pinoy movie channels on Destiny like PBO and GPC offer more choices in terms of B-movies, from Palito (Rambuto: No Blood) to Jess Lapid to Muhammad Faizal to near-forgotten action stars (Nice to know that at least they saved some of the rolls from conversion into New Years' Eve torotots).   Another thing: thanks to the Digibox, with just a click, I can now know the title of the movie being shown. I have no patience for waiting for the schedule page as it lazily rolls down to the rhythms of a Celine Dion song. Nor do I want to hassle friends via SMS with urgent messages such as "Oy, anong title nitong pelikula ni Dolphy na scientist siya at anak niya si Janice?"
CONTINUE READING BELOW
Recommended Videos
ADVERTISEMENT - CONTINUE READING BELOW
We are both shocked and amused when Phillip Salvador rejoices over his monthly salary of P150, and when we hear punchlines about someone asking for two pesos as taxi fare–in cabs that had no air-conditioning. When Guy invites Pip to go see a movie in Avenida, kids today would think, "Where's that?" It's fascinating how the present generation might wonder how anyone could take their dates to the now-dank and seedy Avenida, which leaves the oldies to explain to teenagers that this was an earlier generation's Greenbelt or Rockwell. Or a very stoned William Martinez in City After Dark telling his mother Charito Solis, "Waw, ma, hassle ka naman eh." In comedies before the Age of Political Correctness, it was a necessary part of punchlines to call someone "baluga," "pandak," "kutong-lupa," "intsik beho," "amoy bumbay," "sakang na Hapón," "baklang mukhang kulugo"and other similarly offending cracks. Back then, too, nobody seemed to mind if supposedly upper-class kolehiyala characters had strange diction, pronouncing "broad-minded" as "browd-minded" and "special" as "esfeysial." I.e. "Jun, you'll always have a very esfeysial place in my heart." As to who said that, I shall no longer identify, as she is now looked up to as a veyteran actress.
I have a particular fascination with places and locations. Whenever I see Chiquito's Six Million Centavo Man, I am always amazed by the vast, verdant expanse that is Ortigas, where the only two structures visible are the Meralco and Philcomsen buildings.   The explosive car chases on a thousand and one movies happen on narrow, almost empty roads that are now busy arteries linking Fairview to the outside world, which is to say, SM. Last month, I saw an '80s Tito, Vic, and Joey movie where they wake up in the middle of a wide street–then came the shock of recognition: it was the Edsa-Ortigas intersection, before the flyovers, the malls, the train, and the embarrassment of billboards.
ADVERTISEMENT - CONTINUE READING BELOW
Action movies like to make significant use of elevated locations, especially construction sites for climaxes (Otherwise, it's the sumptuously photogenic El Jogar in Escolta). For me, it becomes an engaging game of guessing what building it is/or at least its locality based simply on the neighboring structures. I also like to guess what supermarket or grocery it is that Paquito Diaz & Co. are robbing. There was a time, it seems, when Hi-Top Supermarket was a favorite.
If Chekhov once said that a gun must inevitably be fired before the story ends, you can bet that that bottle would break on someone's head before the sequence is over. Beer bottles in Philippine cinema signify the onset of violence, especially in action movies. It is interesting to note, in fact, that the only unchanging item throughout the decades is the image of the San Miguel Pale Pilsen. The same Pale Pilsen bottle in FPJ films is the same you'll see in virtually all Filipino movies. It is also both sad and chilling that the jeepney has remained relatively unchanged throughout the decades–a metaphor for the pointlessly stubborn and misguided notion of the Filipino resilience and genius for improvisation. Okay, maybe some airbrush-spray painting flamboyance and more powerful speaker systems here and there, but for the most part... it's still not exactly the model of efficiency.
Old movies also serve to justify the timeless appeal of certain fashion items. The Adidas sneaker, for one, is immortally stylish. You see them worn by goons in the late '70s with tight jeans and leather jackets then you think, "Damn, don't those bastards look good." On the other hand, there's the mid- to late '80s, the Dark Ages, it seems, for hairstyling (the bangs! The tease!) and tailoring (Shoulder pads! Acid-washed denim! Mullets! What drugs were you people snorting?). From old movies we can also glean our ever-evolving standards of sex and beauty. We remember a time when we found nothing wrong with thick, bushy eyebrows and quasi-moustaches on women. In the pre-Belo era, men lusted over sexy stars who were either flat-chested or who obviously did not have gym memberships. Neither did we snicker when Tony Ferrer peeled off his shirt to proudly reveal an unsculpted midsection that revealed an unapologetic appetite for rice and beer. This brings to mind my friend Norman Wilwayco's profoundly insightful declaration: "Ang tunay na lalake, walang abs."
ADVERTISEMENT - CONTINUE READING BELOW
And there are moments when it hits close to home–painfully. Just the other week, I was watching a melodrama involving a love triangle: Christopher de Leon, Rio Locsin, and Kuh Ledesma. I failed to catch the title. The scene was Christmas time, and there was a montage of all things Yuletide. Lo and behold, they showed the Christmas presentation at C.O.D. Deparment Store in Cubao, an annual tradition tragically discontinued in the mid-'90s. Only three things can make me cry: the sight of an abused dog, four songs from the Elvis Costello-Burt Bacharach album, and the memory of C.O.D. All of a sudden I was surrounded by imaginary smells of grilled dried squid, cheap popcorn, and Hi-C in tetra pak. Fleetingly, I was six years old again, blissfully innocent, happily perched on my father's shoulders. In my throat I felt a lump. Sometimes memory can be a real bitch.
Artwork by Warren Espejo.
Share this story with your friends!
---
Help us make Spot.ph better!
Take the short survey
Load More Stories