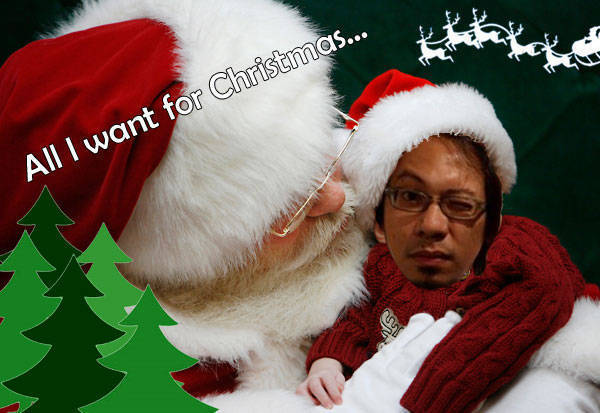 To hear the last of "Nobody, Nobody But You": One of the major reasons for emigrating to another country. Hopefully outer Mongolia or some parts of the sub-African Sahara or just about any other place that has yet to know this vile thing called electricity.
A replacement of my vinyl copy of Black Sabbath Vol.4: Which is just about the greatest heavy metal album ever made. Drowned and warped by the heaviest-metal flooding to hit this godforsaken country.
A new Juan dela Cruz album: The reason why I still haven't killed myself yet is the hope that one day the Juan dela Cruz Band would get together, lock themselves up in the studio (hopefully with bagfulls of psychotropic substances) to write and record new songs. New songs that would hopefully smolder with slow, murderous riffs and acid-glazed lyrics.   Mike Hanopol may have found God, but Pepe Smith still hasn't. Nor seems interested to. But at least he hasn't OD'd yet. And Wally Gonzales still plays the blues like the devil himself. You can do it, guys. Go to the nearest Mercury Drug. Now. With your senior citizen cards, of course.
A genuinely funny Tito, Vic, and Joey movie: It should be pointed out that Iskul Bukol The Movie was criminally disappointing. It felt like an Enteng Kabisote movie with Joey and Tito plus some half-assed punchlines inserted as an afterthought. The result: forced, and an astonishingly clumsy attempt to cash in on generational nostalgia. Less than halfway into the movie, it forgets the Iskul Bukol aspect and meanders through fantasy adventure routines involving...involving...I forgot. Truth is, I fell asleep. And I want my money back.
ADVERTISEMENT - CONTINUE READING BELOW
A serious Dolphy film: Something in the mold of Ang Tatay Kong Nanay. For a man in the twilight of his career, he needs something that would address the, uh, human condition. And you can still be funny while being serious. There's a big difference between solemn and serious. Rene Requiestas is serious. Gil Portes is solemn. For chrissakes, the last thing Dolphy needs is another Tatay Nic or Home Along the Riles and the same old, tired toilet humor and slapstick gags. Give the man some respect. A good last movie is better than a middling National Artist Award, which has lost its prestige since every Carlo, Cecile, and Pitoy can get one. The National Artist Award does not deserve Dolphy. Let's hope Nobody, Nobody But Juan will not disappoint.
More efficient ATMs: The long, unmoving queue to the cash machine poses a definite threat to civilization as we know it. Diebold, Triton, IBM, Wincor Nixdorf, et al can make all the most advanced automated teller machines in the world, but they will all remain useless and primitive in the hands of users with, uh, marginal educational attainment. Let's face it: there are people for whom the words "current" and "savings" and "This ATM is unable to issue receipts. Would you like to continue?" are frightening hieroglyphics. You'd offer help, but then again a sign on a wall warns them not to accept help from strangers.
Solution: voice-activated cash machines that just asks one simple question, "Magkano kelangan mo, 'Dong?" Dudung answers and out comes the money. Next, please.
CONTINUE READING BELOW
Recommended Videos
Trial judges with cojones the size of Mt. Mayon: And one was found in the quiet person of Jocelyn Solis-Reyes of Quezon City RTC Branch 221, who even initially did not ask for PNP security escorts. As for Judge Luisito Cortez, who declined the case out of fear of a possible threat to his and his family's well-being...we offer him the peace sign, otherwise known as the international symbol of the chicken.
A bomb on the Comelec office: Specifically on the office of the second division, otherwise known as the tenth circle of hell swirling with bigots.
For Wowowee to take things a step higher: Keep the dancing girls, their karnabal atmosphere, and the loud, tactless, and obscenely overpaid host. But after giving the audience what they want, it's probably time to give them what they need. Your kid wants hamburgers, chips, chocolates, and ice cream, but what he needs is broccoli, lettuce, bananas, apples, and grains.
Earlier timeslots for nighttime news programs: You're tired, you're sleepy, and you want to know what's happening in the world around you. But it's already an hour before midnight and all you see are Korean dramas dubbed in Tagalog and fantaseryes with stupid special effects.
A bottle of single malt Scotch whiskey: Macallan, or just about anything prefixed with "Glen-." Goddamit, no wonder those British writers became such alcoholics. This shit is so good it's frightening. Please send bottles to Summit Media, 6th floor, Cybergate 3, Pioneer St., Mandaluyong City.

For the Ampatuans to be hanged by their testicles: If only for their palaces of tacky architecture.
ADVERTISEMENT - CONTINUE READING BELOW
A big box of Valiums: Enough to get me through the hell that is the 2010 elections.
A longer-term collective memory: To never forget this wild, ugly year: the Con-Ass of June 2, 2009, Hayden Kho at the Senate, Ondoy, and the death of close friends and heroes. But if I take Scotch with my diazepam for extended periods of time, what would happen to my brain? Then I'm a happy, happy man.
Share this story with your friends!
---
Help us make Spot.ph better!
Take the short survey
Load More Stories