Lourd de Veyra on the Black Nazarene Feast: Pride and Pedicure
Our SPOT.ph blogger calls the annual Quiapo pilgrimage "a sight for which I was immensely unprepared."
He told me to take a picture. "Bubuga ako ng apoy!" My first dazzling vision of the Feast of the Black Nazarene was a dancing and–literally–firebreathing transvestite in a tight yellow costume. I clicked on the shutter, smelled kerosene, and was enveloped in a burst of warmth. Behind the firebreather-in-charge was his well-choreographed troupe– all clad in the tight, shiny yellow uniform– moving to the loud rhythms of a drum ensemble, expertly maneuvering the narrow alleyway off Hildalgo Street. Even the drunks– already on their Nth case of Red Horse Grande–had to stop their spirited videoke session. It was a sight for which I was immensely unprepared.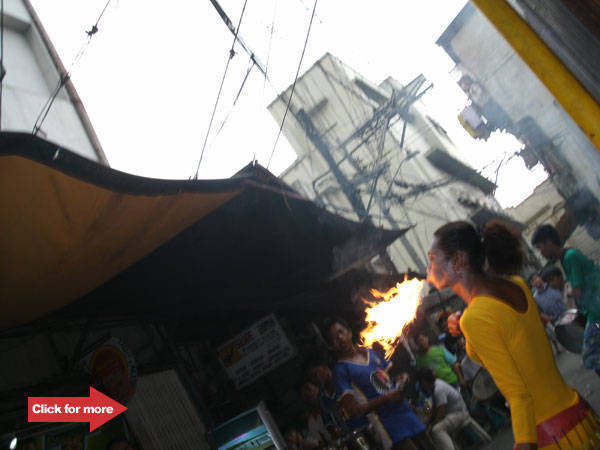 But what was I prepared for? This, after all, was Quiapo, where I once saw a man selling a bagful of snakes by the entrance to the underpass near the church, where sidewalk tarot-card readers would augur of your trip to the Middle East soon, and a beautiful lass' romantic designs for you. This is where magic herbs and abortifacients are sold alongside antique medallions and human-shaped candles, and where mendicant messiahs warn of the impending apocalypse. This is Quiapo, which Alfred Yuson once called the armpit of Manila. But things have changed. That distinction now belongs to Payatas and my younger brother's bedroom. Quiapo, which is believed to be the nerve center of the transport system from which all points of the city are accessible, whether by wheel, rail, or mental telepathy. * * * Religion. In this case, this ain't Marx's "opium of the masses." No opiate derivative makes you do stuff like this. No. It's actually more like meth. This is hardcore. You've seen the clips on TV, but nothing comes close to standing there, watching the whole thing unfolding right before your eyes like some terrible, sweaty, boisterous force of nature. In maroon and yellow. Nothing else in the world makes you understand the real meaning of the phrase "sea of humanity." And nothing else makes you understand the essence of tenacity–you could see it in their faces, their eyes, how they squeeze and claw their way to the carriage as if a matter of life and death. There's something beautifully pagan about it. For them, it is a matter of survival. For every metatarsal injury sustained from the procession, a wish granted. For every elbow to the mouth or a knee to the head, a mortal illness healed. For every palm bleeding from rope-burn, an employment contract. On Palanca Street, an old woman beside me was waving at the image as if it were John Lloyd Cruz or the coffin of Cory Aquino. She was crying while shouting "thank you, thank you" followed by a string of pledges of eternal fealty. Then she lit a candle and walked away. The word "mosh" now appears in the Oxford Dictionary, defining the verb as "to dance to rock music in a violent manner involving jumping up and down and deliberately colliding with other dancers." I have always been in awe of moshpits–I mean those sweaty masses of bodies piling up one on top of the other in front of a stage where a punk or a metal band goes berserk in punishing decibels. I am in awe in more or less the same way I regard a boxing or Ultimate Fighting Championship highlight reel. A masterpiece of mosh I would consider is a live 1990 performance by the English grindcore band Napalm Death, whose sound can be described as a cross between a raging sewer and a jackhammer. The audience in this clip presents a brutally fascinating showcase of pure battlefield ballet–how the human body could be twisted, hurled and whiplashed into near-homicidal angles, defying fundamental notions of anatomy and physics, specifically the impossibility of two bodies occupying the same space at the same time. However, the physical aggression seems to be but a natural extension of the music. Such after all, may be the aggressive effect of songs with titles like "Suffer the Children" and "Malicious Intent." In Quiapo, they mosh to a brass band blaring out, in dirge-like tempo, "Ave Maria." But there's no dancing here, although the entire crowd seems to move to its own internal rhythm. And while it appeared to be more violent, with all that heaving, pushing, and shoving, and someone's foot-on-your-face scrambling, no tempers flared. It is after all, part of one great physical sacrifice. And with the sheer magnitude of people, it's deathly claustrophobic. There were also fireworks. Gigantic crowd + loud explosions you can't see = not exactly the best combination for public safety. But perhaps that's the real miracle of this whole ritual. I've had more injuries in a grotesquely drunken bar gig, involving mostly myself and a microphone stand. * * * But I noticed a glaring change in the demographic. I thought to myself that more than half of them are probably the same crowd that flocks to Pulp Summer Slams or the Red Horse Muziklaban gigs. No longer the same toothless 'manongs.' They're getting younger. The majority of them might as well be members of the so-called J.J.I.B or the "Jumping Jologs in Black"– or more uncharitably, "Orcs," according to a frontman of a famous rock band ("uncharitable" because his songs attract this exact same demographic). They're the scourge of every muscle-bound bouncer and events organizer who has known the cost of broken glass windows, shattered metal fences, emergency-room expenses, and assorted violations of private property. But instead of black, they're either in maroon or yellow. I saw one young dude, probably in his early 20s, with hair straight out of the pages of NME magazine, with the image of the Nazareno tattooed on his throat. He might as well be one of those little goons who stagedive at Queso or Greyhoundz shows. At that point I realized that this 403-year-old tradition isn't about to die anytime soon. * * * And you will know them by their magnificently filthy feet. The notion of physical suffering is an integral part of Catholic piety– but some say, the Quiapo feast is one that takes it to extremes. But not as extreme as having yourself crucified while being photographed by American tourists in silly bermuda shorts. Still, walking barefoot on Metro Manila pavement for hours can be pretty much hardcore. On the day before the Feast, I heard one of the festival's most famous devotees, Vice-President Noli de Castro, being interviewed on DZRH. He explained that more than paying tribute to Christ's suffering, not wearing shoes is just common courtesy to fellow devotees: shoe soles can hurt others during the trampling, jumping, and moshing. He also pleaded to Manila Mayor Alfredo Lim to "clean up the streets" for the millions of shoeless faithful. More than glass shards, sharp stones, and wayward nails, the veep warned it's the unextinguished cigarette butts you should watch out for. But, Kabayan, shouldn't that be part of the sacrifice, too? For isn't the still-smoldering yosi a natural part of the urban terrain, along with dog shit, spit, phlegm, plastic cups, sewer scum, candy wrappers, and Kris Aquino ads? But see, Noli de Castro didn't exactly become senator and vice-president because of his staggering intellect. On DZRH, he said that all he prayed for when he started his devotion was to have his own radio show (de Castro was only a humble time checker then). Lo and behold. But listen, yo: we do not question the infinite generosity and wisdom of the Nazareno. * * * The guys we asked were in their late 40s to early 50s, loyal devotees who claim to have been granted miracles of every shape and smell throughout the years, from healed sicknesses to personal fortunes (though I must say that none of them looks like Jaime Augusto Zobel de Ayala yet). They're a group from Taytay, Rizal, from the parish of St. John the Baptist. They seem pretty hardcore, too, basing on their crude tattoos. "Not yet," was the general reply when we ask them about their feet, "Do they hurt?" The operative word is "yet," because they know that when they get home, it will be podiatric hell. This is when you begin to understand the significance of the Lenten ritual of the washing of the feet. Humility so pure, so incandescent, it's revolutionary. That was not the sort of stuff done at spas, where they dip your big, smelly hooves in a fancy basin of warm peppermint. The streets of Jerusalem were different from those in Palanca or Quezon Boulevard, but you get the drift. In Quiapo, almost all feet look the same: caked in a film of dirt that masks corns, bunions, and sores, as well as the general muscular swelling that results from hours of extreme activity. The edges of the nails outlined in a rich, septic black, depending on the dryness or wetness of the street. As for the toenails, most of them were dead to begin with. An even thicker layer of dirt covers the soles, providing a natural protective padding from hostile surfaces. Yet what appears to be a pedicurist's nightmare signifies hope. Or faith. Or whatever that means, really. There's something beautiful and tragic about it. My point-and-shoot camera lens could never do justice to the filth on those soles, nor could it capture the essence of the pain. So after the Nazareno passed us by, we decided to walk to a grimy resto in Binondo, where maybe a bowl of clams and beer–lots of it–might help us understand. Photos by Lourd de Veyra


ADVERTISEMENT - CONTINUE READING BELOW

CONTINUE READING BELOW

Recommended Videos
Share this story with your friends!
---
Help us make Spot.ph better!
Take the short survey
Load More Stories