Lourd de Veyra: Insert Dignity Here
Our SPOT.ph blogger on the Pimentel-Roxas trash talk-off: "January 25, 2010 was not exactly the brightest moment in Senate history."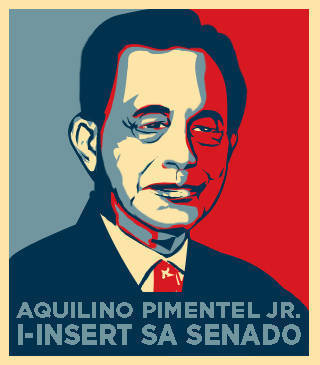 But that cesspool inside your head should not have a direct pipeline to the mouth. Between the id and speech a silent chasm exists. It keeps the world safe. If everyone were to speak out their minds, sea levels would rise due to continental bloodbaths.
Then that word.
Joey de Leon or Willie Revillame would have pounced on the situation. But the Senate is neither Eat Bulaga nor Wowowee, although sometimes you can't tell the difference (There are times when the Senate resembles a karnabal, only with a worse set of grotesqueries, even uglier furniture, and excessive air conditioning). On that Monday afternoon, something happened to Senate Minority President Aquilino Pimentel: inside his antiquarian head, suddenly a bridge propped up, linking that dark part of his subconscious to his mouth. Senator Pimentel–former law school dean, Martial Law-era freedom fighter, and author of the Local Government Code–was helpless against the temptations of the word's connotations. The gentleman from Cagayan de Oro cracked a joke truly unfathomable in its tastelessness. I was following the entire proceedings on TV. A similarly crude punch line from the nasty double entendre was also simmering in my head, but then again, last time I checked, I was not a senator appearing on national TV. And also the possibility: what if somebody on the floor said something about insertions and honeymoons at this minute?
Kaboom.
I'm normally comatose in front of the TV. But that minute, you could've heard me scream from three blocks away. The last time I did that was when Michael Jordan nailed that buzzer-beating jumper over Bryon Russell to beat Utah. That was back in '98.
ADVERTISEMENT - CONTINUE READING BELOW
I could hardly believe my ears. The old sonofabitch did say it.
One tabloid headline accurately summed it up: "MGA SENADOR, NAGBASTUSAN." And we all thought that the Hayden Kho hearing was the nadir.
Indeed, January 25, 2010 was not exactly the brightest moment in Senate history. By comparison, a seedy massage parlor and a shabu den would've looked like beacons of dignity. No amount of apologies and prayers can erase the stigma of that day. Militant leaders called it "gutter language," which is actually unfair to the gutter. The ever-lovably mad Sen. Miriam Defensor-Santiago described the atmosphere as "poisonous." Sen. Juan Miguel Zubiri called it "one of the bloodiest in the history of the 14th Congress." Sen. Joker Arroyo said, "This should not happen again. It's embarrassing." Amando Doronila of the Inquirer wrote that it "reeked of the smell or cordite and septic tank effluence." One radio commentator boomed that these senators must all be sent back to school for a refresher course in Good Manners and Right Conduct. I haven't been this excited since my favorite actress fell from the stage during a live telecast of the GMA Supershow in the '80s.
CONTINUE READING BELOW
Recommended Videos
I don't watch it anymore, but when I was a kid, I was a big professional wrestling fan (This was the time of the Ultimate Warrior, Randy Savage, Jake "The Snake" Roberts, The Hart Foundation, the British Bulldogs, Rowdy Roddy Piper, and all those terribly missed bone breakers). I've always loved watching the annual Royal Rumble. And like the WWF's special free-for-all, the Senate on January 25, 2010 was no less exciting. The main match should have been Enrile vs. Villar, but Villar was absent. Then it was Pimentel versus Enrile, but things took a turn for the strange, and suddenly it's Pimentel versus Jamby Madrigal, one of the few people possessed with a mouth that never fails to offend and annoy everyone all the time.
ADVERTISEMENT - CONTINUE READING BELOW
Madrigal–or "Jamboy" according to DZRH anchor Deo Macalma–called Villar a "coward" and his defenders "a choo-choo train of lawyers," which briefly made me miss the spaghetti at the Choo-Choo Junction at the Araneta Center in the '80s.   "At least, I'm not an abused child," Pimentel shot back. Honestly, that was the first time I heard that slur used against the Pillsbury Dough Woman. Taking the floor next was Sen. Alan Peter Cayetano, who had won a Senate seat through a campaign whose visual peg was of him wearing boxing gloves. The Chinless Wonder from Taguig, in his spirited defense of Villar, managed to sideswipe a couple of names who, in turn, felt it necessary to defend themselves upon being described as "mayayaman."   Mar Roxas stood up, and uttered the magic words, "I have no insertions!"
Bingo.
Then, if I remember correctly–because I was too shocked to remember, not to mention laughing my brains off–Noynoy Aquino also rose to speak. Jamby also spoke, but was cut off by Cayetano, who was still on a roll, calling her "saling pusa." The enraged Pillsbury Dough Lady screamed, "Corrupt! Corrupt! Corrupt!" At this point, I think it was Jinggoy Estrada who took the floor, but really, after all that action, who the f–k cares?
If I were Roxas, I would have whooped the old man's ass. Just to teach the geezer a lesson. Physical violence in a legislative space is not new. It's been a long, cherished tradition, particularly in the Taiwanese parliament. Demanding satisfaction would have been the manlier option. People seem to be forgetting the cathartic virtues of a good fistfight. Respect for the elderly and the possibly senile takes a backseat when the wife is insulted. More importantly: any guy with the nickname "Nene" deserves to be beaten to a silly pulp.
ADVERTISEMENT - CONTINUE READING BELOW
But what do you expect? Everyone has been decrying the "unparliamentary" behavior of the Senate on January 25, 2010. Then again, most of its members wouldn't even know parliamentary even if it bit them on the ass. Maybe there's nothing parliamentary about winning a political seat through ads that feature cheap slogans, cheesy choreography, and idiotic jingles. Or maybe Pimentel considered fair game anyone who's been seen pedalling a clumsy pedicab, who had co-opted the song "Mister Suwabe," and once mouthed bad words in public. Not to mention who tweets every dumb, insignificant detail of his honeymoon.
And speaking of slogans, I humbly suggest this one should he decide to run again. "AQUILINO PIMENTEL JR... I-INSERT SA SENADO."
Share this story with your friends!
---
Help us make Spot.ph better!
Take the short survey
Load More Stories