Lourd de Veyra: Video killed the political star
Our SPOT.ph blogger on that Villar ad: "When something is played 10,000 times a day, only a corpse would fail to appreciate its 'catchiness'."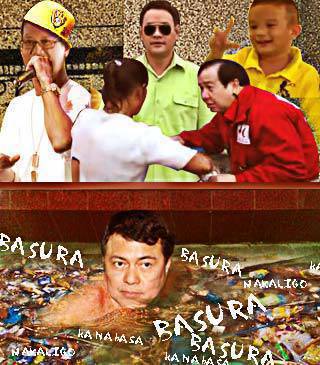 ADVERTISING–the world's oldest profession–has done it again.
Thanks to that demonic "Dagat ng Basura" song plus P240 million worth of ads for January alone, Manny Villar has managed to land a statistical tie with Noynoy Aquino according to a recent SWS survey. Well, the survey didn't really say that said ad was responsible for this surge. But I'm also pretty sure it has nothing to do with fiery oratorical skills and clear articulation of platforms.
ADVERTISEMENT - CONTINUE READING BELOW
Barring some last-minute voodoo by the present occupants of Malacanang, or Comelec, whichever the case may be (they seem to be interchangeable), I have no doubt in my mind that Manny Villar will become the next president of the Philippines. And I make that statement with the same degree of rejoicing while waiting for my prostate surgery.
This makes me sound cynical, but you can't blame me. In all my life as a voter, I never once got the presidents I wanted: Salonga, Miriam (she was merely semi-insane then), Roco, and ... what the hell does it matter. What makes me weep is the idea that my fate for the next six years would be decided by the same horde that watches Wowowee and gets delirious over that "Dagat ng Basura" song– the same increasingly ever-expanding demographic that might not understand what "insertion" means but practices it radically according to the Pimentelian definition. We get the kind of government we deserve. All hail President Villar.
CONTINUE READING BELOW
Recommended Videos
ADVERTISEMENT - CONTINUE READING BELOW
In the headlines this week was a study by the National Statistical Coordination Board concluding that Filipino voters in general do not select their leaders "on the basis of good governance, platform or issues." Dah.
That this presidential race would be determined by the profusion of ads is akin to a dog show where the winner is the one who pisses and poops all over the place the most. And of all the dogs onstage, it seems that Villar would leave the biggest, warmest mound of excrement and the biggest and smelliest pool of urine. Since 2009, he has inflicted on us a string of ads and jingles designed to worm their way into our memory. Anyone remember "Akala mo conio/ Yun pala hindi...?" I still wake up in the middle of the night with those dark syllables reverberating in my skull.
Okay, okay, you're poor, we get it. Do you need to hammer it in? Oh, yes, of course, you do. But remember that crap could have been a beautiful piece of cauliflower once, or a slice of glisteningly fresh fish. And that Adolf Hitler was a painter in his youth, and that Pol Pot studied radio technology in Paris.
ADVERTISEMENT - CONTINUE READING BELOW
If you're the self-proclaimed "first brown billionaire of the Philippines" it's only expected that you get only the best that filthy lucre can buy. I'm sure any agency that has a cell phone firm, a fried-chicken chain, and Belo, among others, as its clientele must be doing something right.
Praises have been heaped upon the Villar ads' virtue of "catchiness" and "recall." But the same argument can be said of Lito Camo songs. Of course, when something is played 10,000 times a day, only a corpse would fail to appreciate its "catchiness." In theory, I can record the soothing rhythms and melodies of my own fart, have it aired to death, and, voila, instant hit!   Likewise, I would be hailed as a hitmaker, a pop genius of the first order. Media observers will hyperventilate how I am so in tune with the pulse of the Filipino masses. And I'll be driving a freaking Hummer. It also doesn't hurt if the interpreter of my songs happens to have his own psychotically popular noontime show, on a TV network that has its own radio station. To paraphrase Goebbels: crap told often enough becomes, uh, just slightly less crap.
ADVERTISEMENT - CONTINUE READING BELOW
I call it the Wowowee-fication of Philippine politics. It's the tyranny not merely of the image, but the most crass, the tackiest, and the most desperate image possible, hoisted down to the basest sensibilities and the lowest common denominator. Dignity takes a backseat to recall. Noise and frippery over sobriety. Drama over discourse. Bullet points and infectiously dumb catchphrases over well-articulated platforms. These are basically the same elements used when selling corned beef and sanitary napkins. This corned beef is not tuna. This sanitary pad makes you feel like you're walking along a summer field in Southern France. It should have the ability to address the short attention span, create an illusion, and pummel your message even into the densest of crania, preferably with pom-poms and gyrating girls in bikinis. And speaking of advertising: according to a Nielsen study, Villar ranks 14th on the list of the top 20 biggest national advertisers from October to December 2009. Hey, big spendah.
ADVERTISEMENT - CONTINUE READING BELOW
Brace yourself. There will be more Villar ads. And there will be more ads about swimming in seas of garbage and spending Christmas in the middle of the street.   Expect the other candidates to try to pump up their ads with impolite dosages of the poor and the unwashed. There will be more ads about eating filth from garbage cans, about geriatrics dying from untreated tuberculosis and being crushed by 10-wheeler trucks while crossing a dark street to sell balut. There will be other similar soundbites of squalor and wretchedness, yes, but don't worry: these ads can wrap them up into neat, fun, tightly edited and vibrantly photographed 30-seconders. And you wouldn't be able to get them out of your head. Especially when the two leading contenders in the survey finally bring out the big guns: Willie Revillame and that woman whose name starts with the letter K.
It goes without saying that you'll be needing billions for airtime and high-end ad agencies (not to mention surveys bought from Quiapo sidewalks). Beyond nice, wrinkle-and pimple-erasing lighting and musical ditties more contagious than the bubonic plague, here are some of the other elements of an effective ad:
ADVERTISEMENT - CONTINUE READING BELOW
Use artistas. What I could not forgive, however, is when the Old Dolphy is thrown into the muck and placed in an ad that is totally barren of wit and humor. I love Dolphy. But there's a reason why ABS-CBN canned his sitcoms and his last movie was second to the bottom on the list of Metro Manila Filmfest ticket sales. The man says he wants to work. Similarly, there are cardiac patients who pull out their IV tubes just to walk down to the canteen for a greasy bowl of pork adobo. But never fear: Dolphy will outlive us all.
Project yourself as one of them. Which is why Villar intones the word like a goddamned mantra. And which is why, in his ads, you'll hear "mahirap" more frequently than you'll hear "bonggang-bongga!" from Lolit Solis. I remember the last time we–I mean, they (i.e. you mutherf–kers)–bought that schtick from someone. Two years after, he got kicked out of Malacanang and was jailed for plunder.
ADVERTISEMENT - CONTINUE READING BELOW
Don't project yourself as beautiful. Because, in the deepest, darkest recesses of their simple minds, they will hate you. I suspect that this ad had something to do with the dismal slide of Loren's ratings. You can't walk on a ricefield and beam like this:
Be concrete. Just as poetry should have a central image, or an "objective correlative" according to our homeboy T.S. Eliot, so should your ad present something concrete. Enrile's ad–despite the silly choreography and singing–zeroed in the cell phone load issue he had so valiantly tackled in the Senate. But why is it that when he says, "Gusto ko happy ka," it sounds rather… threatening?
Use "accidents" to your advantage. All it takes is just a camera, a microphone, and a man on the street who'll say something unforgettable. I call it the "Pepsodent-bebelgum" model–kids, have someone who has lived through the '80s to explain. In this man's case, the total absence of a Shakespearean diction and human charms worked to his lovably goofy advantage. He certainly gets my vote.
ADVERTISEMENT - CONTINUE READING BELOW
Try to inject subtly snide comments indirectly referring to the competitor. This is from the Rudy Distrito School of political campaigning: throw a few elbows to the defenders' ribs while driving to the hoop. The magic of insinuations: "Hindi ako magnanakaw" vs. "Si Villar lang ang may kakayahang gumawa ng sariling pangalan."
If possible, utilize the element of surprise. The unexpected, the seemingly out-of-place, to make a jarringly potent effect. Check out Gordon's use of a Christmas carol, in what could be one of the few, more dignified campaign ads. Sober and straight to the point.   Sometimes it's good to be a Dick.
Never, ever attempt to rap. Gotta have skillz to pay the billz, yo.
Artwork by Warren Espejo.
Share this story with your friends!
---
Help us make Spot.ph better!
Take the short survey
Load More Stories